This recipe has been featured in a post on The Recipe Girl Blog: Warm & Buttery Olive Oil & Rosemary Rolls.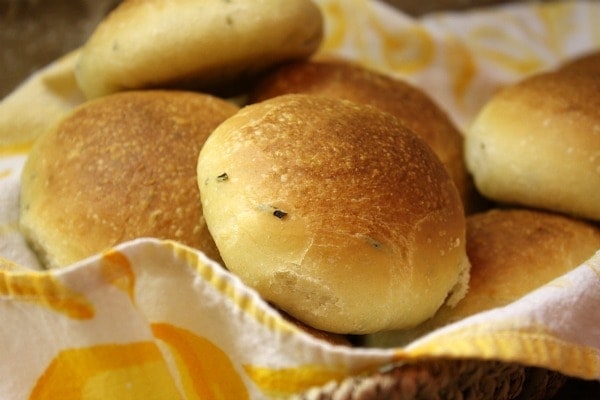 Olive Oil & Rosemary Rolls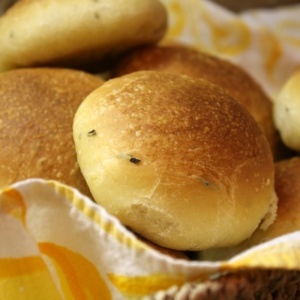 If you begin these rolls early in the day, you'll just need tend to them every now and then and you'll have freshly baked rolls at dinner.
Yield:
12 rolls
Prep Time: 35 min + marinating & rising time
Cook Time: 20 min
Ingredients:
1/4 cup extra-virgin olive oil
1 Tablespoon chopped fresh rosemary
2 1/4 teaspoons (1 packet) active dry yeast
1 cup warm water
3 1/4 cups bread flour
1 3/4 teaspoons sea salt or kosher salt
extra flour for dusting
1/2 cup butter, melted and cooled slightly
nonstick spray
Directions:
1. In a small bowl, combine olive oil and rosemary; let marinate for at least 30 minutes.
2. Pour yeast into 1 cup of warm water (about 105 to 110 degrees… no warmer). Stir to dissolve the yeast and let stand for 5 to 10 minutes. Mixture should foam and bubble (a sign that the yeast is still good).
3. Insert paddle attachment into your stand mixer. Pour water/yeast mixture into the mixing bowl. Add 1/2 cup of flour and the salt and mix on low speed until incorporated. Keep adding 1/2 cups of flour until all flour is used up and incorporated. Remove the paddle attachment and replace it with a dough hook. Knead on low and slowly pour in the olive oil/rosemary. Increase to speed 3 and let the machine knead for about 2 minutes.
4. Remove the dough and shape quickly into a ball. Dust lightly with flour and place in a zip bag, pressing out air and sealing. Place on a cutting board and let rise in a warm, draft-free place until doubled in size (about 1 hour). Punch down inside the bag and let rise again for an additional hour.
5. Punch the dough to deflate and let rest 10 minutes. Lightly spray a baking sheet with cooking spray. Divide dough into 12 equal-sized pieces. Shape each piece of dough into a ball and transfer to the prepared baking pan. Cover with plastic wrap, and let rise at room temperature for about 1 hour (until almost doubled). They'll continue to rise as they bake, so don't worry too much if they don't look large enough.
6. Preheat oven to 450 degrees F. Remove plastic wrap and lightly brush each roll with melted butter. Bake at 450 for 10 minutes. Reduce heat to 375 and bake an additional 10 to 15 minutes, until browned and hollow sounding when tapped. Remove to wire rack to cool.
Tips:
*Use a candy thermometer or an instant-read meat thermometer to check for accurate water temperature.
*If you don't have a stand mixer, you can always knead by hand instead. It's just a little messy.
*Trick to dividing the dough into 12 equal pieces: Divide the dough in half, then in half again, then you can divide each of the four pieces into three equal dough balls.
Source: RecipeGirl.com (Adapted from Cuisinart)