This is a review of the Omni Grove Park Inn, a century-old, historic resort located in Asheville, North Carolina.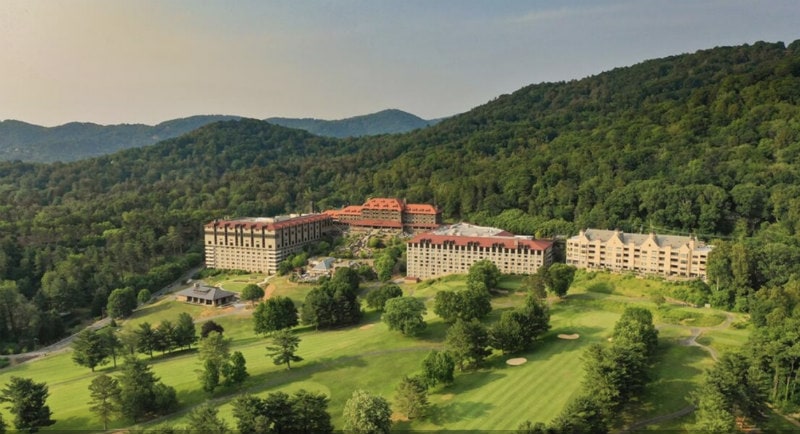 Have you been to Asheville, North Carolina? It had been on my bucket list for a long time. In August, we moved our son to Dallas to start college at SMU, and we decided to keep driving. We hit Memphis and Nashville. And then we headed to Asheville for two nights to relax at this resort and celebrate being empty nesters!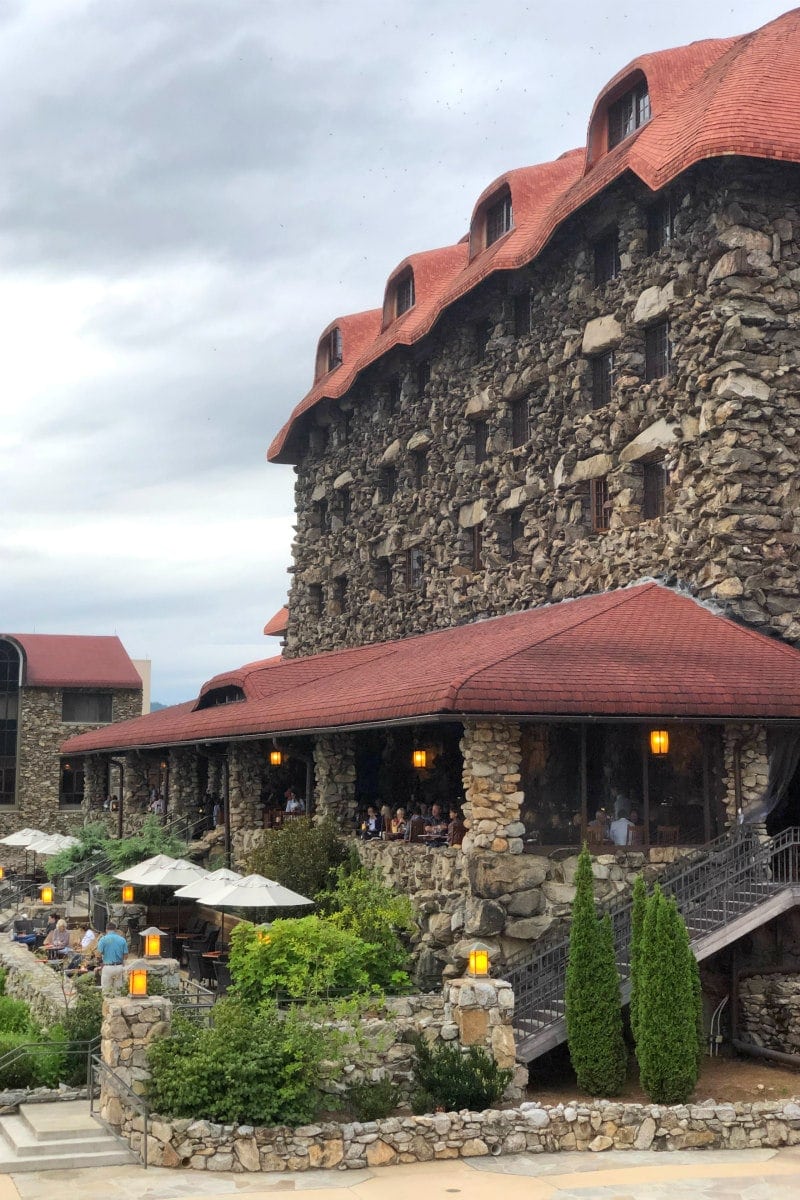 On our drive across Texas and Tennessee, the weather was brutal– so hot and humid. Arriving in Asheville was dreamy. It's in the Blue Ridge Mountains (gorgeous), and the temperature was a nice reprieve from the summer heat and humidity.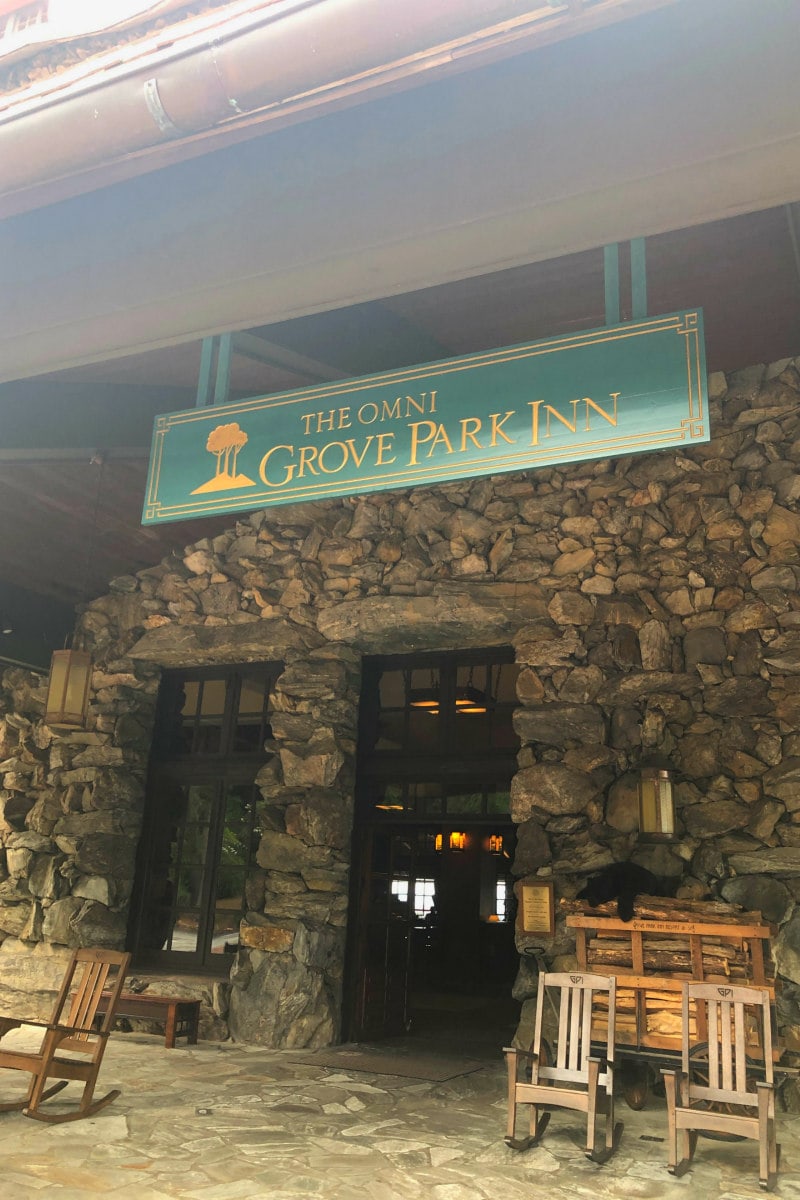 The Omni Grove Park Inn has an "old time resort" feel. It isn't new and modern, yet it has all of the modern amenities, luxury spa and amazing restaurants. It's rustic and cozy- we loved it. To me, it felt like walking into a big, mountain lodge. Plenty of wooden rocking chairs line the entrance. Valet and bellmen are there to greet you and help deliver your luggage to your room. Our bellman was especially friendly and gave us a mini-tour and the whole run-down of the resort.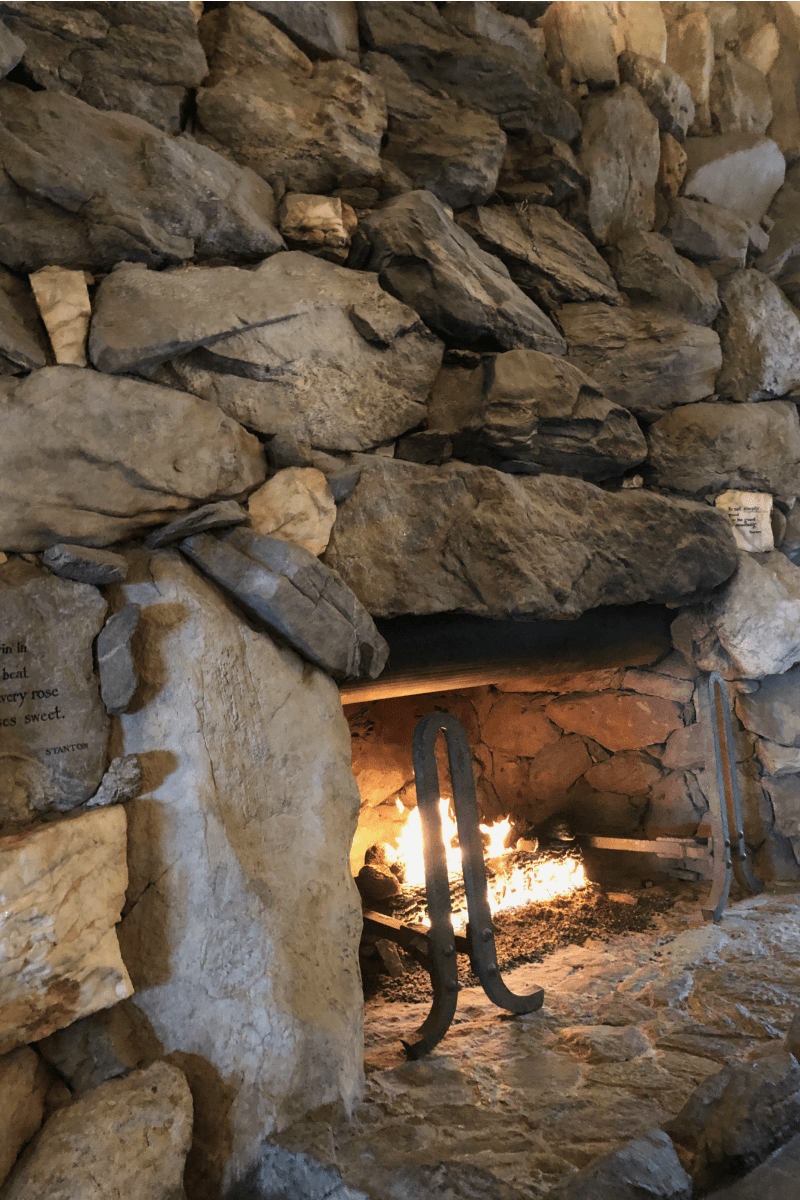 Have I mentioned how refreshing the weather was? In the middle of the summer, it was delightful to be able to enjoy sitting by the roaring fire in the lobby. The temperature was only in the 60's. It was even chillier at night. June/July/August are normally in the 80's for Asheville. We were totally happy with the unusually cooler weather though!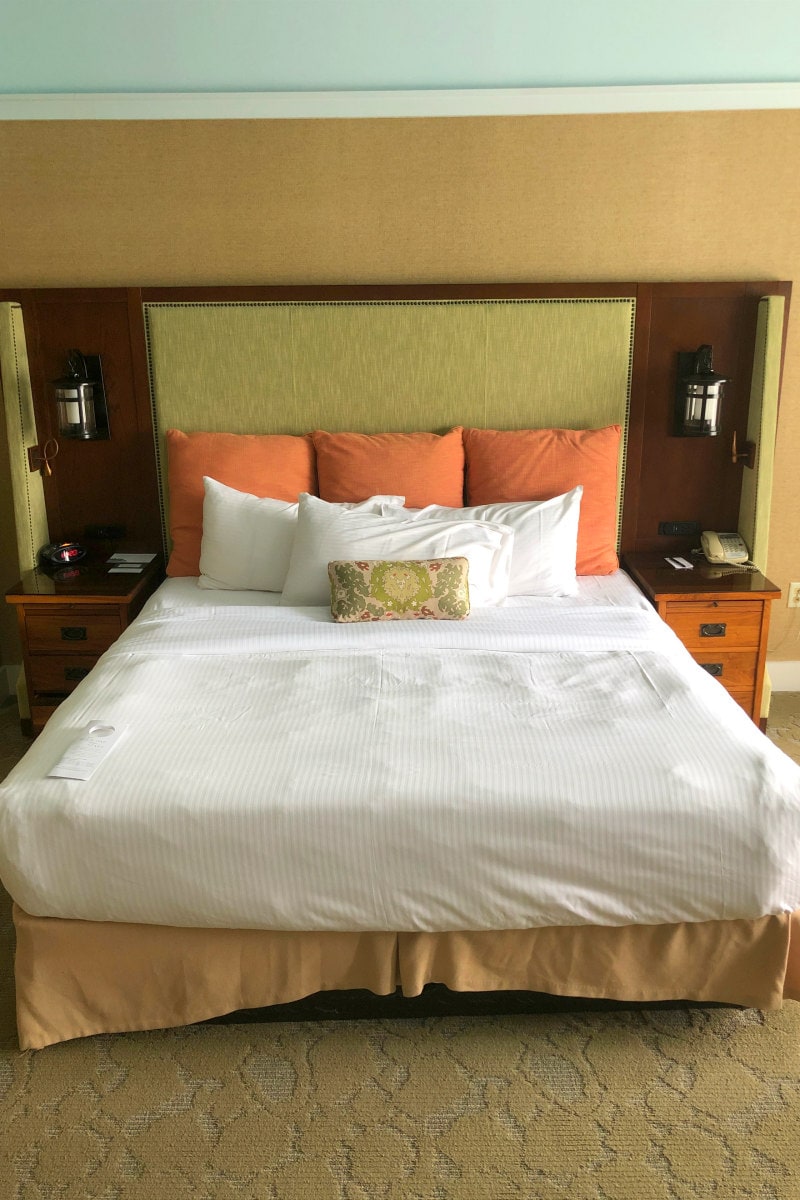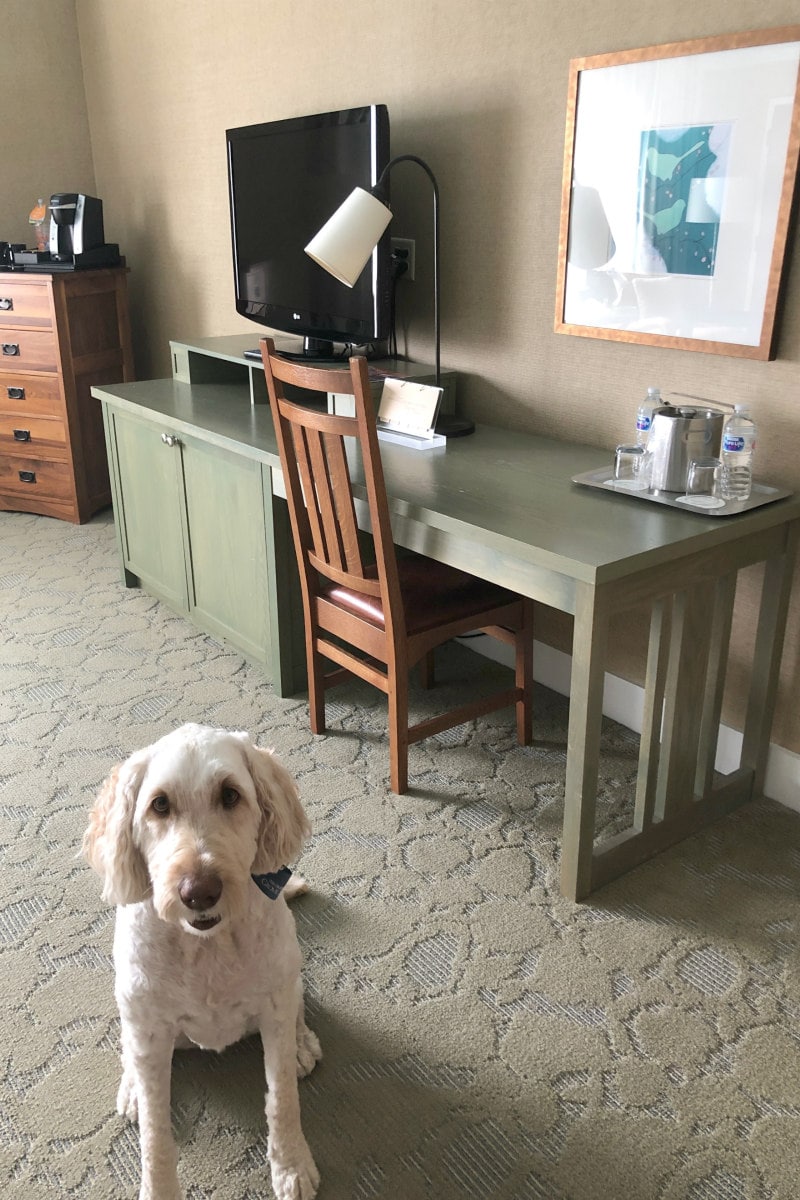 We brought our dog (Omni Grove Park Inn is pet friendly!), so we were housed in an area of the hotel where it's easy to bring your dogs outside to do their business. The rooms were large and very comfortable.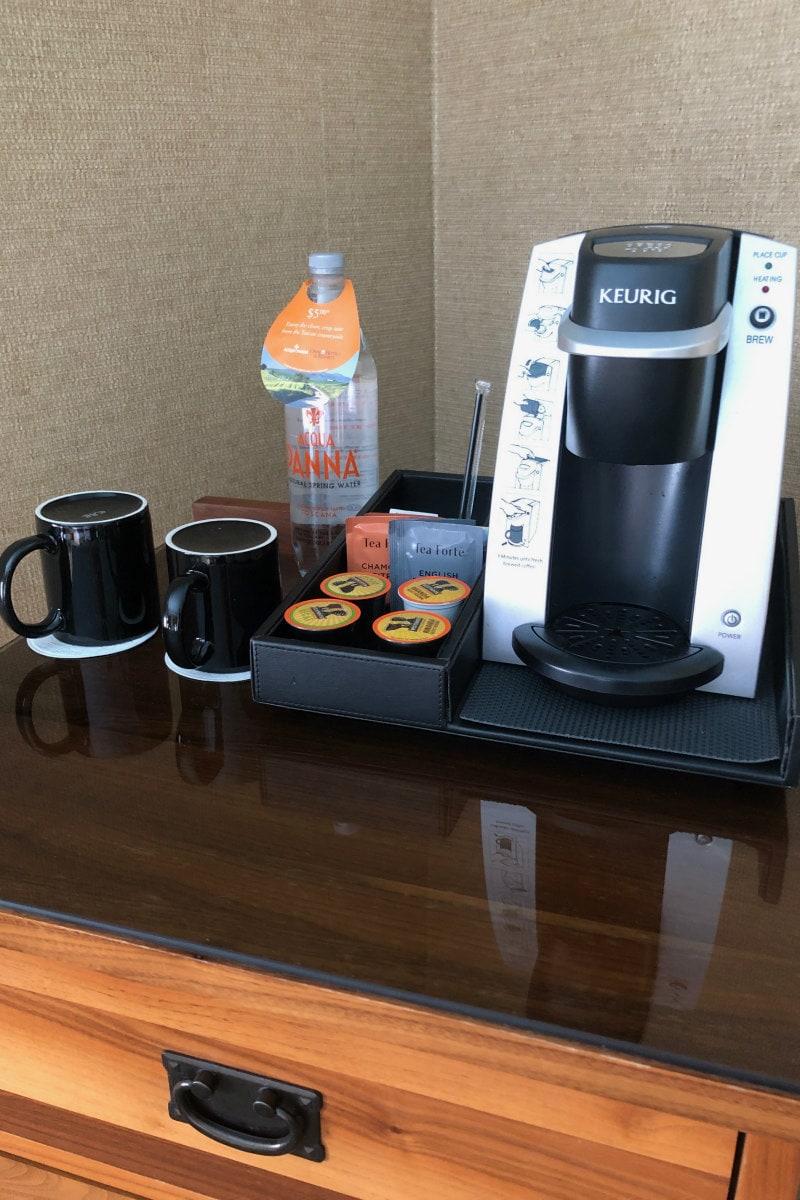 My husband was excited to have his very own Keurig in the room!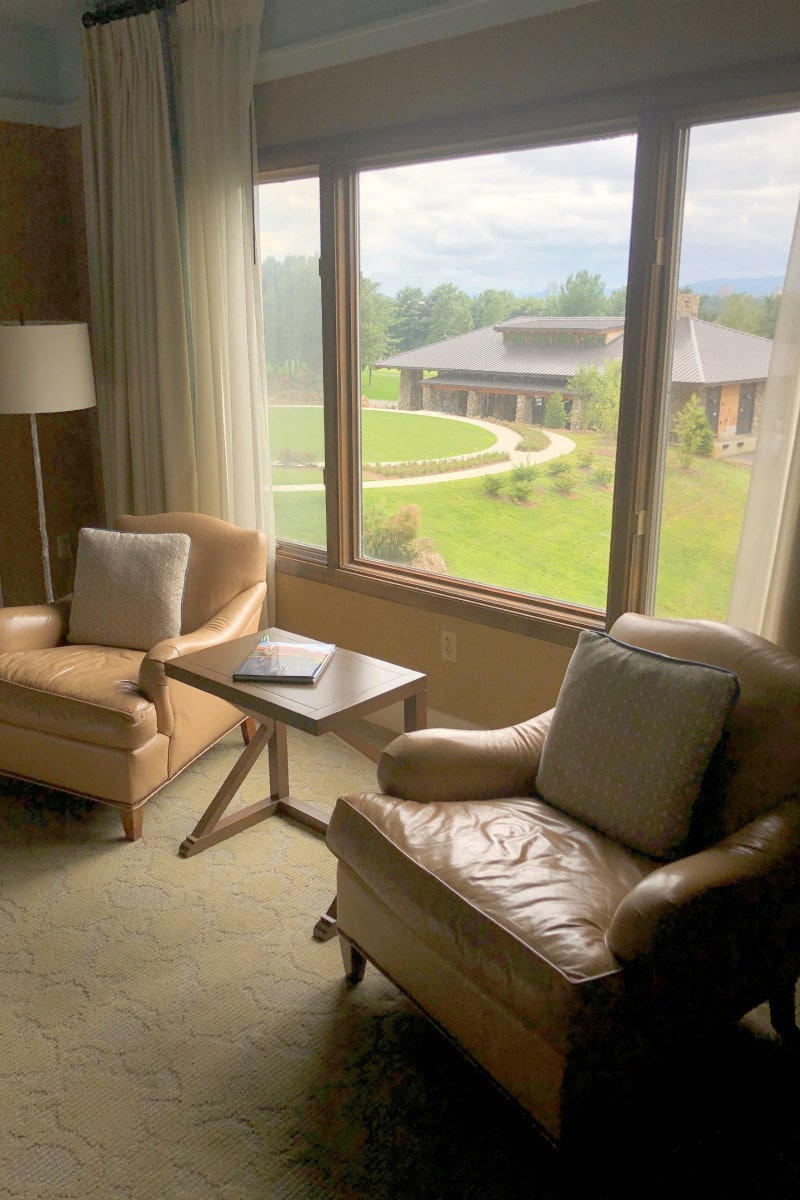 Our room overlooked an event center down below. It's a beautiful place to host an event- totally lux party venue down there. A lot of people choose this place for wedding receptions. This is also the area where you can walk your dogs down the paths.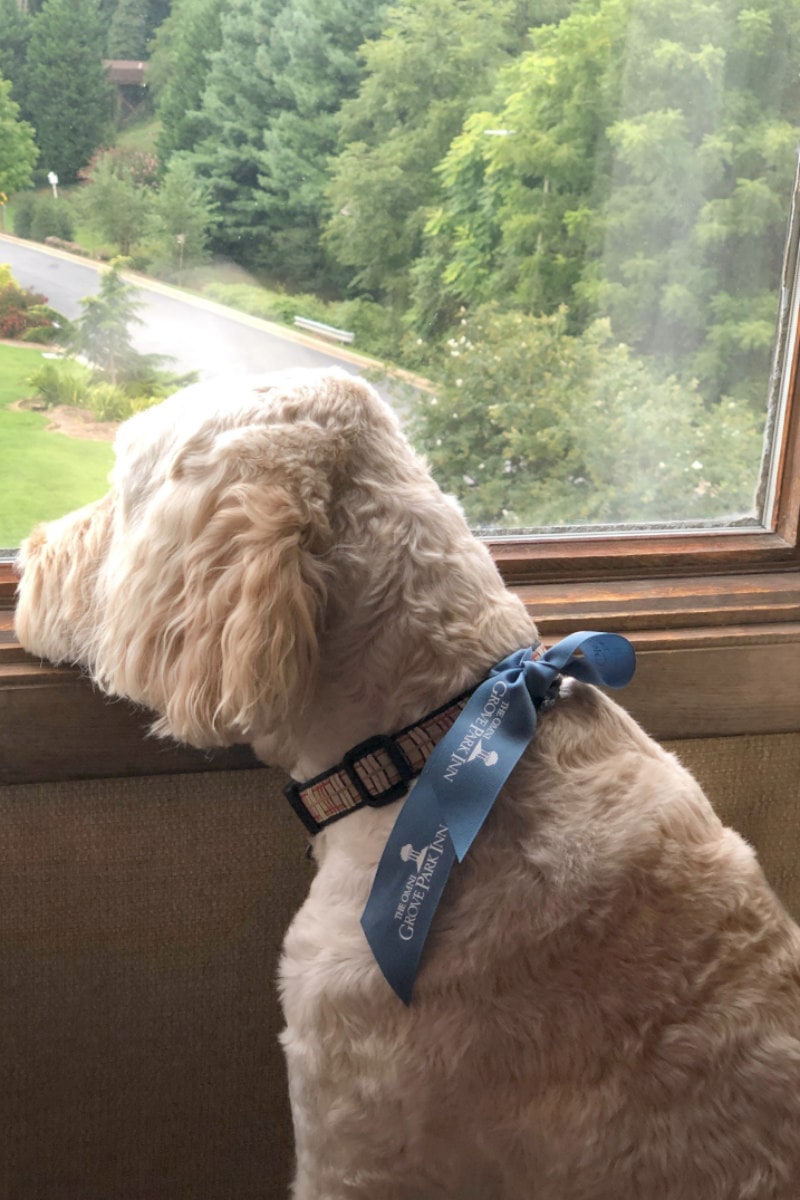 Our labradoodle Tessie planted herself at this window and watched people (and dogs) walk on those walking paths below!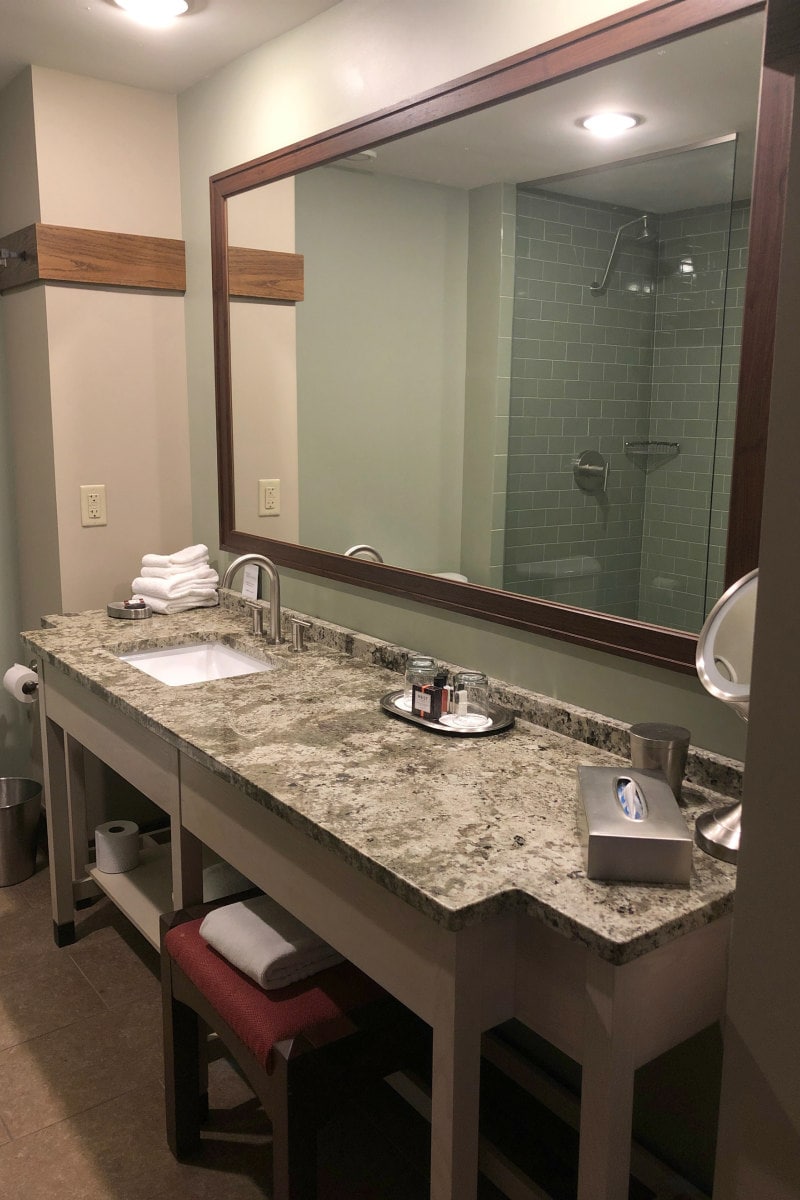 My pet-peeve in hotels is always the bathroom (usually too small). The bathroom in our room was a good size, and the shower was huge (yay!)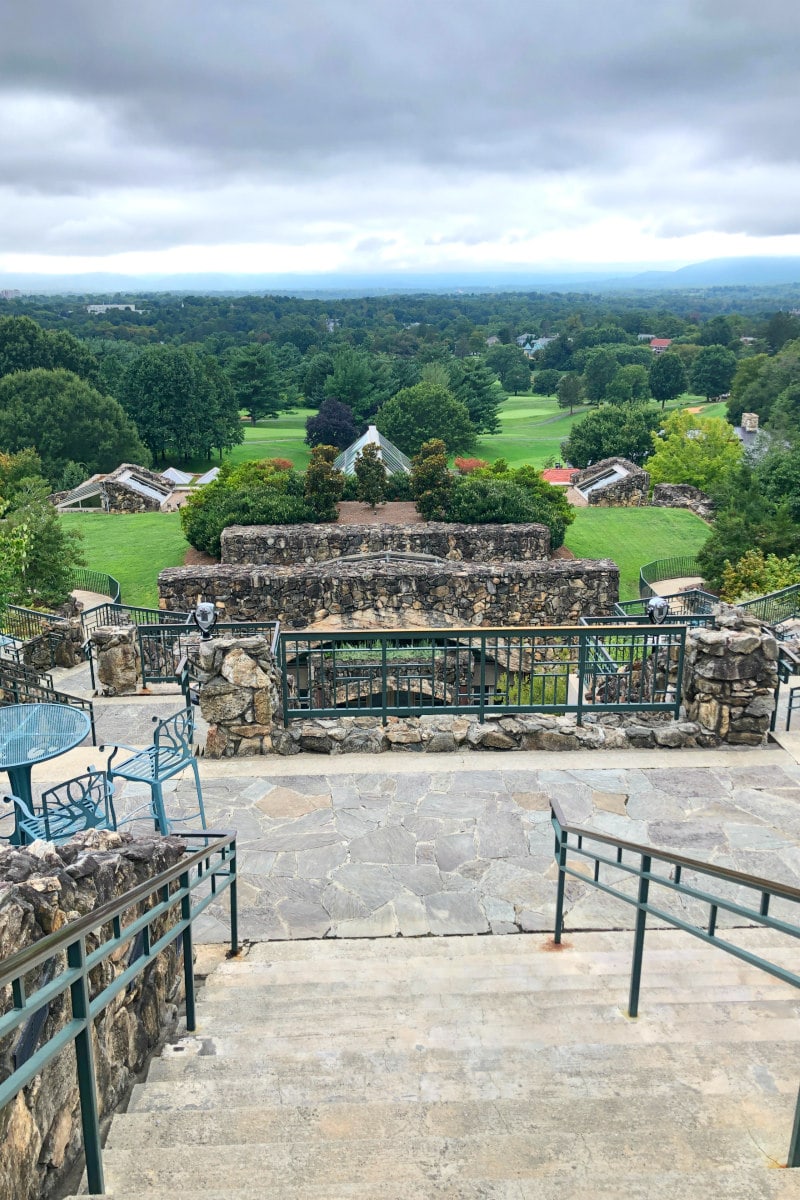 This is a view looking out the back of the hotel. It's a gorgeous walk around the grounds. Lots of people were out walking the paths and stairs getting their exercise in every day.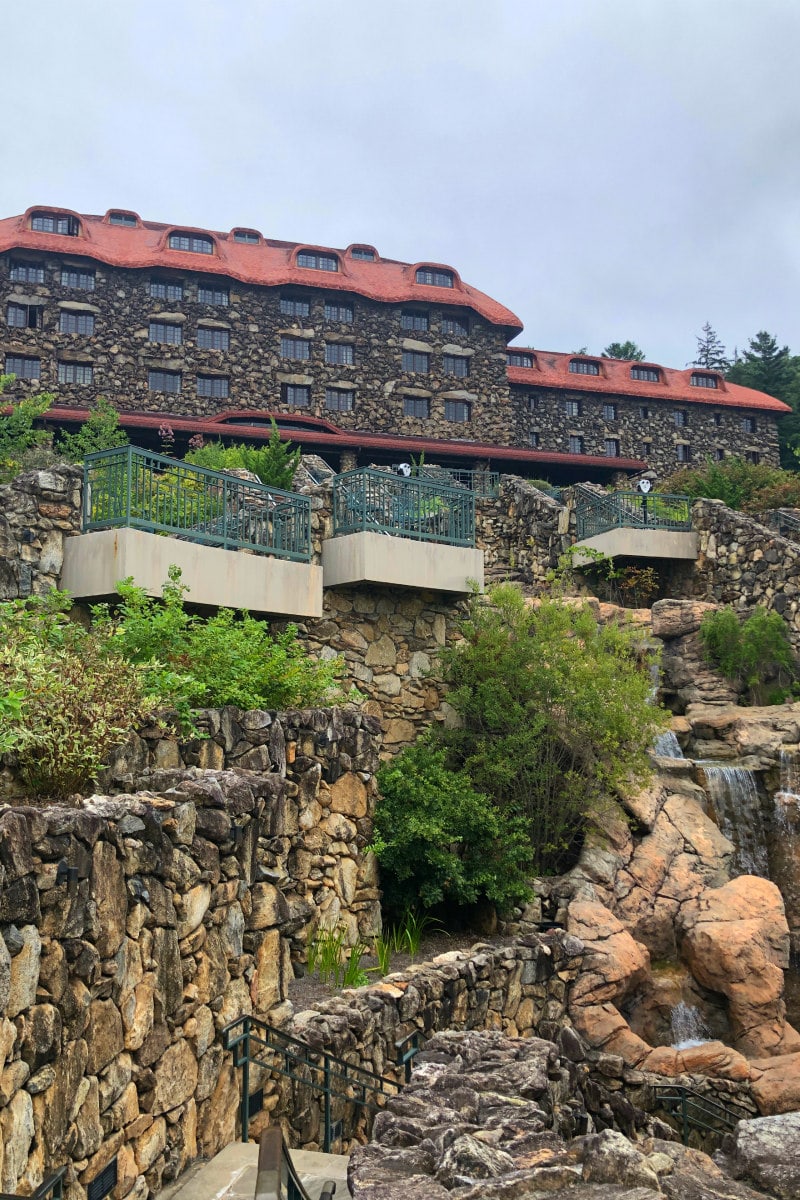 And here's a peek back up at the hotel from the bottom of the stairways. We brought our computers to an outdoor table up there and enjoyed happy hour while we worked. So pretty!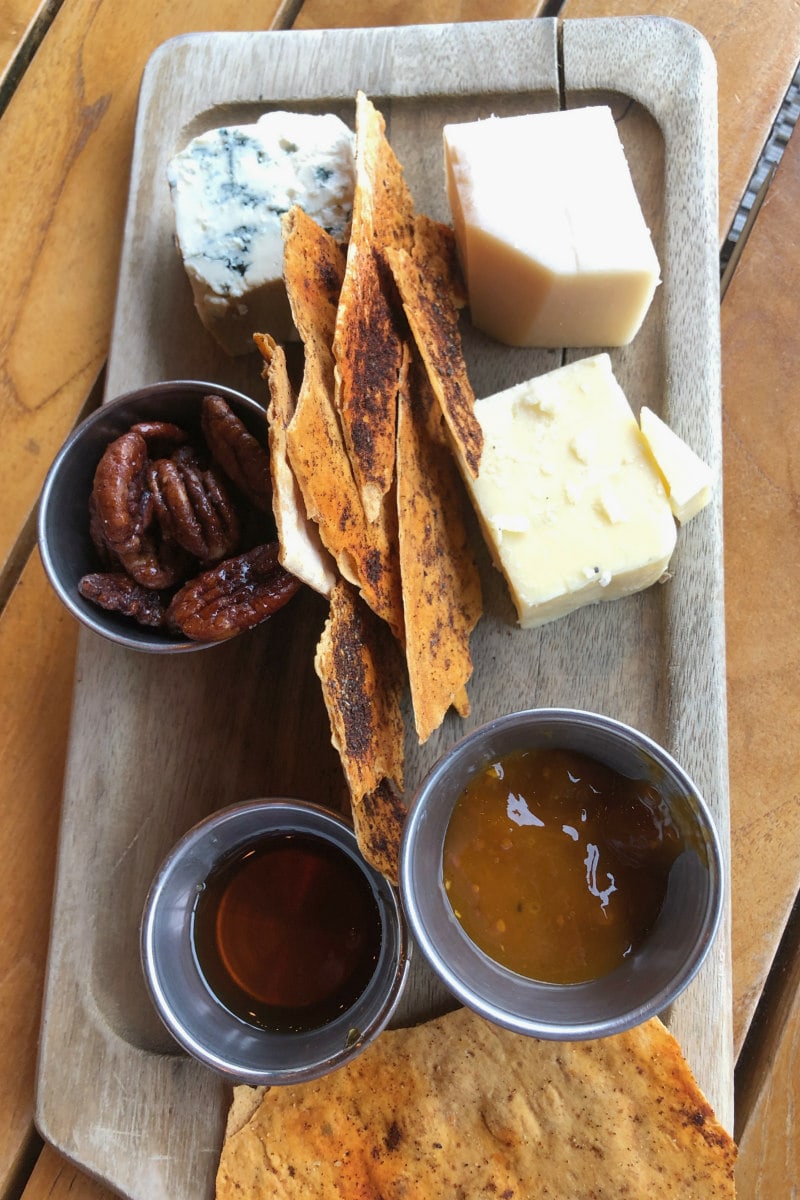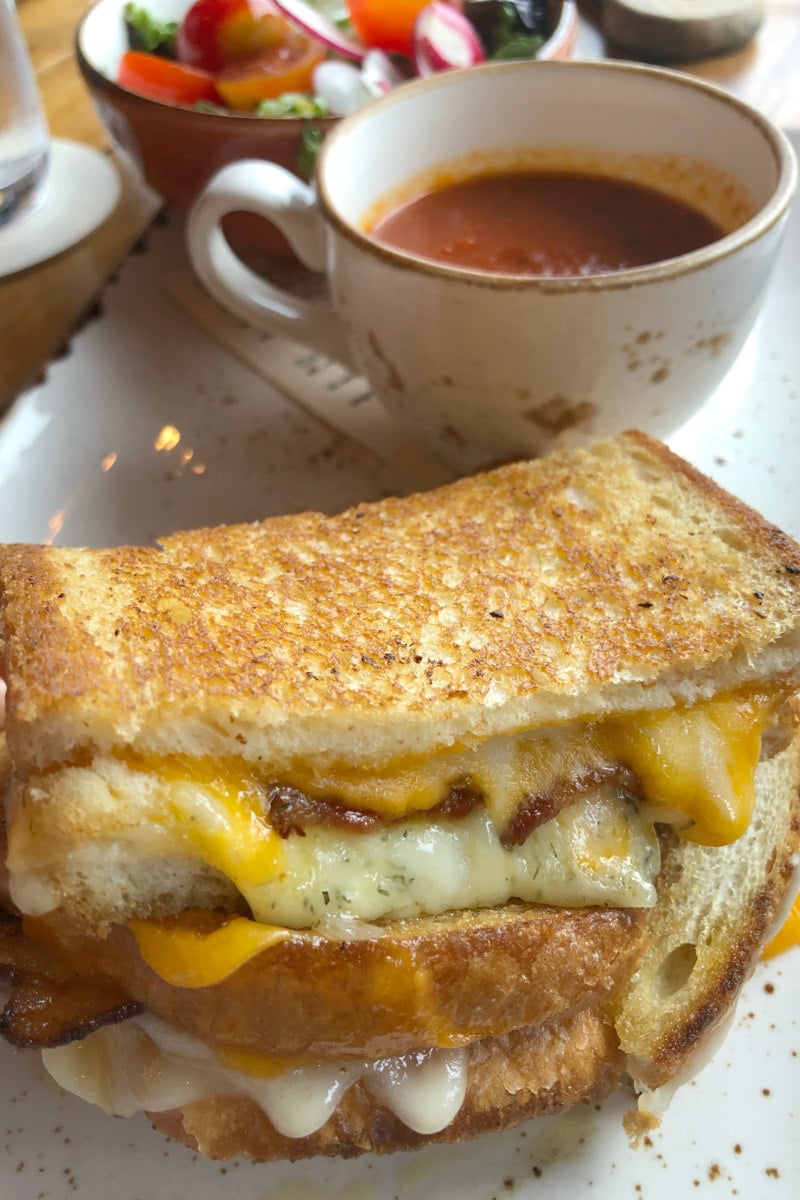 Dining, Drinks and Entertainment at Omni Grove Park Inn:
Our first night there, we ate at the Edison (craft ales and kitchen), which is an indoor/outdoor restaurant overlooking the valley below. I enjoyed wine, and my husband enjoyed a beer flight (Asheville is known for having a fine array of craft breweries). For eats, we munched on a cheese board, burgers and grilled cheese with tomato soup. I highly recommend the Edison! We also visited the little coffee shop for grab-and-go breakfast sandwiches each morning. The shops in the hallways on the way to the rooms are super cute and have a lot of local, fun things to buy.
There are quite a few more places to grab food on site: Sunset Terrace is an outdoor restaurant that offers steaks and seafood, Vue 1913 is a brasserie-style restaurant offering more elegant dining and a good wine selection, Blue Ridge is a farm to table daily breakfast buffet (+ dinner buffets on Fri/Sat), The Great Hall Bar is a rustic setting for signature cocktails with huge fireplaces, the Presidents Lounge is another place for cocktails with a great view and a pool table, the Spa Cafe is a good place to get healthy, casual fare, the Dueling Piano Bar is open Thurs. through Saturday nights, the Sunset Cocktail Terrace overlooks the valley behind the resort, and the Cabana Grill and Bar is casual fare located near the outdoor pool.
I heard from so many people that we must come back sometime during the holiday season. The Omni Grove Park Inn hosts the National Gingerbread House Competition. Apparently it's super fun to come and see all of the gingerbread houses, and they have the resort decorated nicely for the holidays. Winning creations are put on display from Nov. 20th through January 4th.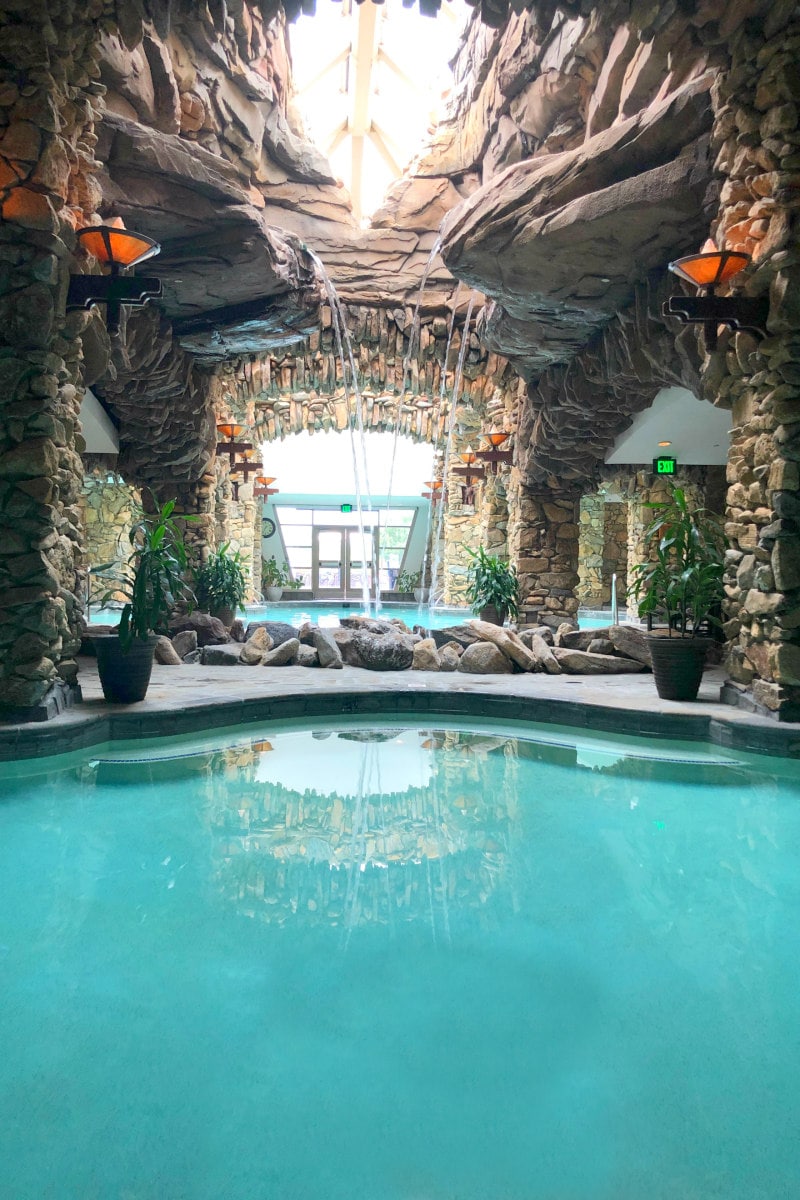 A Day at the Spa:
If you stay at the Omni Grove Park Inn, you must plan to spend a day at the spa. We both had spa treatments (a facial and a massage), and then spent several hours enjoying everything else that the spa has to offer. Plan to relax by exploring 43,000 square feet of peace and quiet. There are two therapeutic waterfalls that you can stand under and let the water falling massage your back, a lap pool with underwater music, private men and women's contrast pools, inhalation rooms, saunas, and eucalyptus-infused steam rooms.
Then you can make your way out to the pool area to get some sun and enjoy a spa snack and beverage (or cocktail). There are cozy spa lounges where you can snuggle with a blanket, drink tea and read a book. Many people who enjoy the spa make a day of it.
They have a very strict no electronics policy, so that's important to note. No computers, no phones… nothing but relaxing.
If you want to get some exercise, that's easy to do here. They have a hiking trail that travels within the property up Sunset Mountain.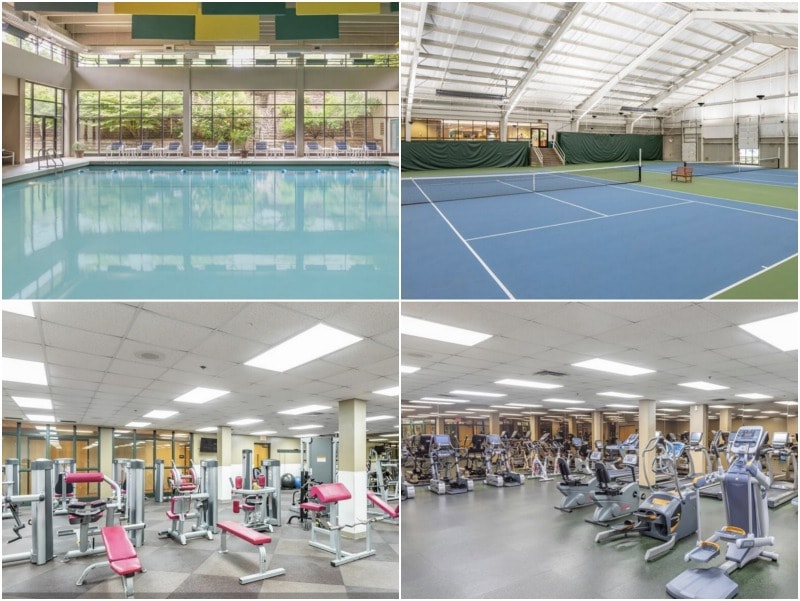 The sports complex is incredible: a huge pool, tennis courts, weight room and cardio.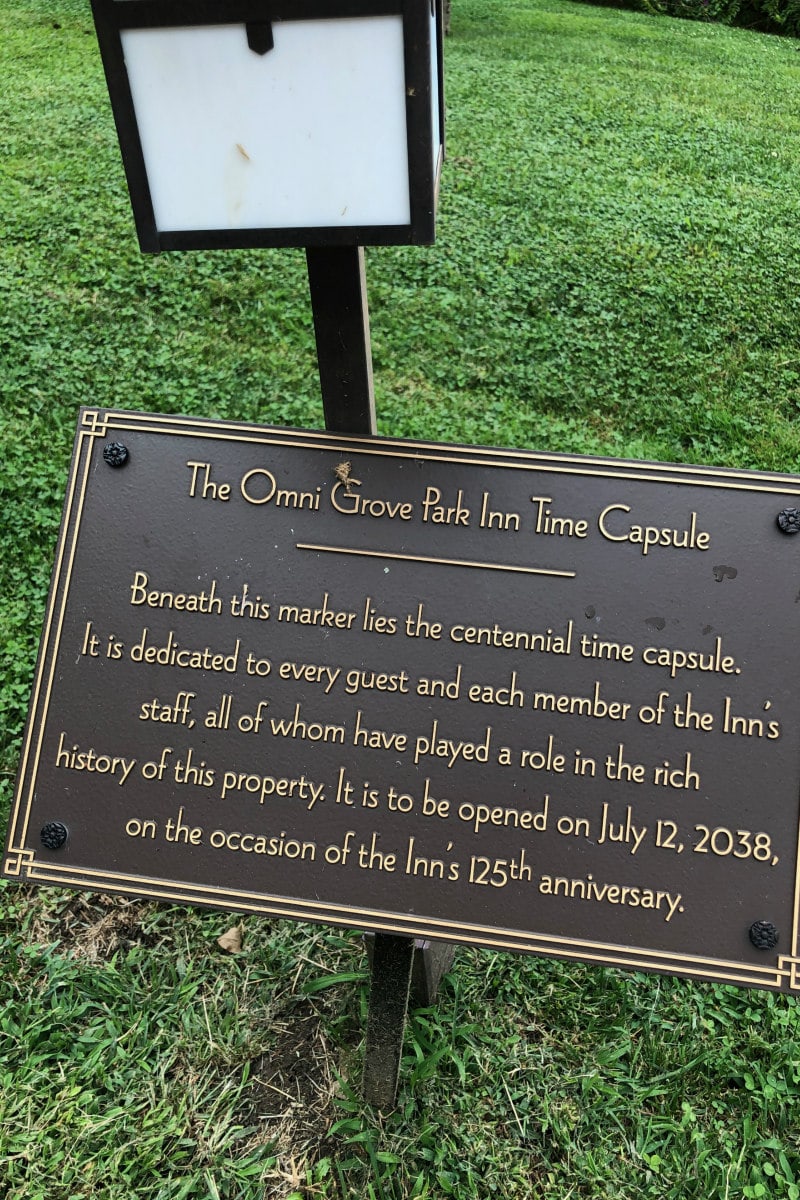 I spotted this on the property. And I'm SO INTERESTED to find out what they put inside the capsule! I guess I'll have to come back and visit in 2038.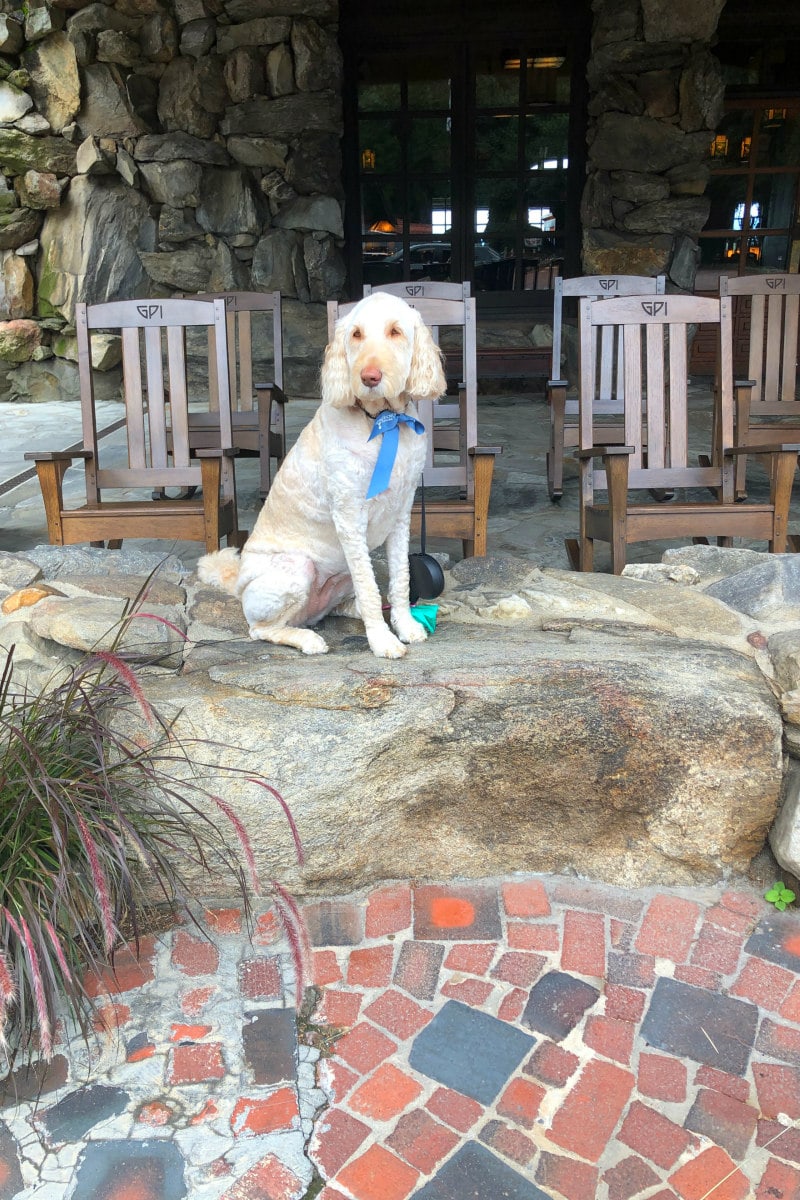 This was my first visit to North Carolina, which I found to be an incredibly beautiful state. The Omni Grove Park Inn is the perfect place to stay. It was so comfortable and relaxing and quiet. We want to come back here for a longer stay! It was very easy to take an Uber (or drive) into town to enjoy the adorable town of Asheville (fun shopping, awesome restaurants and lots of craft breweries). Asheville is a city to add to your travel bucket list!