Last week I had the unique opportunity of visiting Louisiana for the first time ever!  I'm a California girl, so the south is little bit like foreign territory to me.  The people, the food and the bayou- were all things I was looking forward to.  The trip was a blast- every minute of it.  Here's a little recap of my time  there.
I was invited on the trip along with a few other food and cocktail bloggers by the folks at Tabasco Sauce.  We stayed on Avery Island, home of  Tabasco Sauce– which was founded in 1868 by Edmund McIlhenny.  Five generations later, the sauce is still made on Avery Island, and the company is still family owned and operated.  That's not something you can say very often these days!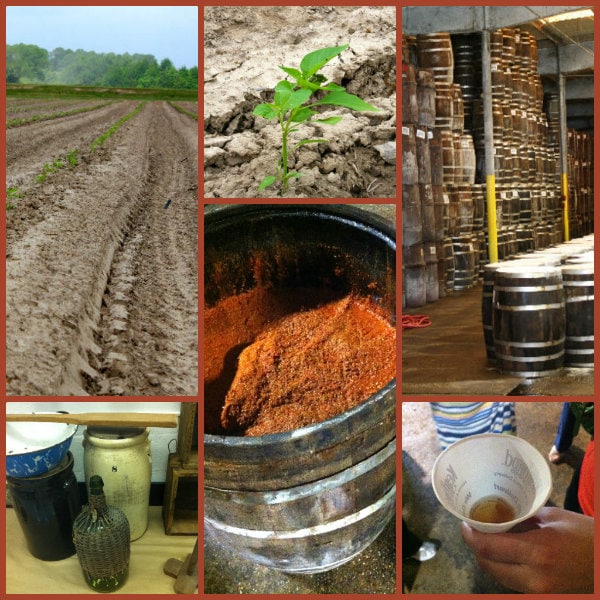 We were educated on the whole process of how Tabasco is made (and how it has always been made).  Peppers are grown and then ground into "mash," and then they are packed into large barrels where salt is added and they are given time to age.  In the old days, bottles and jugs were used instead of barrels, like the ones shown in the lower left.  We had an opportunity to taste the "mash," which was super duper spicy… so they gave us a swig of bourbon for being brave enough to take a taste 🙂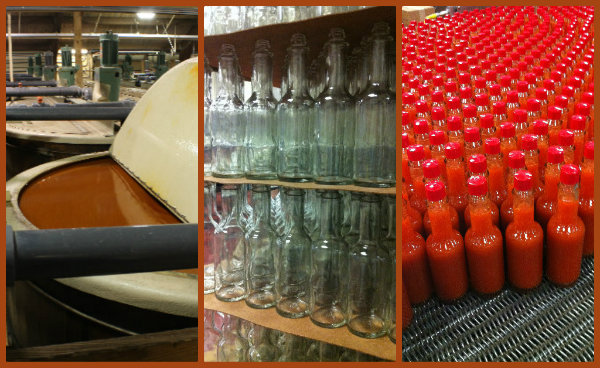 In the processing plant, they add vinegar to create Tabasco "sauce."  It goes into huge vats with stirring arms, and it's aged a bit more before it's ready to bottle and ship to more than 160 countries around the world.  Interestingly enough, Japan is the country that uses the most Tabasco sauce of any other.  That was a little surprising to me.  I wonder what they use it for?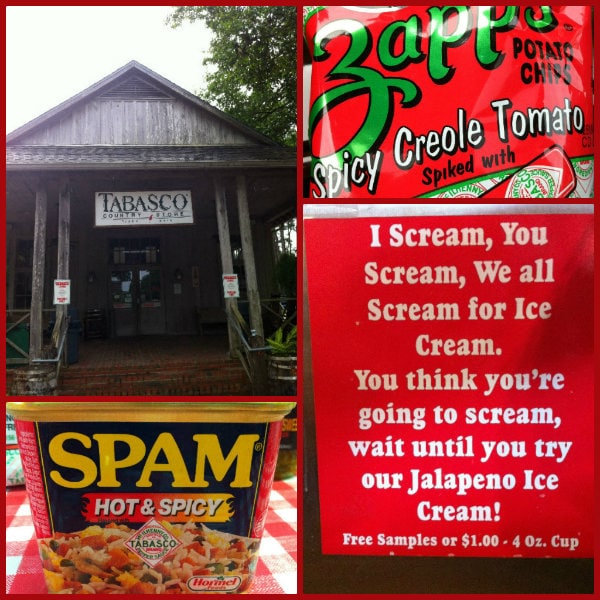 The Tabasco Country Store has all kinds of fun Tabasco-themed goodies.  No, I didn't taste the Tabasco Spam, but I did learn that the people of Guam are really into this stuff.  I was told that they consume more Tabasco per capita than any other country.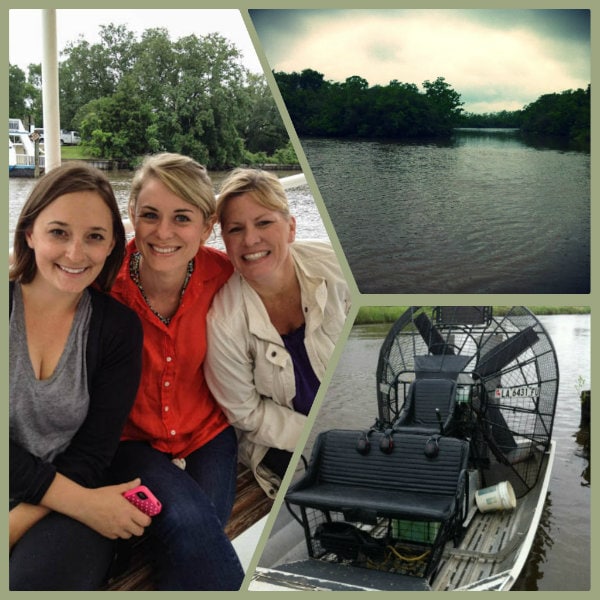 Cruisin' down the bayou was a fun highlight of our trip, even though those menacing clouds followed us around all day.  Gaby and Jenna were fun friends to hang out with (picture from Jenna).  And I got my very first ride down the bayou and through the swamp in this super cool airboat!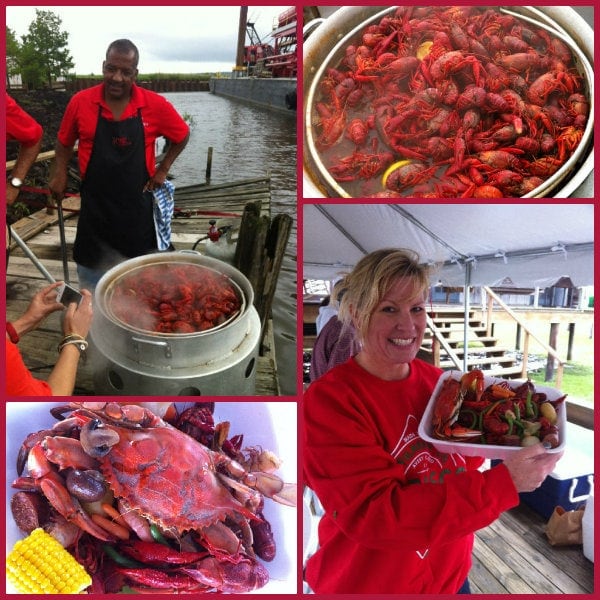 Along the bayou, we stopped and had a crawfish boil, of course!  Another first- I had never had crawfish before this trip… ever!  Well, I had my fill of crawfish.  I thought they were good… but they were an awful pain in the butt to get to for just that little bitty piece of fish.  Doing it all right on the bayou though was a priceless experience.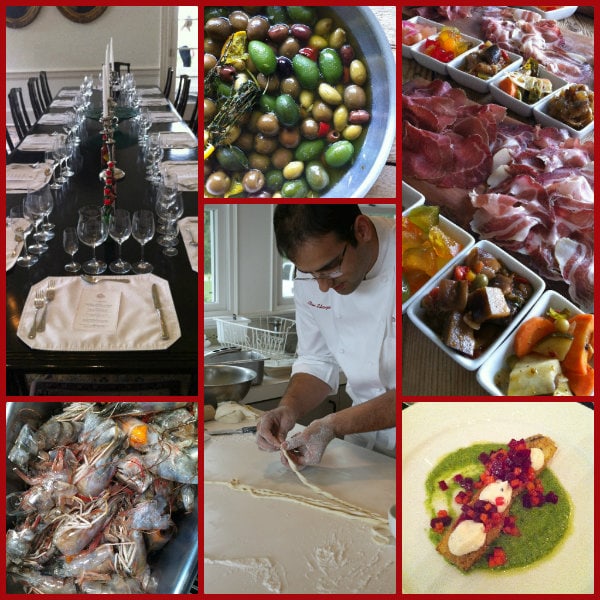 We had a dinner one night in the McIlhenny's family home.  They brought in Alon Shaya, a James Beard nominated chef from the Domenica Restaurant in New Orleans to teach us how to make homemade pasta and a most excellent shrimp stock (the secret to the rich flavor being… keep the shells- heads and all- on while simmering).  Chef Alon served up several courses – all using different varieties of Tabasco Sauce- amidst a thunder and lightning storm in a very old house.   Everything was amazing, but my favorite dish of the evening was a fried eggplant served over a green Tabasco- based sauce.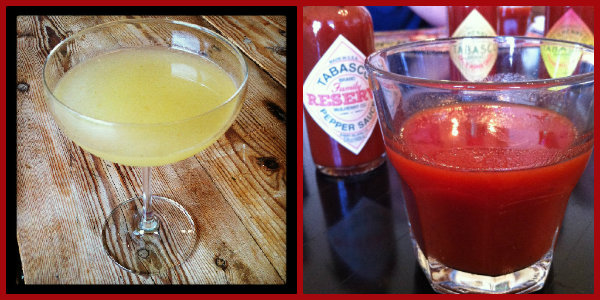 At cocktail hour, we were given a lesson in how to make some cocktails with Tabasco Sauce by the experts at Cure, New Orleans.  This is some sort of drink called a Hurricane Alley on the left (I'm so not good at cocktails, so I really can't tell you what was in it… even though I made the thing and shook it myself!)  The drink on the right – another first for me- is a Bloody Mary, made by Jeffrey from the blog The Cocktail Guru– who was also on the trip.  Although I enjoyed the Bloody Mary, I'm just not sure I could drink these in the morning.  Do people do that??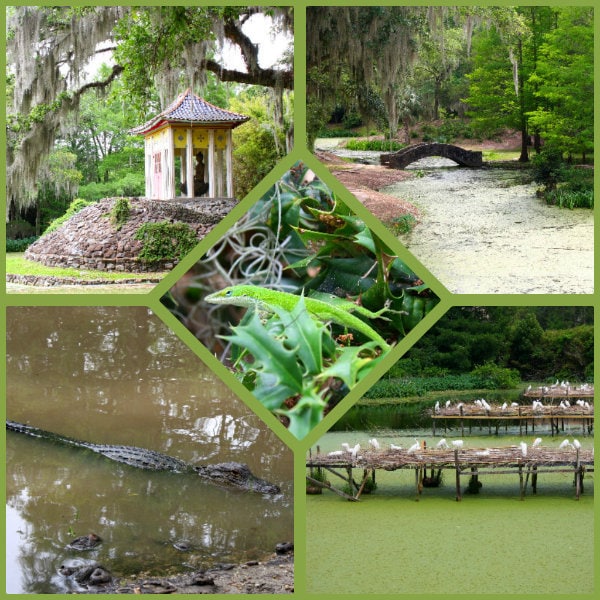 Another fun hot spot to visit on Avery Island is Jungle Gardens.  Ned McIlhenny (son of Edmund) brought in exotic plants from all over the world to create these gardens back in the 1920's.  Today it spans 170 acres of protected land.  The buddha you see in the photo was a gift from one of Ned's buddies, so he plopped it in the middle of his Jungle Gardens.  He also founded Bird City, a private bird sanctuary for the once- endangered snowy egret.  The birds still come back to nest and have hundreds of babies every year!  We saw a few gators, but no big guys.  It was a little chilly for much alligator action.  Next time, I want to see more gators!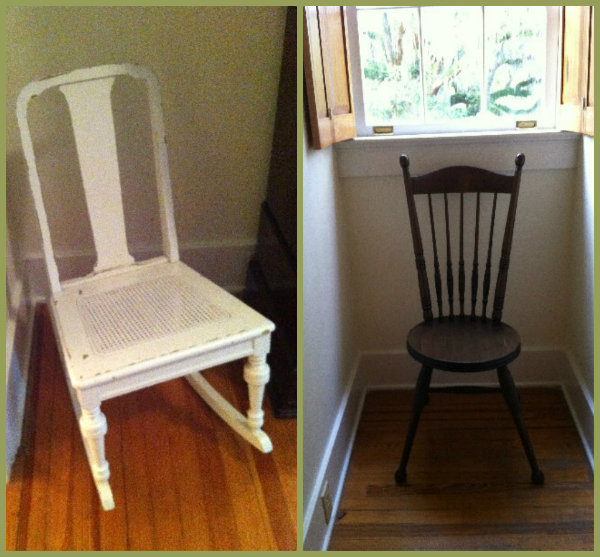 Most of us on the trip had the opportunity to stay in the McIlhenny home, built back in the 19th century.  You certainly can't stay anywhere that was built in the 1800's without being slightly weirded-out that there might be a few ghosts around.  These were two chairs in my room that I thought were pretty darn spooky.  I kept thinking to myself… if I wake up in the middle of the night and the house's ghosts decide to visit my room, these are the chairs they will be sitting in.  Or spontaneous rocking of that rocking chair there, right??  Nothing happened.  But we did end up hearing some pretty cool ghost stories of things seen in the house and around the property!
Finally, the trip would not have been complete without a proper Tabasco Sauce tasting and education about all of their sauce varieties!  I have to admit… I've never ventured out from the basic Tabasco Sauce, and I definitely wasn't familiar with the varieties that they carry.  The basic stuff… my husband puts it on his eggs.  I add it to recipes, but I tended to shy away from sprinkling its spiciness on my eggs.  See that Chipotle variety right there?  THAT is my new favorite sauce.  I've been sprinkling it on literally everything, and the Green Tabasco is the stuff I've been enjoying on my eggs.  I'm such a fan.
If you ever find yourself in Southern Louisiana, I'd recommend stopping in on Avery Island to see what it's all about.  It's beautiful country, and touring the Tabasco factory is fun too.  Thanks to the McIlhenny family for hosting me on Avery Island.  I loved every minute of the trip and everyone in your family is delightful.  Thanks to Hunter PR for putting together a fun weekend.  I feel very lucky to have been a part of it.
This trip was offered courtesy of Tabasco Sauce and the McIlhenny Family.  All opinions expressed are my own.