I'm sharing the Best Texas Lake House Rental on VRBO. It's a house we recently rented when we decided to spend a few days on one of the Texas lakes- Cedar Creek Lake!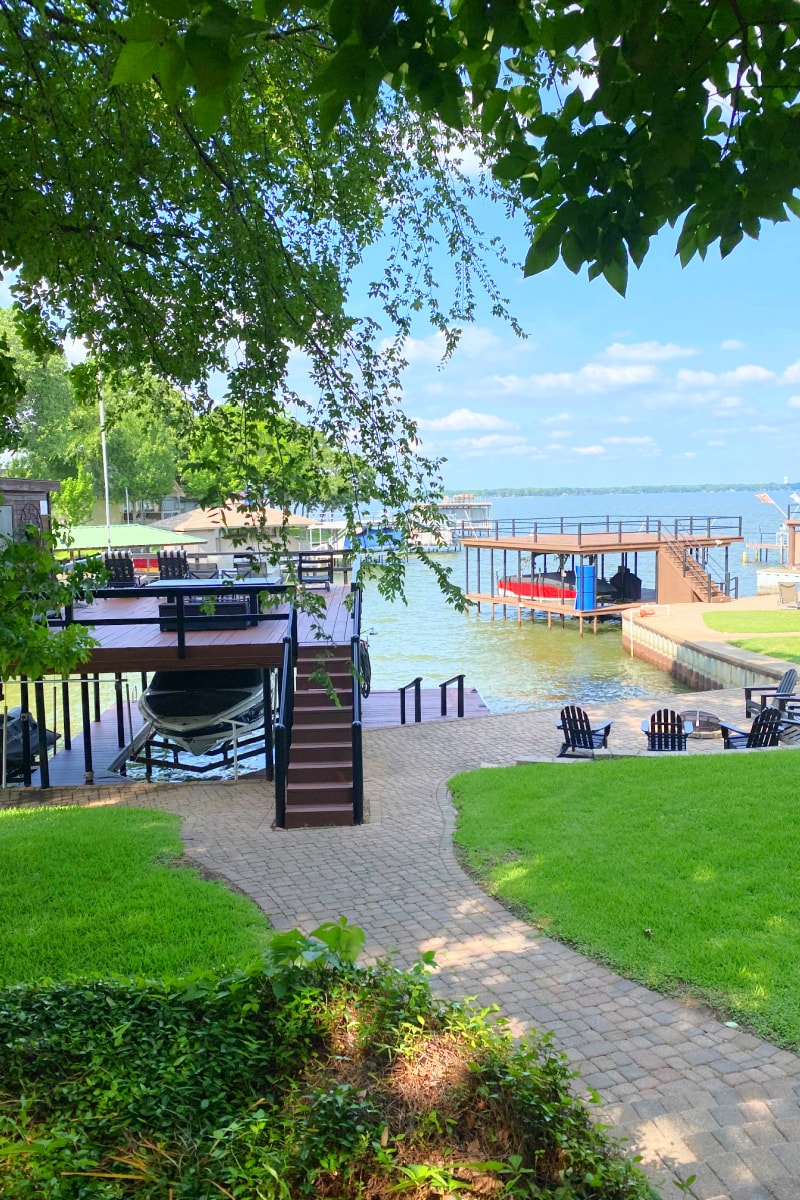 My college-age son recently had a big birthday, so we arranged a lake house vacation and had him invite a few friends to join us. I talked to friends who are Dallas locals, and they suggested I look for a home rental on Cedar Creek Lake (a little more than an hour from Dallas). I found a great property (VRBO #1688736). It's gated, and it feels like a resort. There are so many great things about this house, so I had to share my find with you! The house has 4 bedrooms and 4 bathrooms. It's 3300 square feet.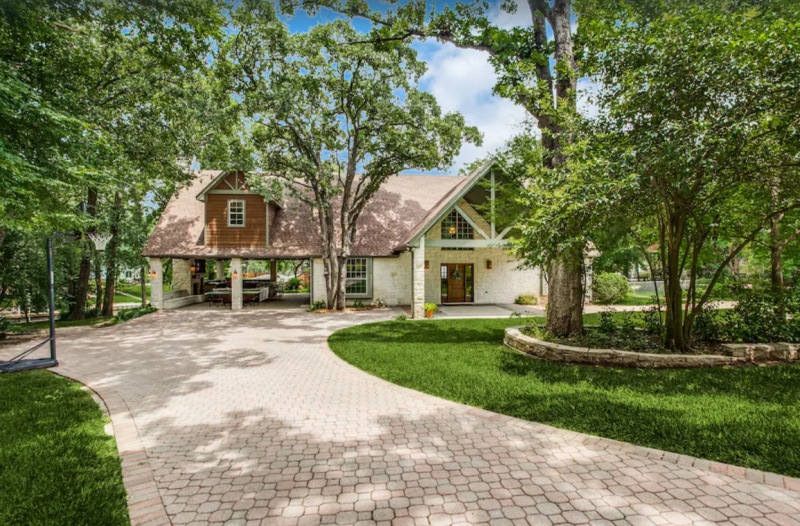 There's an electronic gate and a big, circular driveway. There is no garage, but none is needed. There is plenty of room for parking.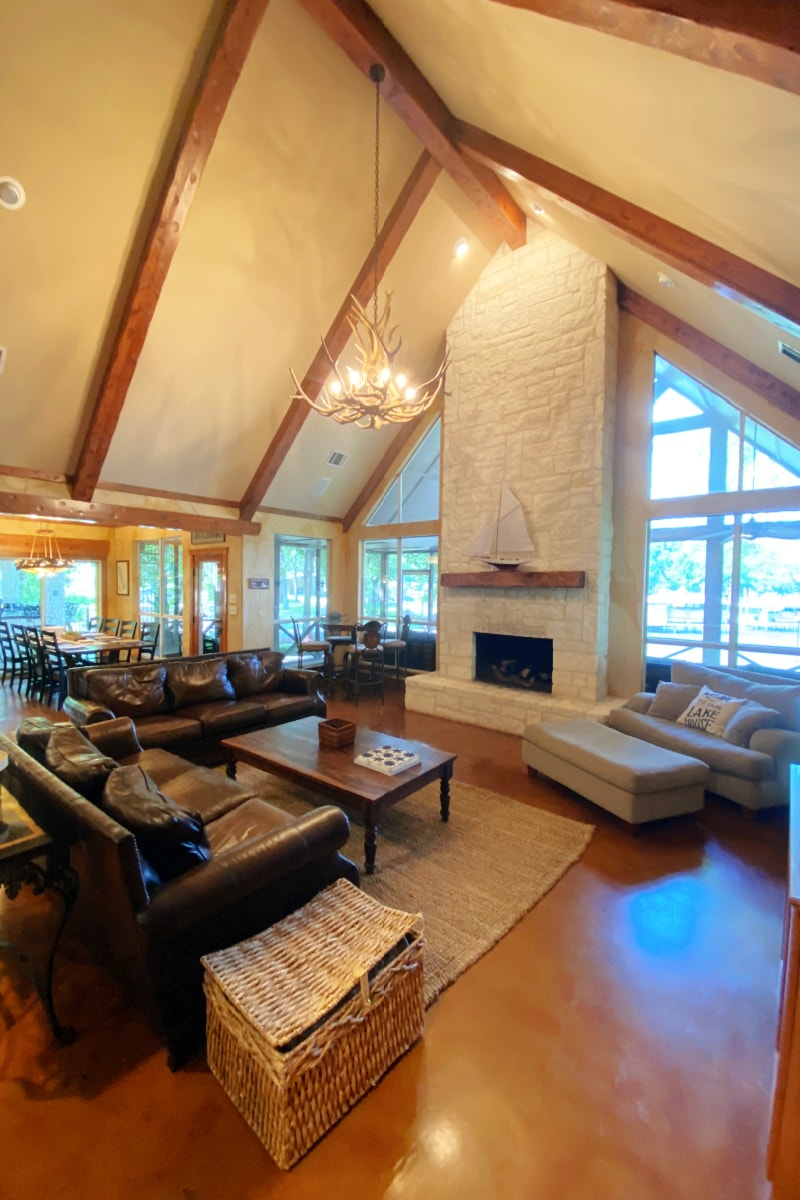 The photos of the best Texas lake house on VRBO are great, but when I walked in the door… I felt it was so much better than expected. There are tall ceilings with wood beams and a large great room. We were a little worried that we wouldn't have enough room hanging out with a bunch of college kids, but the house is quite large so there is plenty of room to spread out.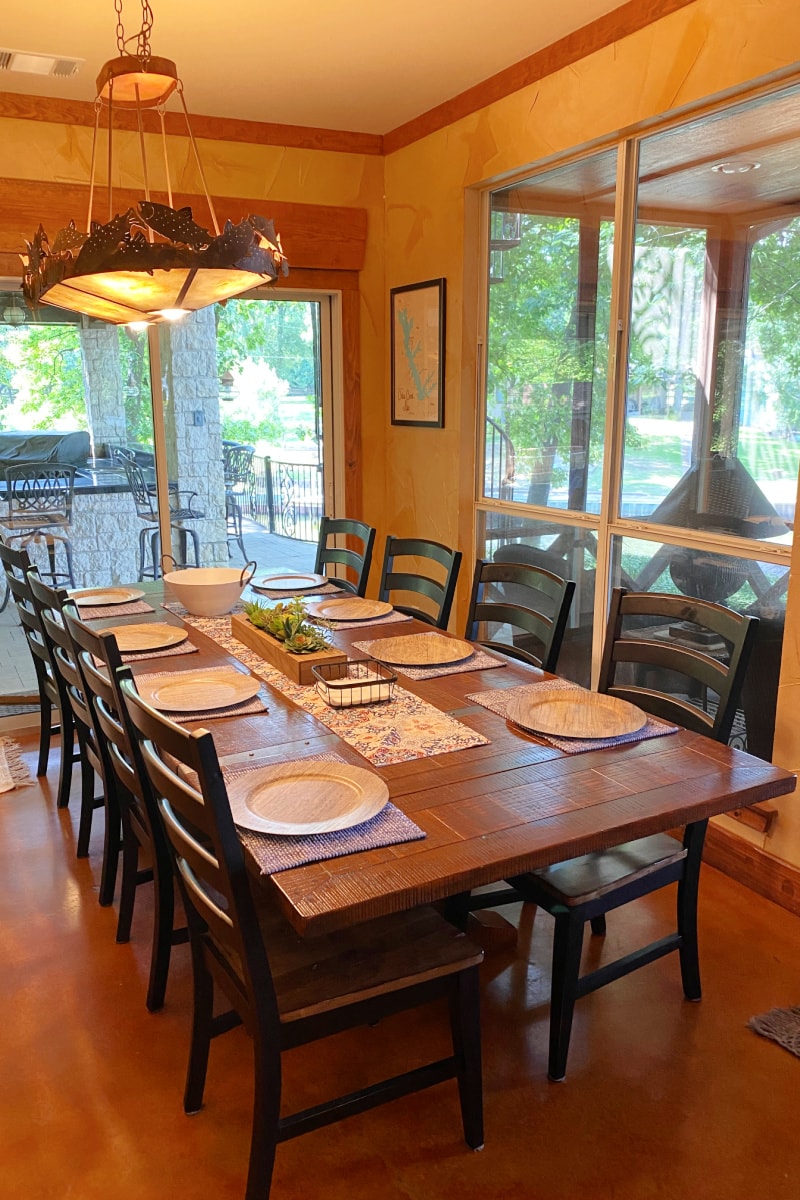 I was also pleased that there is a big dining table. There is also an additional, tall table in the family room area that is perfect for dining, plus 3 barstools at the kitchen bar.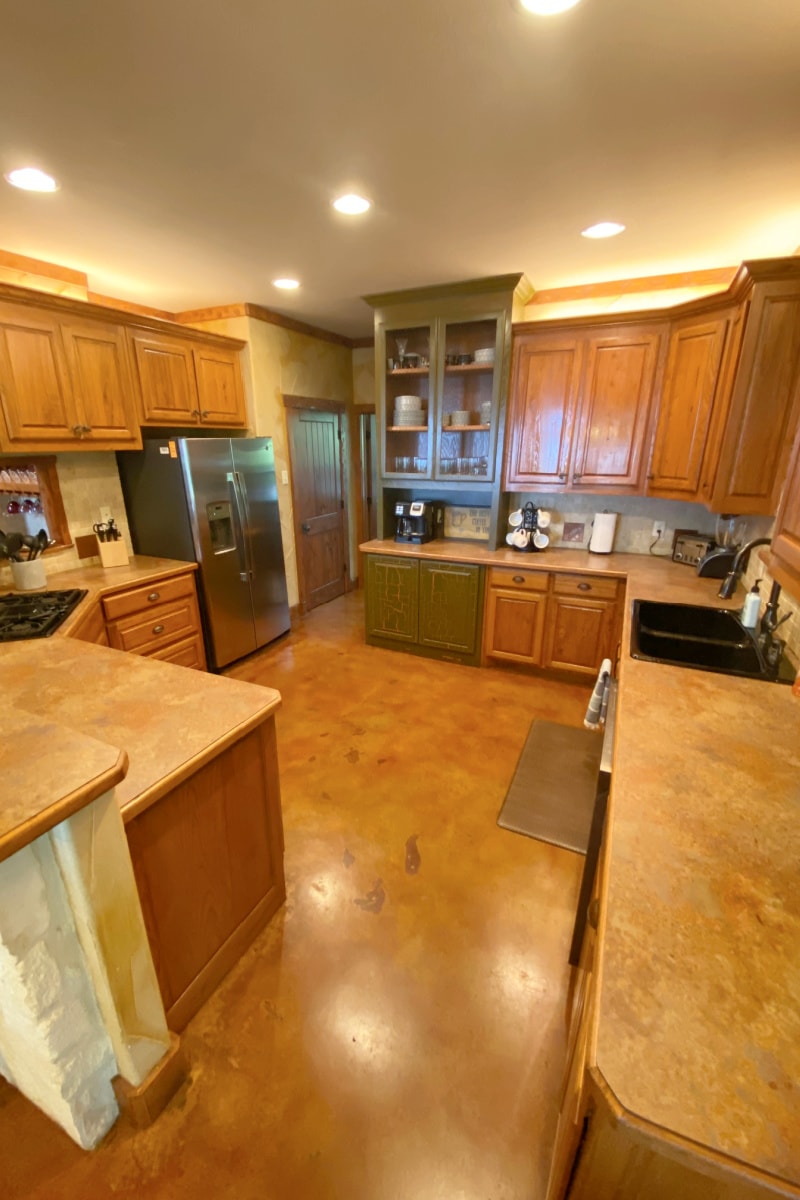 The kitchen is spacious and extremely well-stocked. Since this is the owner's vacation home, they have everything in this kitchen! I found there to be plenty of dishes and plastic cups for bringing out by the lake. There are lots of pots and pans, a crockpot, a hand mixer, roasting pans, cake pans, spices, a big pantry, platters and more. It's a nice place to utilize if you like to cook on vacation.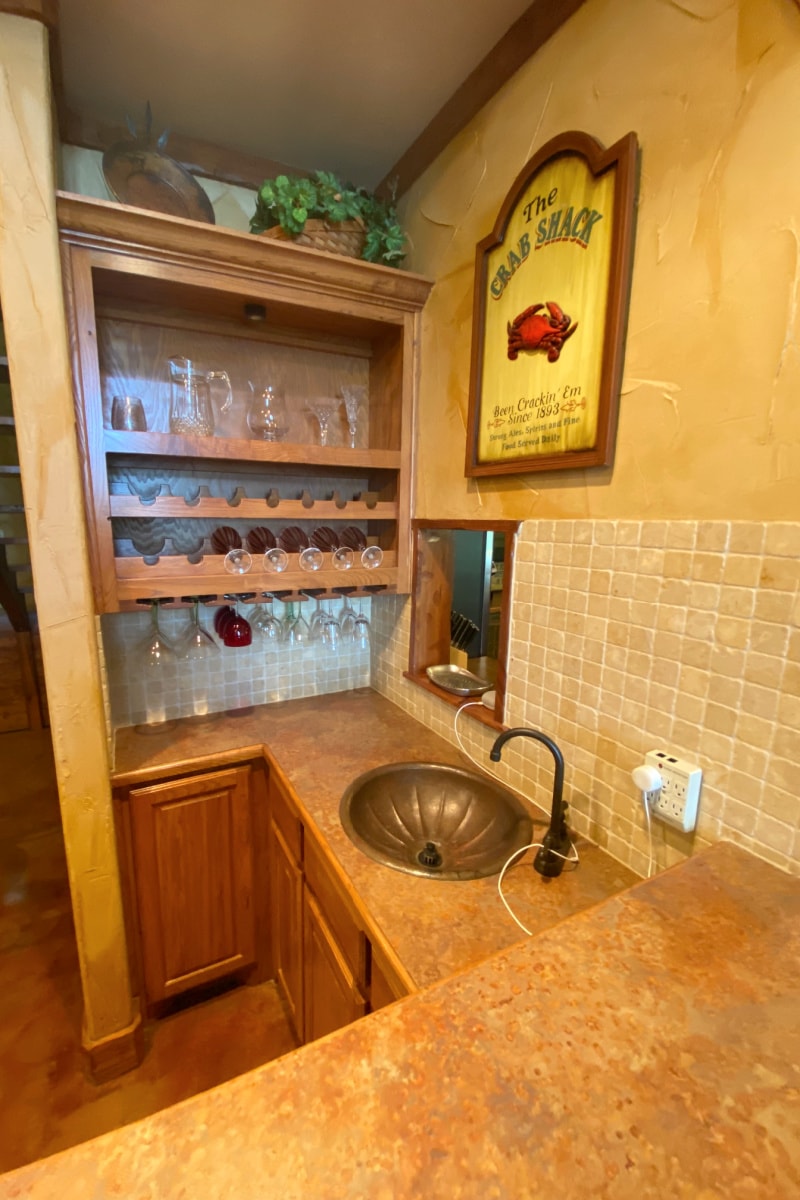 Off to the side of the kitchen is a little home bar. It's a great place to store wine and other beverages and keep them out of the kitchen.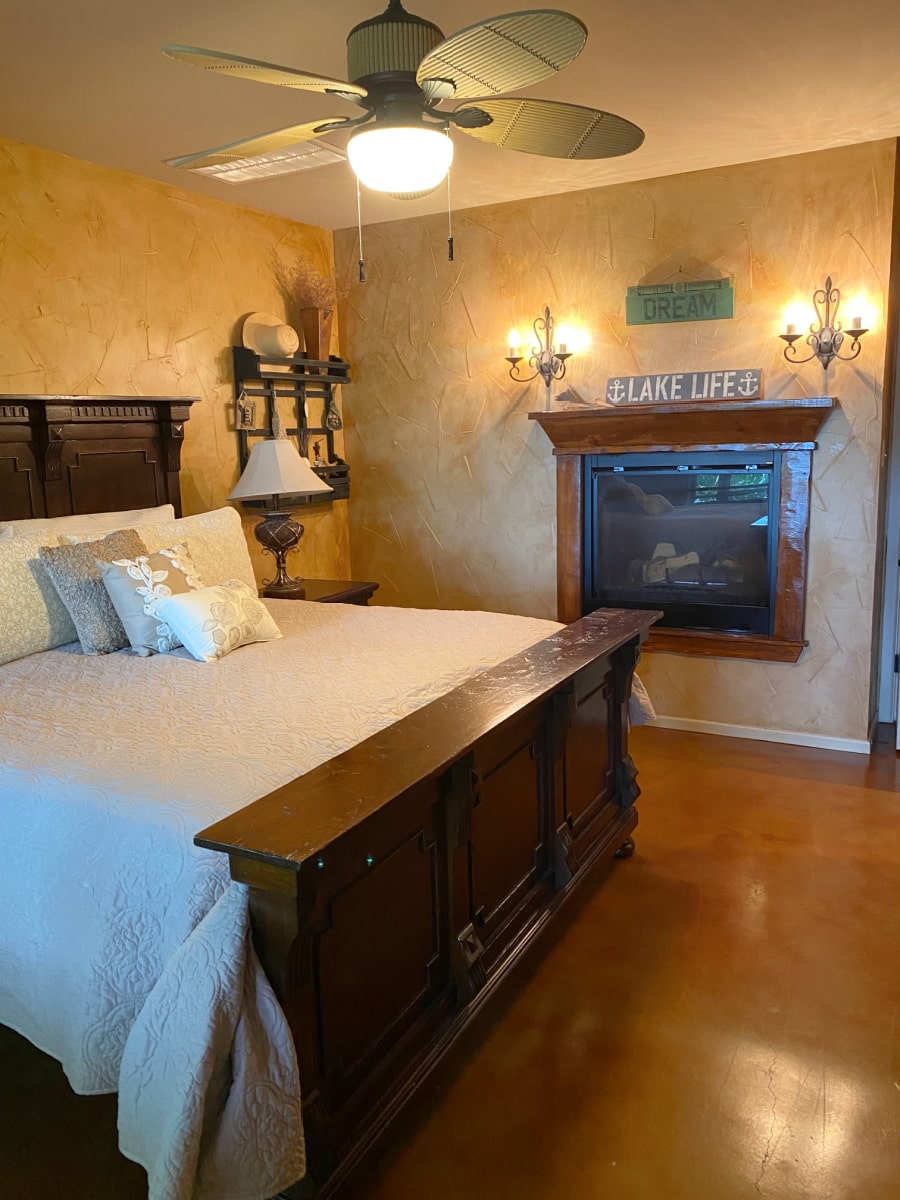 The master bedroom is located on the first floor, just off the family room area. It's great because it's far away from the other bedrooms upstairs. We slept well in the comfy king bed, and it's very quiet in that room. The view from the master bedroom window is a pretty view looking toward the lake.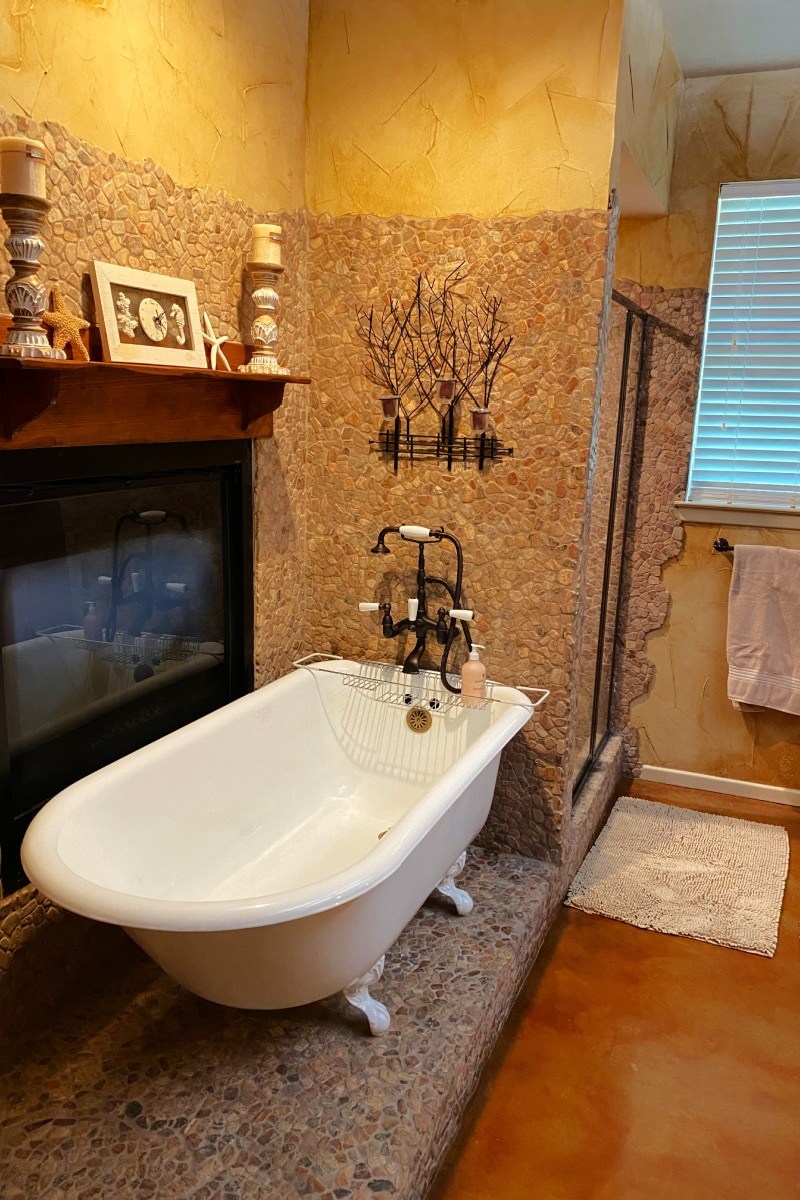 The bathroom is amazing, with a double-sided fireplace, free-standing tub, nice shower and a large closet.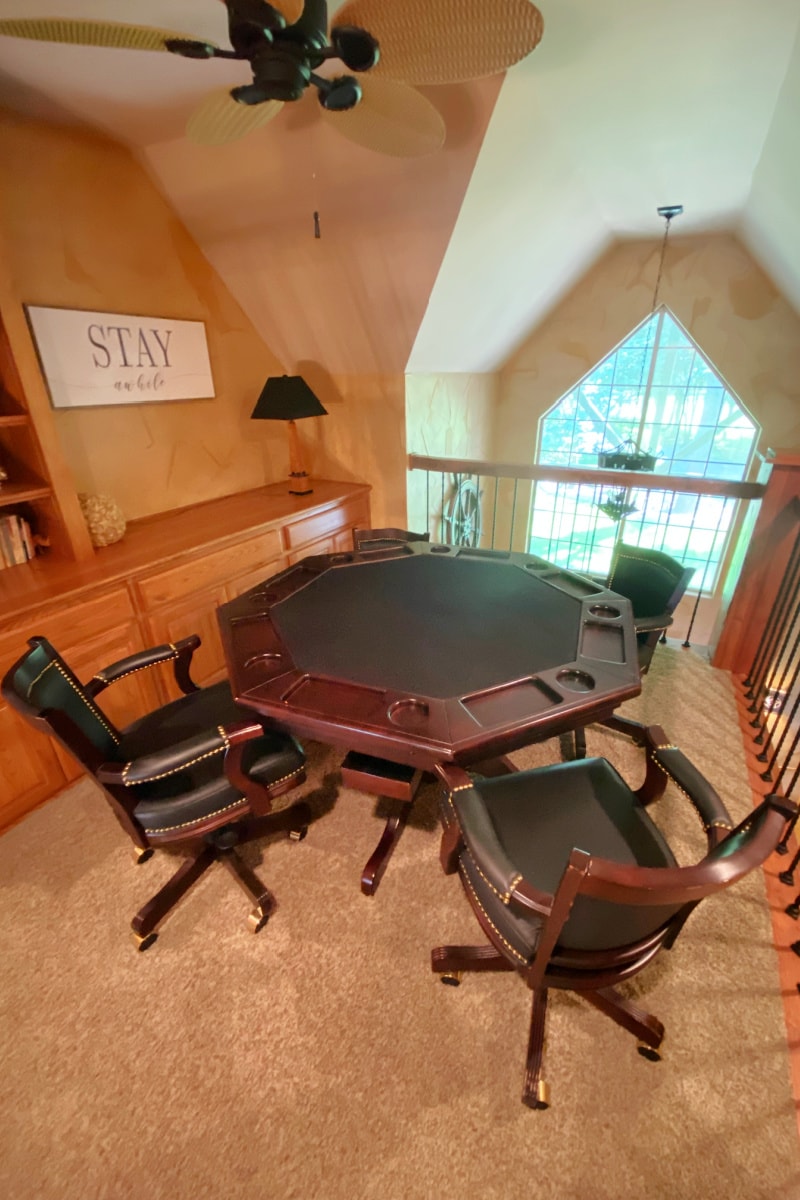 When you go up the stairs, there is a poker table on the landing.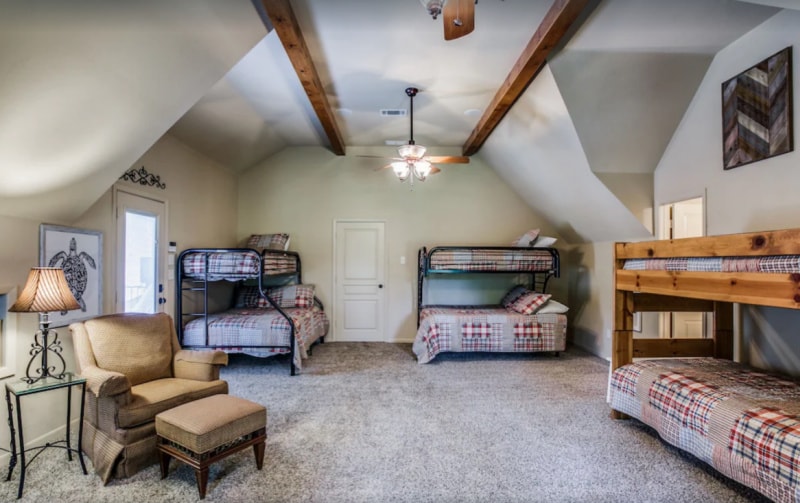 On one side of the upstairs, there is a queen bedroom. Attached to that bedroom is a large bunk room. That's where all the kids stayed. They watched TV up there much later than we wanted to stay up. I'm sure they made a lot of noise, but we didn't hear a thing! There is a full bathroom by the bunk room. There is another king bedroom and bathroom on the other side of the upstairs.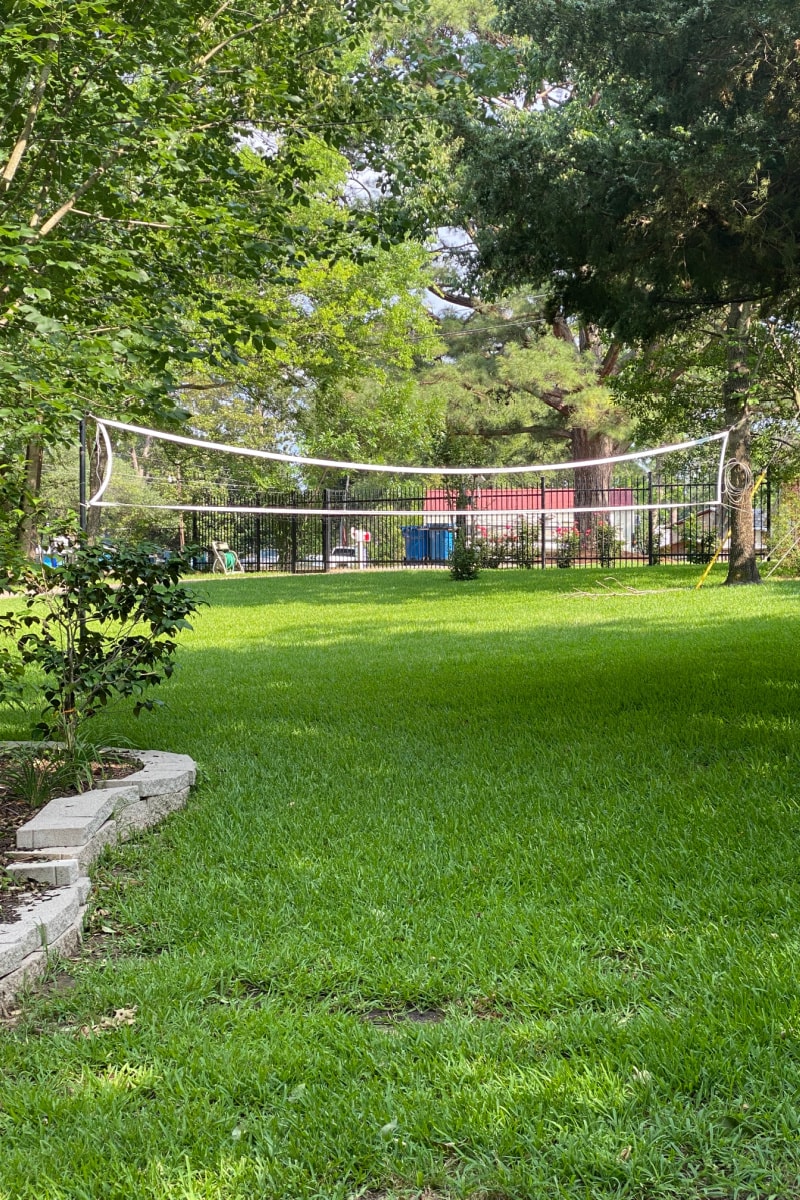 You can play volleyball and basketball in the front yard (they provide the balls).
And there's a golf cart available to rent during your stay ($200). We didn't use the golf cart, but it's kind of nice to have if you're staying for several days. Use it to explore the area, or use it to drive down to the marina. At the marina (just down the street), you can rent jet skis, kayaks and boats. There's also a tiki bar and café to enjoy.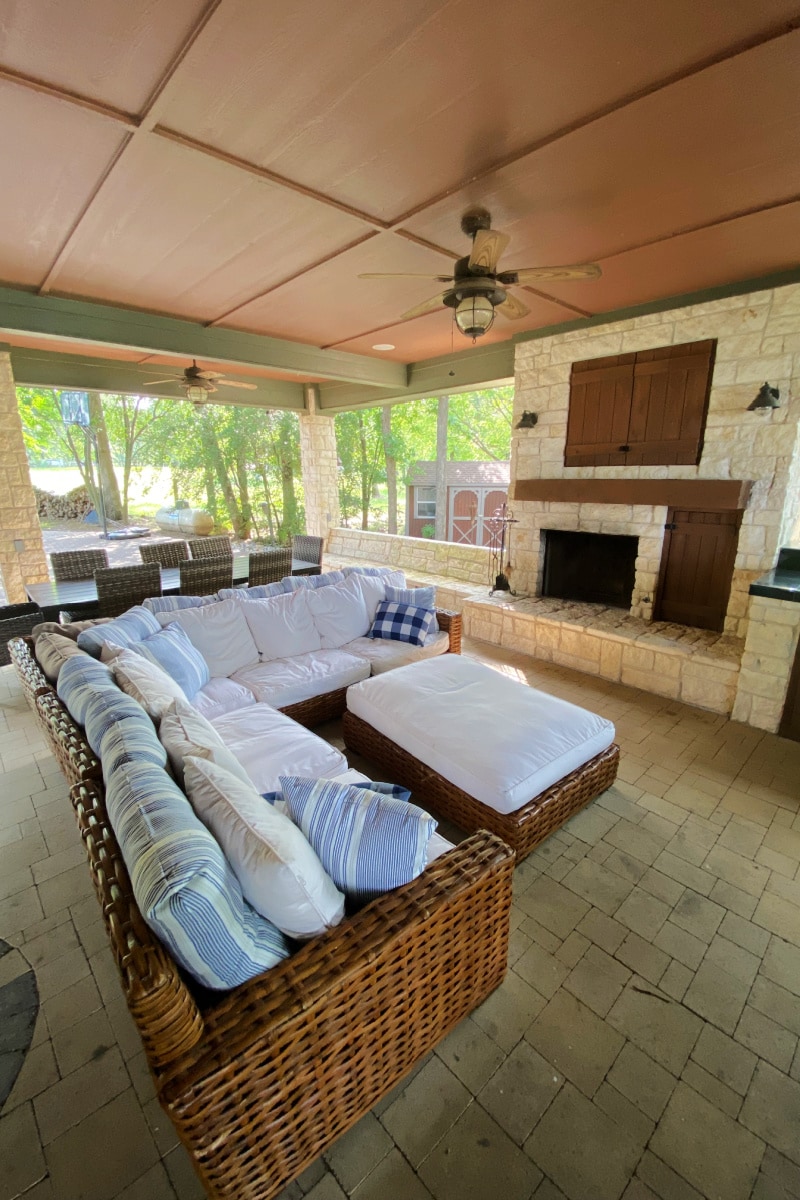 There's an outdoor area right off the kitchen that is very comfortable with a TV and a full dining table.
There's also a fantastic outdoor kitchen, grill and seating area.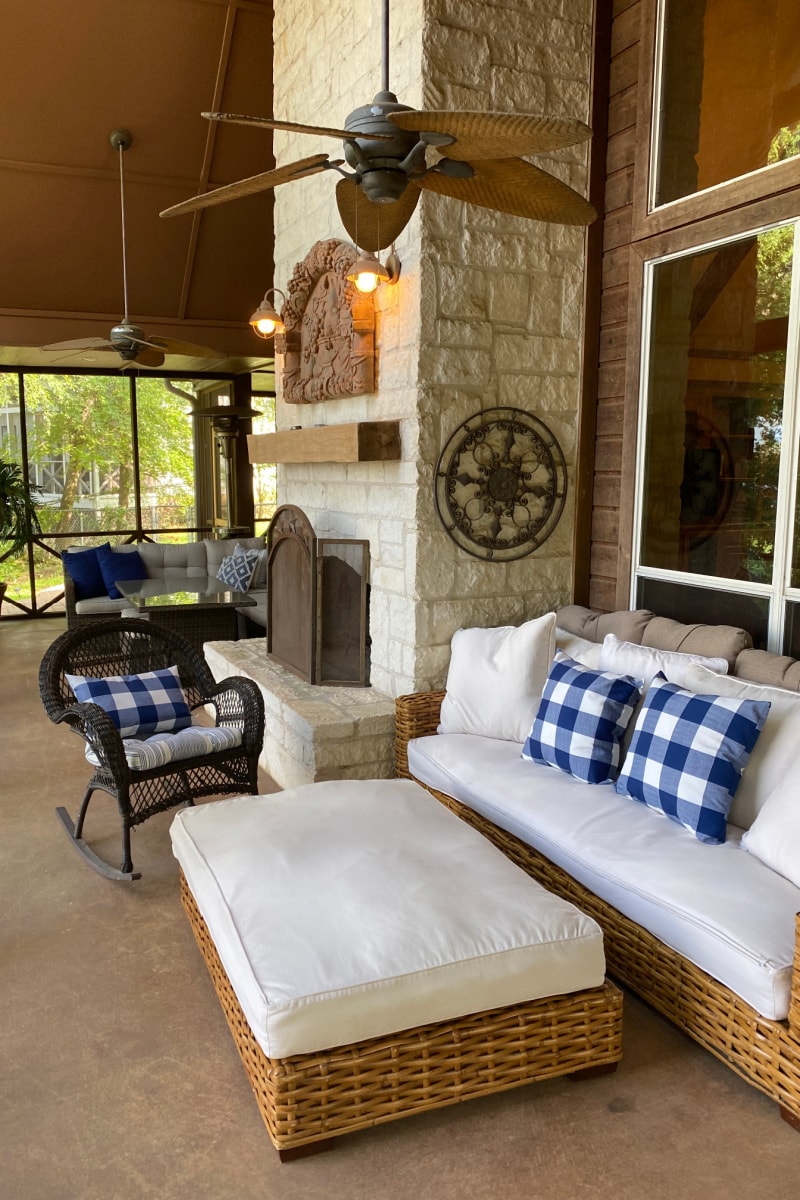 On the back side of the best Texas lake house, there is a screened in patio (to ward off the Texas bugs!) Lots of comfy furniture and a fireplace are in this area.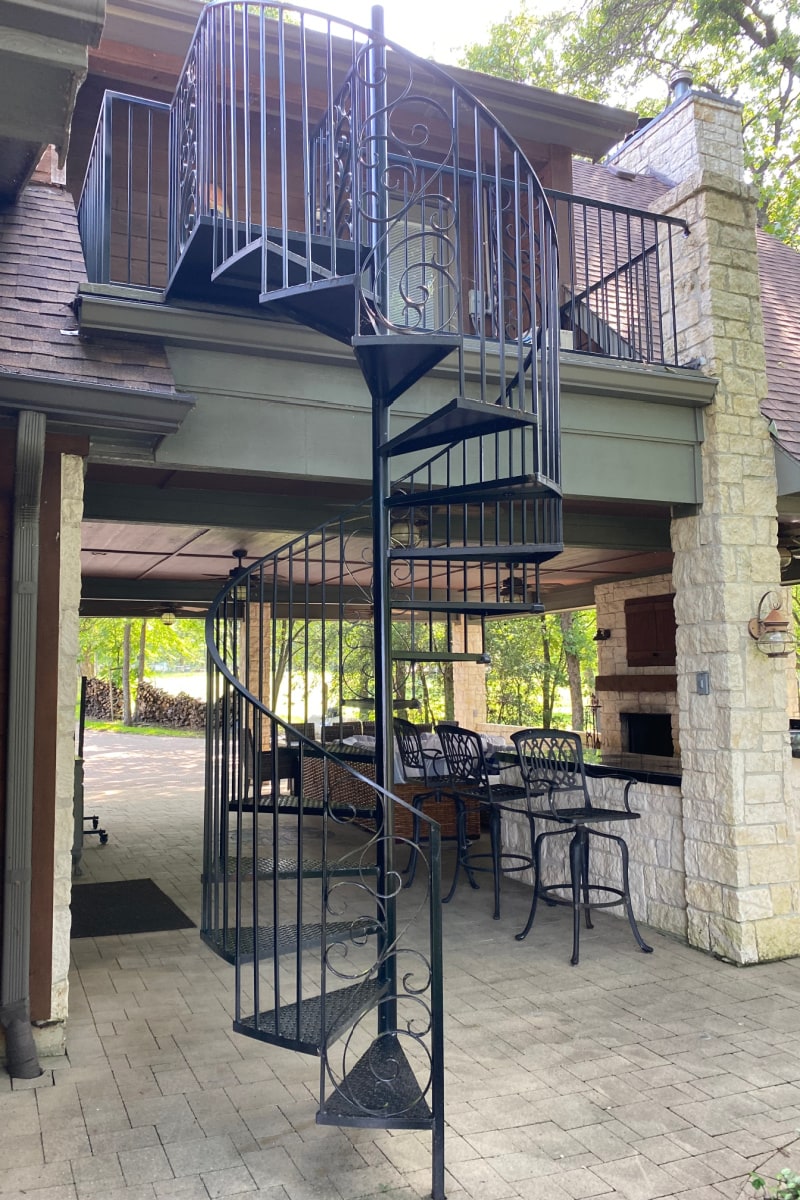 A spiral staircase leads you up to the bunk room.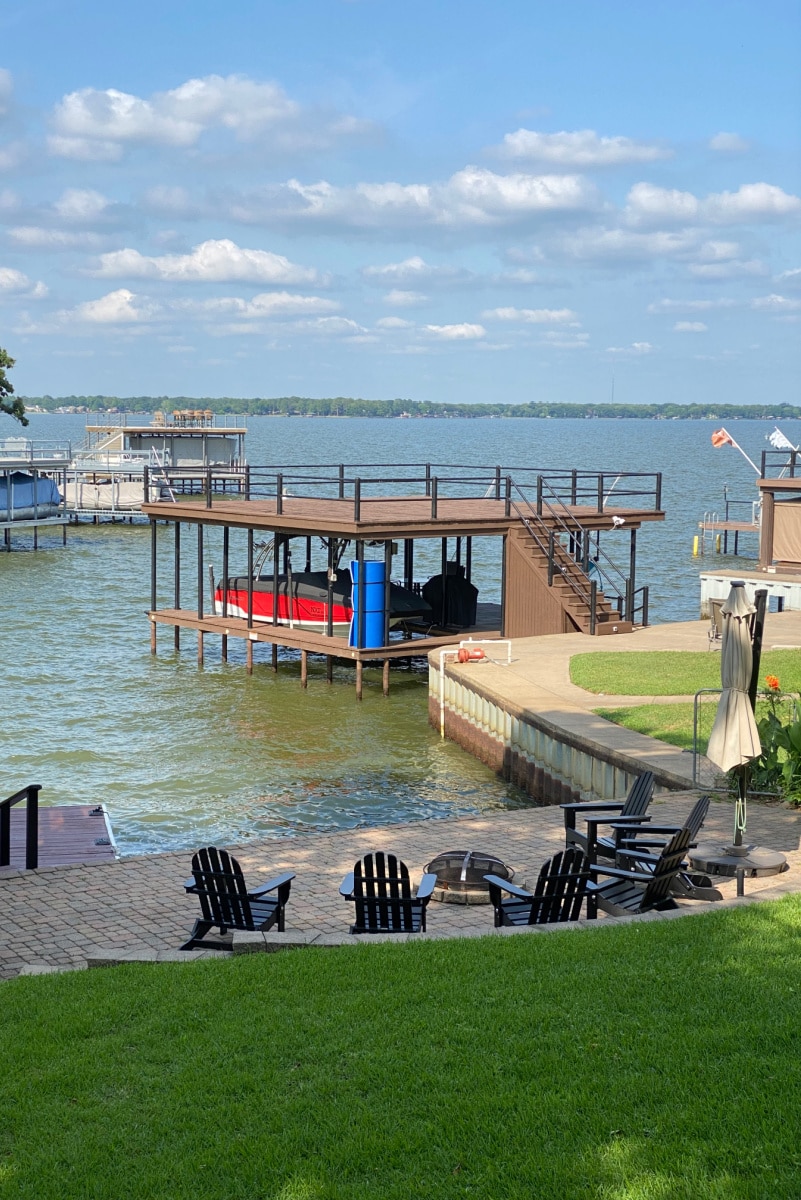 I mean… this view is just amazing, isn't it? That fire pit belongs to the house. They even provide the firewood!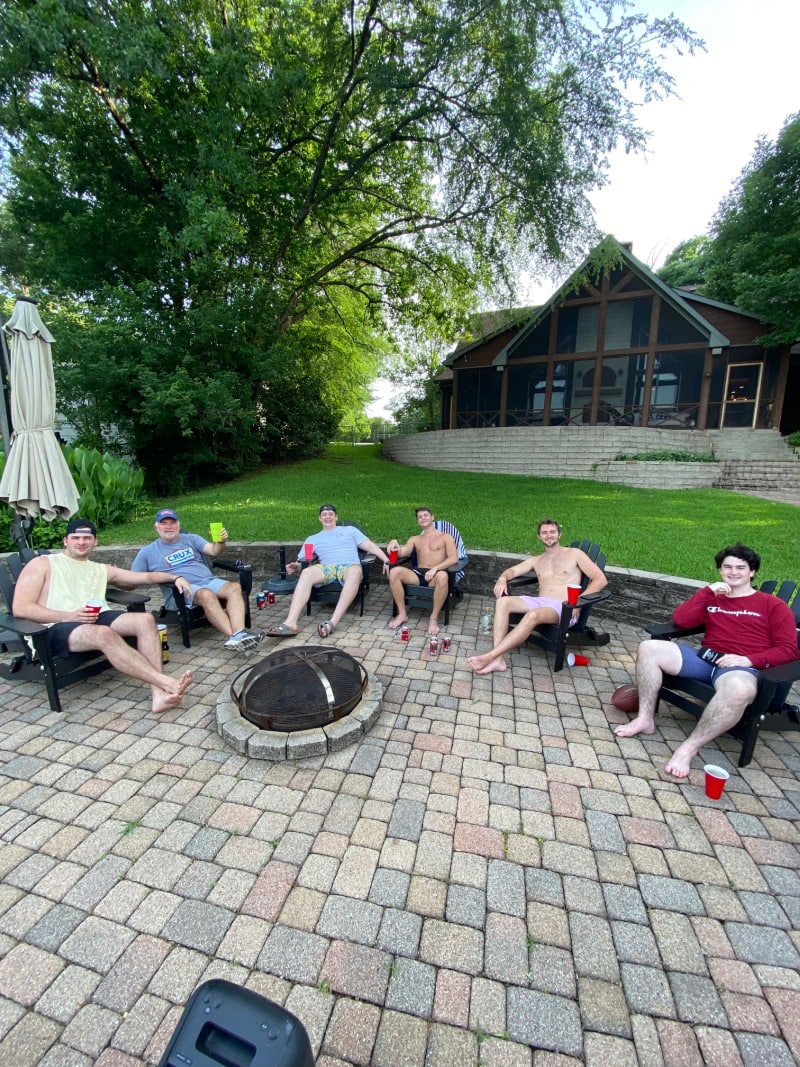 That's our squad. This is the view up to the back of the house. The screened in patio is the first thing you come to when you walk up to to the house.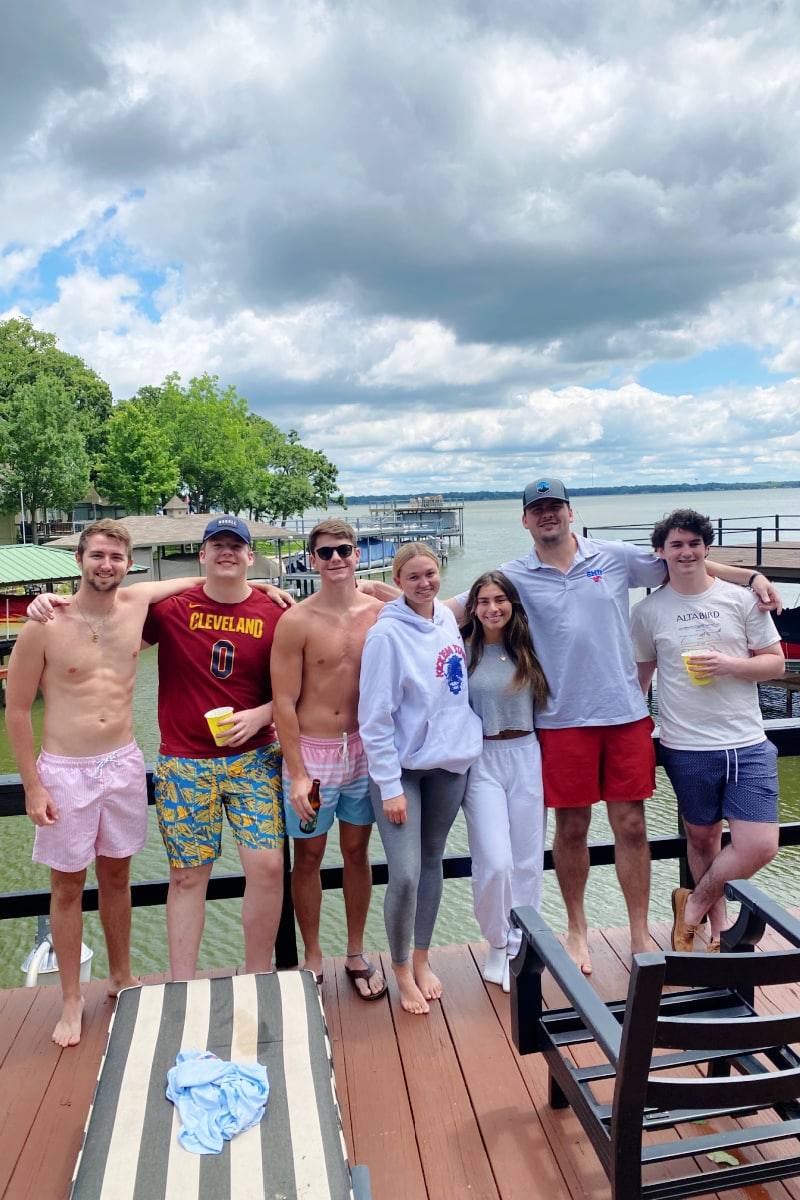 The kids enjoyed hanging out on the upper boat deck (visible in the first photo in this post).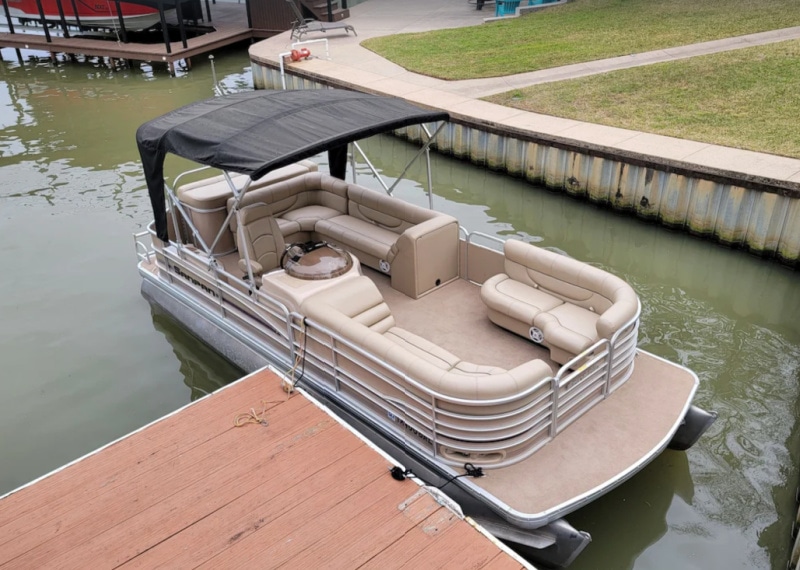 And another absolutely wonderful thing about this Cedar Creek lake house rental is that there's an option to rent the home owner's pontoon boat ($550 for 8 hours). If you want to spend some time on the lake, it's a really fun boat to rent. You pick it up down the street at the marina. You can either keep it out on the lake for the day, or you can take a break and tie it up on the dock by the house. Of course, if you have your own boat then you can certainly bring it and tie it up right in front of the house!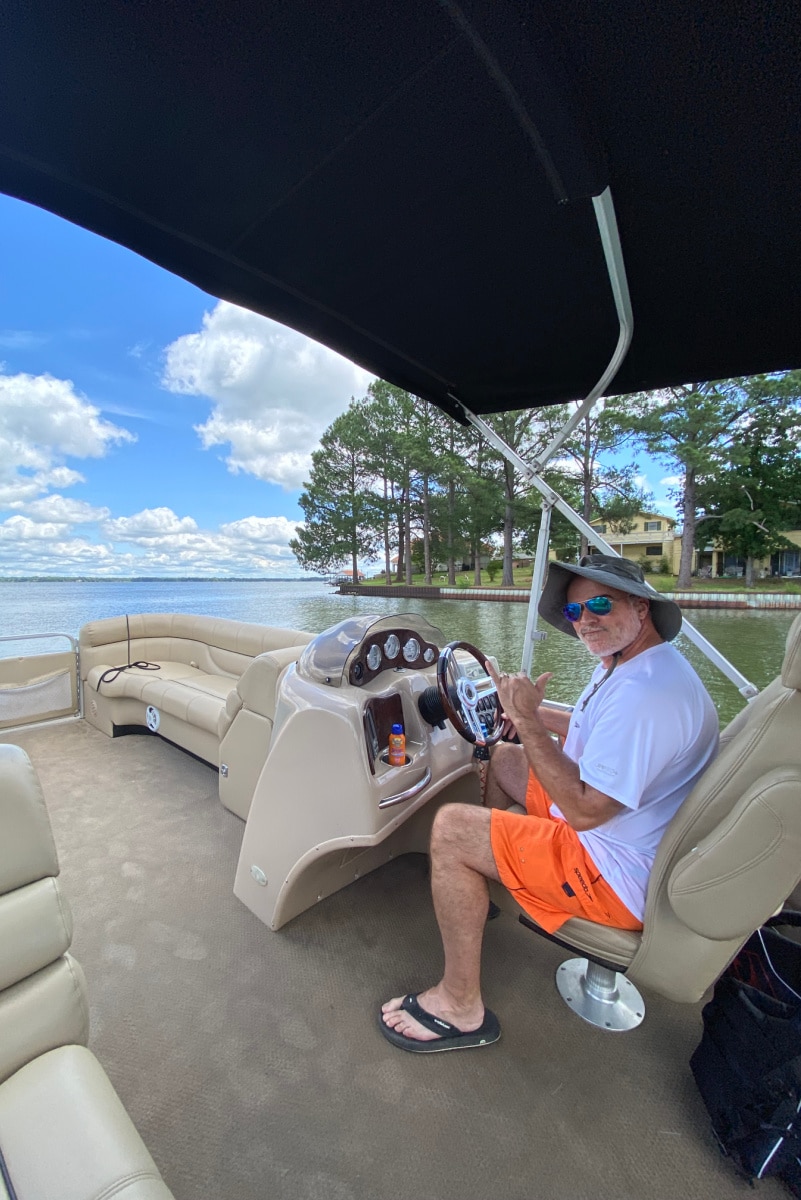 The boat is super easy to operate, and we cruised all over Cedar Creek Lake!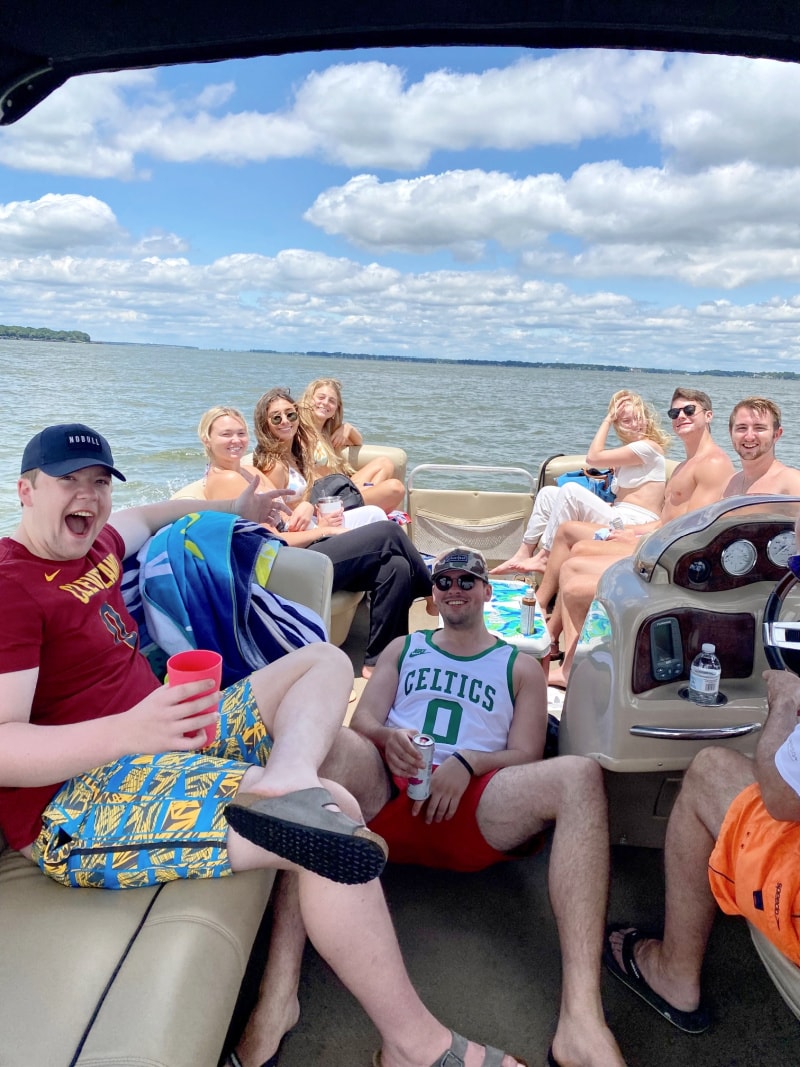 The kids had fun. They jumped off the boat now and then and swam. Everyone had a blast.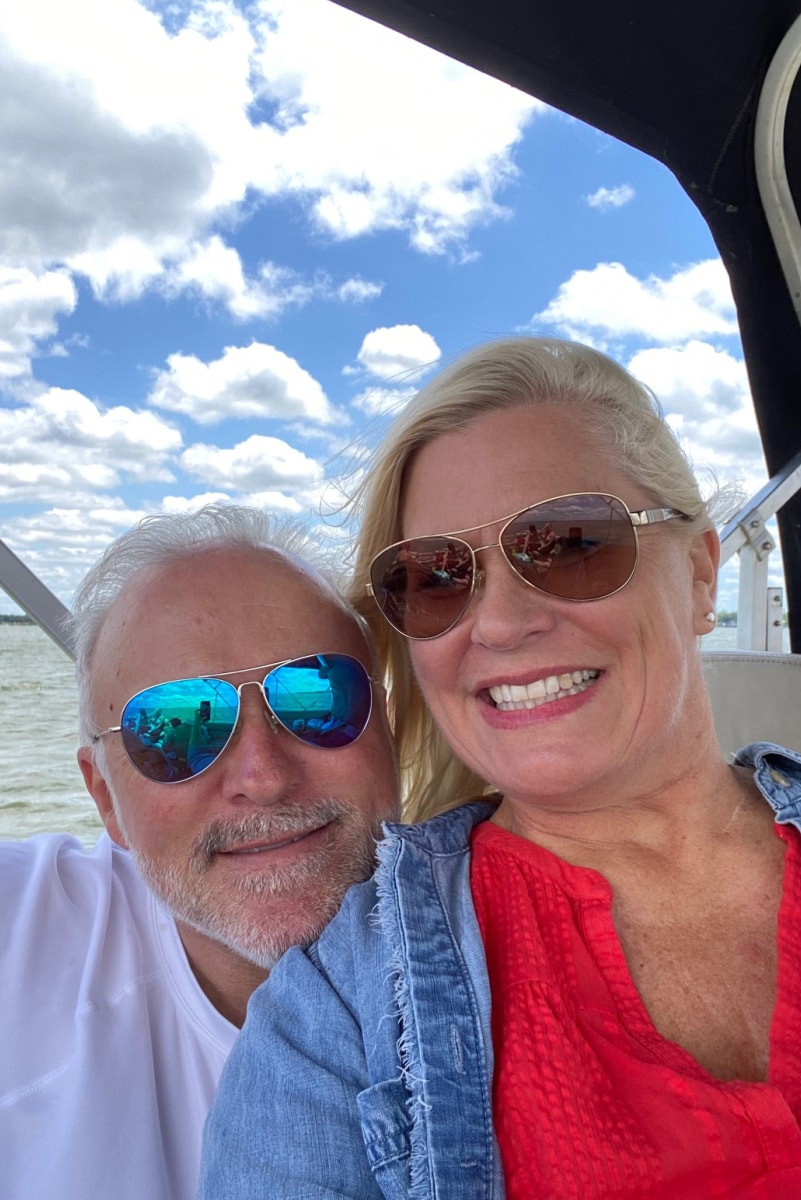 I'm glad we had the experience of renting a lake house in Texas! We split our home life between Arizona and Oregon, so it was great fun to do something a little different. We're also frequent travelers who travel all over the world, and we've rented a lot of houses over the years. This best Texas lake house is one of our favorite house rentals ever. If you live in Texas or if you like to vacation there, I'd consider this vacation house for sure. Check it out on VRBO.