I just returned from a fabulous trip, where I stayed at the Le Meridien Hotel New Orleans.  It was a work and play kind of trip with a few of my friends.  And I've also gathered information here in this post on what to do in New Orleans, where to eat in New Orleans, and the best places to drink cocktails in New Orleans.  Read on!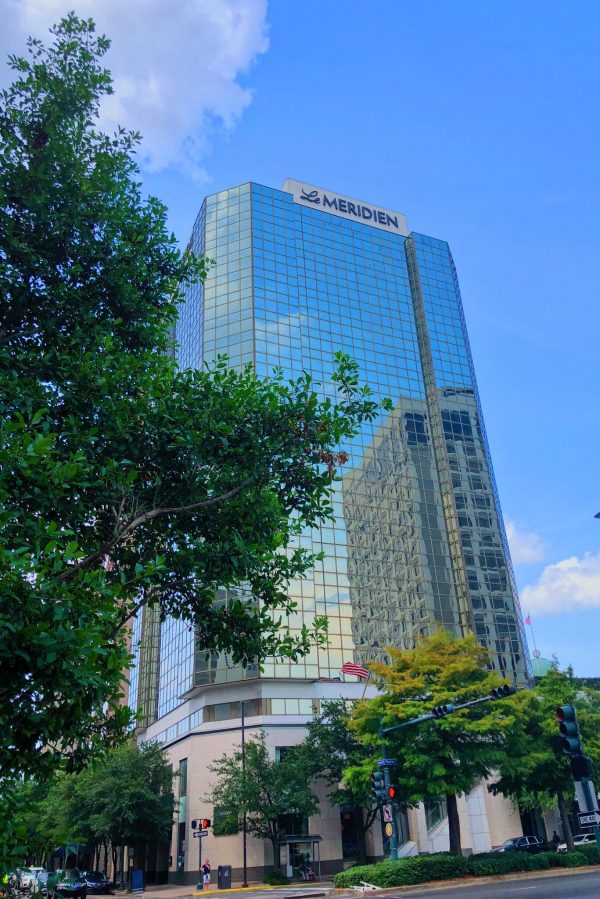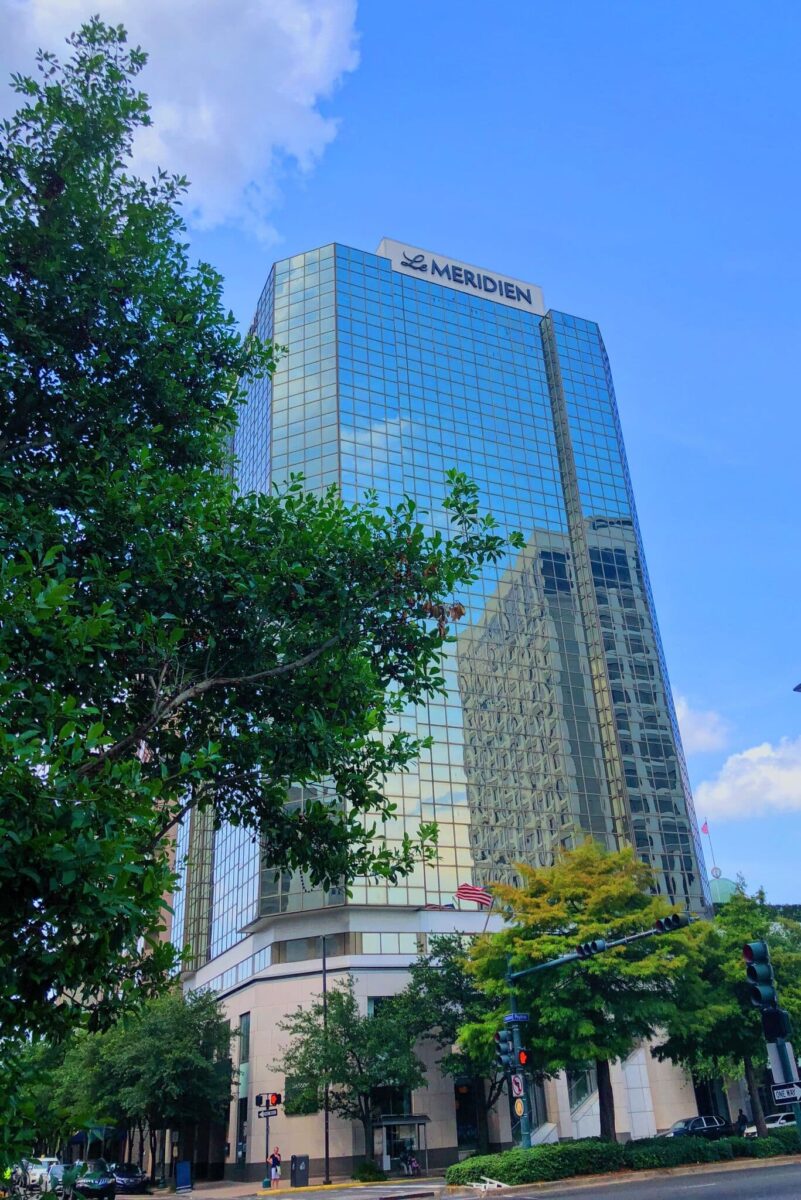 The location of the Le Méridien Hotel New Orleans is perfect- a quieter part of downtown- the Central Business District, just outside of the French Quarter.  It sits across from Harrah's Casino and is less than a mile from the Convention Center. It's easily walkable to many locations (great shopping and plenty of restaurants), just a couple of blocks from the streetcars, and a quick Uber ride away from further destinations.
Directly across the street from the hotel is Mother's Restaurant (very well known for their baked ham sandwiches).  I tried them last time I was in New Orleans so I didn't go this time.  But it's well worth a visit!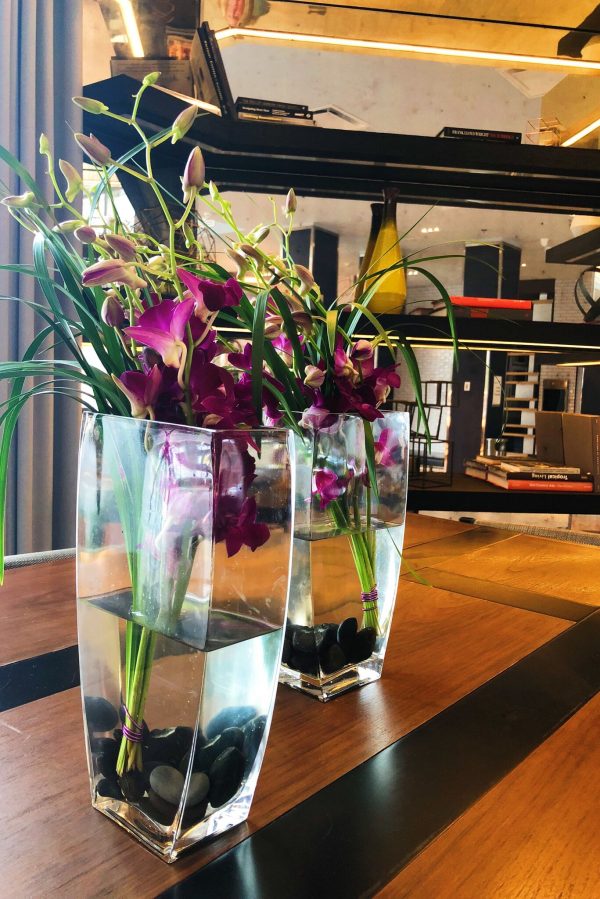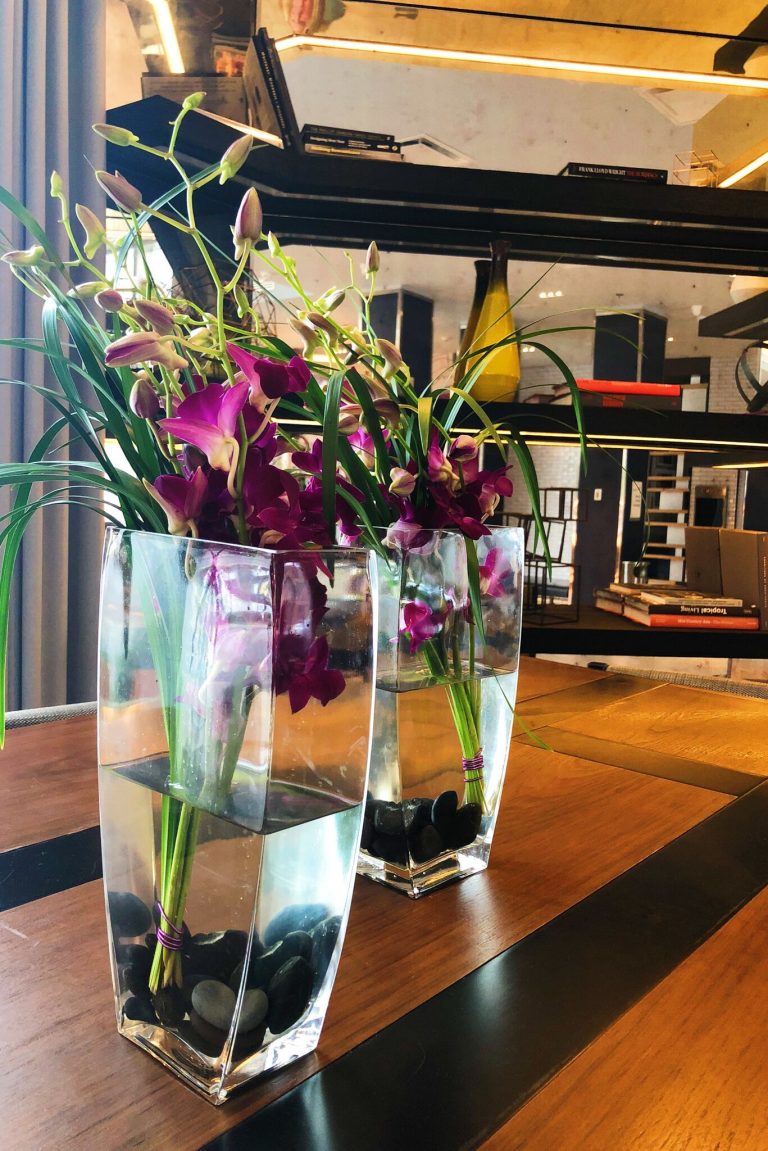 The hotel is big, but it doesn't really seem so.  It was completely remodeled and reimagined in 2015, so everything feels very new and artfully modern.  The lobby has many nooks for reading, drinking coffee, socializing and enjoying cocktails.  The elevators are fast, and we never had to wait long.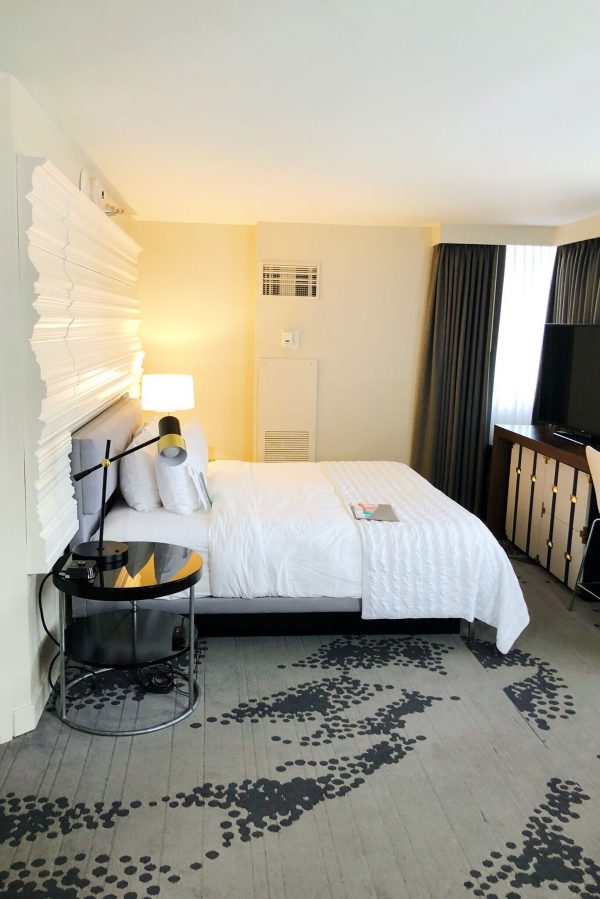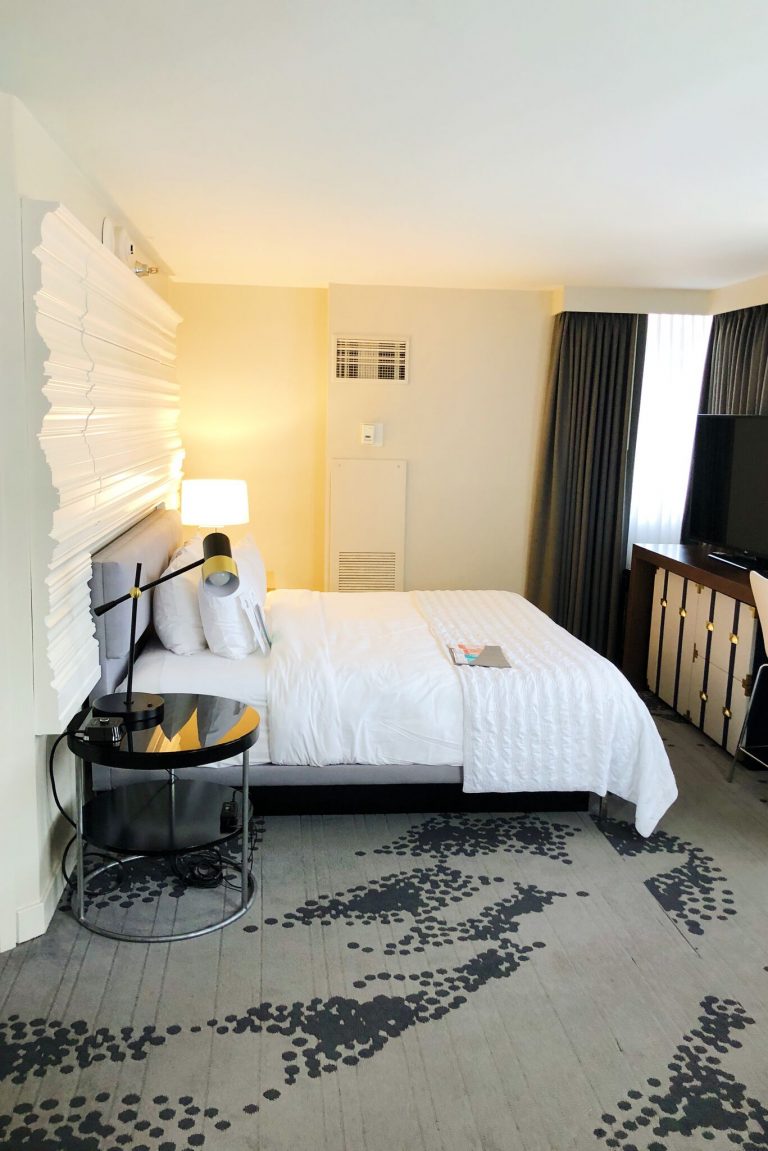 We stayed in a suite, which would be well worth the money if you're looking for comfort and quiet.  I'm pretty sure it was larger than my first apartment.  The king bed was comfortable, and the linens were cozy.  The bathroom is very big too!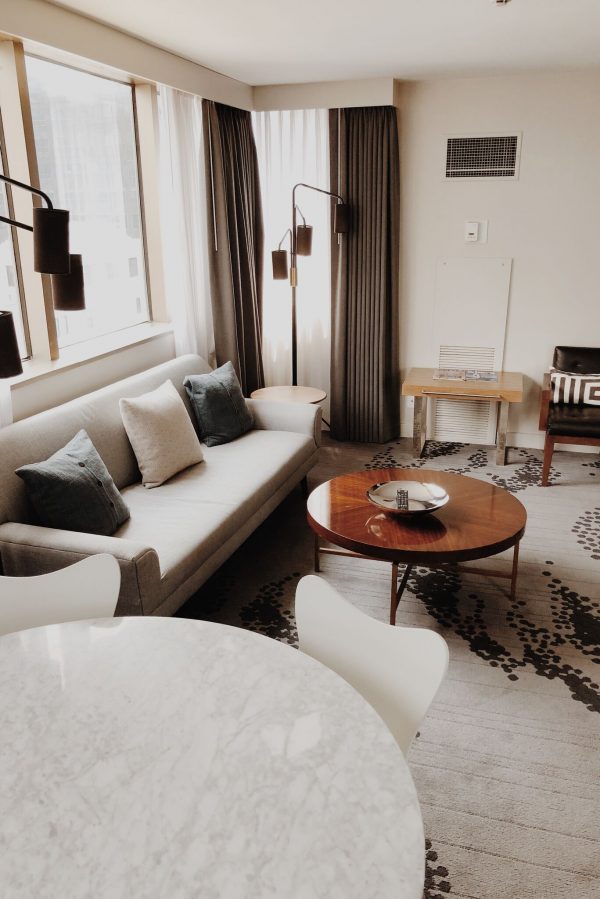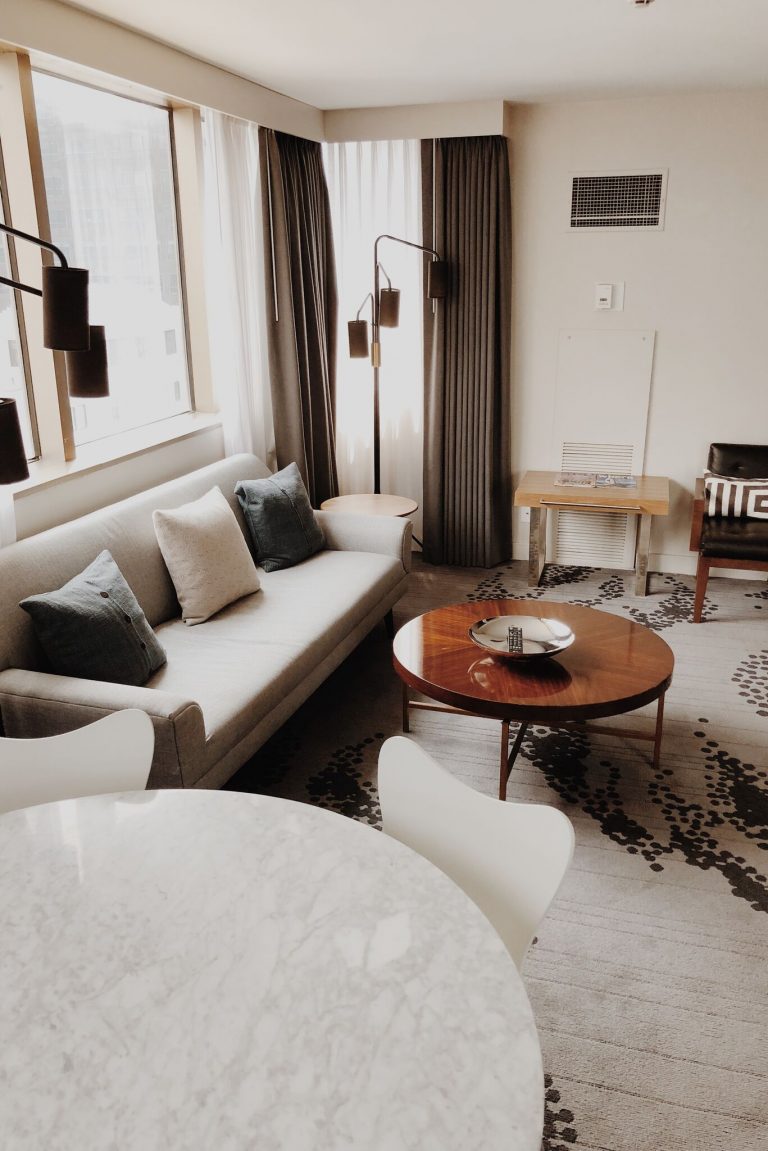 There was a rather large sitting area adjacent to the bedroom, with a dining table and plenty of relaxing seating.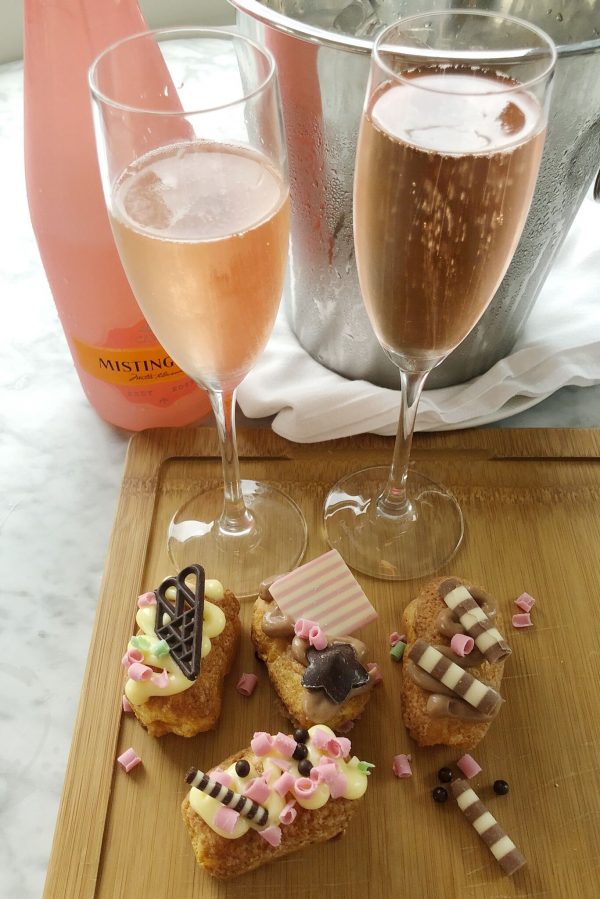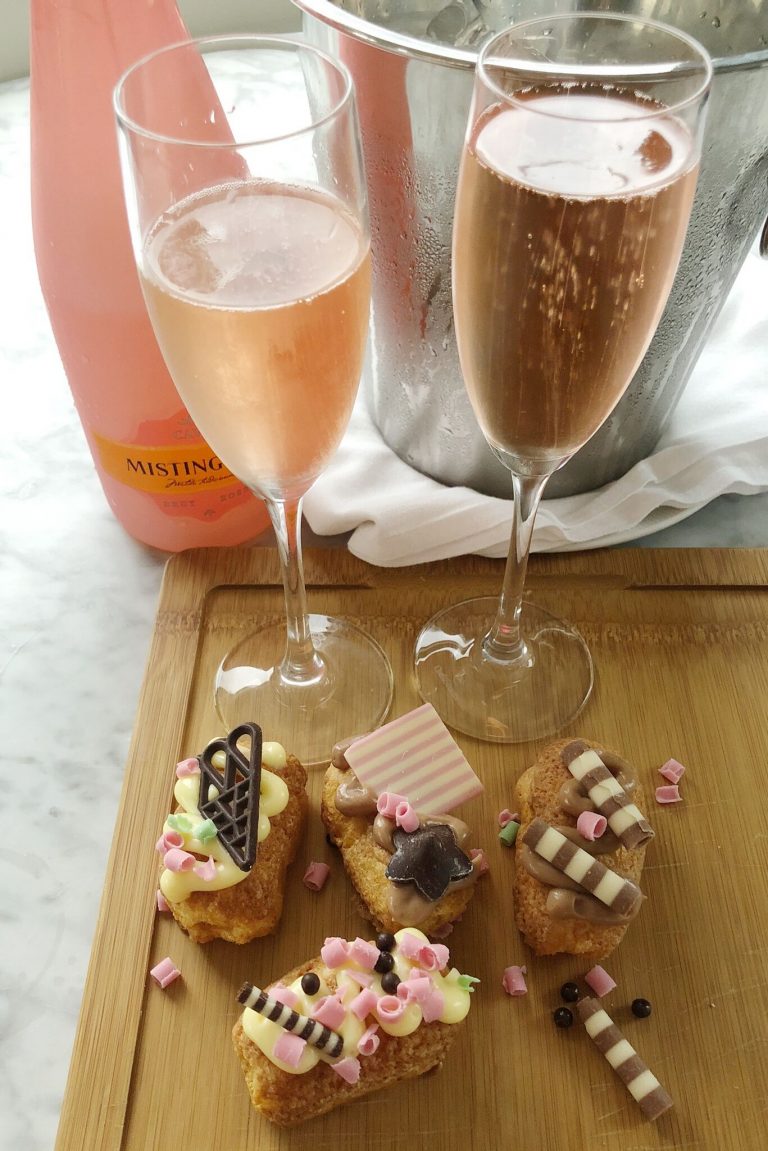 A surprise for our first night there- these pastries and champagne were delivered to our room.  It was the cutest idea.  Make your own Eclairs!  The pastries were delivered plain on a platter with tubes of filling and chocolate pieces.  Such a fun DIY treat.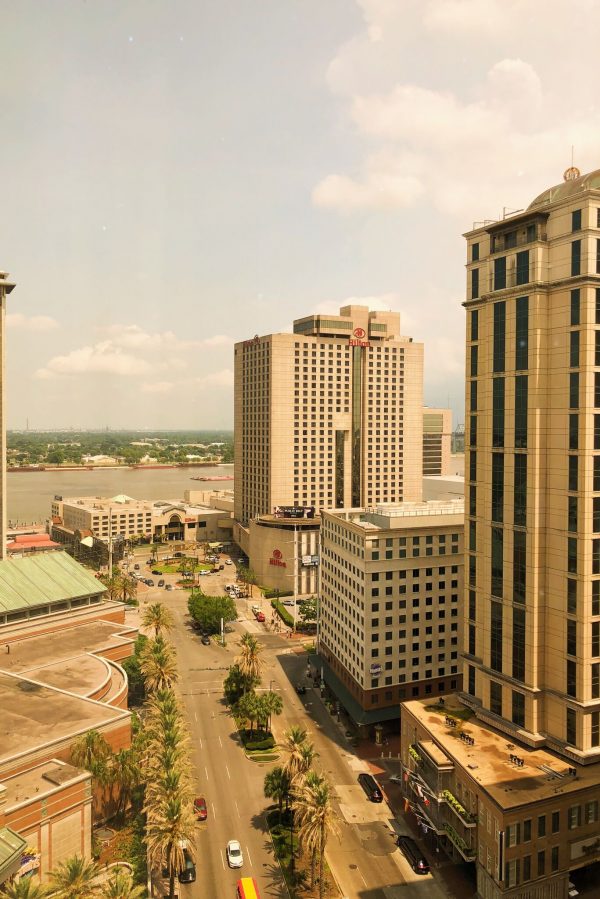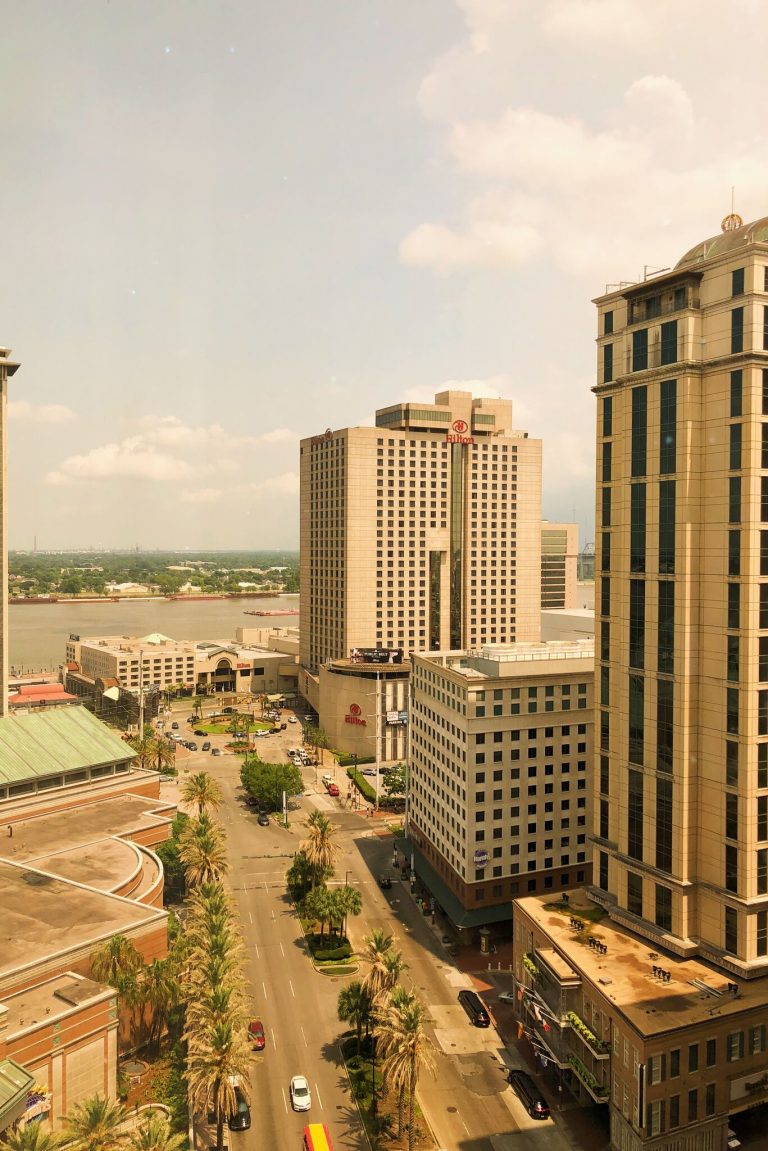 This was the view from our room- you can see the river just a little ways away.  I loved that we could see the hustle and bustle of the city below… but we couldn't hear a thing (we were on the 22nd floor).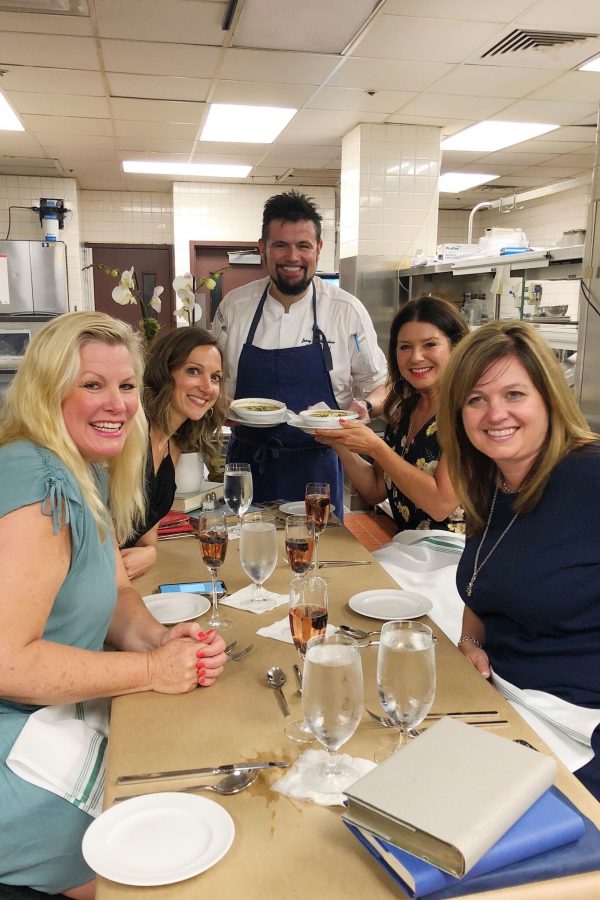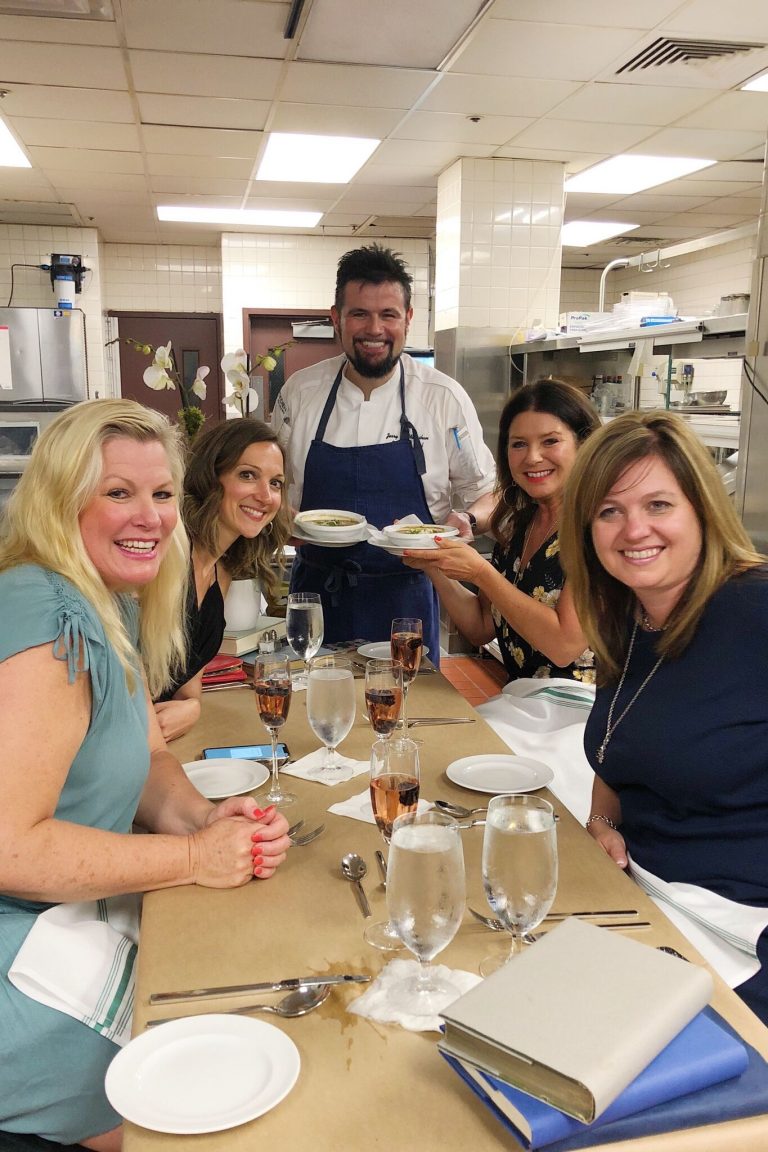 One of our dinners in New Orleans was hosted in the kitchen at Le Meridien's Longitude 90 restaurant- otherwise known as the Chef's Table.  Chef Jerry attended to us all evening, bringing us several courses that had been prepared just for us.  My travel companions:  Cathy (Lemon Tree Dwelling blog), Sandy (Reluctant Entertainer blog) and Holly (Spend With Pennies blog).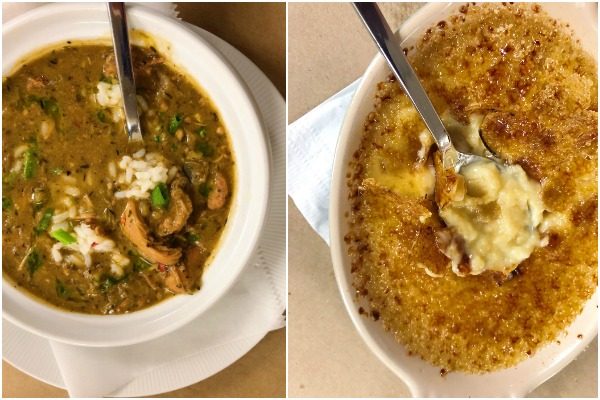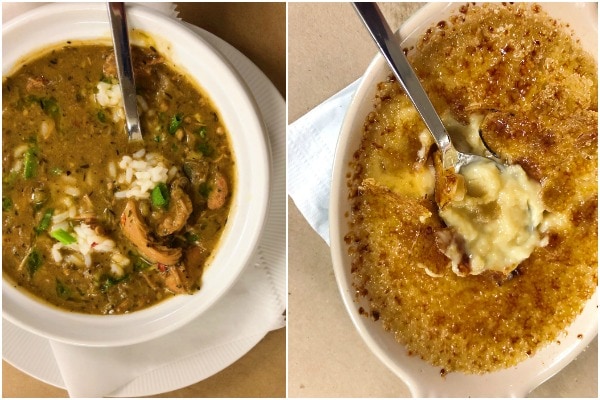 I've only included my two favorites of the evening above, but here is the complete menu:
Chicken Thighs Gumbo with a traditional dark roux (cooks 8 to 9 hours)- pictured above
Salad with Pickled Watermelon (loved that!)
Coconut Crawfish Lime Hush Puppies (so good)
Le Meridien's Daily Tartine: Pickled Peaches and House Made Ricotta on Whole Grain Bread with Baby Kale and Golden Raisin- Mint Dressing (again, SO GOOD).
Blackened Redfish with Sweet Corn (my first time having this fish.  I enjoyed!)
Caramelized Apple Creme Brulee (pictured above– LOVED)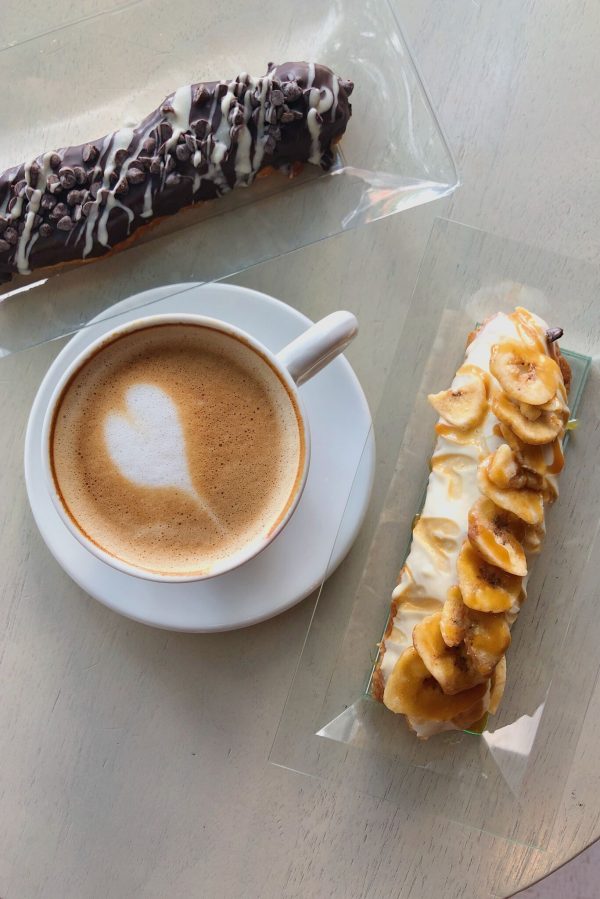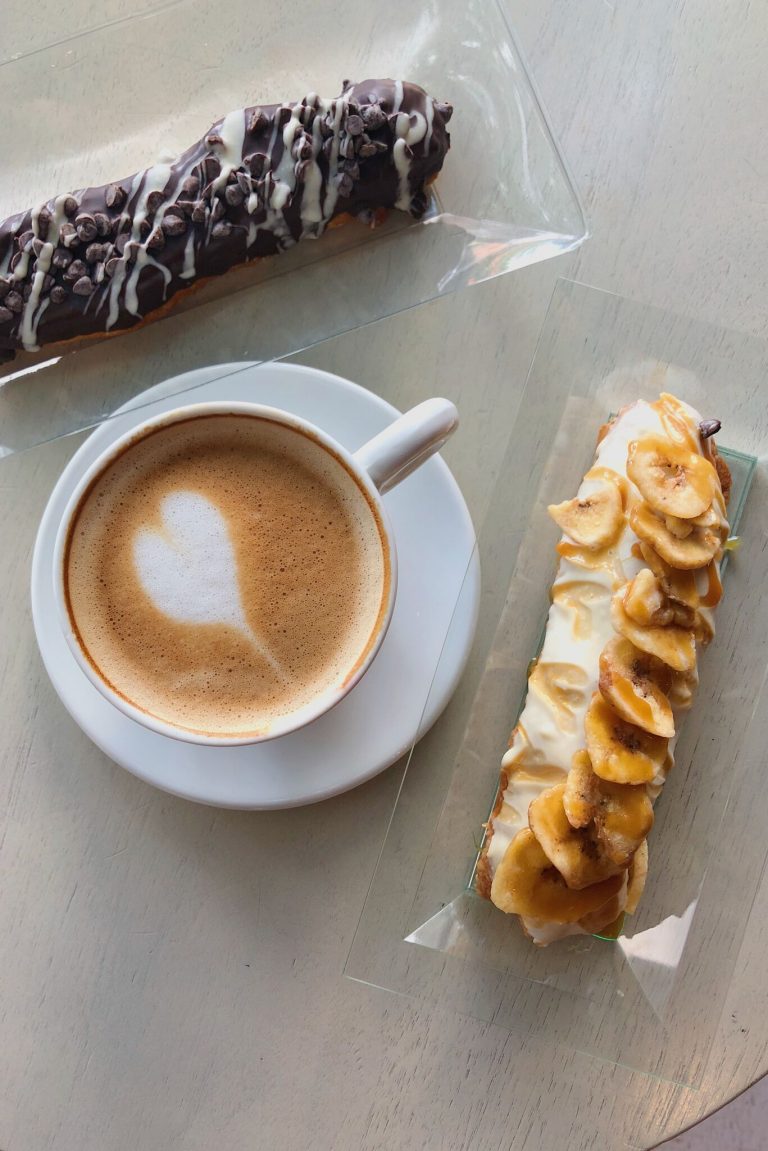 In the mornings, the cocktail bar in the lobby doubles as a bustling breakfast bar, complete with made-to-order espresso drinks, breakfast panini, bagels, pastries and these delicious eclairs (chocolate and bananas foster).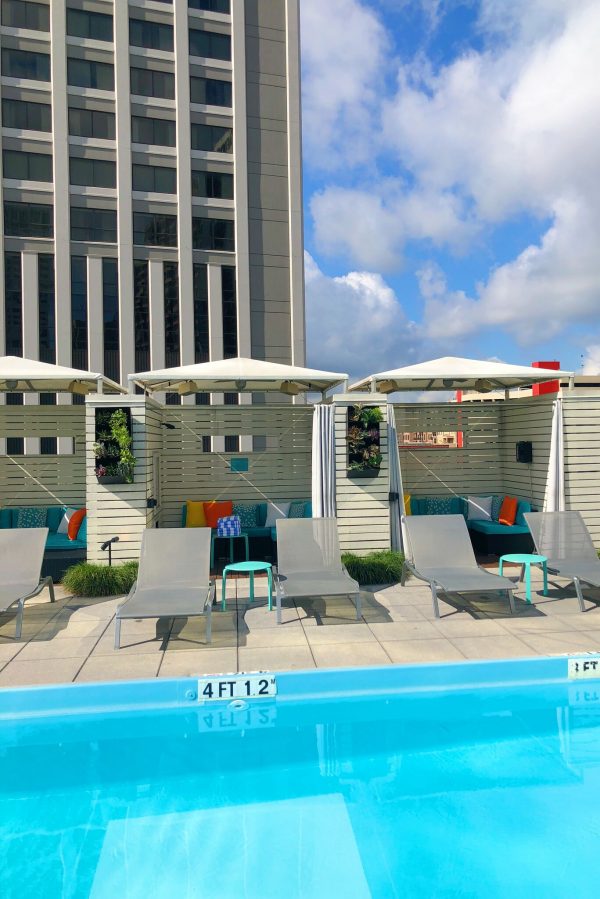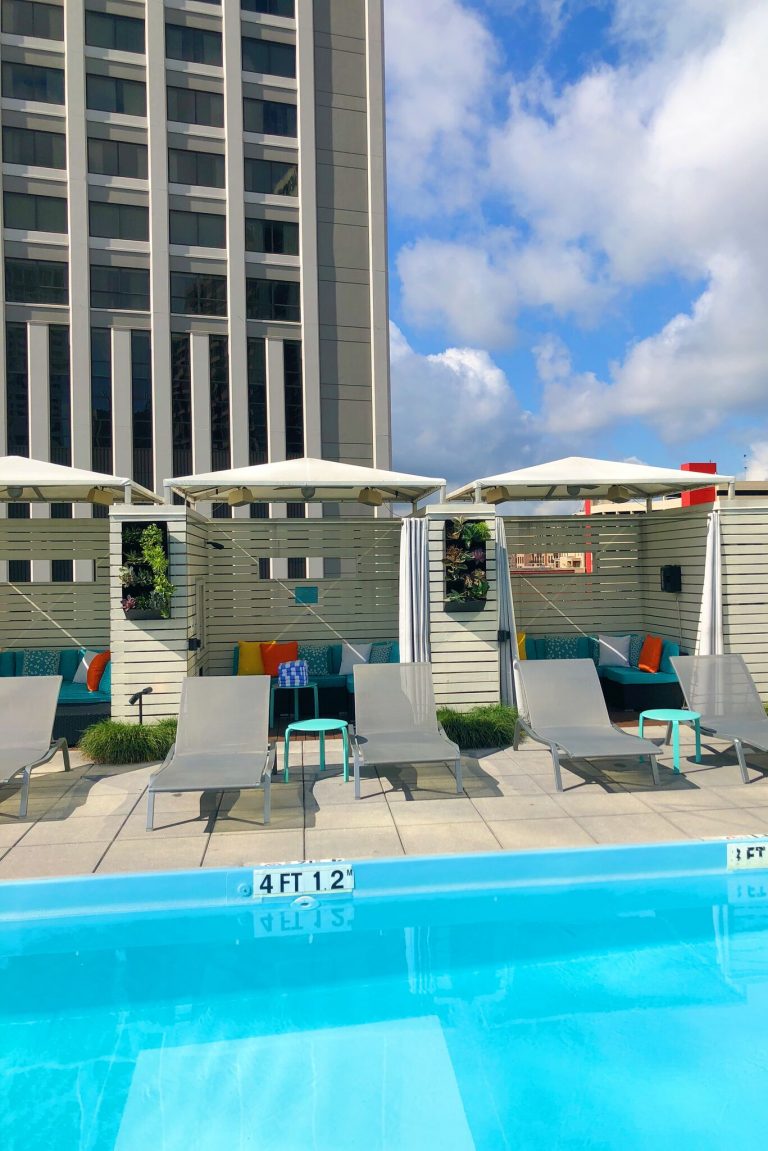 A morning at the pool is definitely in order on a beautiful sunny day.  It's a rooftop pool at Le Meridien, adjacent to the workout room.  There are three cabanas available for rent.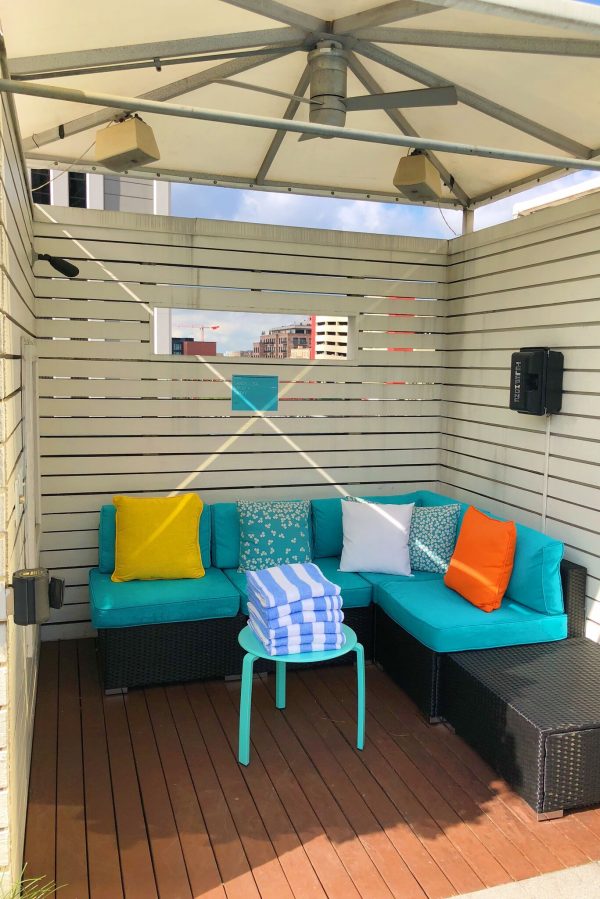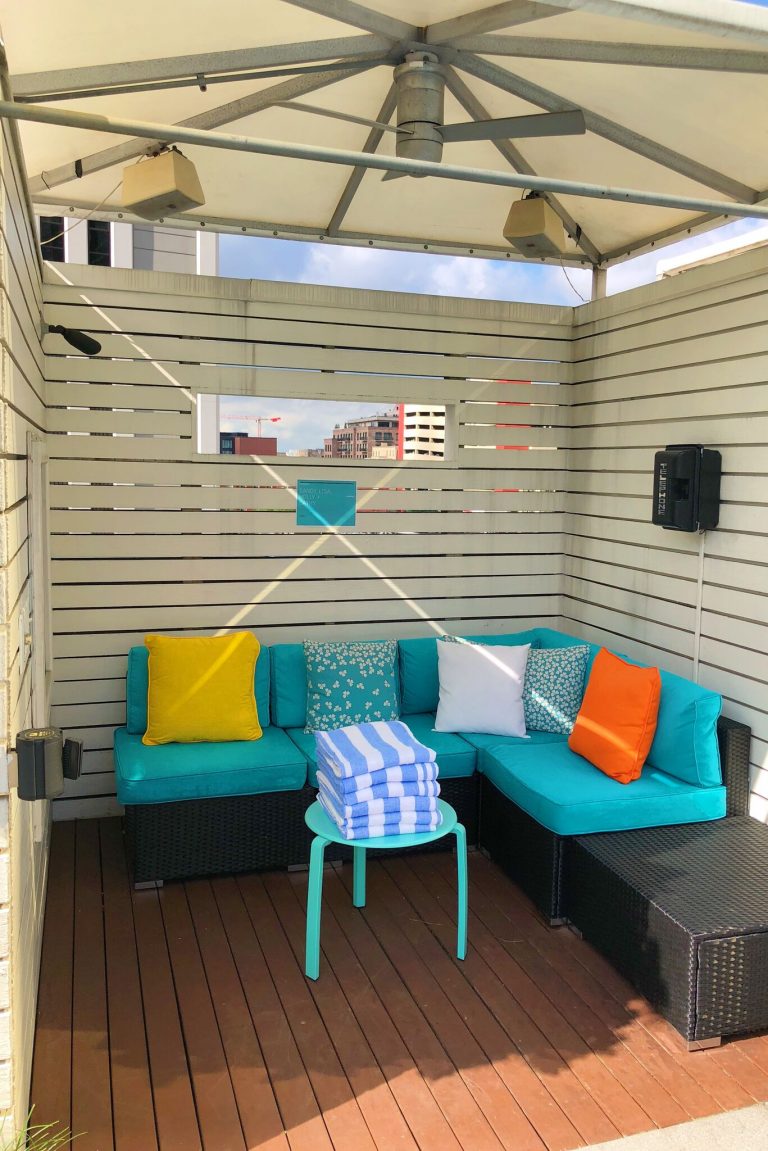 Each cabana is stocked with a TV and comfortable seating area out of the sun.  Food delivery service is available here.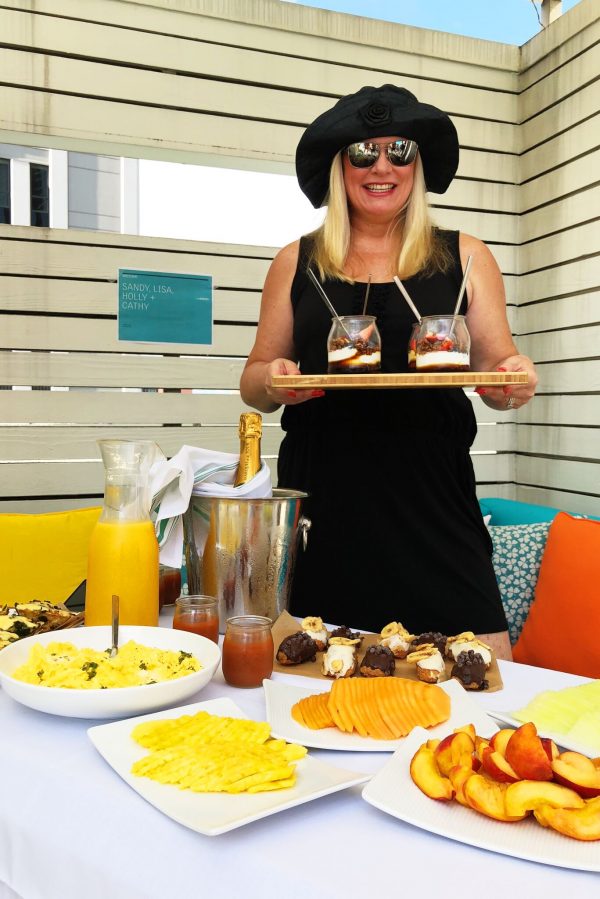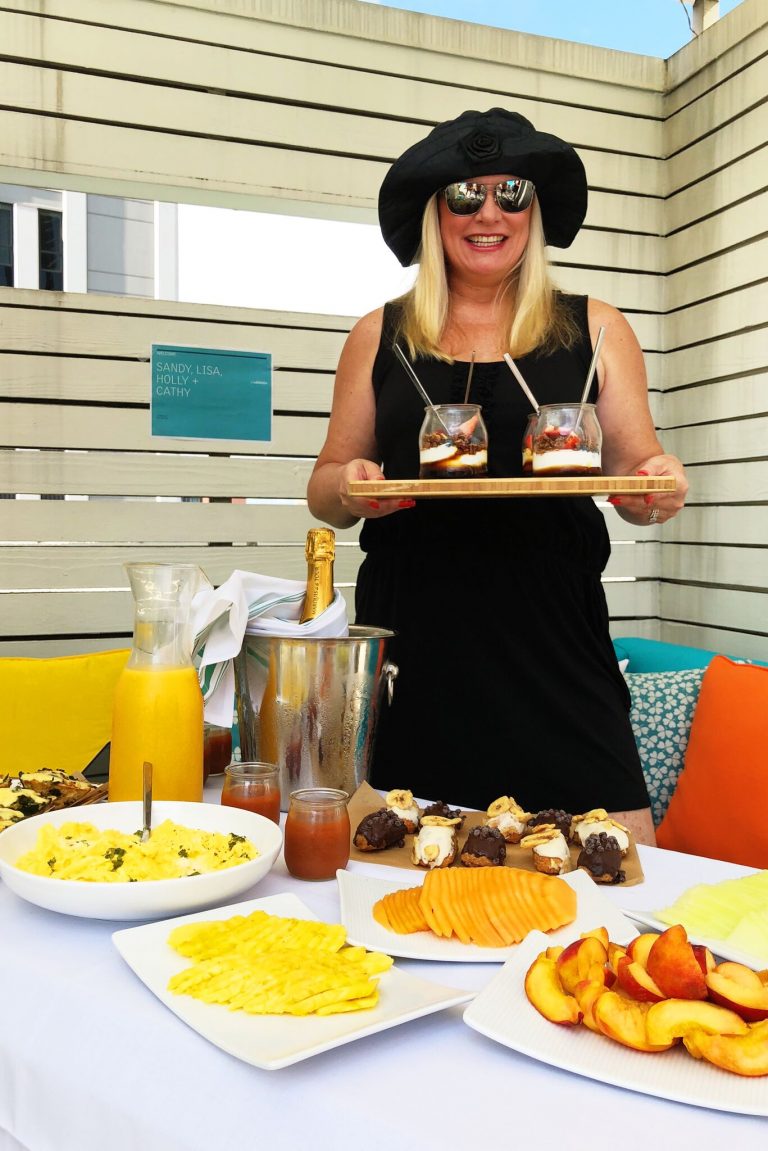 We had brunch delivered to our cabana.  Le Meridien wanted us to try a lot of things, so they pretty much brought us everything!  Those jars on the board I'm holding are Salted Caramel Yogurt Parfaits.  I've never had a yogurt parfait with salted caramel added in, but it's definitely an excellent idea!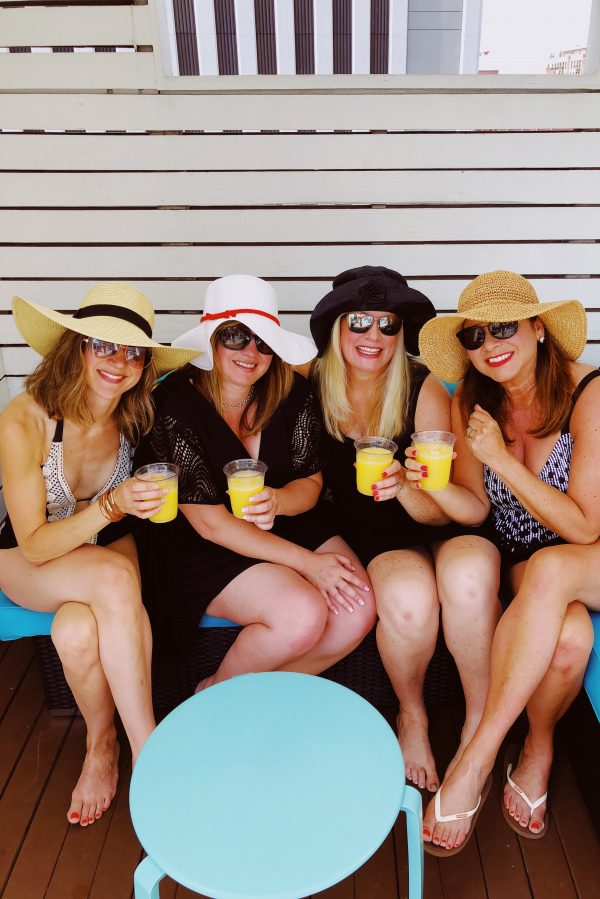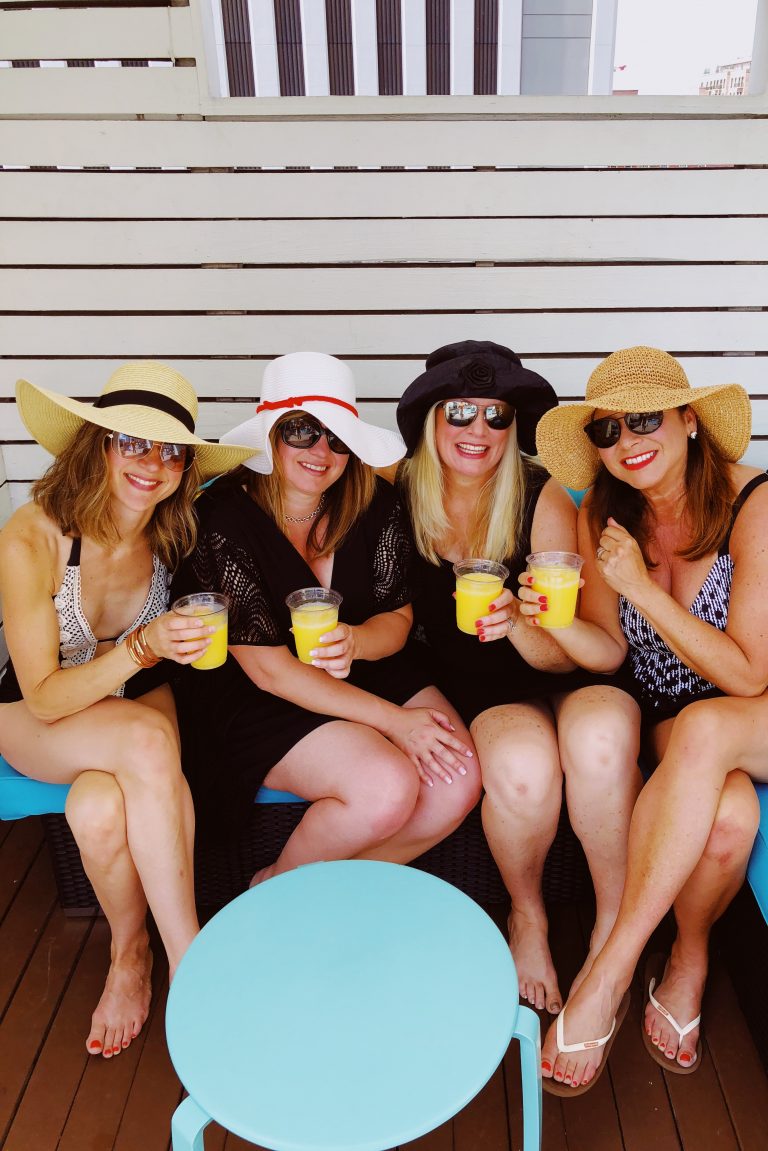 The mimosas were our favorite, of course.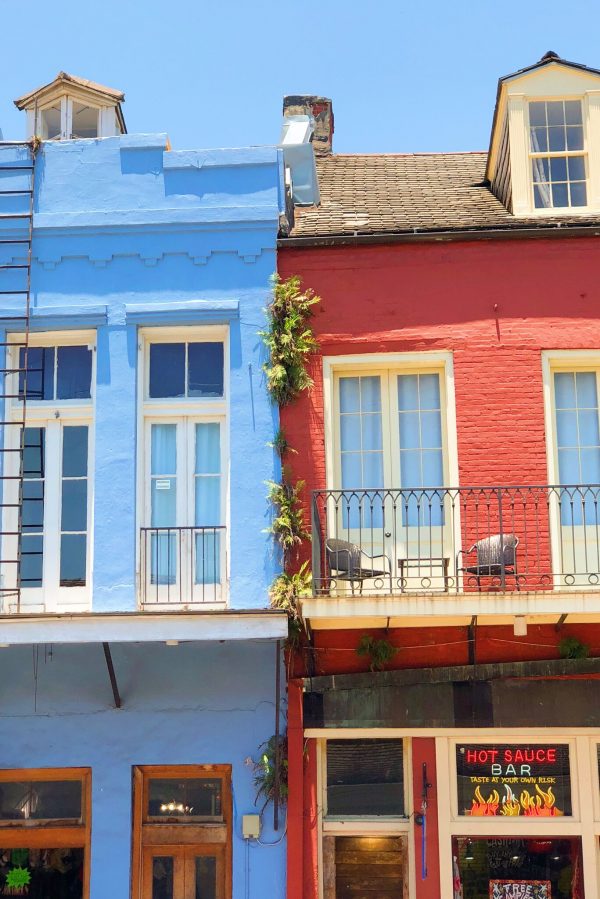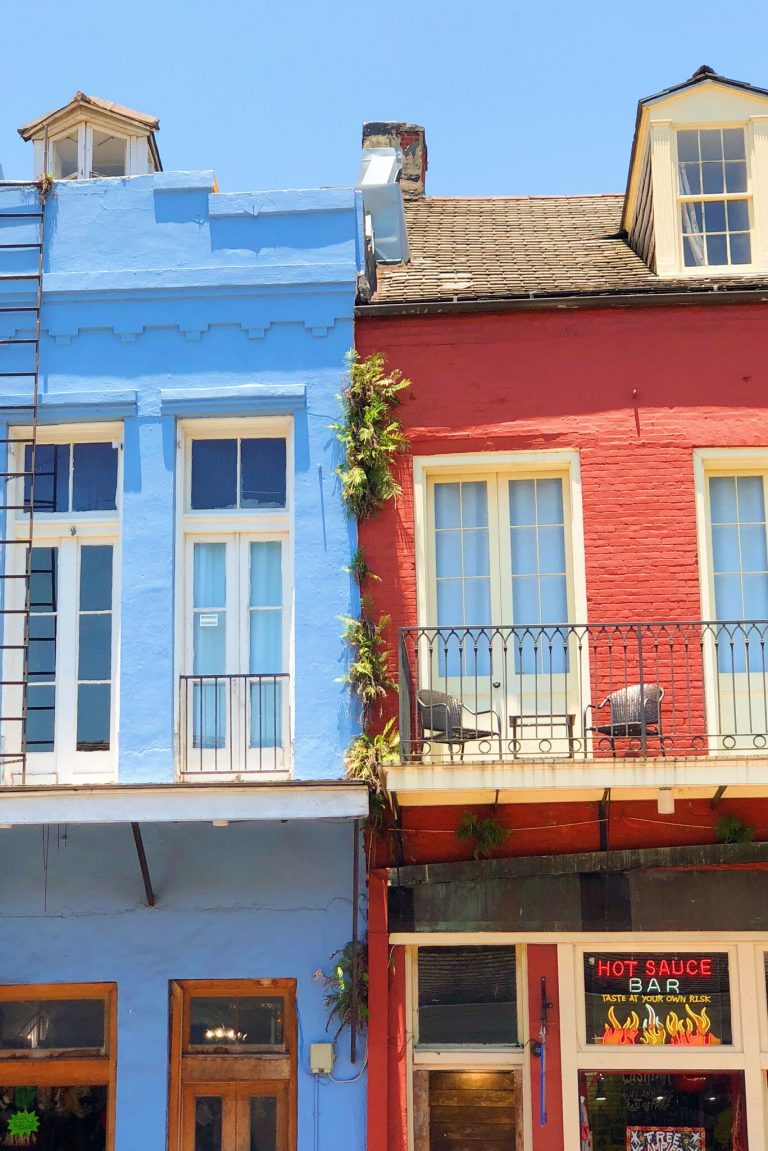 We did head out and explore the city quite a bit.  If you've never been to New Orleans, you must walk around the various neighborhoods to see the splashes of color, spot unique architecture, listen to jazz on the streets and experience people watching.
If you find yourself near the streetcars, hop on for $1.25 (must have exact change).  It'll take you down through the Garden District where you'll see so many amazing, historic homes.  We hopped off and walked to Magazine street to shop and have lunch.  You also have the opportunity to hop on other routes to different areas of the city.  For $3.00 you can get an all-day unlimited pass!
I recommend walking extensively through the French Quarter (touristy, but a must- see), Garden District (lots of shops, restaurants and antiques), and Uptown (on the east bank of the Mississippi River- mix of cute homes and small businesses).  You'll need to walk Bourbon Street once or twice to experience it, but once might be all you need (it can be a little much with the partiers and um, interesting shops and bars).  If you're super into crazy night life, you might love it for a night out of partying!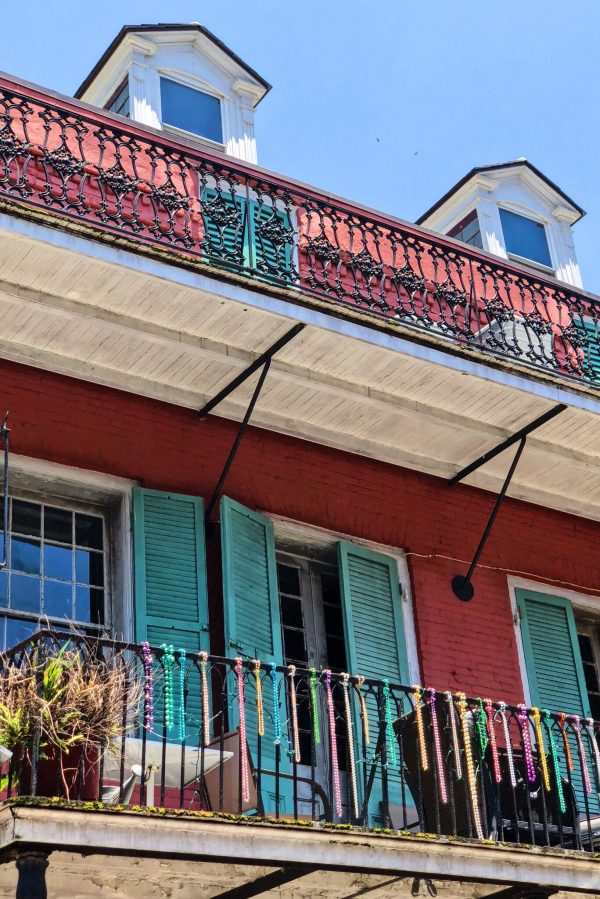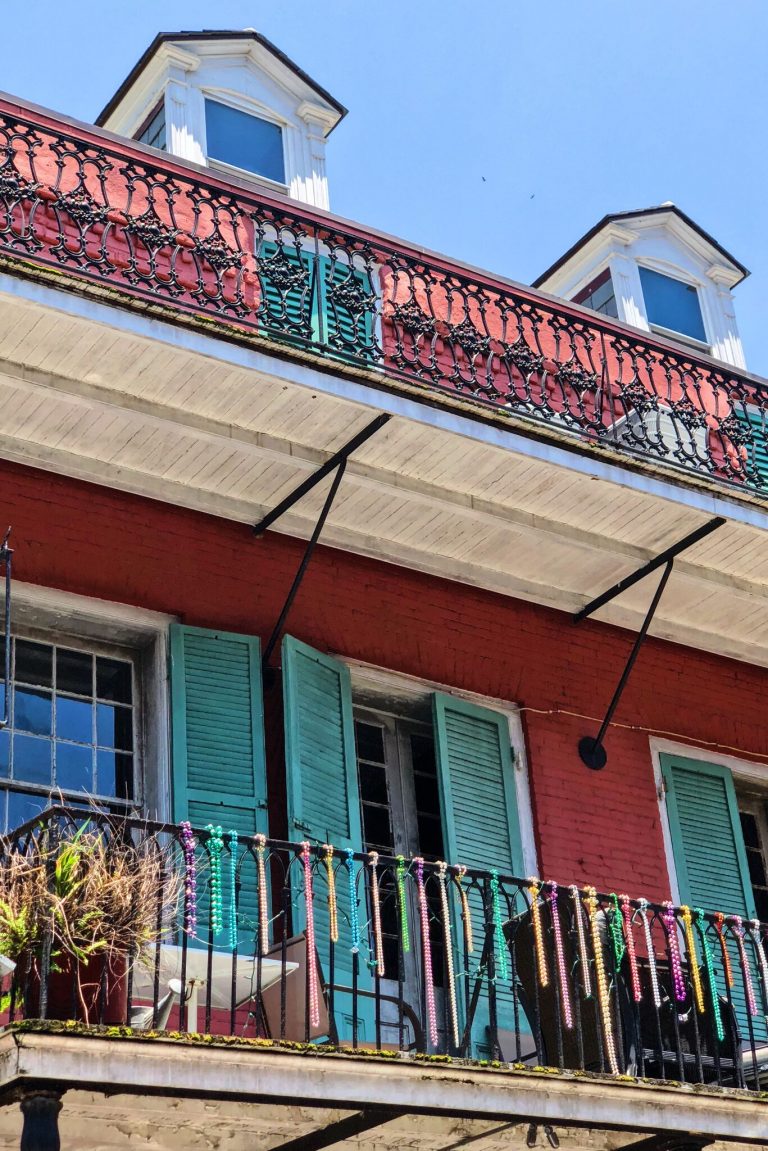 Mardi Gras beads are everywhere in New Orleans.  You'll spot them hanging from trees all over the city, and even on balconies like this one.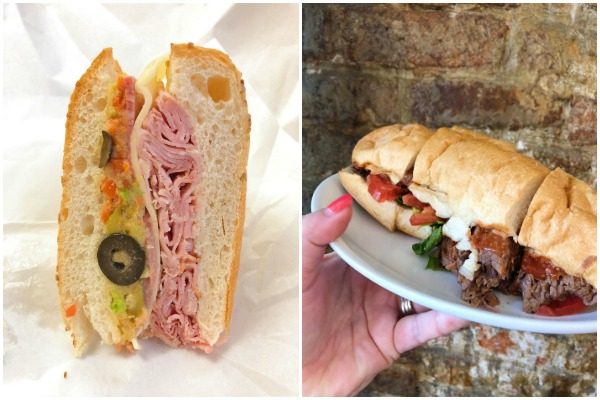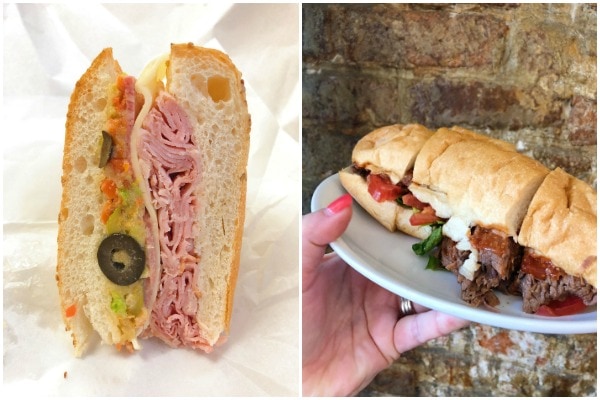 We opted to do a food tour of the city:  TasteBud Tours– Flavors of the French Quarter.  We chose it because it had a zillion 5-star reviews on Trip Advisor. If you really haven't sampled much New Orleans' food, I think it's a good tour for you.  It was a little basic for us since we are foodies that are so absorbed in the food culture.  I'd like the tour guides of this company to focus more on the history of the food they are having you sample instead of history of the city.  But it was all good and fun nonetheless.
Above, we sampled Muffaletta at Johnny's Po Boy (tons of locals were in here, so you know it's good!) and a Boiled Brisket Po Boy at TuJacgues (the 2nd oldest restaurant in New Orleans).  To add to our fun, we sampled cocktails (our own addition to the tour) along the way!  Fun New Orleans fact:  You can ask for "GO cups" at every bar you go to… and bring your cocktail with you.  Drinking in the streets is totally legal.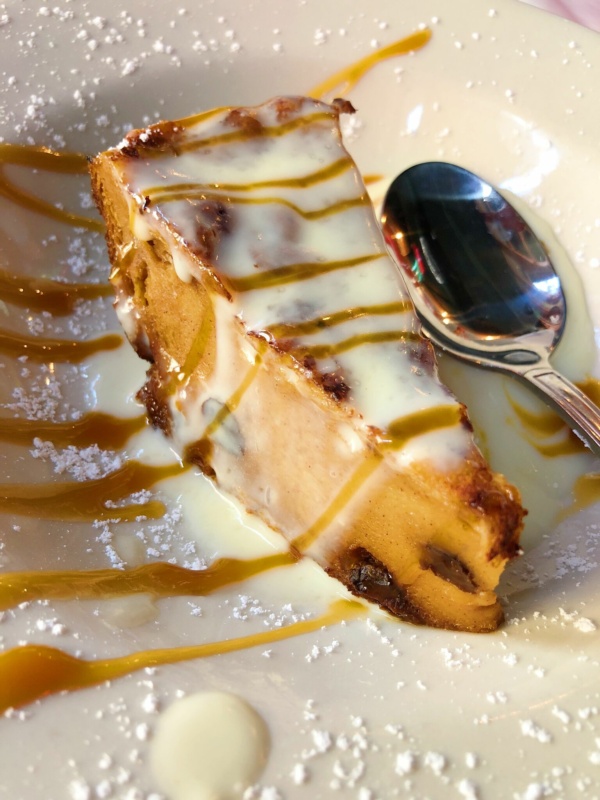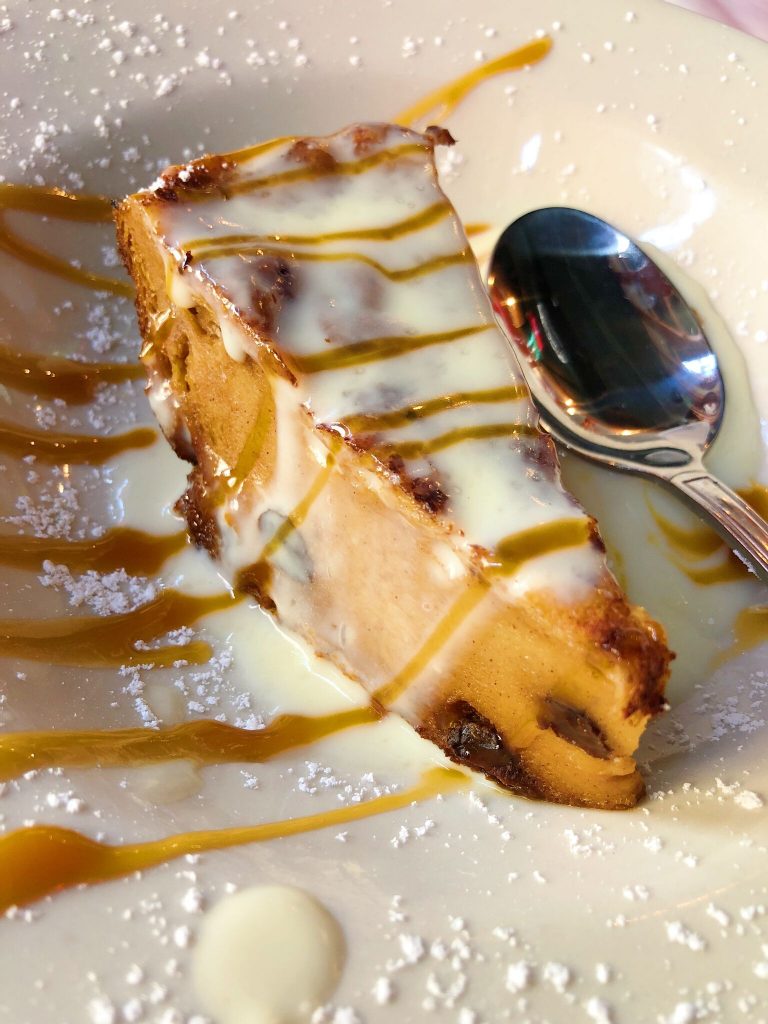 Bread Pudding at Creole Cookery was a highlight of our food tour- YUM.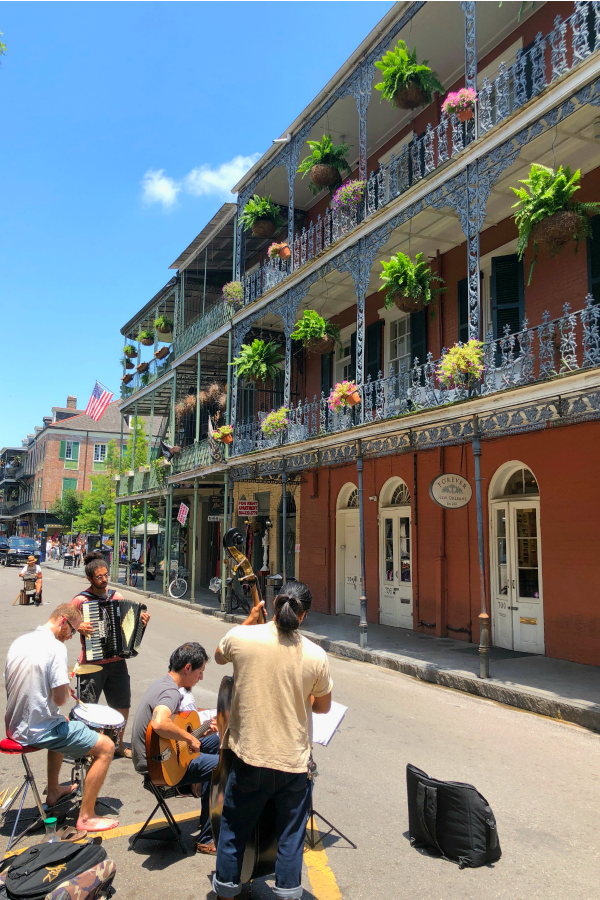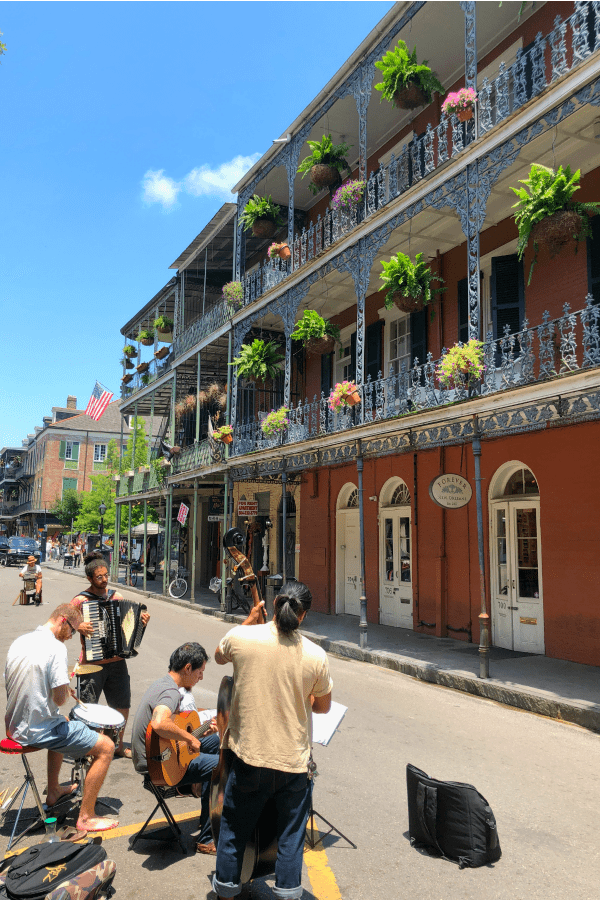 Scenes like this are common all over the French Quarter.  Just a bunch of crazy talented musicians performing for passers-by.  Be sure to throw a dollar or two their way as they really work hard to entertain the tourists!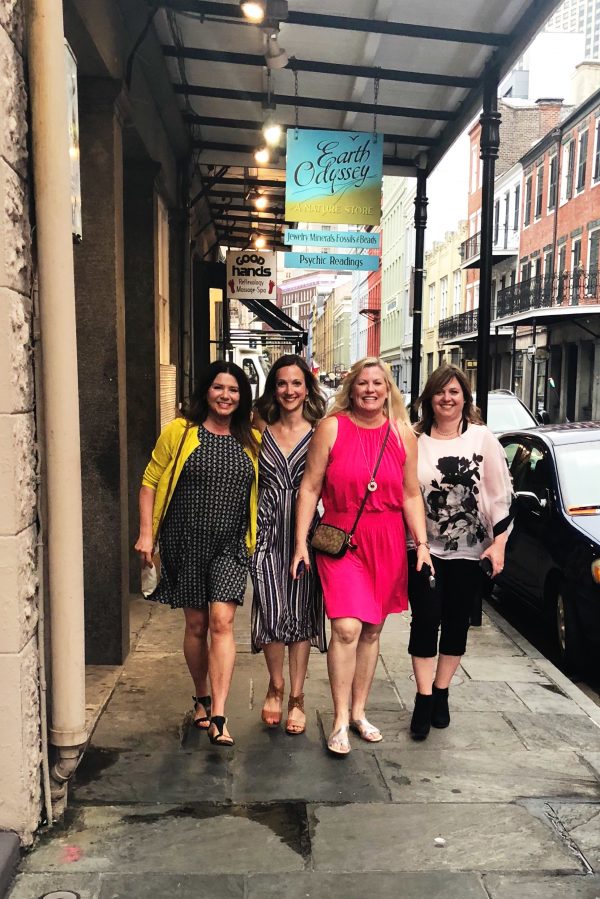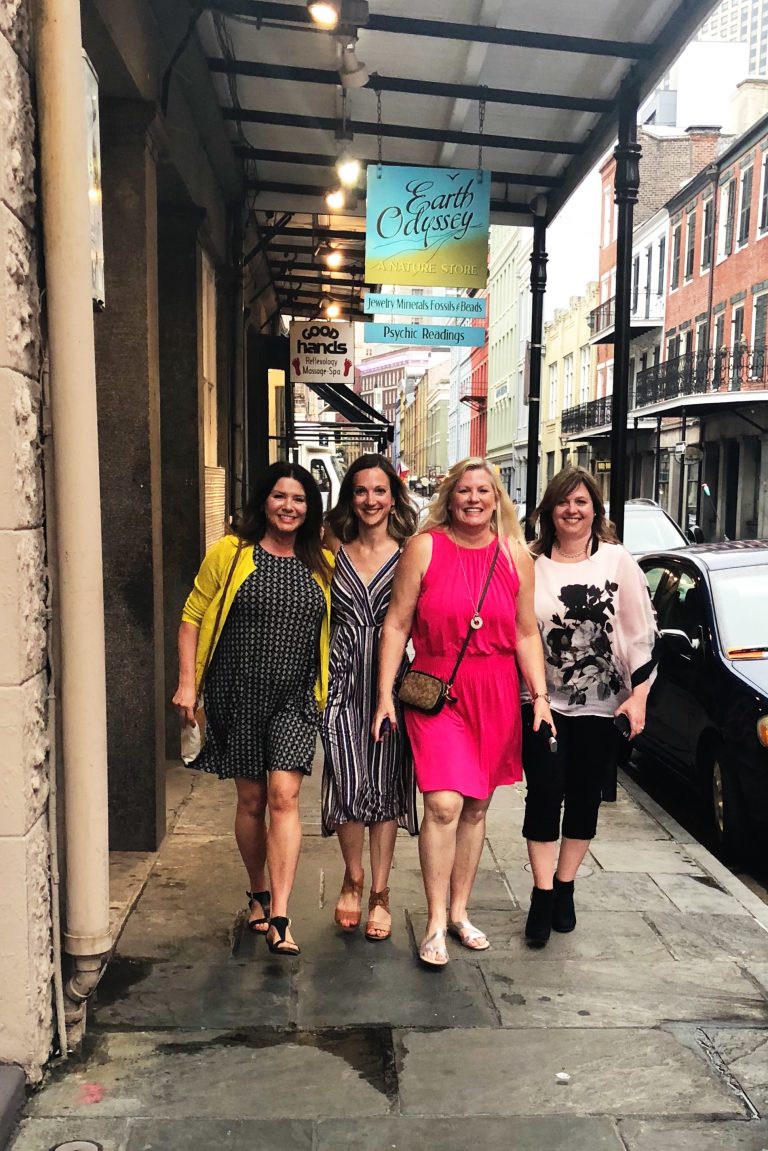 We've been told this is our "Sex and the City" photo (thanks to Sandy).  On our way to dinner in the French quarter at SoBou.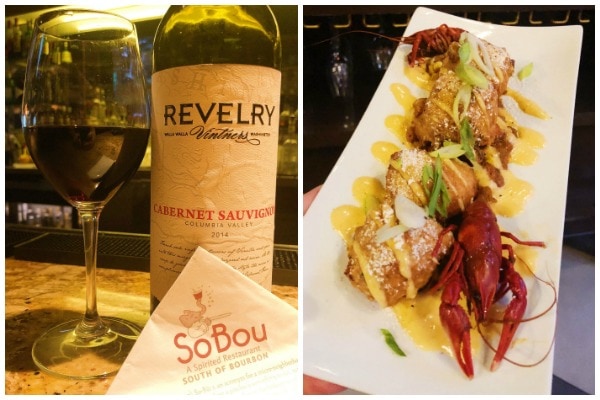 We had a pretty amazing dinner at Sobou.  Highlights for me were the Gumbo (made with potatoes INSTEAD of rice), Crawfish Beignets (pictured above) and the most amazing salad with pickled grapes, strawberries and mascarpone cheese.  The wine was excellent too.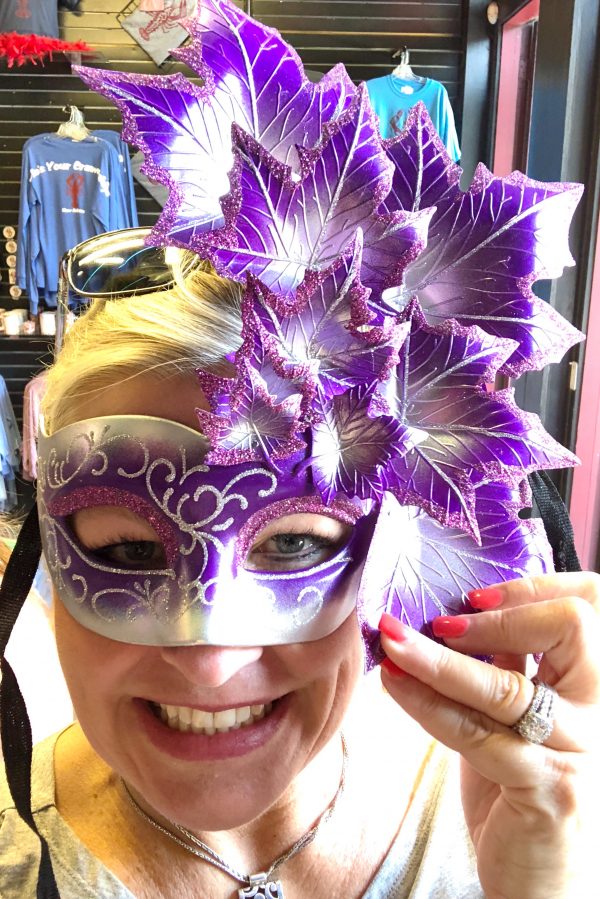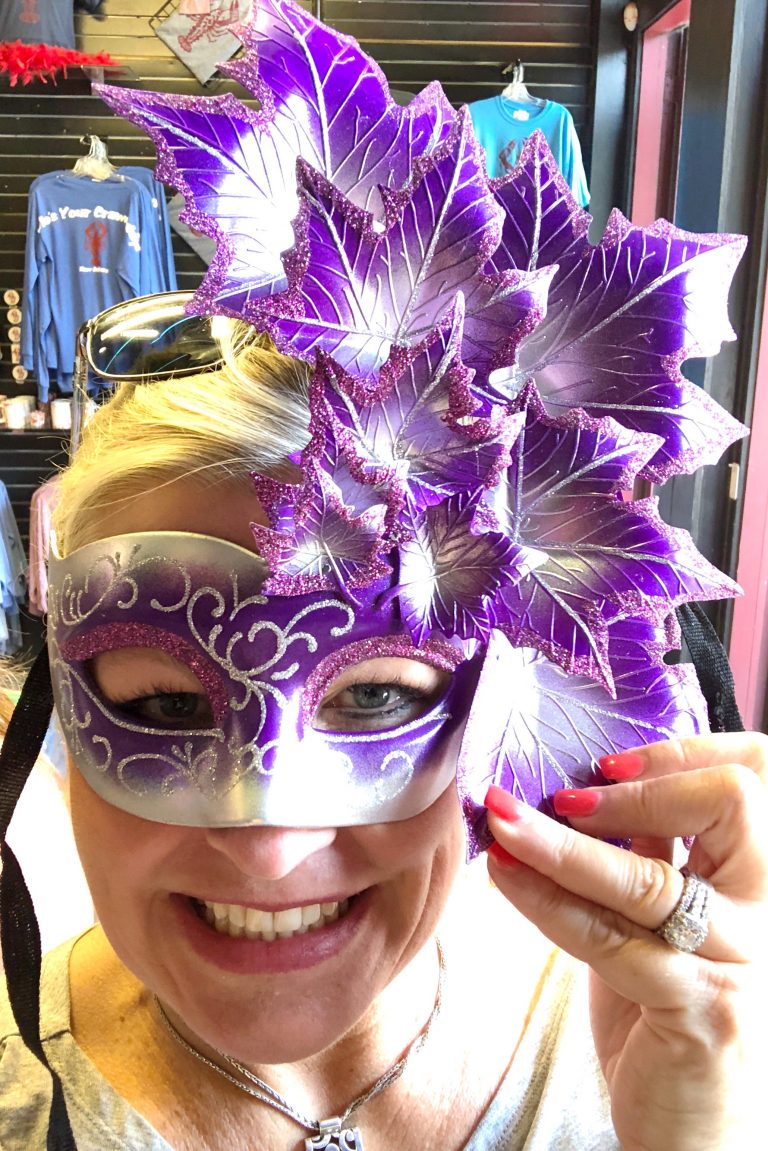 And lastly, when you are in New Orleans… you simply must pop into a shop and buy a mask.  They have them everywhere, and they're awesome!  You never know when you're going to be going to your next masquerade party!!!
Best place to stay in New Orleans?
I suggest Le Méridien Hotel New Orleans, a comfortable, quiet, well-priced hotel with a modern, clean feel.  It's in a good location- kind of away from all of the action, if you prefer that.  If not, try the W Hotel in the French Quarter.  It's more quaint and fairly hip and stylish.  Both hotels have great restaurants/food within the hotel.
Fun things to do in New Orleans?
Taking a Swamp Tour has always been highly recommended.  Try a Segway tour downtown.  Visit the WWII Museum.  Go to the zoo.  Explore the above ground cemeteries.  Take a Plantation Tour.  Cruise down the Mississippi River.  Bike through Audubon Park.  Walk through the French Market in the French Quarter- lots of vendors and food.
Good places to eat in New Orleans?
You really can't go wrong with so many great restaurants in New Orleans!
For breakfast:
Toast – Uptown (try Croque Madame/ Avocado Toast, Aebleskivers, and shop Octavia Books nextdoor), Willa Jean (Southern), Elizabeth's (Southern down-home cuisine) and The Ruby Slipper Cafe (Bananas Foster Pain Perdu!).
For lunch:
St. James Cheese Company (for epic grilled cheese sandwiches– also, they have a $10 cheese platter + wine deal at happy hour), Central Grocery (Muffuletta), Galatoire's (famous for their Friday lunch, NOLA classics- men must wear a jacket!), Willa Mae's (best fried chicken in existence), and Turkey and the Wolf (huge chicken fried steak sandwich).
For dinner:
Avo – Magazine Street (regional Italian with celeb chef), Barú Bistro & Tapas– Magazine Street (Latin- Caribbean small plates), Shaya or Saba (for Israeli food), Drago's (charbroiled oysters), Cochon (Cajun Southern Cooking- I had an AMAZING dinner here), Seaworthy (oysters and amazing seafood), Toups South (great menu for foodies), SoBou (had a great dinner here), and Saffron (Indian food).
For dessert:
Sucre (Gelato and Macarons), Creole Creamery (Ice Cream), Whole Foods (get free shaved ice), Southern Candymakers (Pralines), Brennan's (Banana's Foster), Sno-Balls at Hansen's, and of course Cafe Du Monde (Beignets)– though someone told us that Cafe Beignet was better!
Best places to drink cocktails in New Orleans?
A cocktail crawl is a must if that sort of thing is for you.  I recommend trying some of the classic cocktails that are known to New Orleans.  Try a Grasshopper (Tujagues), Hurricane (Pat O'Brien's), VooDoo Juice (Creole Cookery), Sazerac (The Sazerac Bar), Vieux Carre (Carousel Bar— it moves slowly round and round!), French 75 (Arnaud's French 75 Bar), Brandy Milk Punch (Brennan's), Pimm's Cup (Napoleon House) and a cocktail on the rooftop Hot Tin Bar (gorgeous night skyline view looking over New Orleans).
Also be sure to sample the frozen daquiris as you walk around town (they're in little "smoothie" type shops).  And there is a 25 cent martini deal at Commander's Palace during lunch on weekdays (limit 3 per person!)  The 21st Amendment in the French Quarter was recommended to us by another bartender as a super cool hangout for excellent craft cocktails.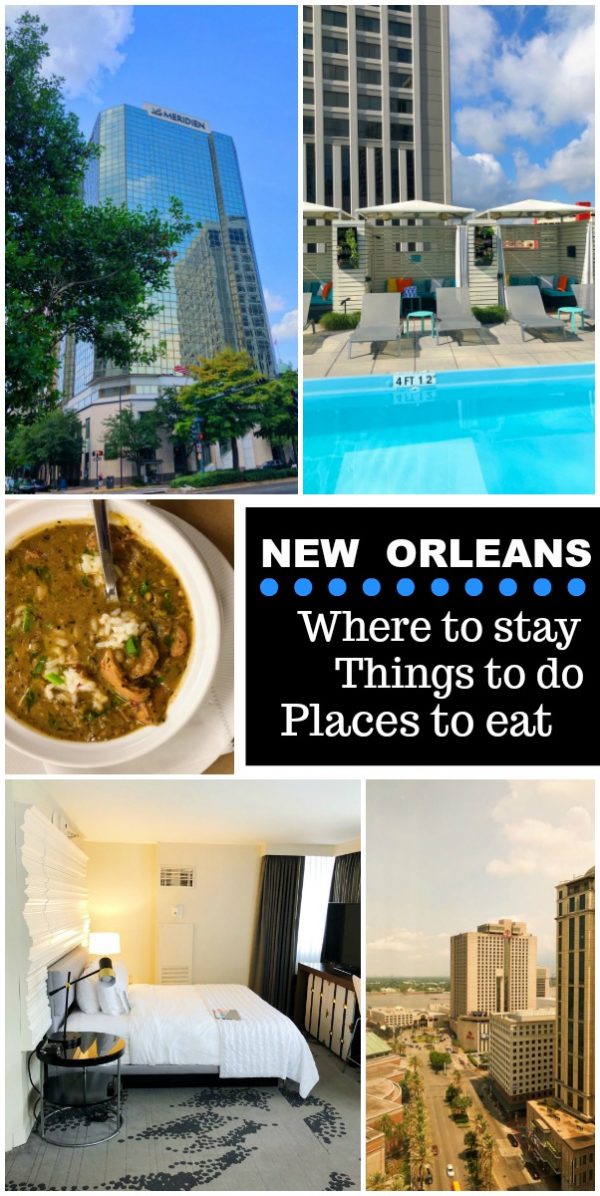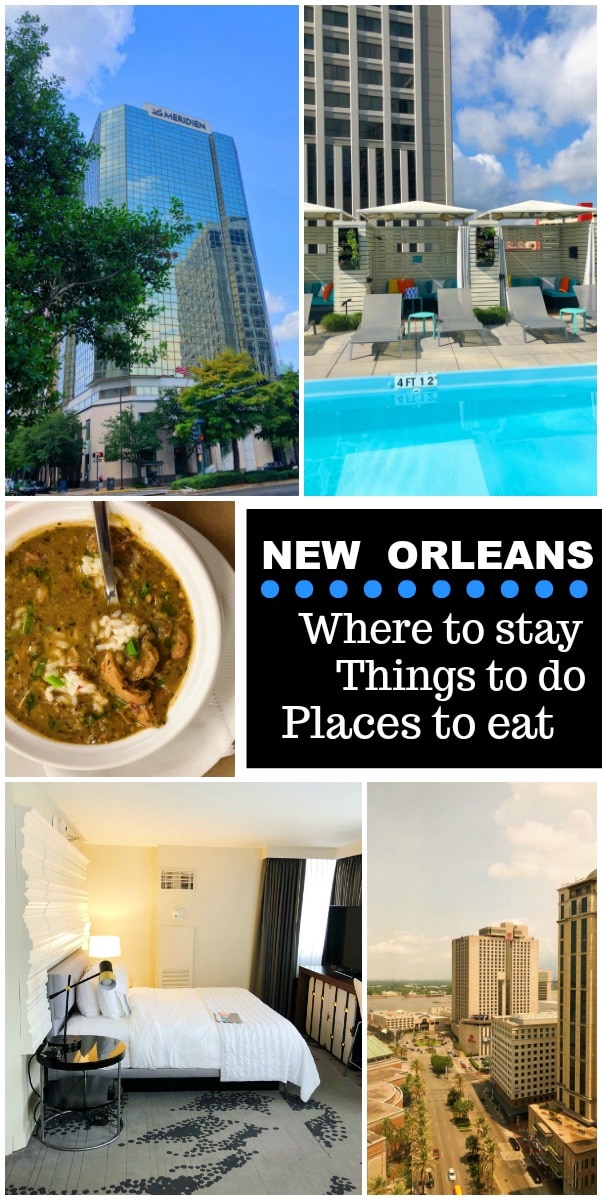 You may also enjoy reading about my adventures in SunRiver Resort Oregon, Four Seasons Baltimore, and Rome Italy with Insight Vacations.
Disclosure:  Le Meridien Hotel New Orleans graciously hosted my stay, so I am choosing to share my experience at the hotel with RecipeGirl readers.  All opinions shared are my own.