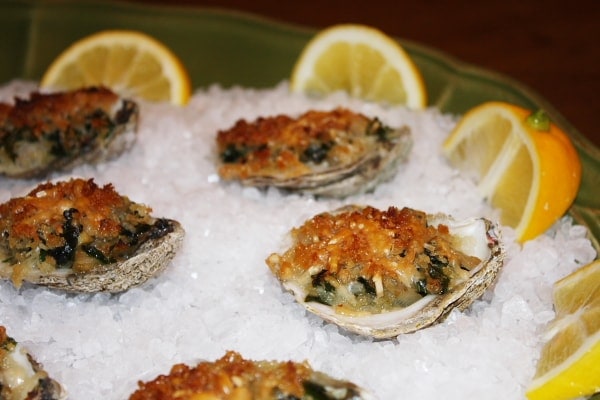 Oysters Rockefeller
These were served up at a Mardi Gras-themed dinner party that we attended. Everyone absolutely loved them.
Yield:
Serves 8
Prep Time: 30 minutes
Cook Time: 15 minutes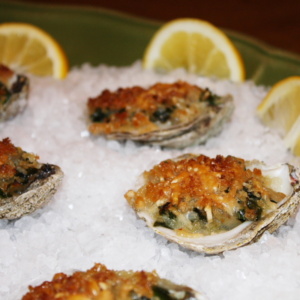 Ingredients:

4 Tablespoons unsalted butter
2 garlic cloves, minced
1/3 cup bread crumbs, Panko preferred
2 shallots, chopped
2 cups chopped fresh spinach
1/4 cup Pernod (can sub white wine)
Salt and pepper, to taste
dash red pepper sauce
2 Tablespoons olive oil
1/4 cup grated Parmesan
1 Tablespoon chopped parsley
2 dozen oysters, on the half shell
Rock salt
Lemon wedges & Tabasco sauce, for serving

Instructions:

Prepare oyster filling:
1. In a medium skillet, melt butter. Add garlic and saute for 2 minutes; remove from heat.

2. Place the bread crumbs in a mixing bowl and add half the garlic butter, set aside.

3. To the remaining garlic butter in the skillet, add shallots and spinach, cook for 3 minutes until the spinach wilts. De-glaze the pan with Pernod or white wine. Season with salt and pepper, add a dash of red pepper sauce. Allow the mixture to cook down for a few minutes.

4. Finish off the bread crumbs by mixing in olive oil, Parmesan and parsley, & season with salt and pepper.

5. Spoon 1 heaping teaspoon of the spinach mixture on each oyster followed by a spoonful of the bread crumb mixture. Sprinkle a baking pan amply with rock salt. Arrange the oysters in the salt to steady them. Bake in a preheated 450 degree F oven for 10 to 15 minutes until golden.

6. Serve with lemon wedges and Tabasco sauce.