Peanut Butter S'Mores Turnovers
Here's a quick video peek at how to make these Peanut Butter S'Mores Turnovers.  The printable recipe is at the end of this post.
I'm not much of a camper. My husband often takes my son on camping trips, and I happily stay behind and thank the gods for our bug-free house, cozy bed and well-stocked kitchen. I always send them off in comfort… marinate a little meat for them to throw on the grill, pack up some convenience foods and bake a few goodies too.
When they return from their camping weekends, I hear mostly about the evenings sitting around the campfire. Story telling, snuggling in blankets, singing songs and roasting marshmallows for S'Mores seem to be recurring favorites. It all sounds great and everything, but it's just not for me. I'll happily tell a story, snuggle in a blanket and sing a song next to a roaring fire inside a mountain cabin and nibble on homemade baked goods instead.
Here's my version of a jazzed-up stay-at-home camping treat made with Puff Pastry: Peanut Butter- S'Mores Turnovers.
Here's the How To:
Thaw out a box of Puff Pastry, and cut along the fold lines to make 6 large rectangles.  Cut each rectangle in half lengthwise.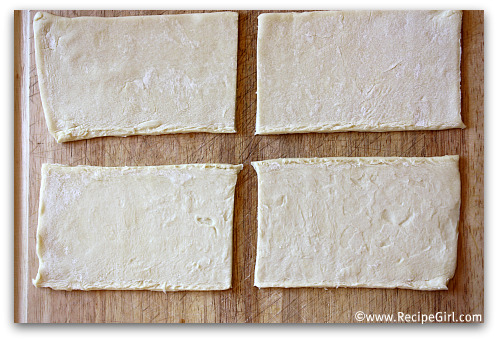 Layer 1/4 of a whole graham cracker, a piece of milk chocolate bar and a spoonful of peanut butter on one side of the Puff Pastry.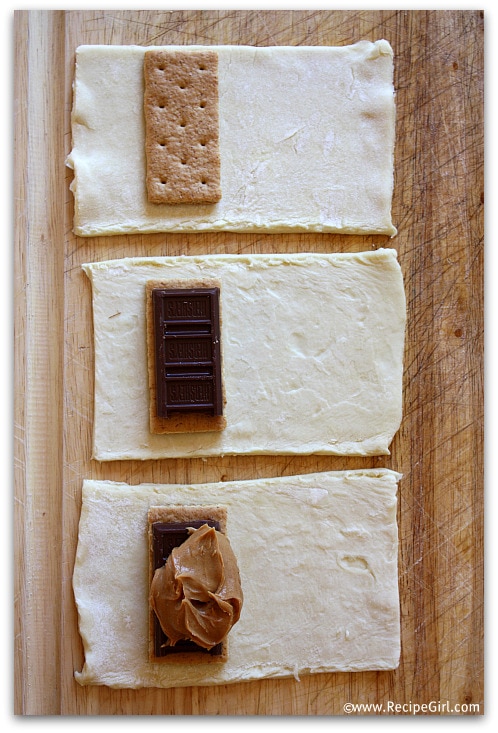 Wet the edges with water (dip your finger in water and gently touch along the edge), fold over the filling ingredients and press edges together. Use a fork to seal the edges. Repeat with remaining pieces.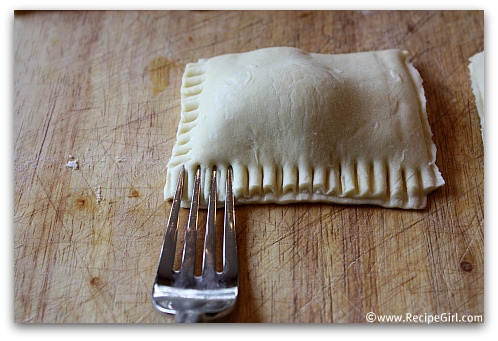 Transfer filled turnovers to a parchment-lined baking sheet, and brush with egg wash.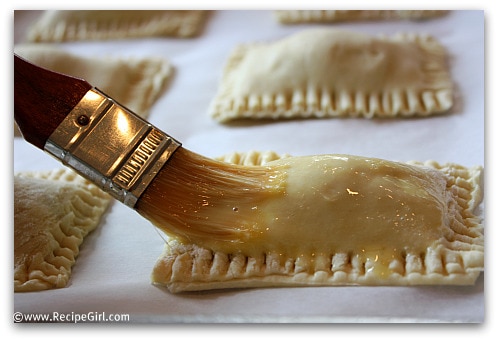 Use a sharp knife to cut a couple of slits in the top of each turnover (to allow steam to escape while baking).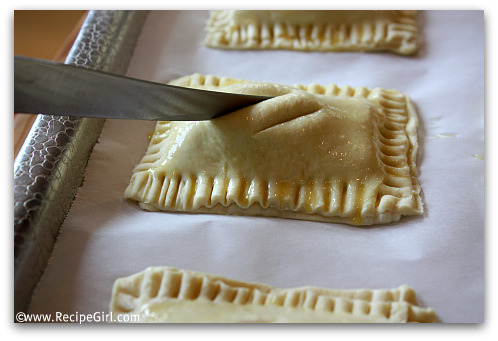 Bake at 400 degrees F. until golden (about 15 minutes).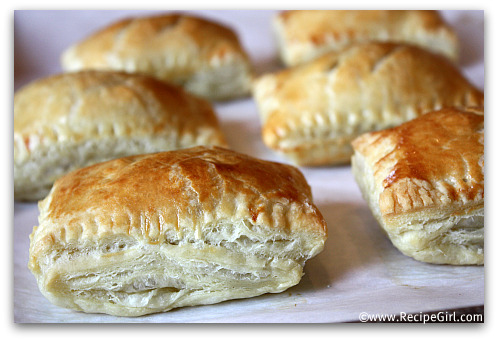 Scoop marshmallow creme into a zip baggie and microwave it for about 8 seconds. Snip the tip of the bag, zip it and drizzle marshmallow on top of warm turnovers.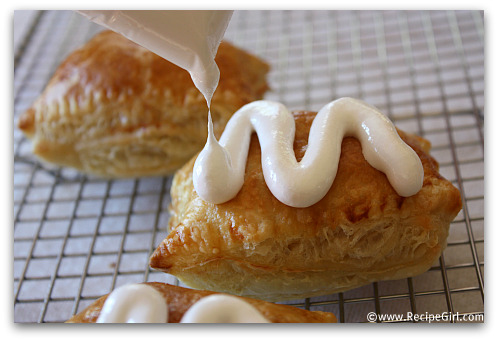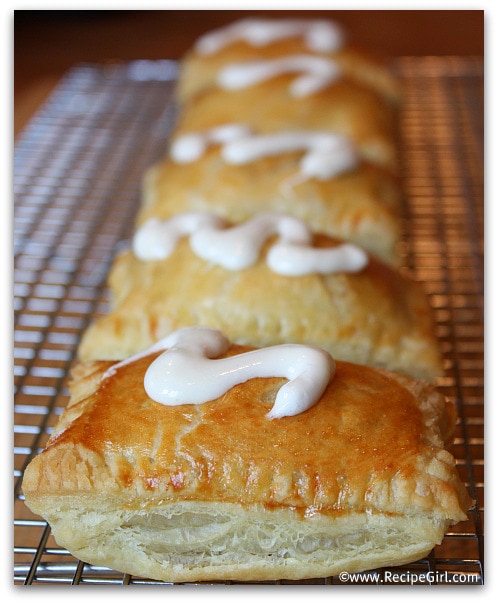 Here's the S'More's Turnover- deconstructed…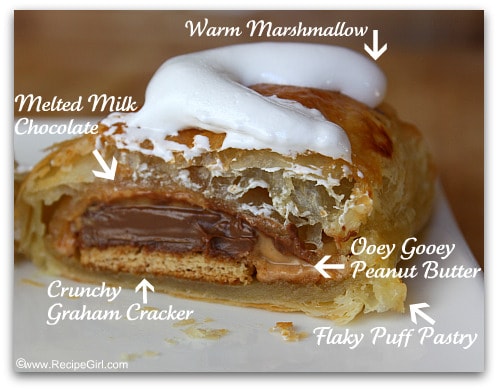 The Puff Pastry gives the S'Mores an elegant touch, and frankly… they're a lot easier to eat tucked inside of a turnover.  I think the picture above pretty much explains how this delicious dessert turns out.   If you're a chocolate+peanut butter lover, you'll be a big fan for sure.    Hint: Save a few chocolate bars from your kid's Trick or Treating loot to bake up a few of these S'More's treats!
Yield: 12 turnovers
Prep Time: 30 minutes
Cook Time: 15 minutes
Peanut Butter S'Mores Turnovers
Quite a unique little treat, all tucked into a light and flaky Puff Pastry...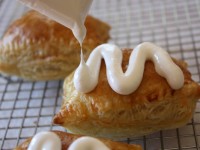 Ingredients:
1 box Puff Pastry (2 sheets), thawed
3 whole graham crackers, gently broken into fourths
9 small milk chocolate bars (I used Hershey's .49 oz. bars)
1/2 cup creamy peanut butter
small bowl of water
1 egg whisked with 1 Tablespoon water (to make egg wash)
1/2 cup jarred Marshmallow Creme (or Fluff)
Directions:
Preheat oven to 400°F. Line baking sheet with parchment paper or spray with nonstick spray.
Lay the Puff Pastry on cutting board. Working with one sheet of Puff Pastry at a time, cut on three folds, creating 3 rectangles (about 3" x 10" each). Cut each 3 x 10 rectangle in half. You'll have 6 pieces to work with for each sheet of Puff Pastry.
Assemble the turnovers: Lay a graham cracker on 1/2 of each square, top with chocolate that has been cut down to match the length of the graham cracker. Scoop a scant 1 Tablespoon peanut butter on top of each chocolate bar.
Working with one turnover at a time, wet the edges of the Puff Pastry and fold (over) in half to meet opposite edges. Gently push edges together to stick; use fork to seal edges together and create ridged pattern. Repeat with each turnover until all are sealed up. Gently move sealed turnovers to baking sheet with a small spatula. (At this point, the turnovers may be refrigerated for up to an hour before baking- cover baking sheet with plastic wrap- when ready to bake, remove from refrigerator and continue with instructions).
Brush turnovers lightly with egg wash, then use a sharp knife to cut two small slits into the top of each turnover.
Bake 15 minutes, or until turnovers are puffed and golden. Remove from oven. Let cool for 5 minutes. Scoop marshmallow creme into a zip baggie (don't zip). Microwave for 8 seconds to soften. Zip bag and snip a small piece off of the corner of the bag. Drizzle marshmallow onto the top of each turnover. Serve immediately.
Tips:
Use any sort of chocolate that sounds good to you. Just cut it down or break it into pieces that fit on top of a 1/4 of a whole graham cracker. (Leftover mini Hershey's bars from Halloween work great!)
I tested this recipe with real marshmallows and they didn't work as well as the marshmallow creme.
This recipe can be easily cut in half- just thaw out one sheet of Puff Pastry.
These are best served while warm & gooey, but they can certainly be eaten any time!
SOURCE: RecipeGirl.com
Comments