Pear and Blue Cheese Pastry Triangles
These Pear and Blue Cheese Pastry Triangles are very easy to assemble and bake.
Puff pastry works wonderfully for easy appetizer recipes. The onions take some time to cook, but you'll find that they're totally worth it.  Once you've cooked up the onions, all is very easy to assemble, and they turn out to be a very elegant appetizer!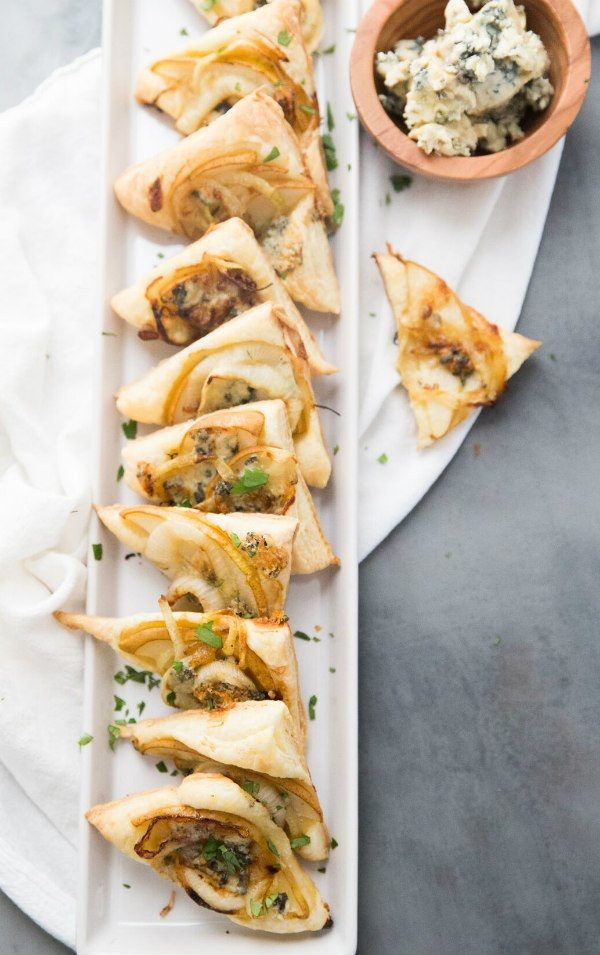 Yield: 36 to 48 appetizers
Prep Time: 25 minutes
Cook Time: 1 hour and 15 minutes
Pear and Blue Cheese Pastry Triangles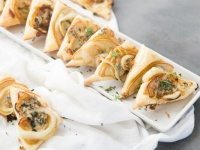 Ingredients:
3 tablespoons butter
1 tablespoon olive oil
2 pounds sweet or yellow onions, peeled & sliced very thinly
1 large firm, ripe pear, rinsed & cut in half crosswise, then lengthwise
salt & pepper, to taste
2 sheets puff pastry, thawed but kept cool
7 ounces (1 1/2 cups) crumbled gorgonzola or other blue cheese
Directions:
In a large frying pan over medium heat, melt the butter with the olive oil. Add the sliced onion and reduce heat slightly (between medium and medium-low). Cook, stirring occasionally, until the onions soften and turn brown, 30 to 40 minutes. Meanwhile, trim the pear quarters to remove seeds, then cut into thin slices; set aside. When onions are nicely browned, sprinkle with salt and pepper to taste and set aside to cool to room temperature.
Preheat oven to 375 degrees F. Line two 14x17-inch sheet pans with parchment paper and transfer one sheet of pastry dough to each. Roll out pastry lightly with a floured rolling pin to flatten any creases.
Using a pizza cutter or sharp knife, cut the pastry sheets into triangle, wedge, or diamond-shaped pieces about 2-inches wide (don't worry if you cut through the parchment). Slightly separate pieces so that they are not touching.
Lay a pear slice in the center of each wedge (trim the slice so that it doesn't cover the entire pastry). Top with a small pile of caramelized onions and about 1/2 teaspoon of the blue cheese.
Bake in oven until fully puffed and golden, about 25 to 30 minutes. Serve warm.
SOURCE:
  RecipeGirl (adapted from
Sunset
)
Here are a few more appetizer recipes you might enjoy: