I'm such a big fan of Super Bowl food, so these Puff Pastry Nachos are going to fit nicely into my Super Bowl menu this year…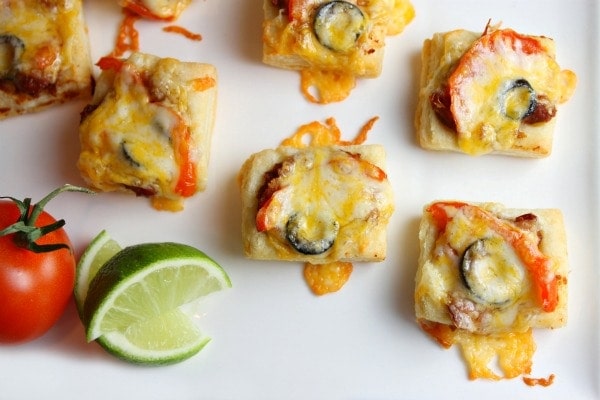 If I could eat nachos a few times a week for a main meal, I'd be totally okay with that.  Anything smothered with melted cheese, beans, olives, tomatoes, jalapeños, guacamole and sour cream…. YES, PLEASE.  So I know that's not super realistic, but I'm a major nachos fan, for sure.  I decided that Puff Pastry might make a great vehicle for nachos.  Turns out I was right.
I'm partnering with Pepperidge Farm® Puff Pastry the next few months to create recipes for my readers, and I also have some very exciting news to share on how you can win a trip to the Pepperidge Farm® Innovation Center in Norwalk, CT by sharing your own idea of creating something delicious with Puff Pastry! Scroll down to the bottom of this post for more info.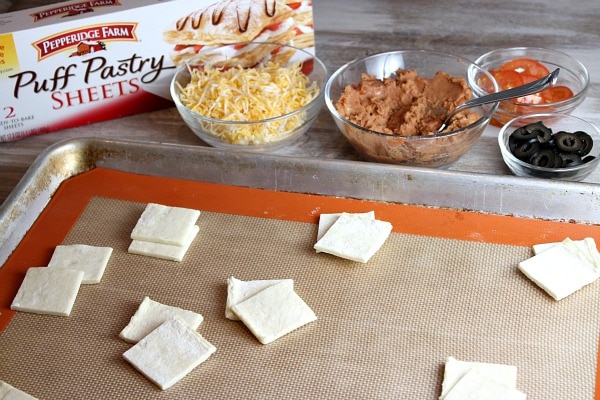 This is fun Super Bowl food because you can prepare these ahead, wrap the baking sheet in plastic wrap and refrigerate it.  Then, when you're ready for your nachos, just pop it into the oven.  It all starts with Puff Pastry Sheets… just using a pizza cutter or sharp knife to cut the Puff Pastry into 1-inch squares.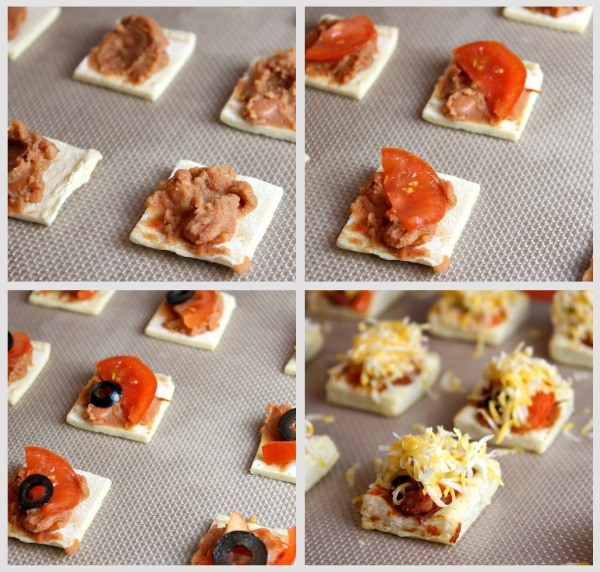 The squares are topped with a smidge of refried beans, a slice of tomato, and an olive…. then they're placed into the oven to partially bake, then they get a sprinkle of shredded cheese toward the end of baking.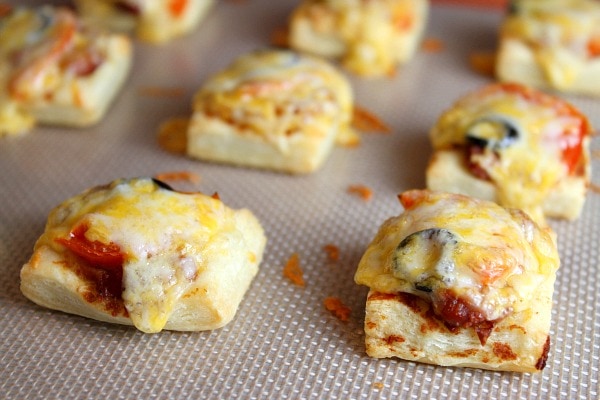 You can certainly eat them like this with all of that fabulous melty cheese…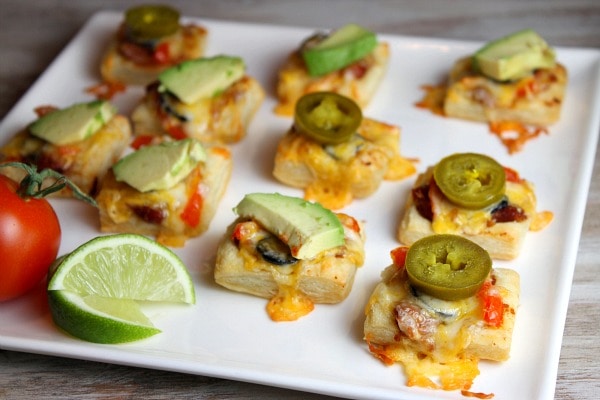 … but I opted to fancify them and add slices of avocado and jalapeño to each bite.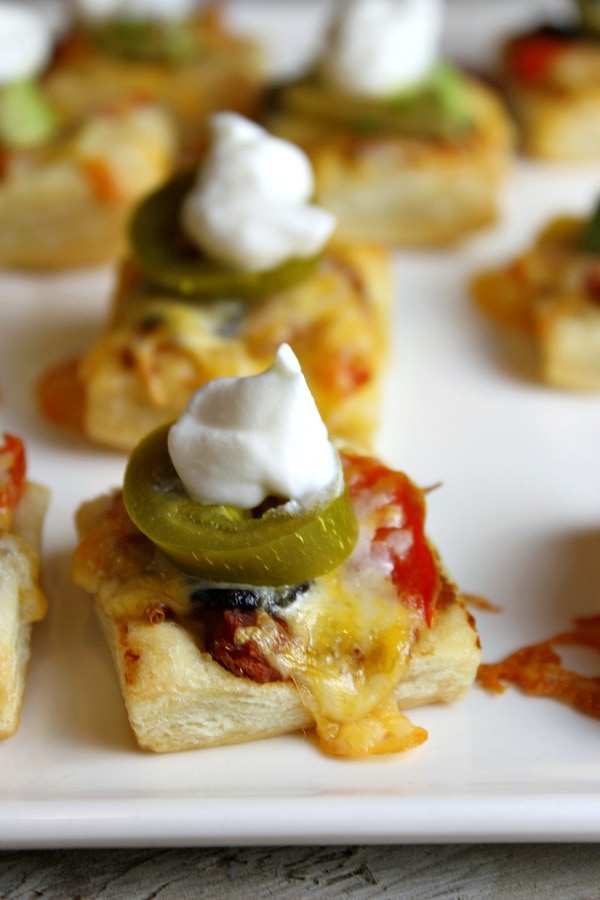 Sour cream tops it all off to make it a "complete" nacho.  I'm totally ready for Super Bowl now, are you?!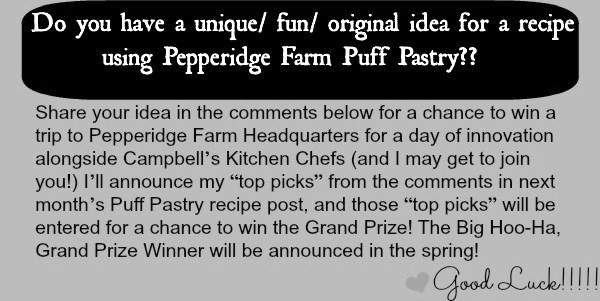 My TOP PICK winner from the last Puff Pastry recipe I shared is:


Congrats to Liz!  Now it's your turn >> In the comments below- share YOUR  own original Puff Pastry recipe/idea and/or twist on an existing dish using Pepperidge Farm® Puff Pastry for a chance to win a trip to the Pepperidge Farm Headquarters!
Puff Pastry Nachos
Yield:
36 nacho bites
Prep Time: 30 min + rising time
Cook Time: 20 min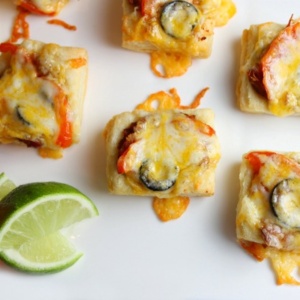 Ingredients:

1/2 pkg. (17.3 ounces) Pepperidge Farm® Puff Pastry Sheets, (one sheet) thawed
3/4 cup refried beans
36 small slices of tomato (I use small Campari tomatoes)
36 sliced olives
3/4 cup finely shredded cheddar (or cheddar/jack blend)
avocado, sliced and/or jarred sliced jalapeños
sour cream, optional

Instructions:

1. Preheat the oven to 400 degrees F. Line a large baking sheet with parchment paper or a silpat mat.

2. Use a knife or pizza cutter to cut 1-inch squares from the Puff Pastry. You should be able to get 36 squares from one sheet. Place the squares on the baking sheet, leaving about 1-inch space between each square.

3. Place a small dab of beans on each pastry square. Top with a tomato and an olive. Bake for 15 minutes. Remove baking sheet from the oven and top each with a sprinkle of the shredded cheese. Return the baking sheet to the oven for 3 to 5 minutes, just until cheese is melted and pastry is lightly browned.

4. For serving, top each with avocado or jalapeño and a small dollop of sour cream.

Tips:

Make- ahead tip: Prepare nachos through topping with beans, tomato and olive. Wrap the baking sheet with plastic wrap and refrigerate up to 3 hours before baking. To bake, remove from the refrigerator, discard plastic wrap, and bake & finish as directed.
Disclosure:  I am working with Pepperidge Farm over the next few months to create recipes using their Puff Pastry products as part of their "Puff is the Spark" panel.  This is a product that I use in my kitchen regularly.  All opinions shared are my own.