This recipe has been featured in a post on The Recipe Girl blog: Super Bowl Party Recipes.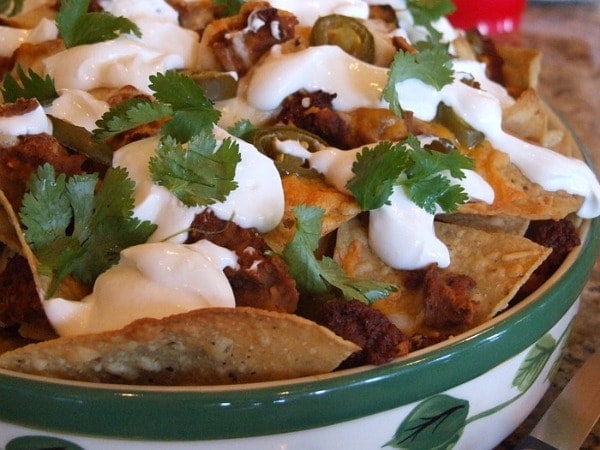 Chorizo, Bean and Cheese Nachos
This is good grub. It's a very 'manly' sort of appetizer… piled high with lots of good stuff.
Yield:
8 servings
Prep Time: 20 min
Cook Time: 20 min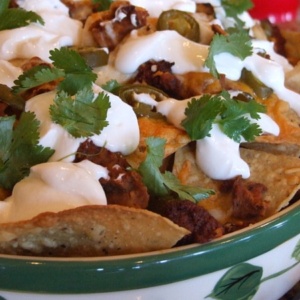 Ingredients:

1 pound Mexican chorizo, removed from casings & crumbled
1 Tablespoon chopped garlic
1/4 teaspoon ground cumin
2 cups canned pinto beans, rinsed & drained
1/2 teaspoon chili powder
1/4 teaspoon salt
water
1 pound restaurant-style tortilla chips
1 1/2 cups grated pepper jack cheese
1 1/2 cups grated sharp cheddar cheese
jarred jalapeño peppers (medium spice)
1 cup sour cream (light is fine)
1 Tablespoon fresh lime juice
chopped fresh cilantro leaves, for garnish

Instructions:

1. In a large skillet, cook the chorizo, garlic and cumin, stirring, over medium-high heat until the sausage is browned and the fat is rendered, about 5 minutes. Remove and drain on paper towels. To the fat in the pan, add the pinto beans, chili powder, salt and 1 to 1½ cups water (depending on the moisture in the beans). Cook over medium heat until warmed through, smashing with the back of a heavy wooden spoon or potato masher until chunky/smooth. Remove from the heat.

2. Preheat oven to 450°F.

3. On a large, oval ovenproof platter or in a large baking dish, spread 1 layer of chips. Top with a layer of 1/2 of the beans, then 1/2 of the chorizo, cheeses, and jalapenos. Repeat with a 2nd layer of chips, beans, chorizo, cheese, and jalapenos. Bake until cheeses are melted and the mixture is hot, 5 to 8 minutes. Remove from the oven.

4. In a small bowl, whisk together the sour cream and lime juice, with a pinch of salt. Drizzle over the nachos, garnish with cilantro, and serve immediately.