I have an amazing soup recipe to share with you today:  Pear and Fennel Soup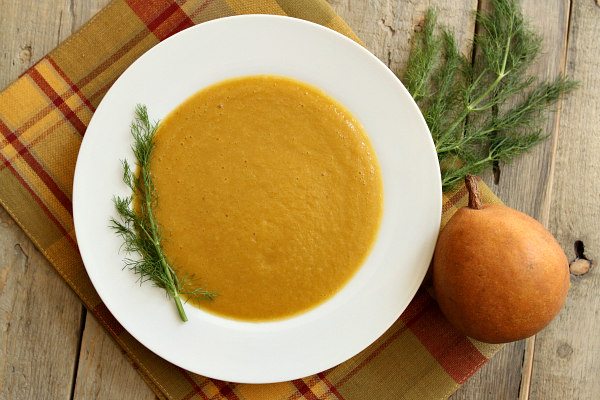 It's velvety and sweet and savory and delicious.  And it's quite healthy– just 135 calories per serving and it's considered a clean-eating recipe too.  I didn't feel awful about gobbling up two servings!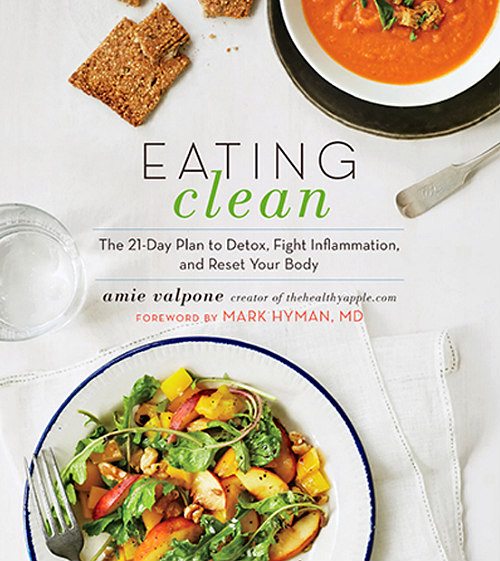 This recipe comes from a new cookbook from my good friend Amie Valpone:  Eating Clean: The 21-Day Plan to Detox, Fight Inflammation, and Reset Your Body.  Some background on Amie- she has suffered for over a decade from chronic illnesses.  She was sick for many years- one thing after another- and most types of food were seemingly her enemy.  Amie finally took matters into her own hands to try and regain her health through detoxing her diet and her life.  In her book, she shares her amazing story as well as more than 200 recipes that are vegetarian and free of potentially problematic ingredients like gluten, dairy, soy, corn, eggs and refined sugar.  Everything is made with whole foods.  Here are some recipes from the book that I have tagged to make:  Honey- Cinnamon Quinoa Granola, Banana- Almond Pancakes, Grain-Free Multi-Seed Crackers, Herbed Avocados with Caramelized Lemon Drizzle, Summer Zucchini and Fresh Basil Soup, Massaged Kale Salad with Spicy Hazelnuts, Peach Arugula Salad, Spring Veggie Paella, Zucchini Pad Thai, Sriracha Roasted Wild Rice Buddha Bowl, Chimichurri Sweet Potato Salad, Savory Chickpea Flour Crepes, Vanilla Bean- Coconut Ice Cream and Almond Butter Cups.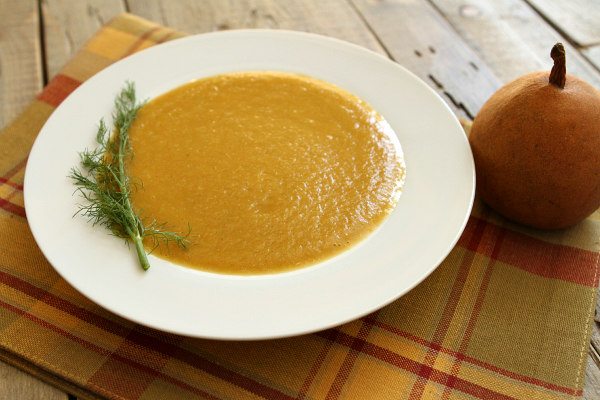 I must admit that I love a good pear, but I haven't always been crazy about fennel.  I decided to try this soup recipe anyway… because I know that sometimes I like flavors in other things that I may not like on their own.  The fennel works very nicely in this soup.  It blends with the other flavors so it isn't overpowering at all.  I loved this soup, and it was hard to believe that it didn't have more calories.  It was similar in texture to a good bisque.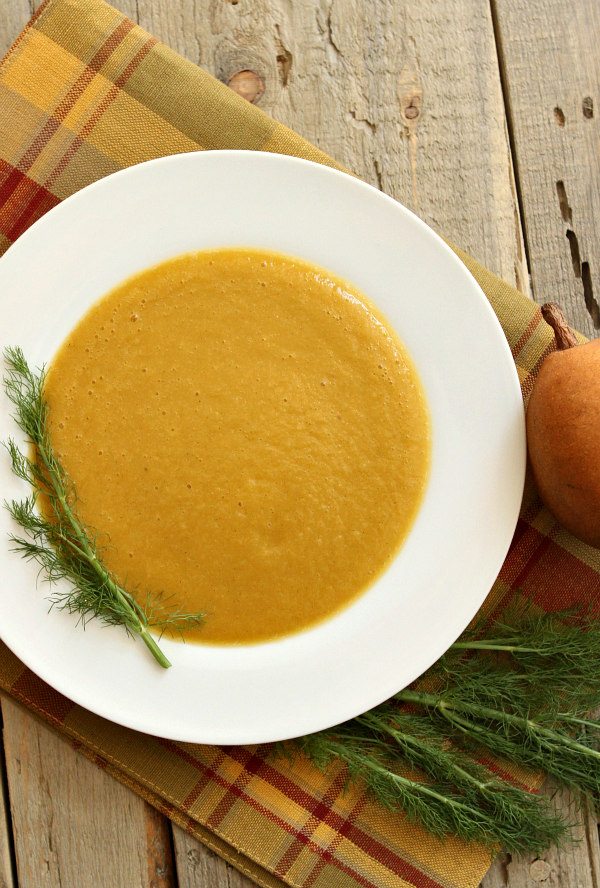 This soup would make a lovely lunch with a side salad, and it would also be a nice side soup to a main dish dinner.  I'll be making it again!
Quote from Amie (which I love):
Believe in yourself, challenge your doctor, eat lean, live clean, and accept nothing less than your best life ahead.
Well said.
Pear and Fennel Soup
Yield:
Serves 4
Prep Time: 45 minutes
Cook Time: 45 minutes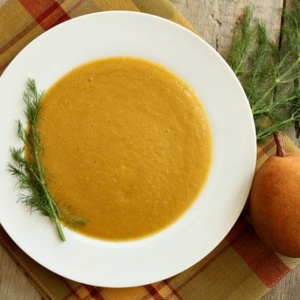 Ingredients:

1 tablespoon extra-virgin olive oil, plus extra for drizzling
1 medium sweet white onion, diced
1 garlic clove, chopped
1/2 teaspoon ground coriander
1/2 teaspoon ground cardamom
1/4 teaspoon ground white pepper
1 bay leaf
2 medium fennel bulbs, trimmed and thinly sliced
4 cups low-sodium vegetable broth, divided
2 firm medium Bosc pears, peeled, cored, and diced
fennel fronds, for garnish (optional)
sea salt, if desired

Instructions:

In a large stockpot, heat the oil over medium heat.  Add the onion and sauté until it beings to turn golden brown, 4 to 5 minutes.  Add the garlic, coriander, cardamom, pepper and bay leaf and stir for 30 seconds.  Add the fennel and 1/2 cup of the broth and cook, uncovered, stirring frequently, for 7 minutes.  Add the pears and the remaining 3 1/2 cups broth. Cover, raise the heat, and bring to a boil.  Lower the heat and simmer until the fennel is soft and tender, 35 to 40 minutes.  Uncover, let cool, and remove the bay leaf.
In batches, transfer the soup to a blender and puree until smooth.  Return the soup to the pot and keep warm until serving.  Portion into serving bowls and garnish each bowl with a drizzle of oil (if desired), fennel fronds and salt, to taste.

Nutrition:

Nutritional information per serving (1/4 of the soup):  calories: 135, fat: 3.9g, sat fat: .5g, cholesterol: 0mg, sodium: 202mg, potassium: 640mg, carbohydrates: 25g, fiber: 7.5g, sugar: 8.8g, protein: 2.1g
Weight Watchers Points: Freestyle SmartPoints: 2, Original SmartPoints: 2, PointsPlus:  3, Old Program:  2