You know what butter mints are, right? Those little pastel-colored things that you mindlessly nibble from a bowl while you're trying to avoid playing the awful games at a baby shower? Yeah, those. Older folks seem to always have them lying around too, which makes you wonder if they ever really become stale and inedible. I've always been fascinated with the way that they gently crumble apart and melt in your mouth.  I'm also kinda obsessed with Peppermint Patties, Junior Mints, Andes Mints and Guittard Mint Chips.  Sweet mint stuff is just irresistible to me.    These cookies are full of sweet mint stuff, and I'm obsessed with these too: Peppermint Dream Butter Cookies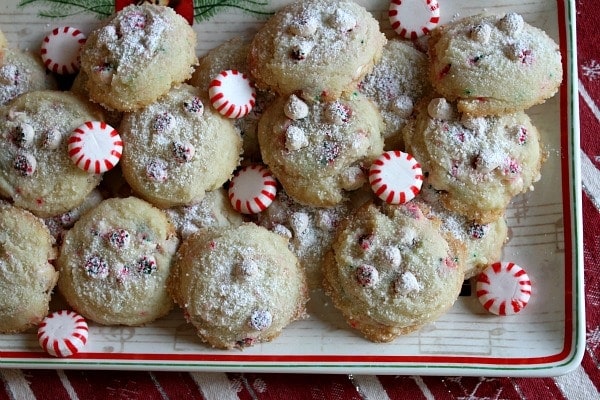 These are such a simple cookie- just 6 ingredients.  And you can choose what sort of minty thing you'd like to mix in.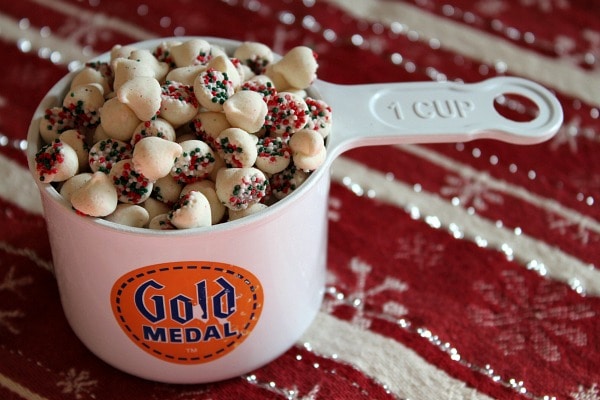 I had some of these Guittard Holiday Mint Chips lying around, so I used those.  Also good would be the Andes Peppermint Crunch- baking chips or  chopped up thins.  Just don't use those butter mints I mentioned 😉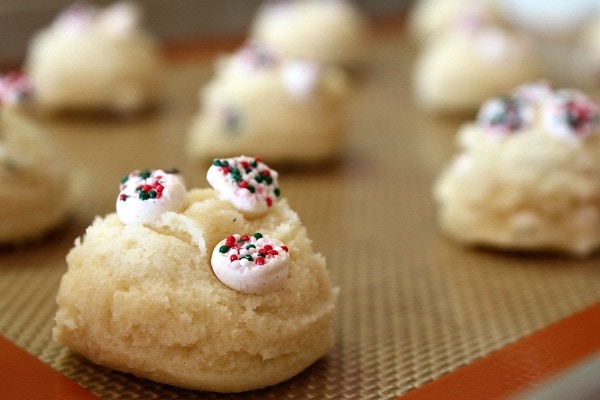 The chips are mixed into the dough, but it's always a good idea to stud some extras on top before baking for cosmetic purposes, right?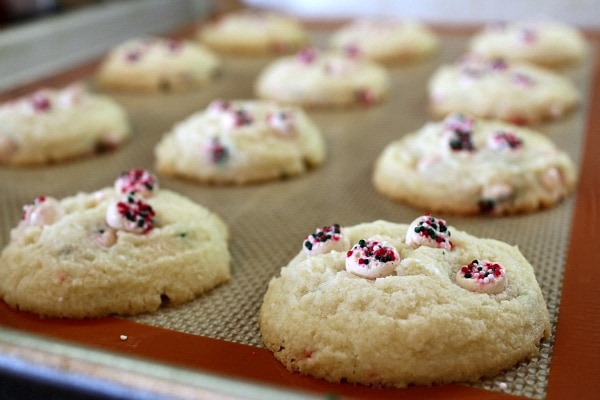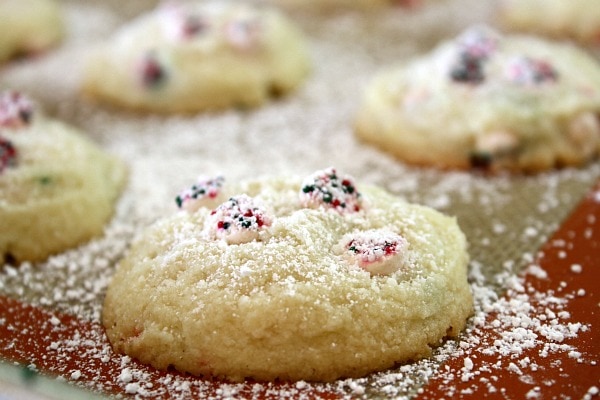 A sprinkle of snow powdered sugar after baking and while they're still warm, and they're good to go.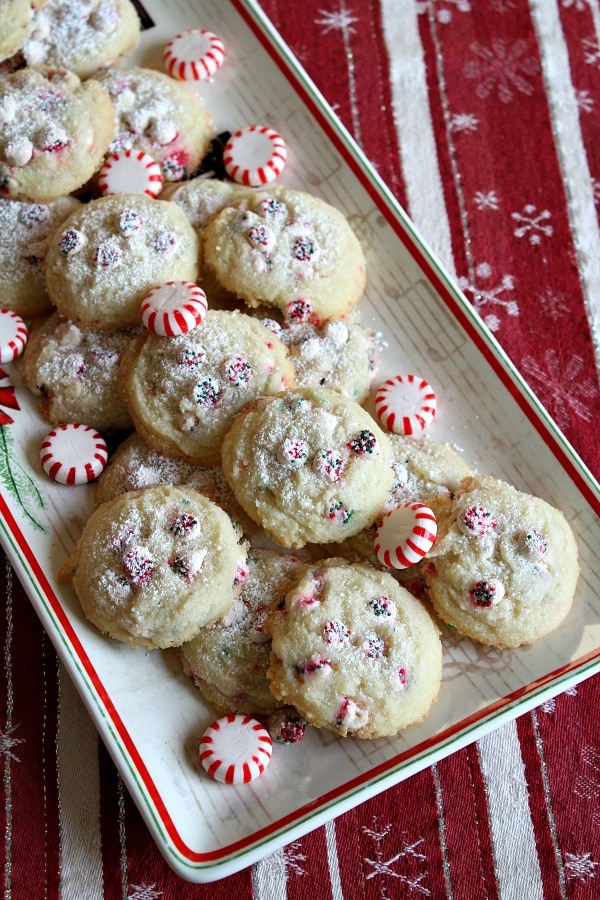 They're a festive one for the holiday cookie tray, sprinkled with a few festive peppermint wheels.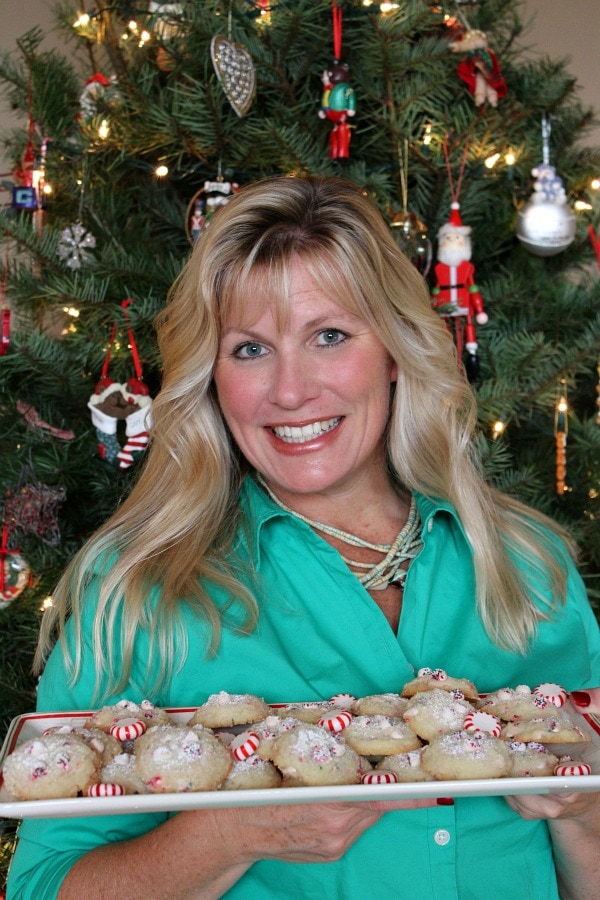 And I made them just for you! 🙂
Now go enjoy the weekend, deck the halls and get some of your holiday shopping done!  And pick up some of those 'ol butter mints for old time sake.
Oh, and if you need help with holiday shopping, check out my post sharing 10 unique holiday gift ideas!
Peppermint Dream Butter Cookies
For the recipe pictured, I used Guittard Mint Chips, but you can also use Andes Peppermint Crunch thins (chopped)- or something similar- or any kind of white mint chip.
Yield:
3 dozen cookies
Prep Time: 25 min
Cook Time: 20 min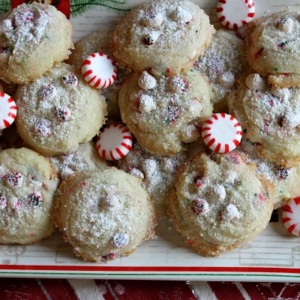 Ingredients:

1 cup (2 sticks) salted butter, softened
3 ounces cream cheese
1 cup granulated white sugar
2 1/2 cups Gold Medal® All-Purpose Flour
1 teaspoon peppermint extract
1 1/4 cups chopped Andes Peppermint Crunch Thins or mint chips, divided

Instructions:

1. Preheat the oven to 325 degrees F. Line baking sheets with parchment paper or silpat mats (or spray with nonstick spray).

2. In a large bowl, use an electric mixer to combine the butter and cream cheese. Mix in the sugar, then mix in flour and extract. Stir 1 cup of the mint chunks.

3. Use a cookie scoop or a spoon to drop rounded tablespoonfuls of dough onto your prepared baking sheets- 2-inches apart. Top each round of dough with a few additional pieces of mint. Bake 20 minutes, or until golden and set. Remove to a wire rack to cool completely.
Check out more peppermint cookies from these delicious food blogs:
Sparkling Peppermint Sugar Cookies by We Are Not Martha
Chocolate- Peppermint Bark Cookies by RecipeGirl
Chocolate Chip Peppermint Crunch Cookies by Two Peas and Their Pod
Chocolate- Peppermint Crinkle Cookies by Baker's Royale
White Chocolate- Peppermint Cookies by The Domestic Rebel
Disclosure:  I'm working with Gold Medal Flour to create seasonal recipes for the next couple of months.  This is one of those goodies.  All opinions shared are my own.