Potato Gnocchi from Scratch ~ pillowy soft, delicious potato dough dumplings ~ if that description doesn't grab you right away, maybe you'll be enticed by how simple they are to make!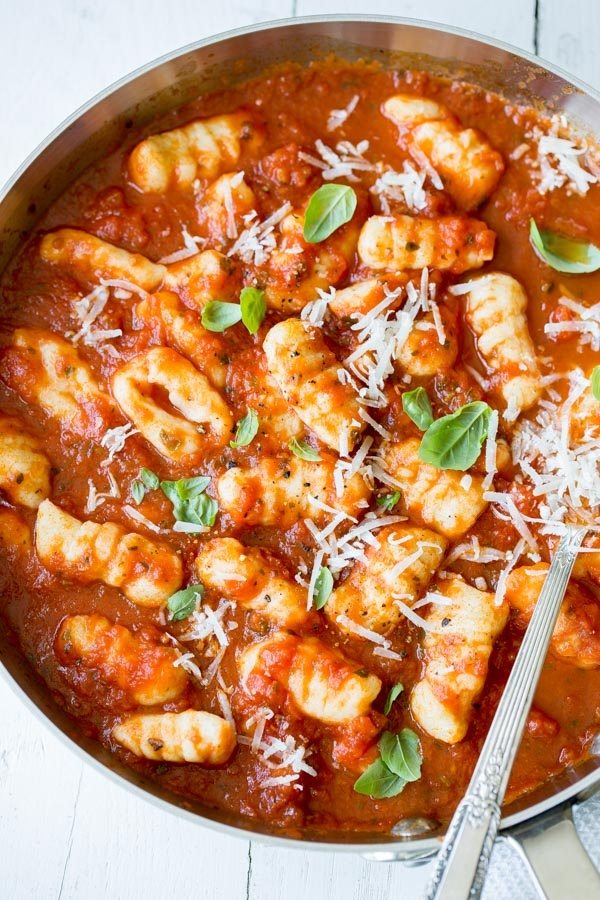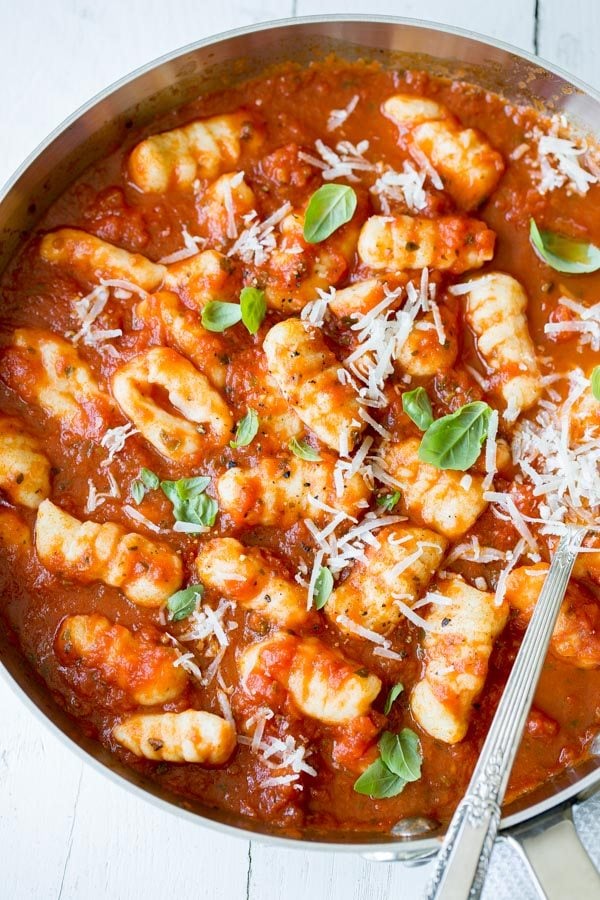 Super easy to make, and fun to shape and roll, there are no bad gnocchi dumplings to be had. And trust me when I say, nobody will care if they're not completely uniform in size, just make sure there are little pockets and ridges to hold the sauce. Be sure to watch the video in this post – it shows you how to roll and shape the gnocchi!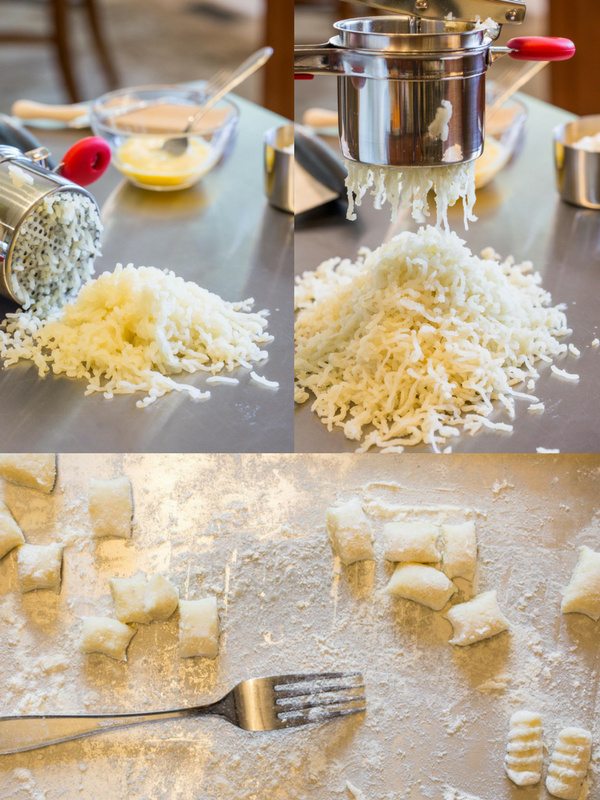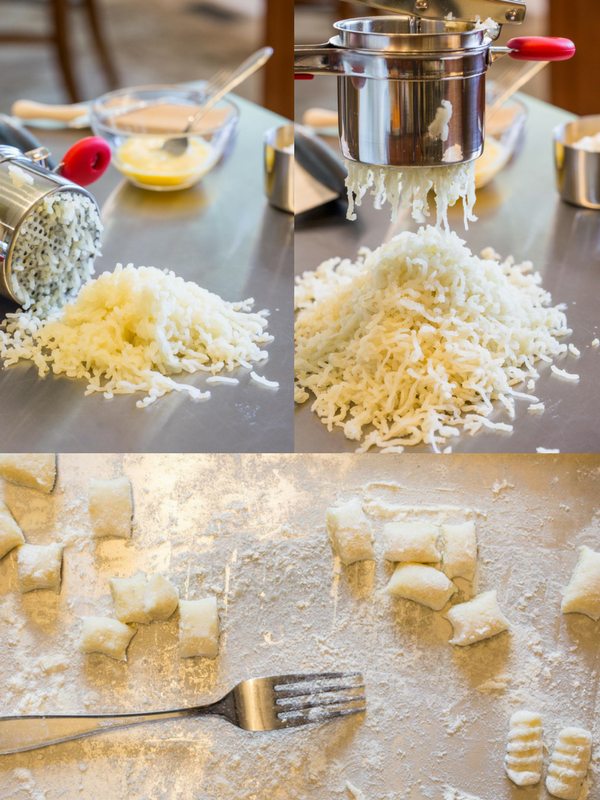 How to make Potato Gnocchi from Scratch:
If you don't own an inexpensive potato ricer, now would be the time to pick one up. Pushing cooked potatoes through the ricer gives gnocchi (pronounced noh-kee) a fluffiness you won't get from mashing. The ricer also helps take your everyday mashed potatoes to a whole new level of deliciousness!
You don't have to make ridges in your gnocchi with a fork, it's perfectly acceptable to press a finger in the middle of each little pillow to create a pocket. You may have seen the small wooden boards made for creating ridges in gnocchi, but I haven't had much luck using mine. Personally, I prefer the fork method because it's so easy.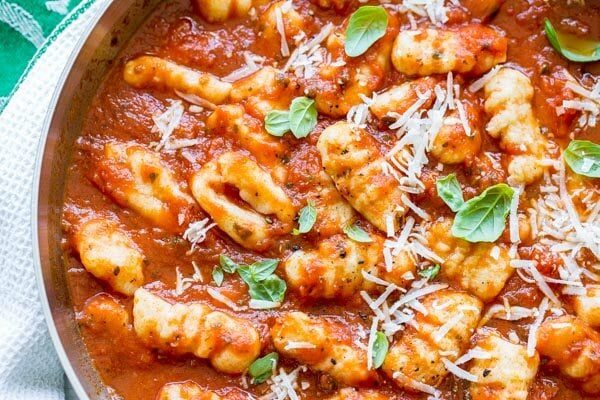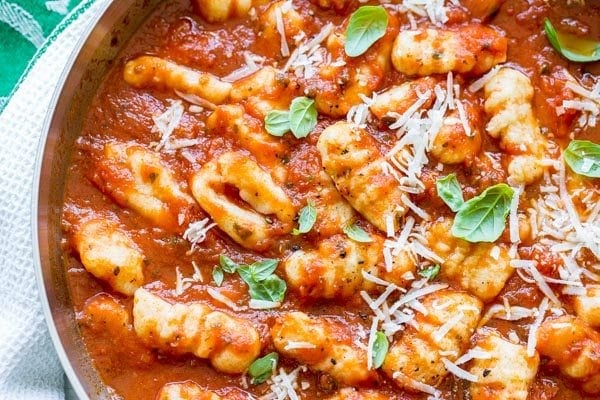 Can you freeze Gnocchi?
Did I mention that gnocchi freezes beautifully? Place the formed dumplings on a parchment lined baking sheet and flash freeze for about an hour. Gather the frozen gnocchi and place them in a freezer safe container for later use.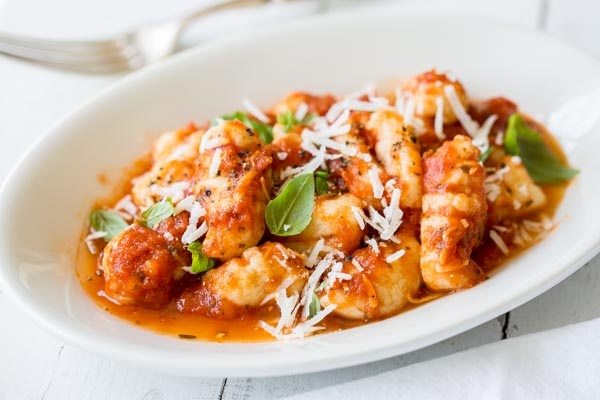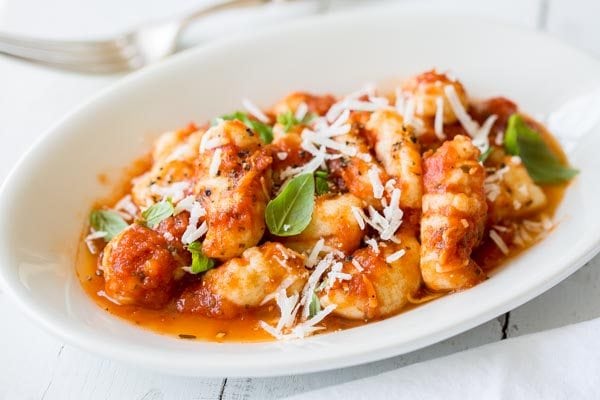 How to serve Gnocchi:
Warm your favorite sauce in a skillet and add the cooked gnocchi for a delicious, filling and authentic Italian treat. Once cooked and drained, gnocchi can also be sautéed in olive oil until browned then served with fresh herbs, cheese and a little lemon. Another delicious option is to toss gnocchi in fresh basil pesto or brown lightly in sage infused butter. There are so many wonderful ways to enjoy gnocchi – but marinara is my favorite 🙂
Be sure to season your potato gnocchi like you would mashed potatoes. Plenty of black pepper and a little salt does the trick. Don't forget the Parmesan and fresh basil leaves – yum!
Here are a few more Italian pasta recipes you might enjoy:
Potato Gnocchi
Great recipe showing you how to make gnocchi from scratch!
Recipe Details
Ingredients
2

large

Russet potatoes

(about 1¼ pounds)

1

heaping tablespoon

Ricotta cheese

¾

cup

unbleached all purpose flour

1

large

egg,

lightly beaten

¼

teaspoon

salt

marinara sauce, Parmesan cheese and fresh basil

(for serving)
Instructions
Preheat the oven to 375 degrees. Wash the potatoes and wrap tightly in foil. Place the potatoes on a baking stone or sheet pan and bake for 90 minutes or until soft. Remove from the oven, unwrap immediately and cool until easily handled (but still somewhat warm.)

Peel the potatoes and discard the skin. Press the warm, cooked potatoes through a ricer onto a clean work surface, or gently mash.

Add the ricotta cheese to the pile of riced potatoes and gently work in just until lightly distributed. Add the flour and a pinch of salt and gently fold together until combined. Don't smash the potatoes, but mix with your hands using a gentle folding method. Make a well in the center of the potatoes and add the lightly beaten egg and salt. Work in the egg and continue mixing to form a soft smooth dough. Be careful not to overwork the dough! The dumplings will end up dense and won't expand when cooked if it's overworked.

In the meantime, bring a large pot of water to a boil. (SEE RECIPE NOTES BELOW)

Cut the dough into 4 equal pieces. Working with one piece at a time on a lightly floured work surface, roll the dough into a log about ¾-inch in diameter. Flour a table knife or kitchen scraper and cut each log into ½-inch to ¾-inch gnocchi pillows. To shape the gnocchi, either press gently in the center with your finger or roll down the back of a fork (see video) to make ridges.

Once the water is boiling, reduce the heat just a little and add some of the shaped gnocchi. Be sure you don't crowd the pot - so cook in batches depending on the size of your pot. The gnocchi cooks quickly, in about 2 minutes, and rises to the top of the water when done. Remove the floating gnocchi with a slotted spoon and transfer to a clean, dry baking sheet to dry while cooking the remaining dough. When cooked, the gnocchi should puff up or swell and have a pillowy soft texture when eaten.

To serve gnocchi, add to your favorite warmed sauce, sprinkle with Parmesan and fresh basil and serve immediately.
Notes
If there's not enough flour in the dough, the gnocchi will fall apart when boiled. Before forming all the gnocchi, you can test one piece in the boiling water to make sure it will hold together.
To freeze gnocchi, lay the shaped dough in a single layer on a baking sheet. Freeze for about an hour then transfer to a freezer safe container. Use within 30 days.
Nutritional information is for the gnocchi only-- Parmesan and sauce should be counted separately.
Nutrition
Serving:
1
serving
,
Calories:
254
kcal
,
Carbohydrates:
52
g
,
Protein:
8
g
,
Fat:
2
g
,
Saturated Fat:
1
g
,
Polyunsaturated Fat:
1
g
,
Monounsaturated Fat:
1
g
,
Trans Fat:
1
g
,
Cholesterol:
48
mg
,
Sodium:
177
mg
,
Potassium:
816
mg
,
Fiber:
3
g
,
Sugar:
1
g
,
Vitamin A:
84
IU
,
Vitamin C:
11
mg
,
Calcium:
45
mg
,
Iron:
3
mg