Have you ever been cruising?  I once cruised the ocean many, many years ago.  It was time to do it again… so I'm fortunate that Princess Cruises invited me to experience their Mexican Riviera Cruise a couple of weeks ago on The Ruby Princess!  While on board, I had the opportunity to experience so many of the culinary experiences that they offer.  I'll be sharing those experiences with you as well, but first I'd love for you to see what this ship is like, so here is a Ruby Princess Tour: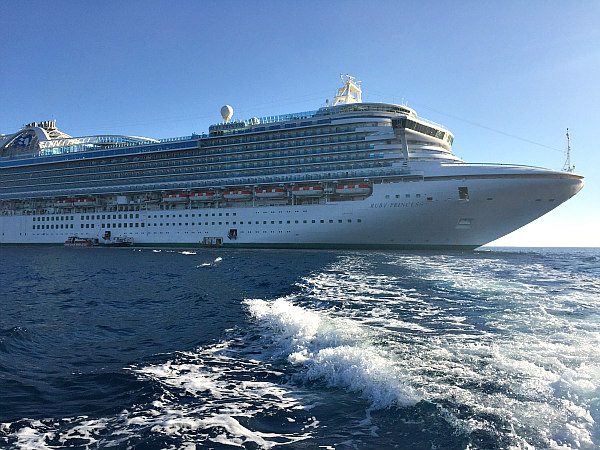 The Ruby Princess is a grande, large ship!  It was christened in 2008, and it can hold up to 3,080 people.  
For the Mexican Riviera Cruise, passengers leave from Los Angeles.  When you arrive at the airport, there is a Princess Cruises shuttle bus that takes you from the airport to the ship.  The check-in process is streamlined and quick.  They really have a good system for getting everyone on board as quickly as possible.  Luggage is gathered at the airport and is delivered to your stateroom… so you don't have to worry about hauling it around.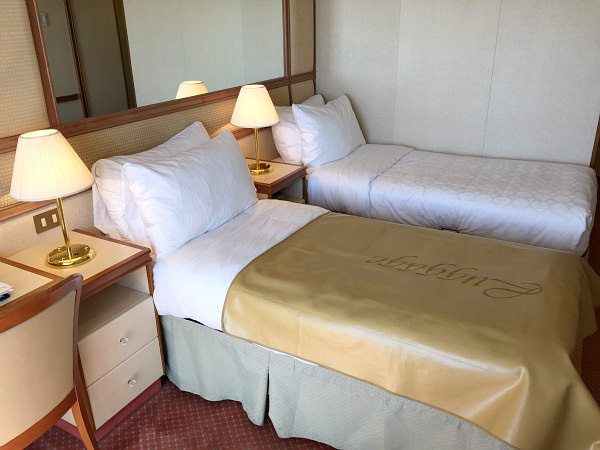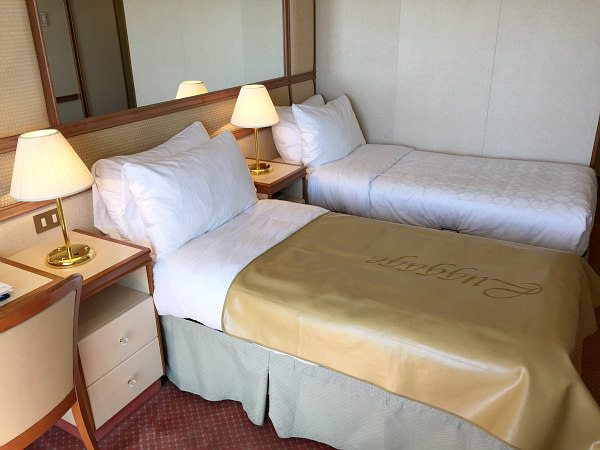 I traveled on this cruise with my cousin Kelly (we went to high school together, and it was so much fun to re-connect).  First order of business was checking out our stateroom.  Princess has several options for staterooms:  interior with no window (most affordable), oceanview (with a picture window), balcony, mini-suite with a separate sitting room and larger bathroom, or a full suite luxury stateroom!  We had a balcony room, which is so nice.
I was happy to discover that the rooms were larger than I thought.  Two twin beds had plenty of room in-between for more privacy- with two nightstands.  The beds and bedding were so incredibly comfortable- I slept like a baby on this cruise, and napping was far too easy as well!!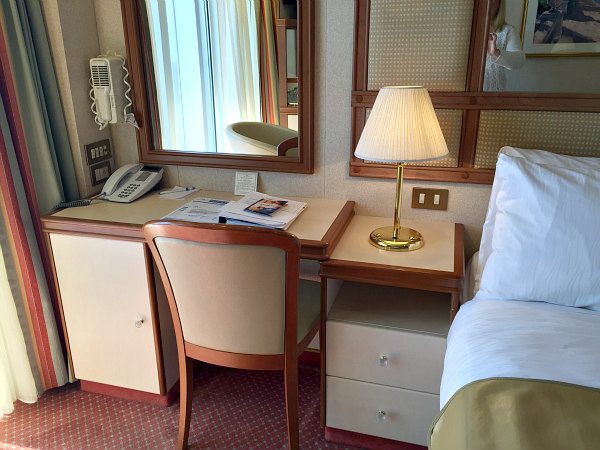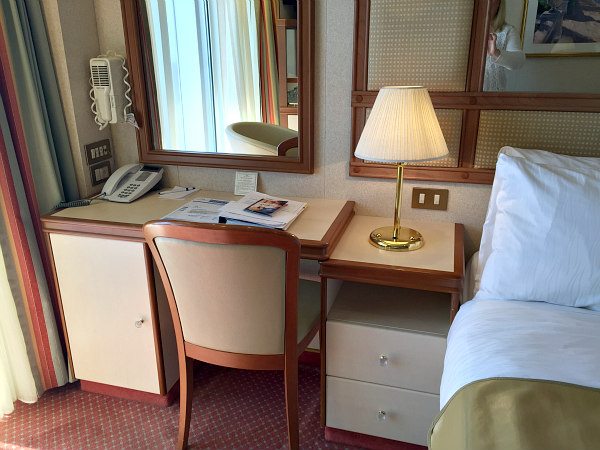 This desk area came in handy as well.  Note the hair dryer on the wall… which took me forever to figure out since I was looking for it in the bathroom!  There was internet/wifi offered on board for a fee.  Internet access was offered in packages of minutes- the service was sketchy at times.  I did manage hop on the internet to get work done as needed.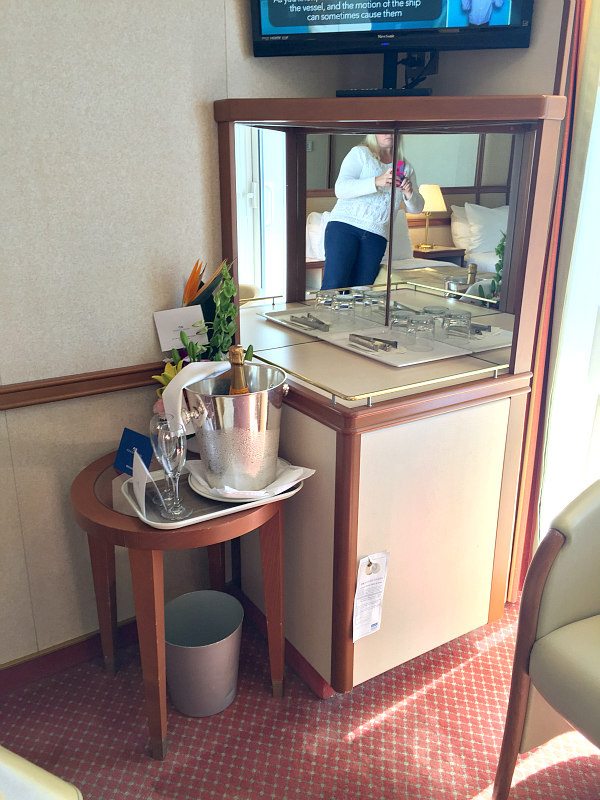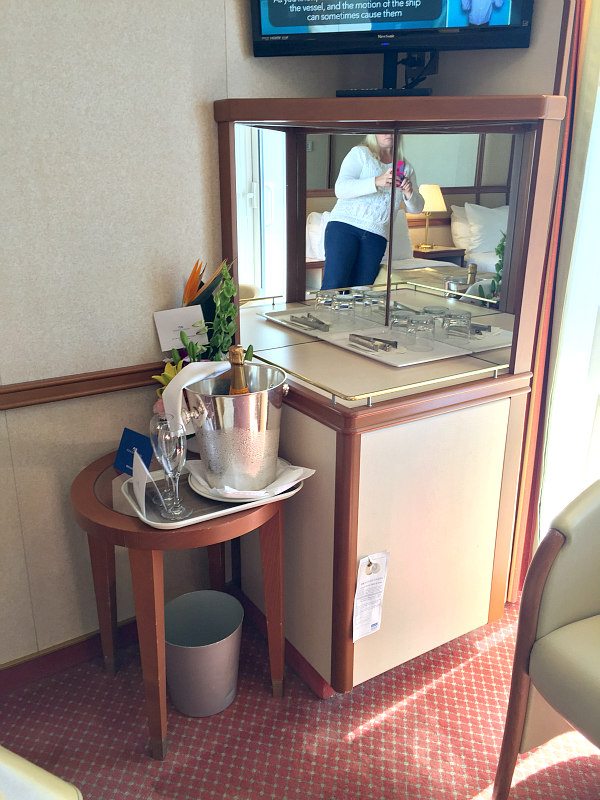 This is a nice little bar area with a fridge in that hidden area.  Haha, I couldn't figure out how to take this photo without getting myself in the picture!  The TV sits on top, where you can a nice selection of movies and classic episodes of The Love Boat running all day every day.  Do you remember that The Love Boat was a Princess Cruises ship??  It was so fun to watch those, I must say!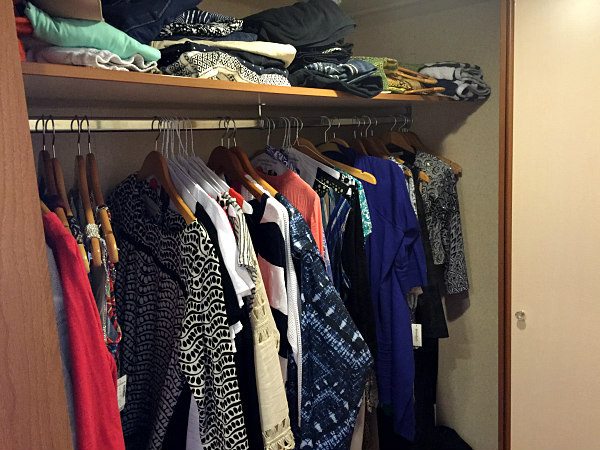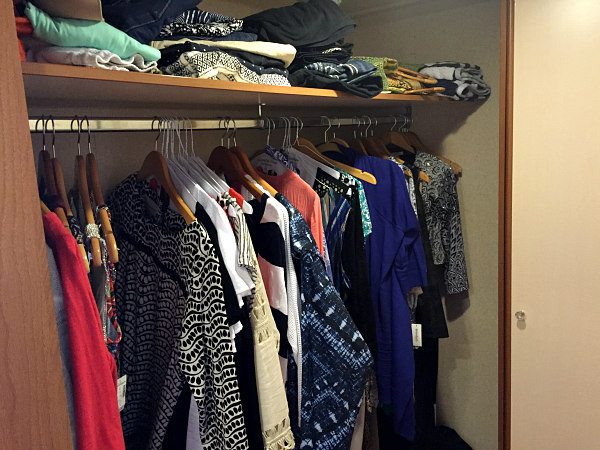 The greatest surprise in the room was finding that they offer a full-size closet with plenty of room for hanging clothes and storing all of your large suitcases.  I wanted to bring a lot of clothes so I'd have options for what to wear on at-sea days, on excursions, and at casual and formal dinners.  I'm glad I didn't pack light because I did have plenty of room for my clothes.  Upon arrival, I asked my stateroom steward for extra hangers and he was able to give me a bunch.   A full length mirror in the room was pretty nice to have too.  There is a separate cabinet full of roomy shelves and a safe for valuables too.  I had no worries about security at all.
I didn't photograph the bathroom- it's definitely small, but you expect that on a cruise ship.  I like that it's separated from the bedroom by the closet- offering a little more privacy.  Shampoo, body wash and lotion is included in the bathroom.  The room is serviced twice per day if you want it.  Towels are tidied up and replaced as needed.  I requested robes for our stay (no fee), and they were the most comfortable, cozy robes ever.  You'll find chocolates left on your bed every evening when you return from dinner.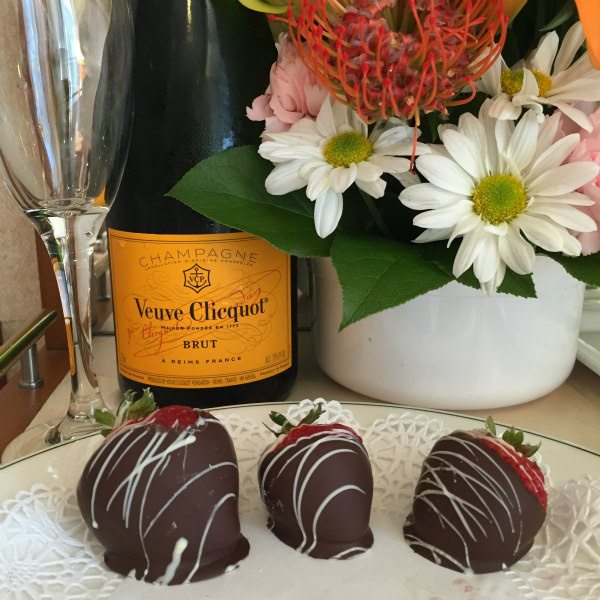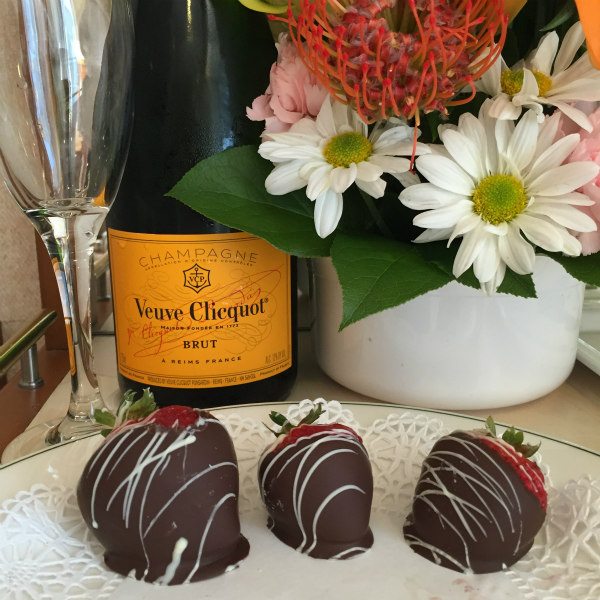 After a long day of travel, these goodies were waiting for us.  Chocolate-covered strawberries and champagne are a pretty amazing when you're looking out at the ocean!  Room service is available all the time- if you want treats or munchies delivered to your stateroom.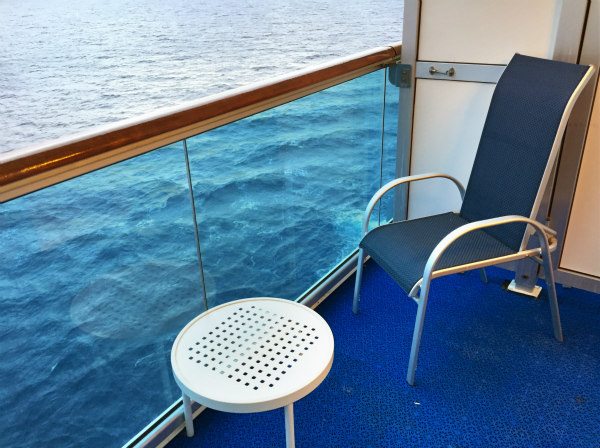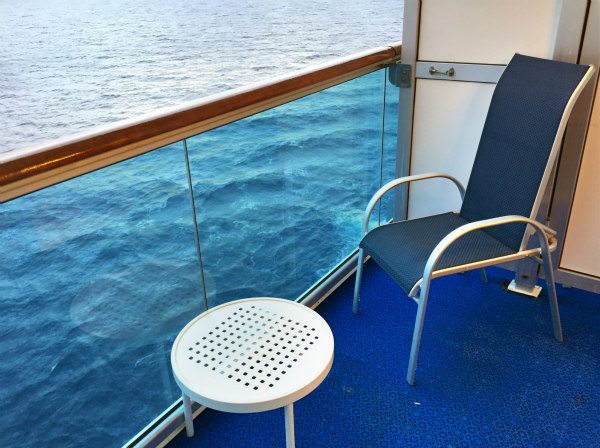 Here's what the balcony looks like.  I was lucky enough to have the bed closest to the window, so I spent plenty of time lying in bed and gazing out at the ocean rushing by.  The weather in Mexico is quite warm, so the balcony got much use during the entire cruise.
If you are traveling with others and you have staterooms next to each other, you can ask them to open up the side of your balcony to expand and share the space.  That's a great option for families.
Exploring the ship for the first time is quite exciting, and you can seriously get a lot of exercise doing so since the ship is so big.  After we checked into our stateroom, we were off to explore!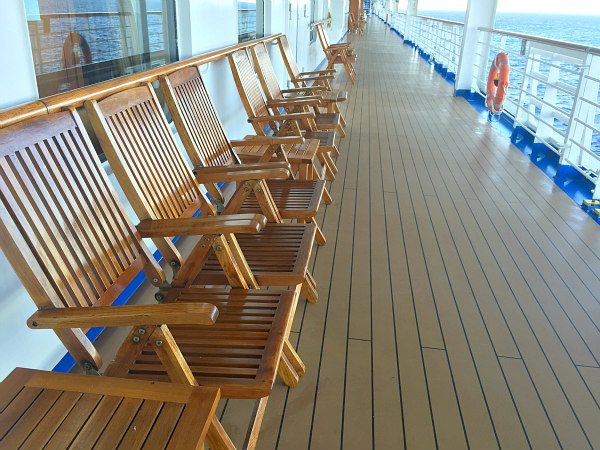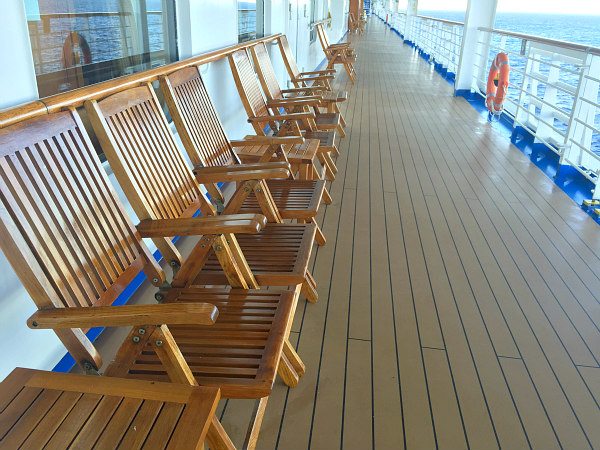 Something I noticed immediately as we walked about The Ruby Princess is that everything is so tidy and clean.  And I spied crew cleaning the ship all day every day.  They really keep it looking beautiful.  There are a zillion places to hide away and read a book and relax.  Although there are a lot of passengers on the ship, you'll find quite, peaceful, non-populated areas like this all over the ship too.  That was so key for me.  I needed this getaway like you wouldn't believe, and it was so nice to have access to peaceful areas and experiences.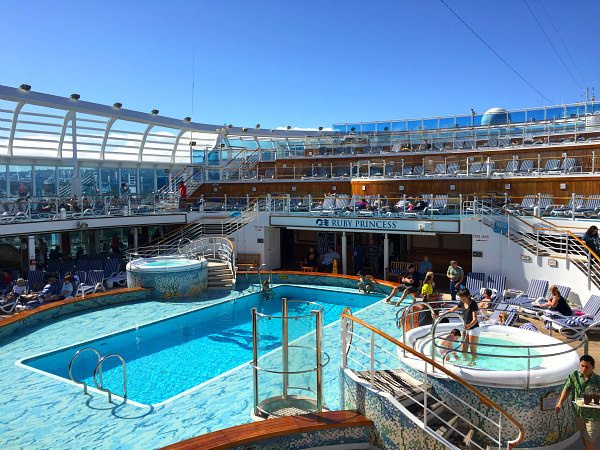 There are two main pools/hot tubs midship- basically the more active, party-time areas of the ship.  Pool bars are accessible at both pools.  These areas were pretty busy at most times of the day.  Kids and adults swam in the pools here.  Zumba classes, dance-parties and other activities were offered at various times.  This is where we went when we wanted to people watch.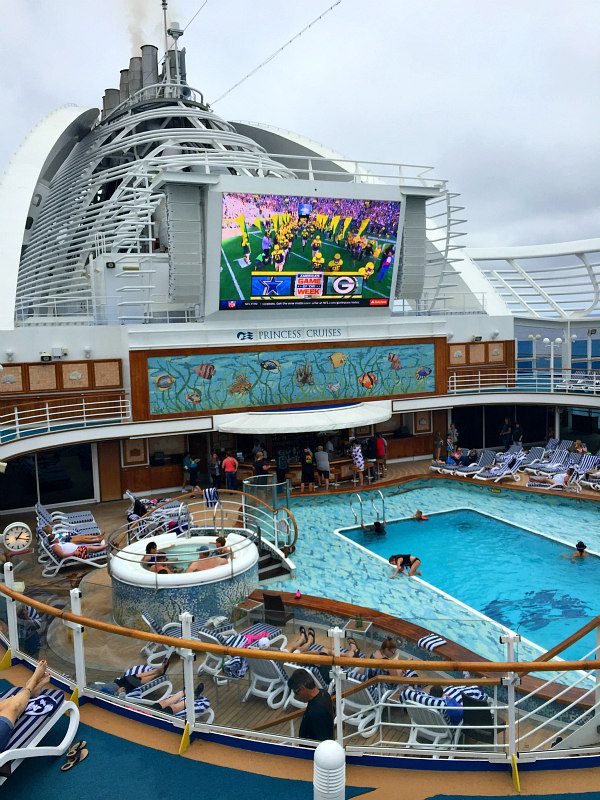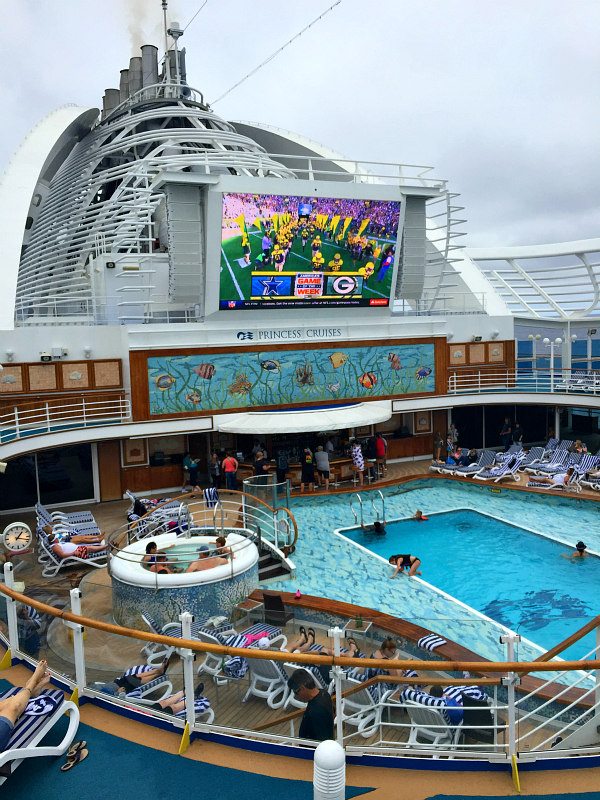 A super cool feature on the ship is this TV screen displayed at one of the midship pools.  Movies were offered in the evenings (picture lying on a beach chair on a warm evening– enjoying the ocean breezes as you watch a movie on the big screen).  It was super fun.  They showed football on Sunday, and everyone seemed to enjoy that too.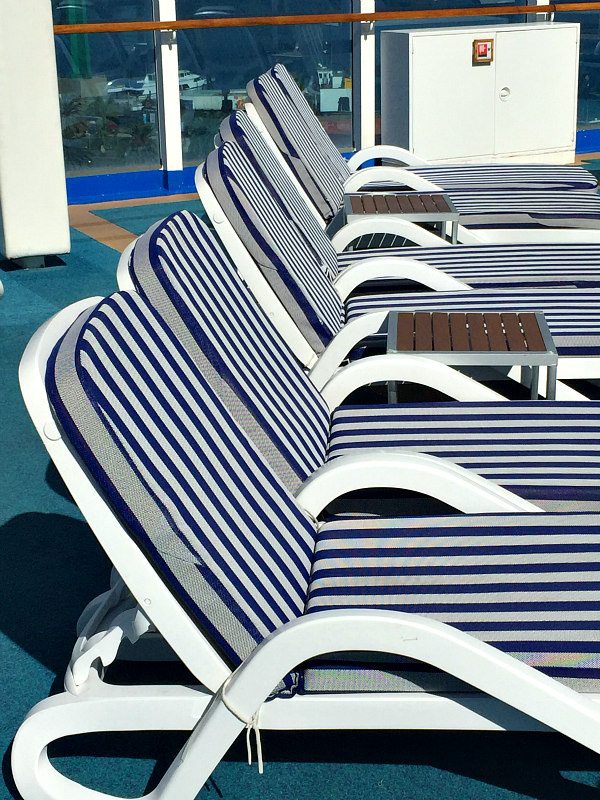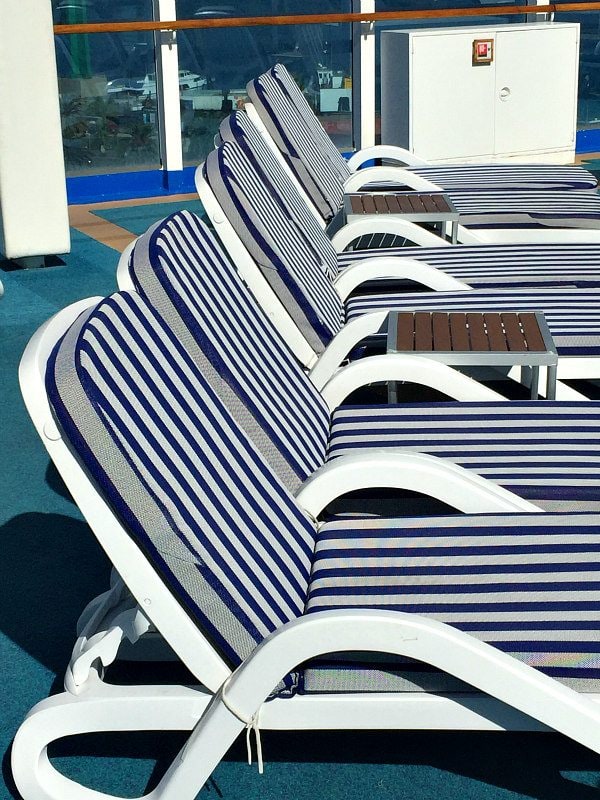 These chairs were available all over the ship, and I never felt like I was fighting to get a spot.  Plenty of chairs for sunning and relaxing and sleeping… all day, every day.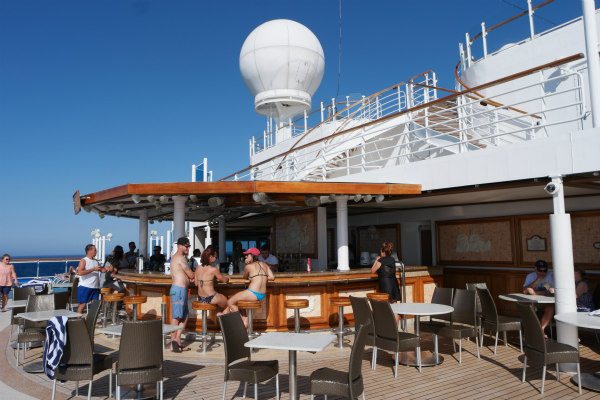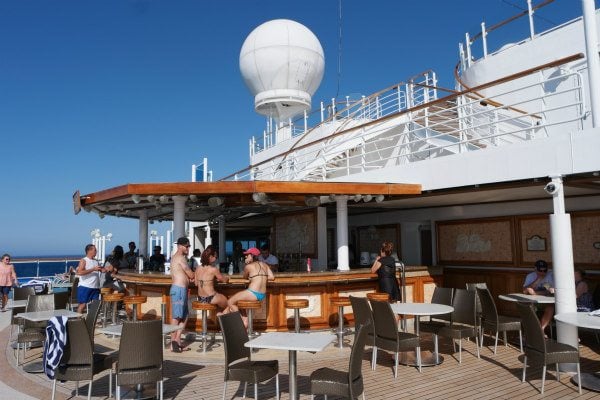 Here's just one of the many outdoor bars on the ship.  Our first order of business was to grab a cruise cocktail.  We visited this one often!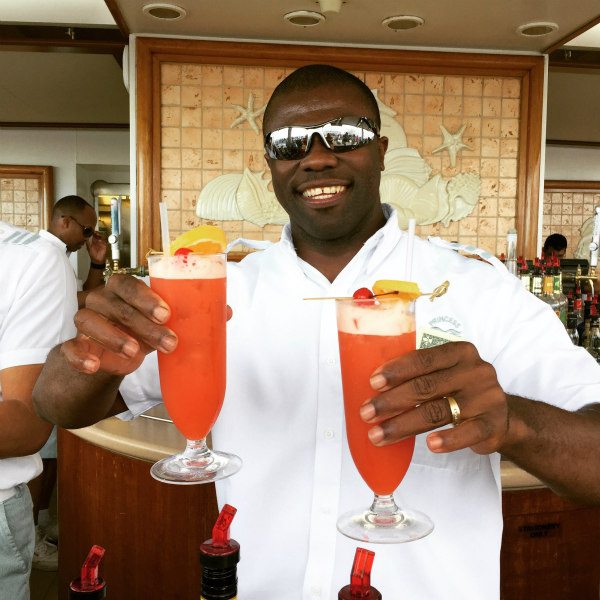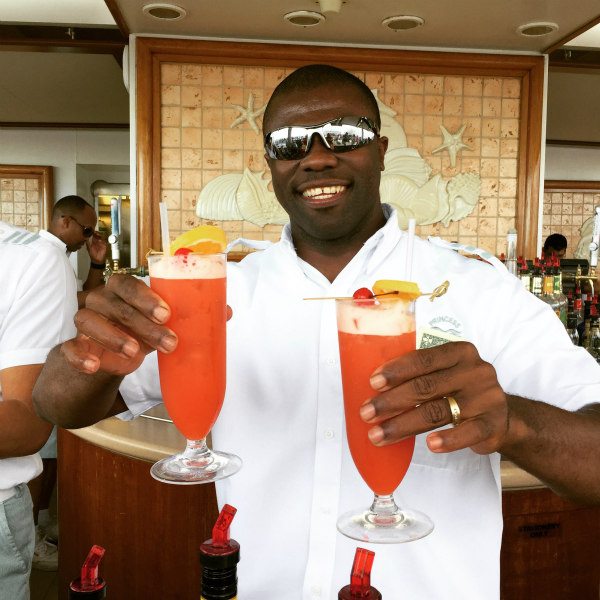 This guy was our friendly bartender, and this cocktail was our favorite:  Paradise Punch (Absolut, Southern Comfort, Amaretto, grenadine, lime juice, pineapple and orange juice).  These were far too easy to drink!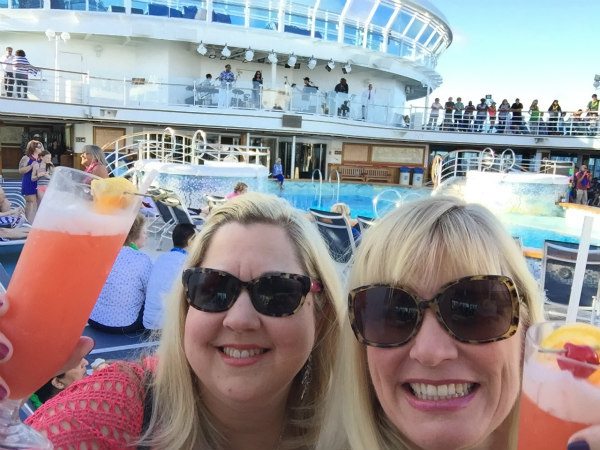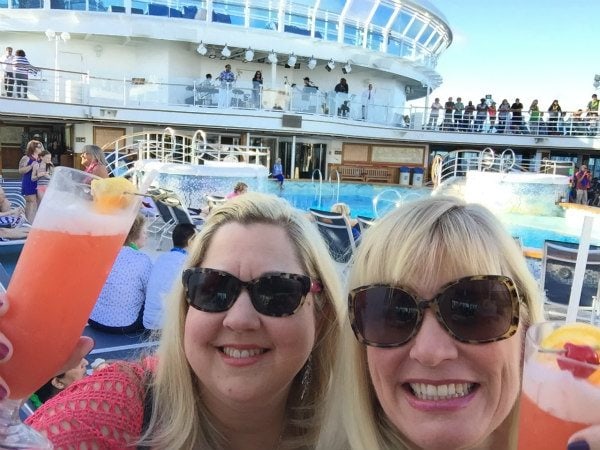 See how happy we were to be starting our 7-day Princess cruise to Mexico?!!!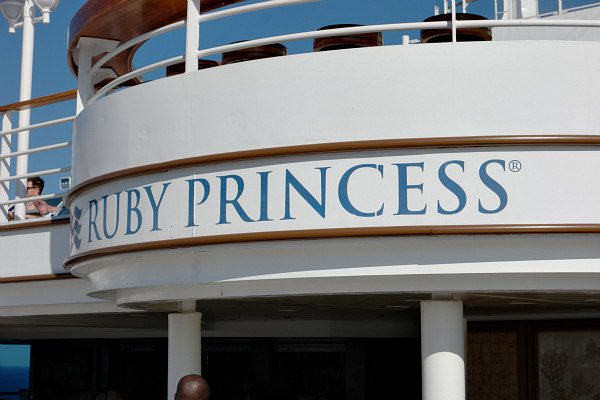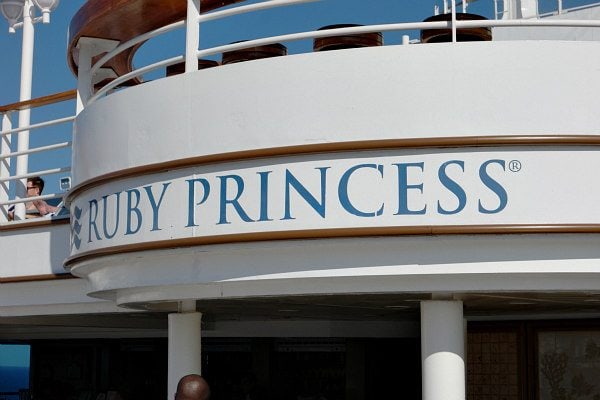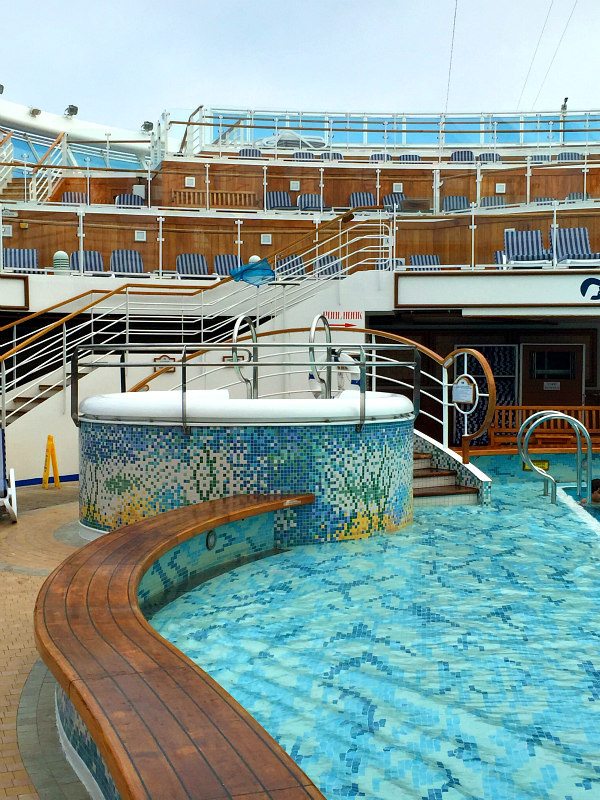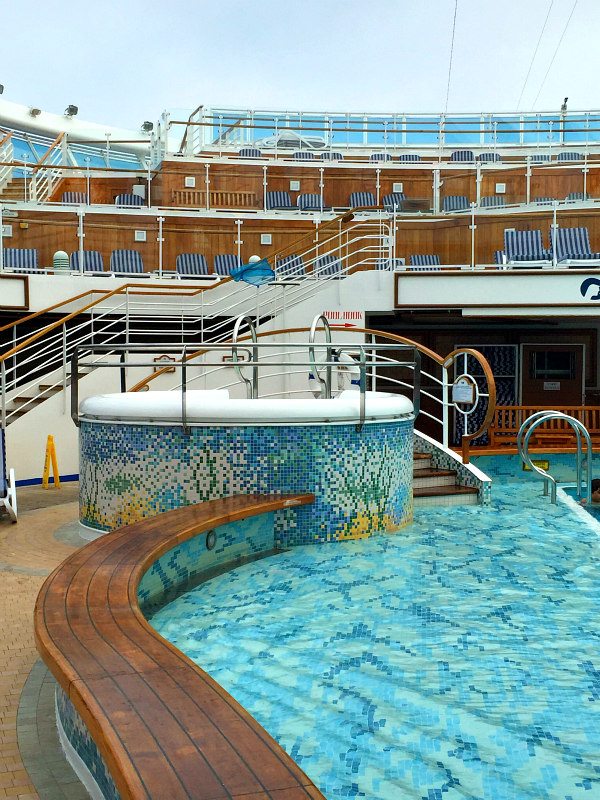 Here's an early morning moment when no one was in the pool or hot tub.  I love how you can sit on the edge of the pool and dip your feet in.  I spent plenty of time in that upper balcony, enjoying the pool view from up above– where it's a bit quieter.  As I said before, the people watching is so much fun!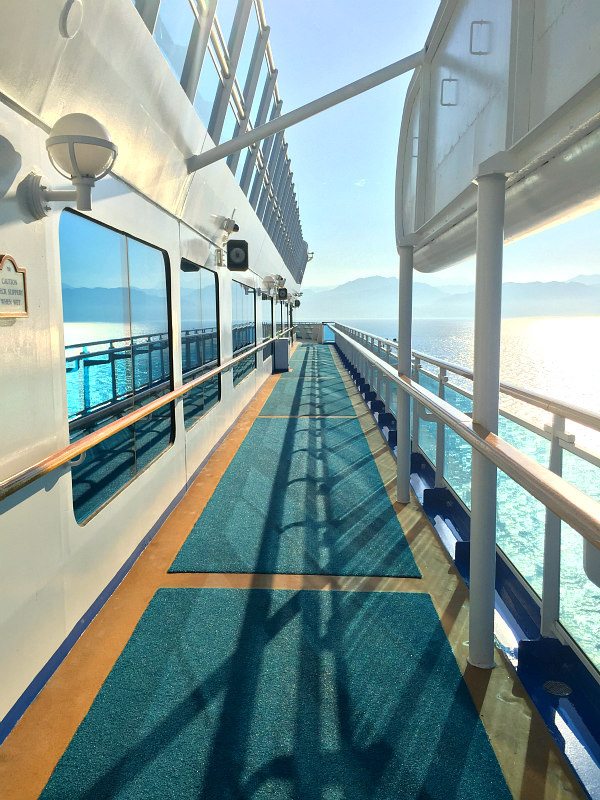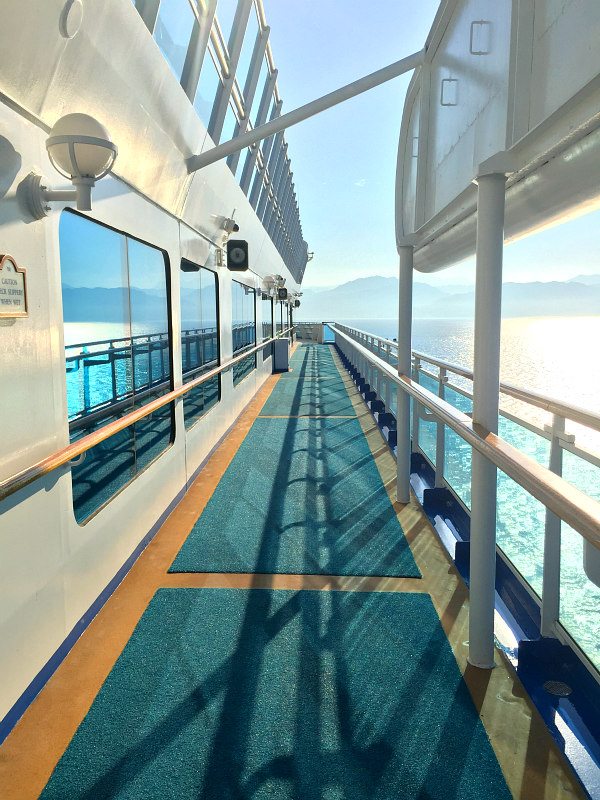 We walked to the front of the ship to enjoy our cocktails…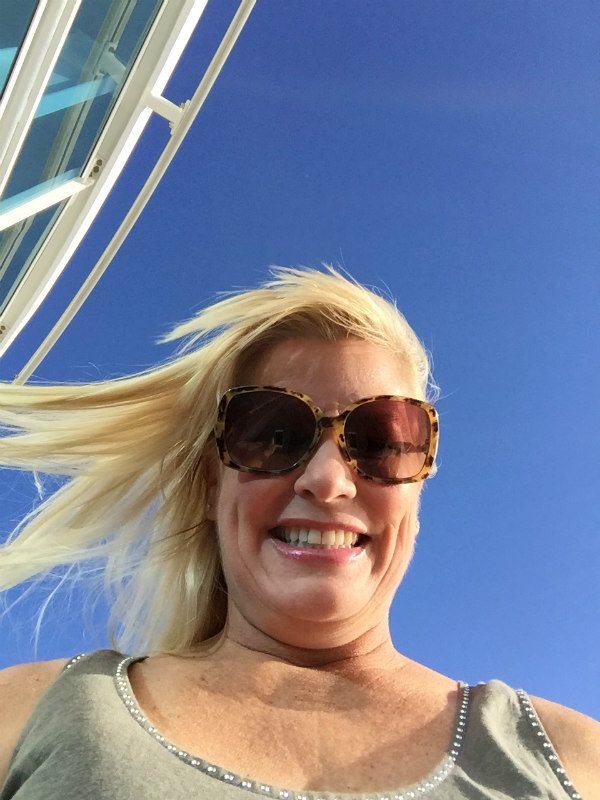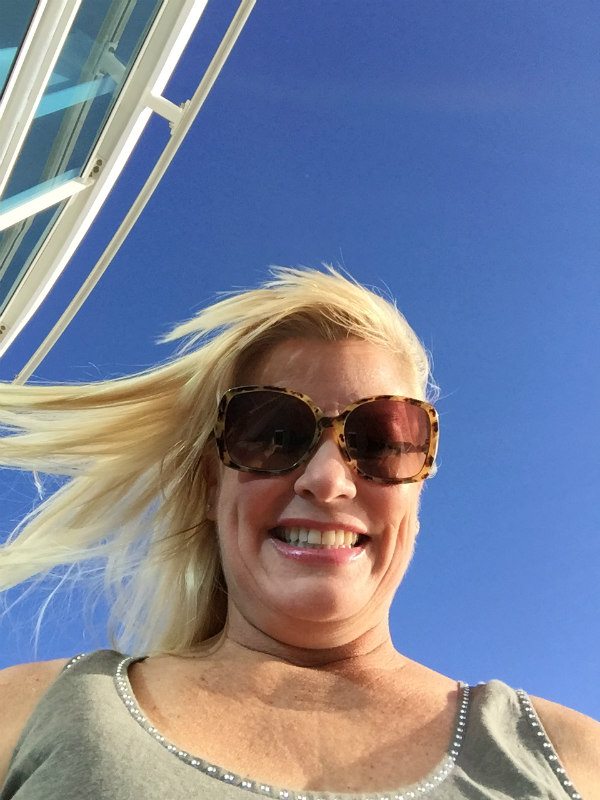 …it was a bit windy cruising out of LA.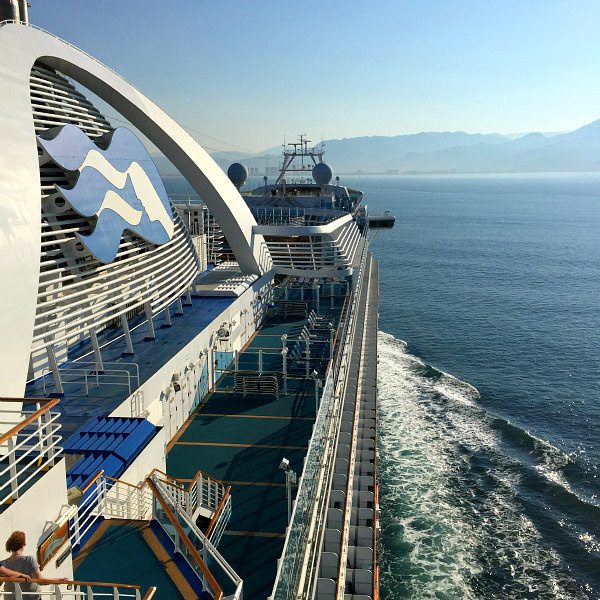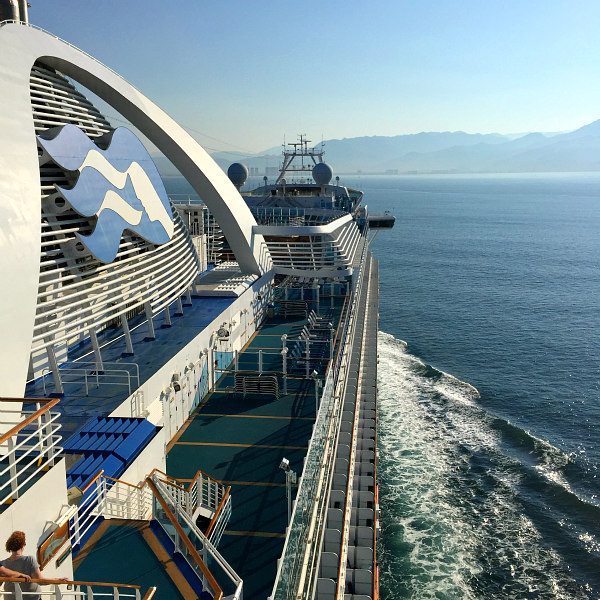 More exploring!  We walked to the tippy top of the back of the ship and discovered this view.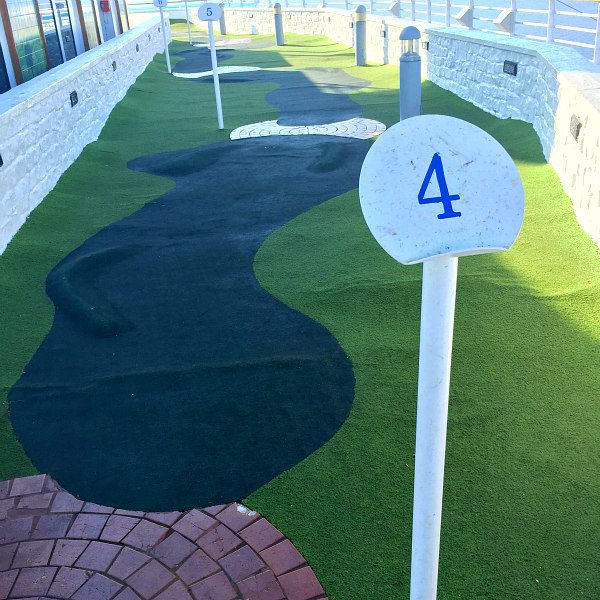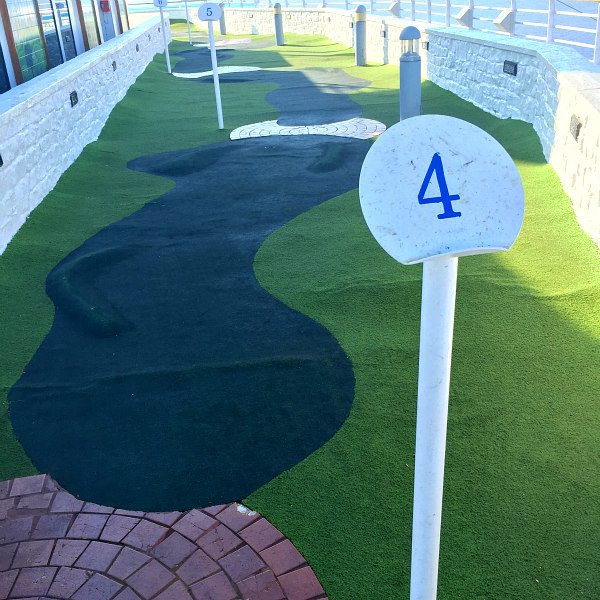 Mini golf is hidden on the back of the boat!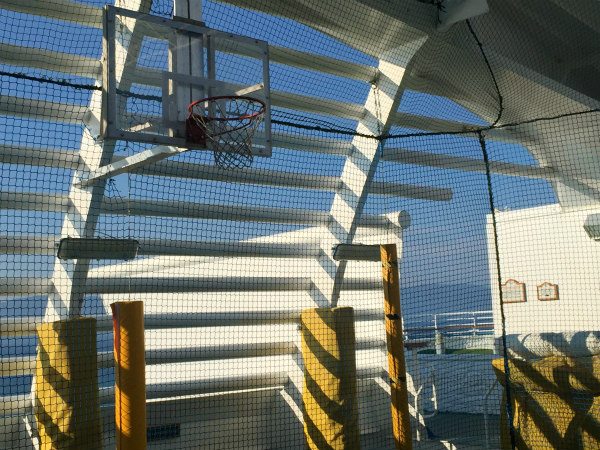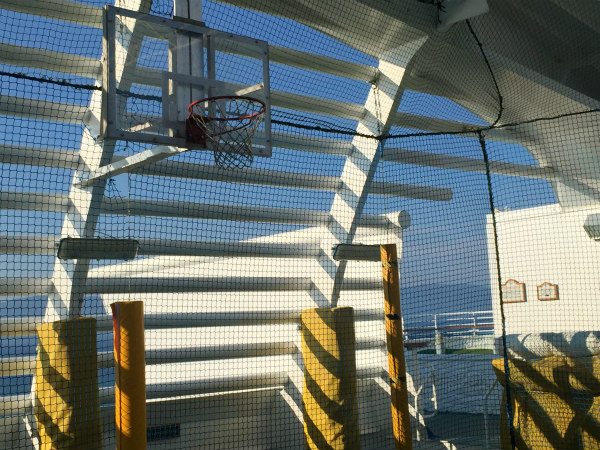 And a basketball court too~ netting required, of course, so the bouncing balls don't bounce into the ocean!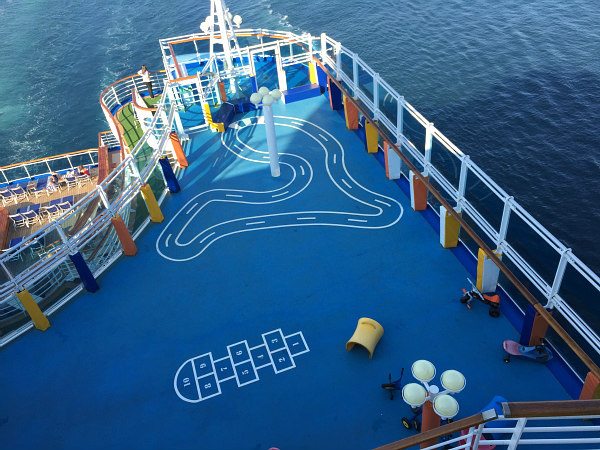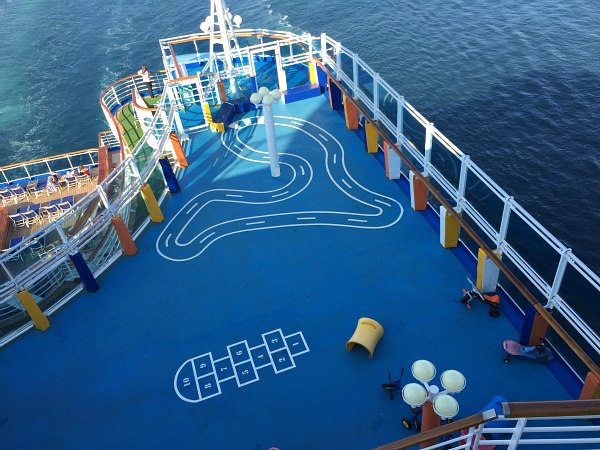 There is a kid's play area where the younger ones can check into a kid-club kind of thing.  Teens can enjoy a game lounge, etc.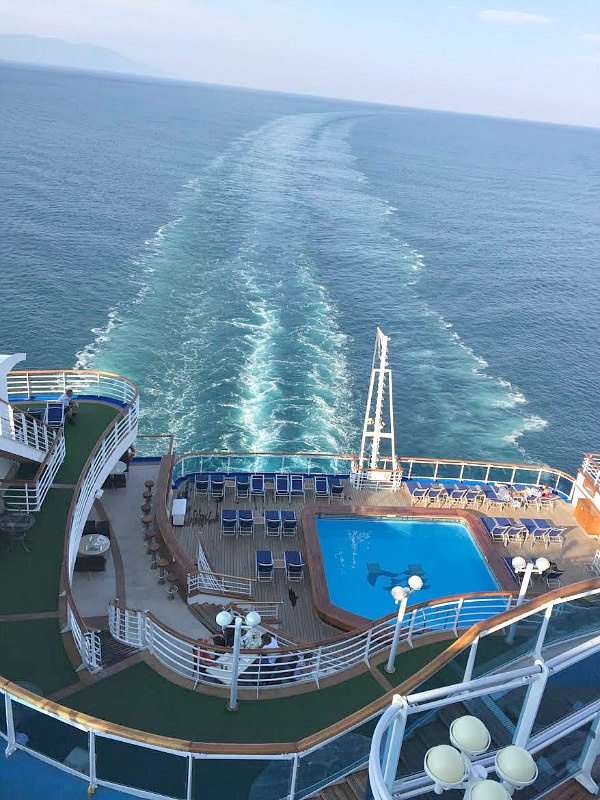 This is a view off the back of the boat- another pool a little more private.  There were never any kids in this area that I could see.  You can sit on those chairs and just gaze at the wake the ship makes as you cruise!
A FOURTH pool is in an area of the ship called The Sanctuary- which quickly became one of my favorite places to hang out on the ship.  I'll be writing more about The Sanctuary in a future post.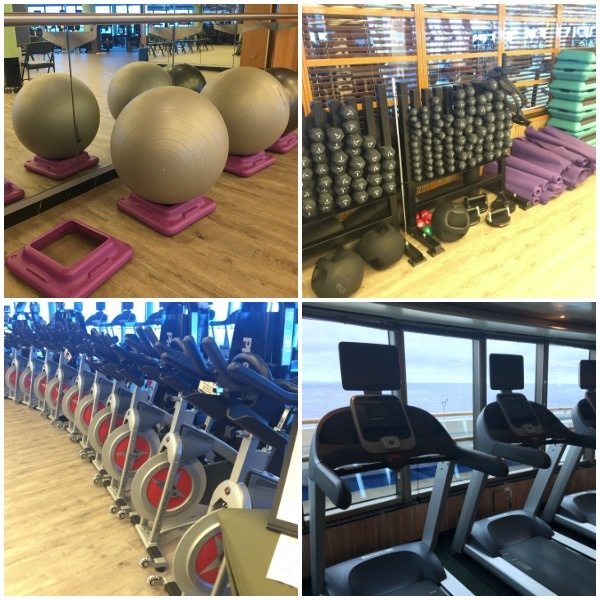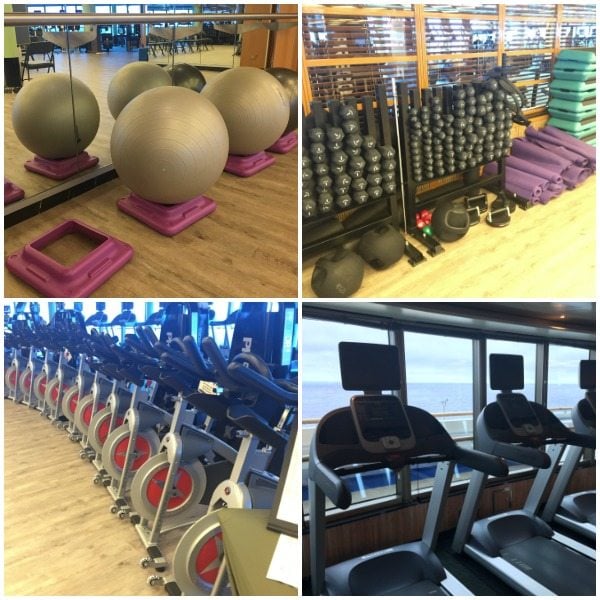 This ship has a really nice gym- filled with plenty of equipment.  Classes are offered- spin, yoga and zumba… as well as informational health and fitness talks too.
There is a WONDERFUL spa adjacent to the gym, where I may have had a pedicure, stone massage AND a luxury facial during my week on the ship!  Those were the most fabulous times ever.  So relaxing.  Professional staff.  You must splurge on spa treatments while on a cruise, right?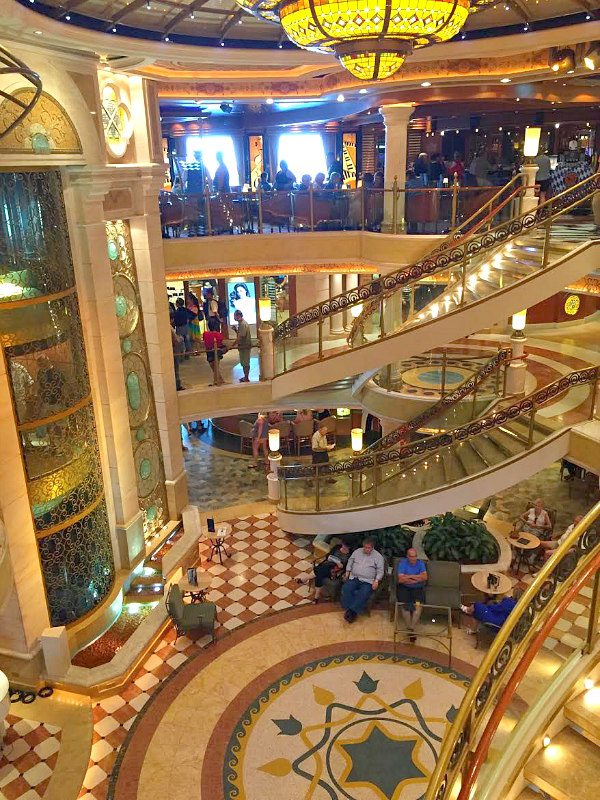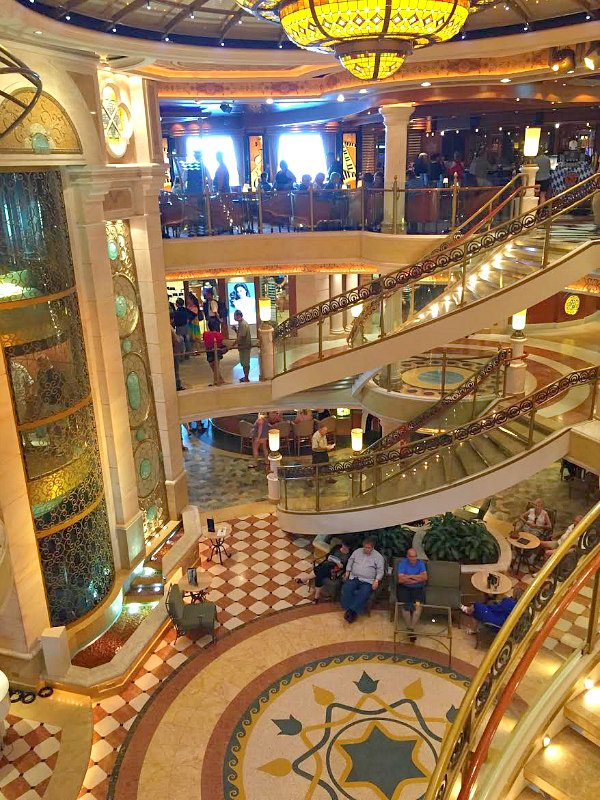 This are of the ship is called the Piazza.  There are some lovely gourmet restaurants- including SHARE by celebrity chef Curtis Stone (I'll be sharing about ALL OF THE FOOD in another post), the International Cafe (light eats, fresh pastries and homemade gelato), Vines (a nice wine bar that offers sushi and tapas), and an espresso bar.  There are shops in this area, entertainment, a piano bar… it was where we hung out a lot of the time we were on the ship.
There is an art exhibit and auction, if you're into that sort of thing.  You can play BINGO!  And for nightlife on the ship, you can visit nightclubs, a casino and many theaters for shows, trivia, music and comedy.  It truly has anything and everything!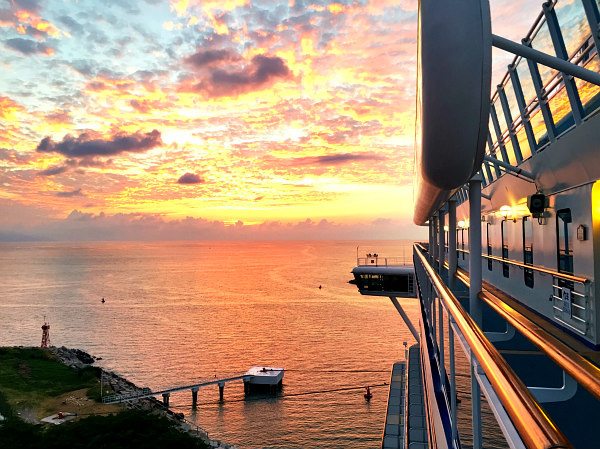 The sunsets along Baja…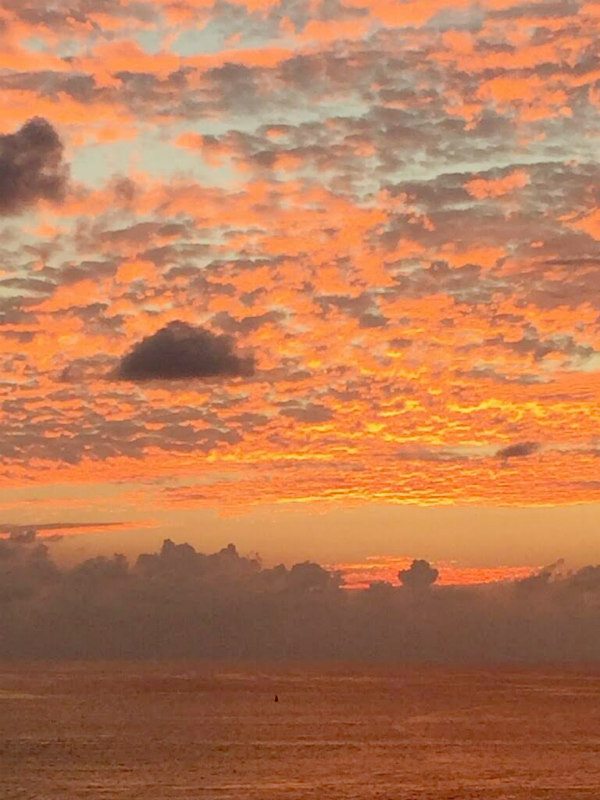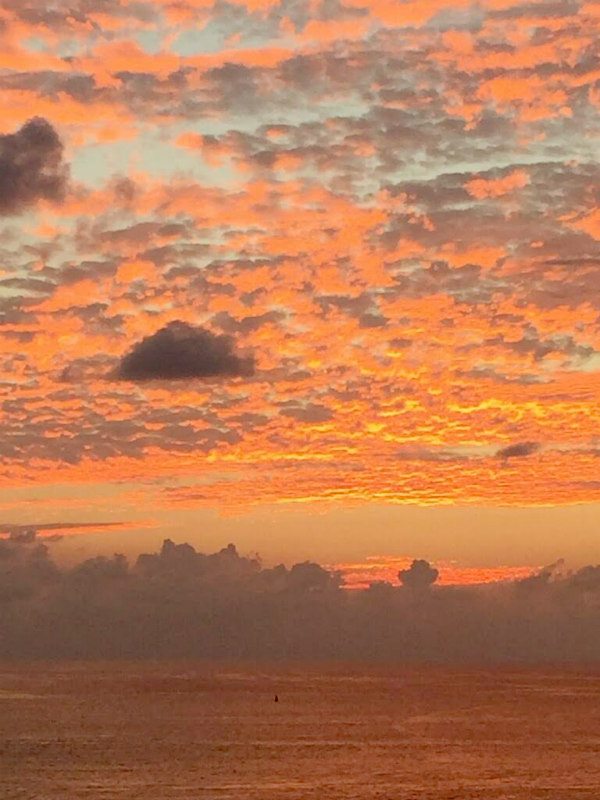 …are beautiful!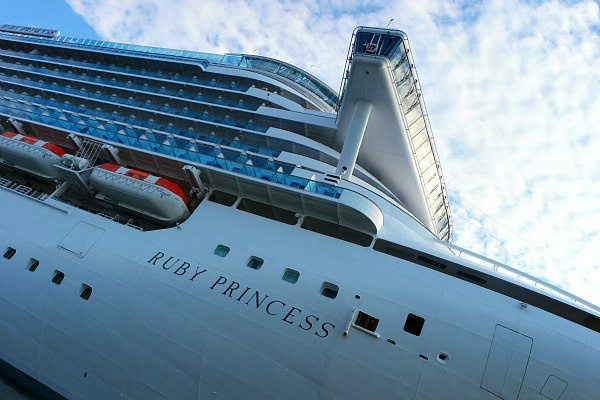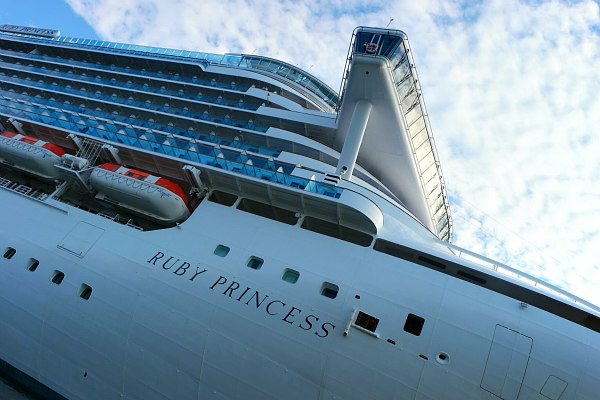 I have so much more to share with you… about all of the fabulous food offered on The Ruby Princess, the cocktails, and the port stops and excursions in Puerto Vallarta, Mazatlan and Cabo San Lucas!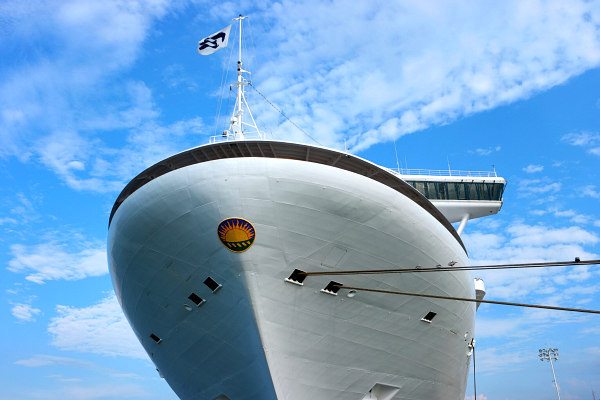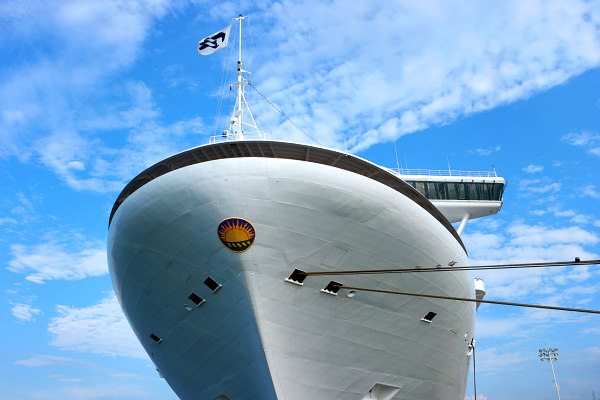 It was all gorgeous and fun, and it was a cruise to remember.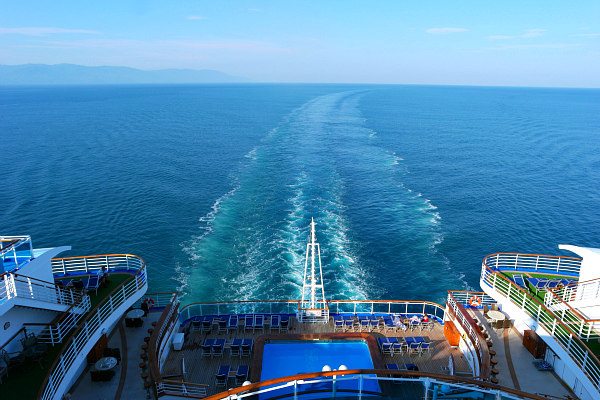 Watch for posts on Sundays (my travel-post days) to find out more about Princess Cruises and The Ruby Princess.  If you've ever wanted to take a cruise and are considering Princess Cruises, you'll want to see what I have to share!
Visit this post too:  10 Tips for Planning Your Mexican Riviera Cruise
Learn more about The Ruby Princess HERE, and visit the Princess Cruises website for more general information about all of their cruises and ships.
Also check out Princess Cruises here:
Facebook: facebook.com/PrincessCruises
Twitter: twitter.com/PrincessCruises
Instagram: instagram.com/PrincessCruises
YouTube: youtube.com/princesscruises
Pinterest: pinterest.com/princesscruises

Disclosure:  I'm so thankful to Princess Cruises for hosting me and my guest on this cruise so that I could write about my experience and share it with RecipeGirl readers.   All opinions shared about my experience on this trip (as always) are my own.