This recipe for Pumpkin- Pecan Cake with Butterscotch Glaze is made rustic-style, in a cast-iron skillet…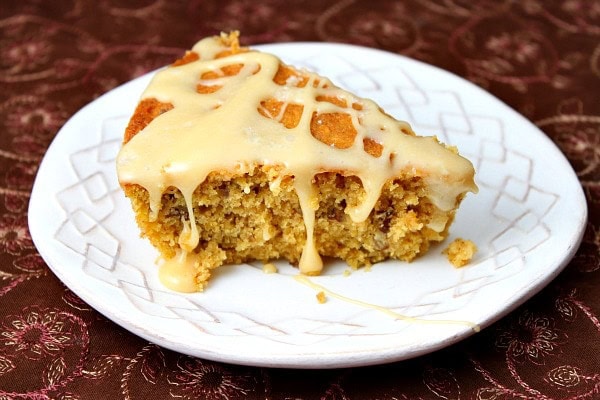 I have to be sneaky about adding nuts to my recipes since my husband often declares boldly that "we are not a nut family."  I'm not sure exactly how he came to that conclusion.  I put sliced almonds on just about everything I eat.  Pistachios and  raw almonds are often brought out for munching during football Sunday.  And my husband is crazy about pecans and walnuts in his salads.  But if I add nuts to my cakes or cookies or pies, he sighs heavily and reminds me that we are "not a nut family." WHAT??!  So for this recipe I took my chances and added some finely chopped pecans to create some texture for this cake.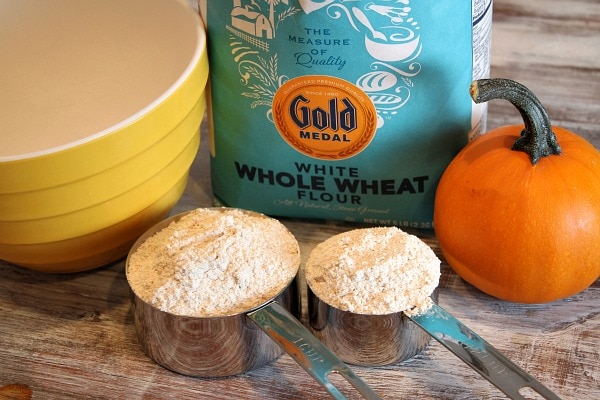 I also decided to use Gold Medal White Whole Wheat Flour for my cake.  This type of flour can be used in any recipe. It's 100% whole grain but with a lighter taste and color. To use it in baking, the best things to do is to start substituting 25% or 50% of the all-purpose flour with the White Whole Wheat flour, gradually increasing proportion as you like the flavor.  For my Pumpkin- Pecan Cake, I used 1 cup of the white whole wheat and 1/2 cup all-purpose.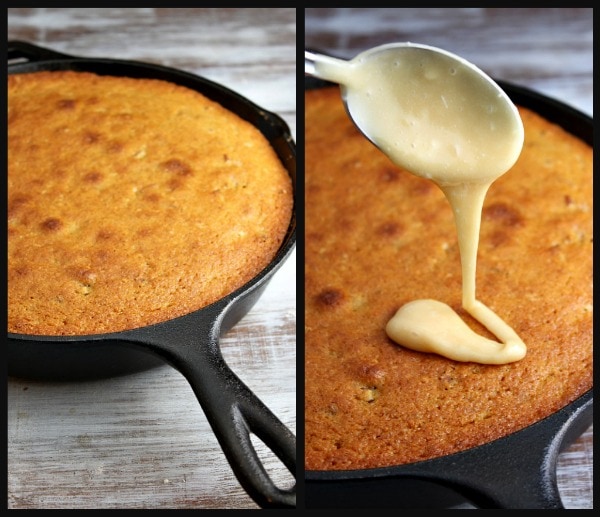 Using a cast iron skillet to bake cakes is something my grandmother used to do.  I love the rustic result.  A Butterscotch Glaze is drizzled on top…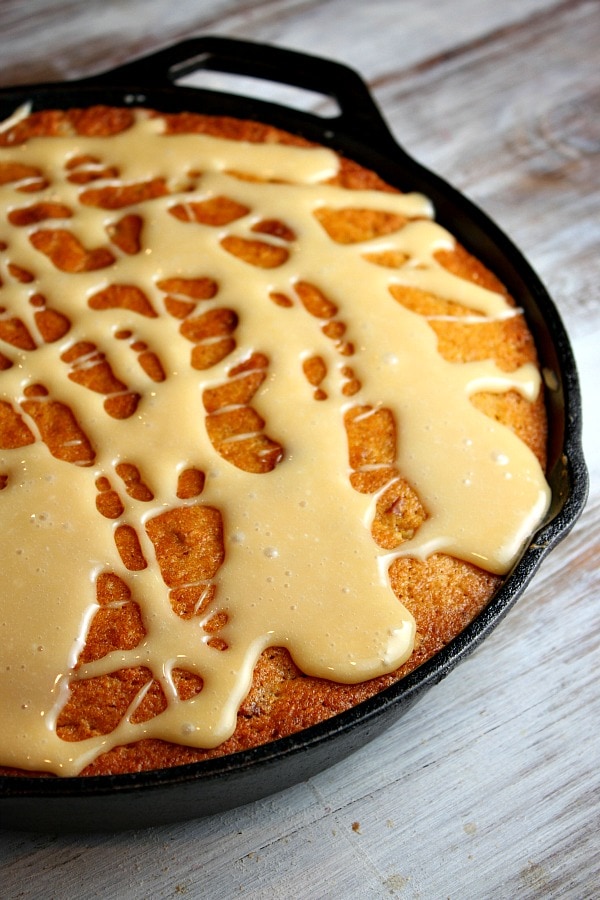 … a generous drizzle!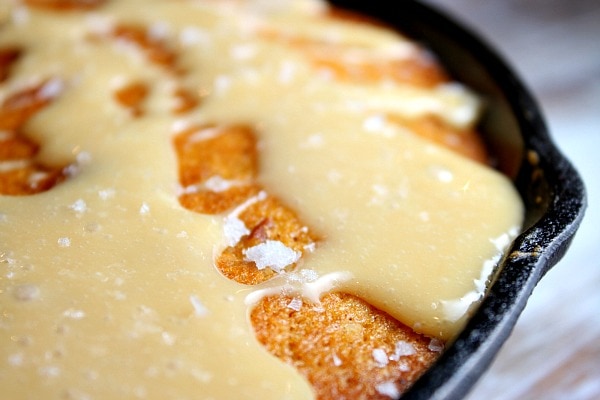 Flaky sea salt sprinkled on top makes it fun too, but that's totally optional.  If you love the sweet/salty thing, then go for it.  If you're not into it, you can leave the salt out of it.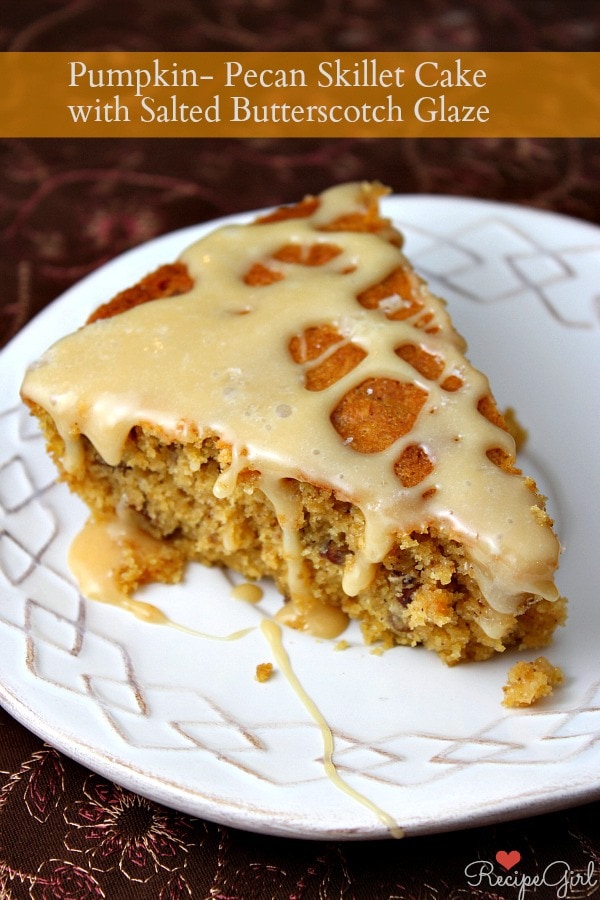 Since the recipe makes some extra glaze, you'll want to save it to drizzle on individual servings.  It's quite a nice fall treat- not heavily pumpkin-flavored, and it has a nice texture with some pecan crunch hidden inside.
So I'm sure you're wondering what my husband thought of this cake… WELL… the report from my husband is that the cake tastes good all on its own without ruining it with pecans.  So there you have it- I have noted that the pecans are optional!!
Pumpkin- Pecan Skillet Cake with Salted Butterscotch Glaze
Yield:
10 servings
Prep Time: 20 min
Cook Time: 45 min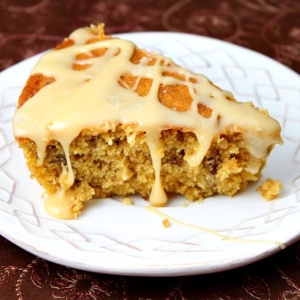 Ingredients:

CAKE:
3/4 cup (1 1/2 sticks) salted butter, at room temperature
1 1/2 cups granulated white sugar
3 large eggs
1 teaspoon vanilla extract
3/4 cup unsweetened pumpkin puree
1 cup Gold Medal® White Whole Wheat Flour
1/2 cup Gold Medal® All-Purpose Flour
1 teaspoon baking powder
1/2 teaspoon salt
1/2 teaspoon ground cinnamon
1/4 teaspoon ground nutmeg
1/8 teaspoon ground cloves
1/3 cup buttermilk
1/2 cup finely chopped pecans (optional)

GLAZE:
2 cups powdered sugar, sifted
1/2 cup butterscotch (or caramel) syrup
1 to 2 tablespoons milk

EXTRA:
flaky sea salt

Instructions:

1. Preheat the oven to 350 degrees F. Butter a 10-inch cast-iron skillet.

2. To make the cake: In a large mixing bowl, using an electric mixer to combine the butter and sugar until they are well mixed. Mix in the eggs, vanilla and pumpkin.

3. In a separate bowl, whisk together the flours, baking powder, salt, cinnamon, nutmeg and cloves. Add the dry ingredients to the wet ingredients and mix until combined. Add the buttermilk and mix until incorporated. Stir in the pecans (if using). Scrape the batter evenly into the prepared skillet and smooth the top. Bake 40 to 45 minutes, or until the center is set (a toothpick inserted into the center should come out clean). Let the cake cool completely in the skillet.

4. To make the glaze: In a medium bowl, whisk together the powdered sugar, syrup and 1 tablespoon of milk. If the mixture is too thick, add another tablespoon of milk. It should be of thick "drizzling" consistency.

5. Drizzle the glaze onto the cake in the skillet. Save the extra glaze (in a covered container) to add extra drizzle to individual servings. If you're into adding sea salt, sprinkle it on top!

Tips:

*If you don't wish to use white whole wheat flour, you can certainly use ALL all-purpose flour in this recipe.
Disclosure:  This post was created in partnership with Gold Medal Flour, a product I've used and trusted in my kitchen for many years.  All opinions shared are my own.