Here's a chicken recipe your whole family will enjoy: Santa Fe Chicken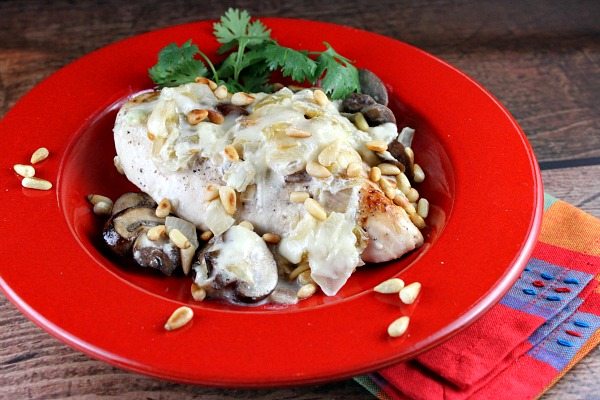 My family asked me what was for dinner the other night, and I responded by telling them that yes, indeed we were having chicken (again). I got grunts and groans and things like that. I know I need to branch out a little bit more once in a while, but I promised them that they would ABSOLUTELY enjoy the chicken I was preparing them. They were skeptical, as usual. But no need for that because this chicken rocked it out of the park. They loved it!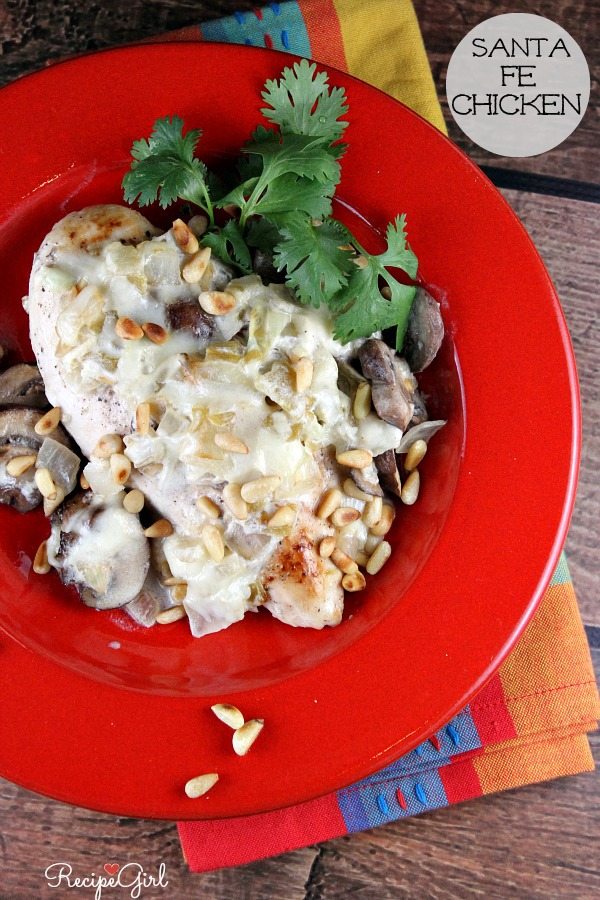 The chicken is lightly browned in a hot skillet, then it's baked in the oven with mushrooms and chicken broth. A light, creamy sauce is poured on top, then it's finished off with melted cheese and toasted pine nuts. If the mushrooms and the pine nuts are scary prospects for your little ones, you can always leave them off (or put them on the adult portions of chicken only.  My son promptly pushed the mushrooms to the side, which drives me absolutely batty.  I keep telling him that SOMEDAY he will love mushrooms as much as I do!
I have had this recipe for a LONG time (given to me from a friend), and I can't believe this was my first time making it. It's going to be a repeater recipe in my house, for sure.
Santa Fe Chicken
Yield:
4 servings
Prep Time: 30 min
Cook Time: 55 min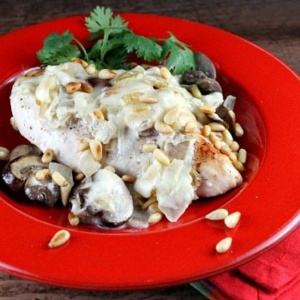 Ingredients:

2 tablespoons salted butter
4 boneless, skinless chicken breasts
1 teaspoon salt
1/4 teaspoon pepper
1/2 pound sliced mushrooms
1/4 cup low-sodium chicken broth
1 tablespoon salted butter
1 medium onion, chopped
One 4-ounce can diced green chilies, drained and seeded
2 cloves garlic, minced
1 tablespoon all-purpose flour
3/4 cup low-sodium chicken broth
1/2 cup plain yogurt or sour cream
1/2 cup grated Monterey Jack cheese
1/4 cup pine nuts, toasted

Instructions:

1. Preheat oven to 350°F.

2. In a large skillet, melt butter. Add chicken. Cook, turning as needed for 10 minutes or until brown on both sides. Season with salt and pepper. Arrange chicken in single layer in a 9x13-inch glass baking dish. Add mushrooms to the skillet and sauté 3 minutes. Scatter mushrooms over chicken and pour broth over all. Cover and bake 15 minutes.

3. Melt remaining butter in skillet and sauté onion for 3 minutes. Add chilies, garlic and flour. Cook for 1 minute, stirring constantly. Remove chicken from oven. Combine pan drippings and remaining broth in a measuring cup. Measure 1 cup and stir into onion mixture. Mix in yogurt and heat thoroughly. Spoon mixture over chicken. Sprinkle with cheese and return to oven.

4. Bake for 15 more minutes. To serve, sprinkle with pine nuts.

Tips:

*If you are preparing this recipe as GLUTEN-FREE, just be sure to use brands of chiles and chicken broth that are known to be GF, and use something else as a thickener to replace the flour- GF flour, cornstarch, or something else you prefer to use.
Other family-friendly chicken recipes you might like to try:
Sweet Lemon- Glazed Drumsticks by RecipeGirl
Baked Chicken Parmesan by SkinnyTaste
Balsamic- Glazed Chicken by RecipeGirl
Easy, Baked Sour Cream Chicken by Kalyn's Kitchen
Creamy Lemon Chicken with Bacon by Culinary Covers