Chicken Breasts in Phyllo is a different and delicious way to serve chicken!
In this recipe, chicken breasts are wrapped in buttery phyllo. There is a creamy lemon sauce inside each phyllo "packet." And they are baked until golden brown and perfect! Serve them with your favorite vegetables.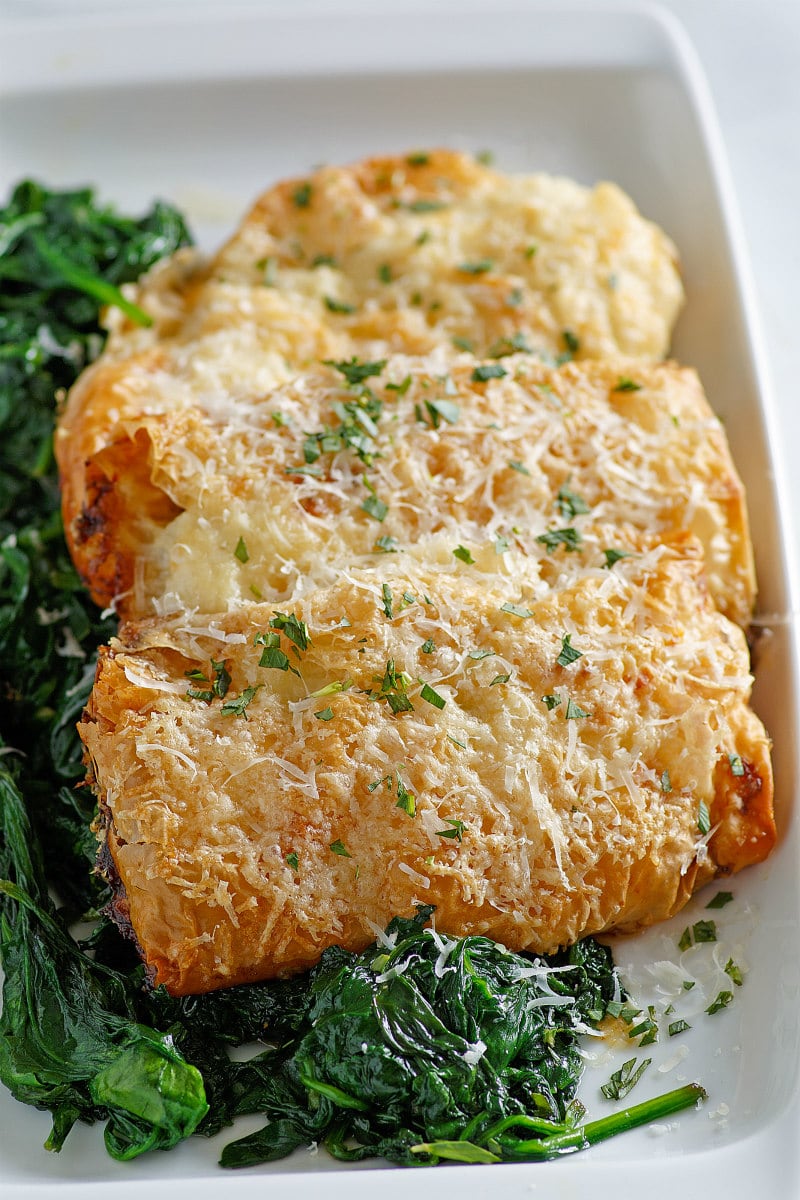 How to make Chicken Breasts in Phyllo?
One phyllo sheet is buttered. A chicken breast half is sprinkled with salt and pepper and spread with a creamy lemon sauce. The chicken is then placed onto the buttered phyllo and topped with another piece of buttered phyllo. Then the chicken is wrapped up in the phyllo like a package. You'll repeat with the remaining phyllo, chicken and sauce until you've made 6 chicken packages.
The chicken breasts in phyllo are placed into a baking dish, brushed with butter and sprinkled with Parmesan cheese. They are baked for about 30 minutes, until they are all nice and golden brown.
What is Phyllo and how do you work with it?
Phyllo (also known as Filo) a very thin unleavened dough known primarily for making Middle Eastern pastries. Phyllo-based pastries are made by layering many sheets of phyllo brushed with oil or butter before baking. It is also used in savory dishes with delicious success!
Phyllo can be a little tricky to work with, so there are a few things to keep in mind to make it easier.
Refrigerate frozen phyllo for about 8 hours or overnight to allow it to thaw, then leave it at room temp for another hour or two until all the sheets are pliable. Trying to hurry the process might lead to cracking the sheets of phyllo.
For golden layers, you need to brush each layer of phyllo with butter. Use a pastry brush, and remember that each sheet will soak up around 1 tablespoon of butter, so plan accordingly.
When working with one sheet of phyllo, keep the rest of the dough tightly wrapped so that it doesn't dry out while you are making the recipe. Alternately, you can cover the phyllo with a barely damp kitchen towel. It will keep the sheets together and pliable, instead of it becoming brittle and breaking apart.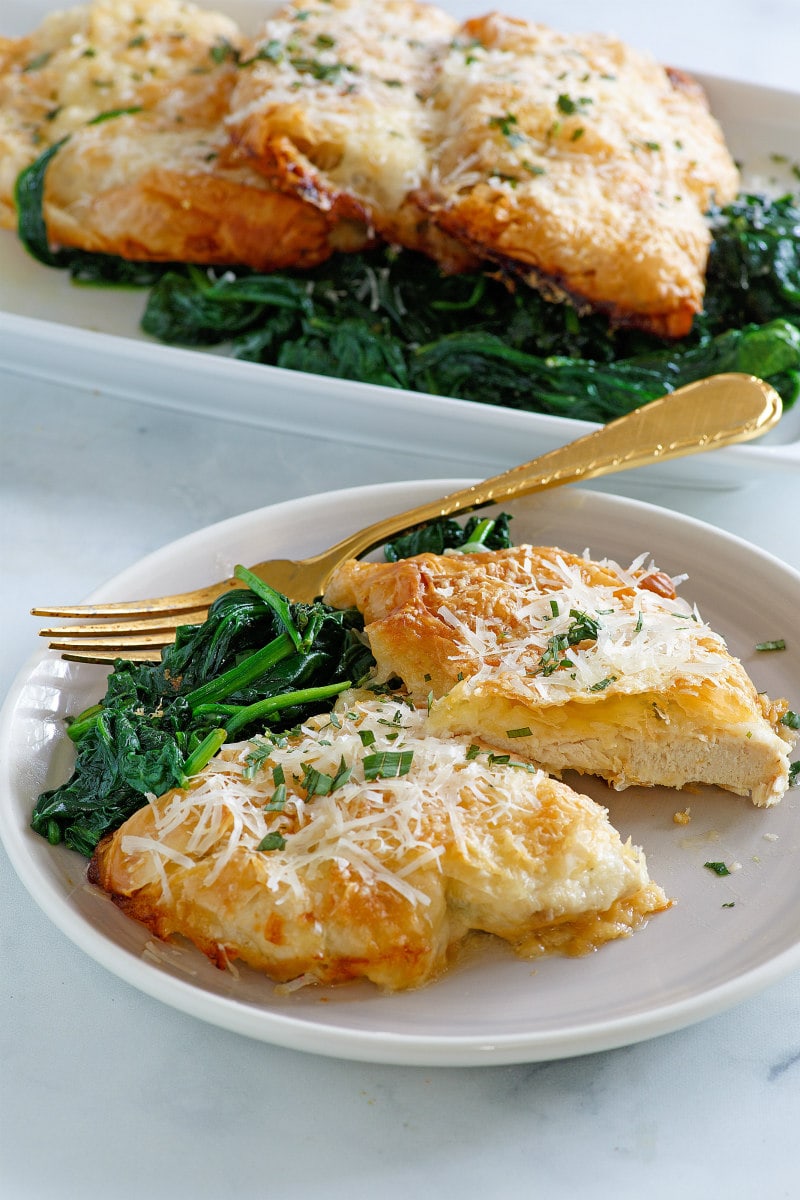 I love the crunchy texture of the phyllo in this recipe, and the chicken turns out super tender and flavorful with the sauce baked inside. The phyllo is like a buttery pastry wrapper for the chicken. Enjoy!
Here are a few more recipes using Phyllo dough that you might like to try:
Chicken Breasts in Phyllo
A delicious way to eat chicken!
Recipe Details
Ingredients
¾

cup

mayonnaise

½

cup

chopped green onions

¼

cup

freshly squeezed lemon juice

1

medium

garlic clove,

minced

1

teaspoon

dried tarragon

(can sub dill or basil)

36

ounces

boneless, skinless chicken breasts

(cut into 6-ounce half breasts)

salt and pepper

12

sheets

phyllo dough

¾

cup (1½ sticks)

butter,

melted

¼

cup

grated Parmesan cheese
Instructions
Preheat the oven to 375 degrees.

In a medium bowl, combine the mayo, green onion, lemon juice, garlic, and tarragon. Blend well.

Lightly sprinkle chicken with salt and pepper.

Place a sheet of phyllo on a working surface. Quickly brush it with melted butter. Spread about 1½ tablespoons of the mayo mixture on each side of a chicken breast. Place the breast in one corner of the buttered phyllo sheet. Place another buttered phyllo sheet on top, and fold a corner over the breast. Fold the sides over and roll up the breast in the sheets to form a package. Place it in an ungreased baking dish. Repeat with the remaining breasts and phyllo sheets.

Brush the packets with the rest of the butter and sprinkle with Parmesan.

Bake 30 to 35 minutes, until golden.
Notes
*Pound the chicken breasts with meat tenderizer to even out thickness.
*Phyllo is sometimes tricky to work with- be sure to cover with a damp towel so they do not dry out.
Nutrition
Serving:
1
serving
,
Calories:
602
kcal
,
Carbohydrates:
24
g
,
Protein:
41
g
,
Fat:
37
g
,
Saturated Fat:
18
g
,
Cholesterol:
178
mg
,
Sodium:
857
mg
,
Potassium:
717
mg
,
Fiber:
1
g
,
Sugar:
2
g
,
Vitamin A:
913
IU
,
Vitamin C:
8
mg
,
Calcium:
77
mg
,
Iron:
2
mg