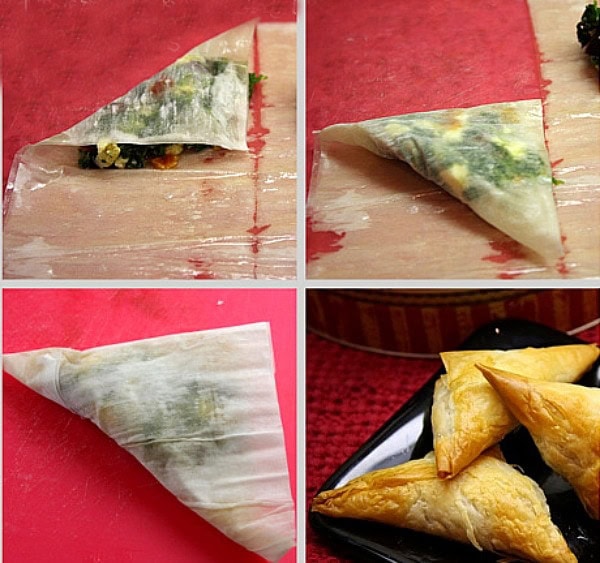 Spinach, Feta & Sundried Tomato Phyllo Triangles
These very flavorful Greek-style appetizers are wonderful for keeping in the freezer. Just pop them into the oven when guests show up and you've got a fabulous little something to share.
Yield:
6 dozen appetizers
Prep Time: 45 minutes
Cook Time: 20 minutes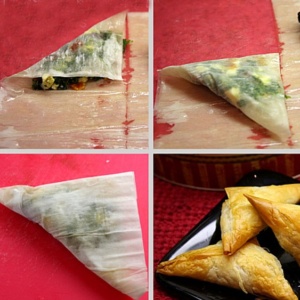 Ingredients:

2 (10-ounce) packages frozen, chopped spinach, thawed & squeezed dry
2 cups crumbled feta cheese (12 ounces)
3/4 cup roughly chopped fresh mint
1/2 cup roughly chopped sun-dried tomatoes (oil packed & drained)
1/2 cup pitted & roughly chopped Kalamata olives
4 large eggs, lightly beaten
3 Tablespoons chopped garlic
2 Tablespoons fresh lemon juice
1 Tablespoon finely grated lemon zest
3/4 teaspoon freshly ground black pepper
1/2 teaspoon kosher salt
1 (1-pound) package phyllo dough (preferably a twin-pack), thawed according to the package directions
1 cup (2 sticks) melted unsalted butter, plus more as need for baking

Instructions:

1. In a large bowl, combine spinach, feta, mint, sun-dried tomatoes, olives, eggs, garlic, lemon juice and zest, pepper and salt. Mix well.

2. Assemble the triangles: Unroll the phyllo and lay it flat on a clean, dry surface. Cover completely with plastic wrap. Working with one sheet of phyllo at a time, and keeping the rest covered with the plastic wrap to keep it from drying out, place a sheet vertically in front of you. Brush the phyllo with butter and cover with another sheet. Butter the top sheet and cut the phyllo lengthwise in half into two equal 3-inch-wide strips. If two strips seem like they will produce triangles that are too large, cut them into three equal, vertical strips instead. Spoon 2 teaspoons of filling at the top end of each strip as shown in the photo above. Fold up the phyllo strips as you would a flag to create a neat triangle, being careful not to roll too tightly or the triangles will crack when baked.

3. Transfer to a baking sheet and cover with plastic. Repeat with the rest of the phyllo and filling. You can bake the triangles immediately or freeze and bake them later.

4. If freezing: Freeze uncooked triangles on the baking sheet. When frozen, transfer them to an airtight container, setting parchment or plastic wrap between layers if needed. Store in the freezer, where they'll keep for about a month.

5. To bake: If frozen, do not thaw the triangles before baking. Position racks in the top and bottom thirds of the oven and heat oven to 375 degrees F. Butter two sheet pans. Arrange phyllo triangles on prepared baking sheets in a single layer. Brush tops of the triangles with butter and bake until golden brown, 15 to 20 minutes for fresh triangles and 20 to 25 minutes for frozen triangles, switching the positions of the pans halfway through baking.

Tips:

*Starting with 2 tsp. of filling at the top of the phyllo, lift a corner up and over the filling to form a triangle. Lift a corner of the triangle and roll it over, wrapping the filling in another layer of phyllo. Continue lifting a corner of the triangle and rolling it over until you get to the end of the strip.