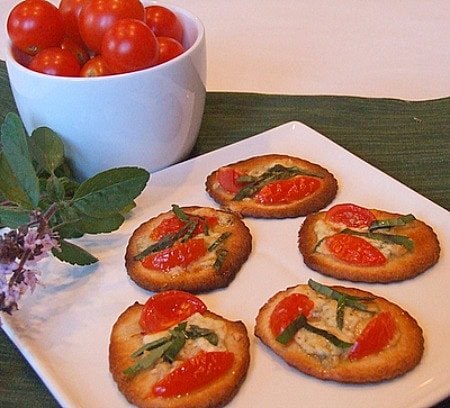 Pizzette with Gorgonzola, Tomato & Basil
I first had this appetizer at my girlfriend's house for bunco night. What a beautiful and easy appetizer. Then I made them for my hubby and me for an appetizer to our Italian feast. We devoured every bite!
Yield:
18 appetizers
Prep Time: 15 minutes
Cook Time: 10 minutes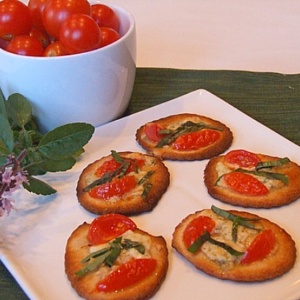 Ingredients:

8 ounces purchased pizza dough
3 ounces Gorgonzola, crumbled
3 ounces cherry tomatoes, quartered
2 teaspoons extra-virgin olive oil
1/4 cup fresh basil leaves, torn into pieces
salt & freshly ground black pepper to taste

Instructions:

1. Preheat oven to 475°F. Spray heavy large baking sheet with cooking spray.

2. Roll out pizza dough to 1/4-inch thick. Using a 2 to 2 1/2-inch diameter cookie cutter, cut out 18 circles from the dough. Arrange the circles on a heavy large baking sheet. Sprinkle gorgonzola cheese over the circles. Top with tomatoes, pressing them gently into the dough.

3. Bake until pizzettes are golden brown, about 10 minutes. Drizzle pizzettes with oil and sprinkle them with basil. Add salt and pepper. Arrange pizzettes on a platter and serve immediately.

Tips:

*These taste good when they get to room temperature too, so don't worry about trying to keep them warm.