This recipe has been featured in a menu on the site- Italian Dinner Party.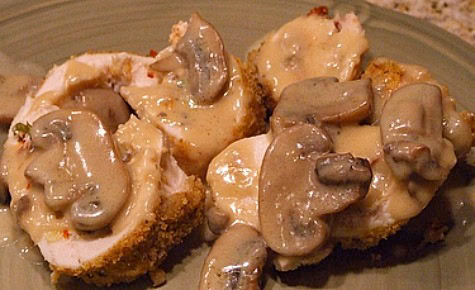 Chicken Breasts Stuffed w/ Goat Cheese & Sundried Tomatoes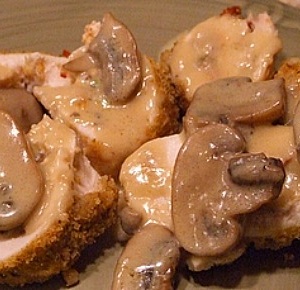 This is a DELICIOUS chicken dish and not as hard as it might seem. One of our household favorites.
Yield:
4 servings
Prep Time: 30 min
Cook Time: 35 min
Ingredients:
CHICKEN:
4 boneless, skinless chicken breasts
1/2 cup goat cheese
4 Tablespoons sun-dried tomatoes, packed in oil
2 Tablespoons pine nuts
2 green onions, thinly sliced
3 basil leaves, cut into thin strips
salt & pepper, to taste
1 large egg, beaten
1/2 cup dried breadcrumbs
2 Tablespoons unsalted butter, melted
SAUCE:
3 Tablespoons butter
1/2 pound mushrooms, sliced
1/4 cup dry white wine
2/3 cup chicken broth
4 Tablespoons chilled unsalted butter, cut into 4 pieces
salt & pepper, to taste
Directions:
1. Preheat oven to 350 degrees F. Pound chicken between sheets of waxed paper using a flat meat mallet- you want to even out the thickness and thin them out a bit. Pat chicken dry.
2. Combine cheese, tomatoes, pine nuts, onions and basil in a small bowl. Season with salt and pepper. Spread cheese mixture lengthwise over half of each chicken breast. Tuck ends in. Roll chicken up tightly. Secure with toothpicks. Dip chicken in egg, and then roll in breadcrumbs.
3. Place chicken in 8-inch square baking dish. Pour 2 Tablespoons melted butter over the breasts. Bake until cooked through, about 20 minutes.
4. While chicken is baking, melt 3 Tablespoons butter in large skillet over medium heat. Add mushrooms and sauté until tender (about 6 minutes). Add wine and boil for 3 minutes. Add chicken broth and boil until liquid is reduced by half, about 5 minutes. Remove from heat and swirl in 4 Tablespoons of butter 1 piece at a time. Season with salt and pepper.
5. Remove toothpicks from chicken. Cut chicken rolls into 1/2-inch thick rounds and serve immediately with sauce drizzled on top.
Tips:
*The chicken-rolling portion of the recipe may be prepared a few hours ahead of time and refrigerated.