Why is it that mushrooms are one of those kinds of foods that kids don't want anything to do with? Will your kids go near mushrooms? Will they make every effort to locate all types of fungi within a dish and shove it to the side where it will never, ever be eaten? That's my kid anyways. As much as I adore mushrooms, he despises them equally so. This is one of those dishes in my house that was for Mom-and-Dad only: Shiitake and Sweet Pea Risotto. I knew my little guy would never attempt to eat this one, so I figured… why force the kid, right?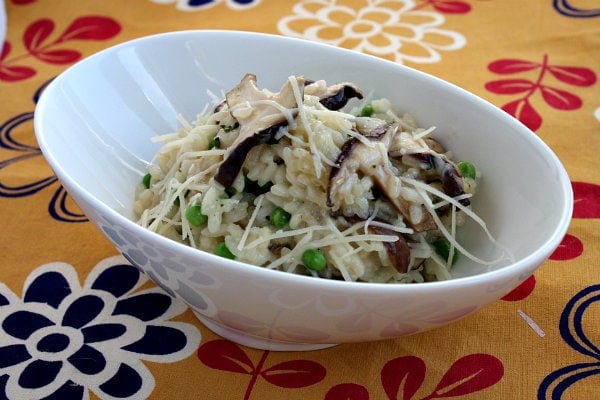 A version of this recipe was published in Cooking Light a couple of years ago, so you can kind of feel good about eating it 🙂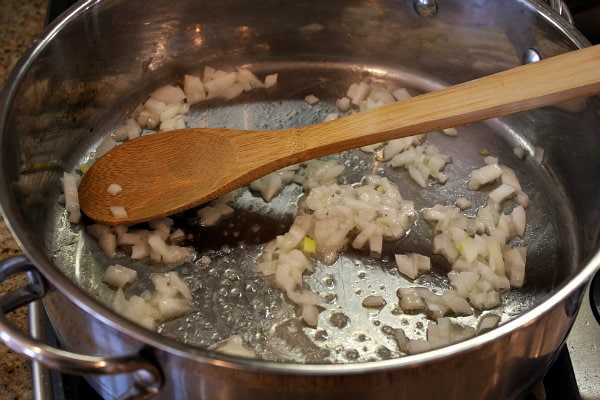 Risotto isn't tough to make, but it does have to be tended to. Have someone hang out with you in the kitchen while you make it, catch up on the latest reality TV, or just play some relaxing music and enjoy the quiet. If you're a wine drinker, pop open a bottle of dry white since you'll need it in the recipe. And pour a glass for yourself too! Here's how you make it: melt butter and add onion.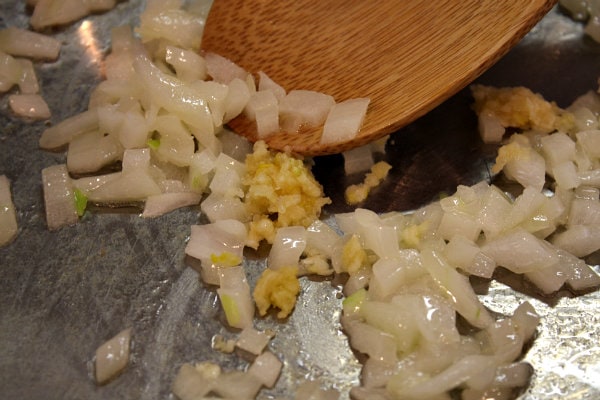 Stir in garlic.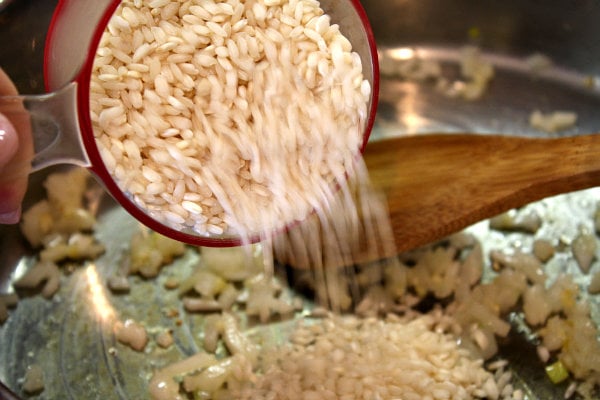 Add the Arborio rice.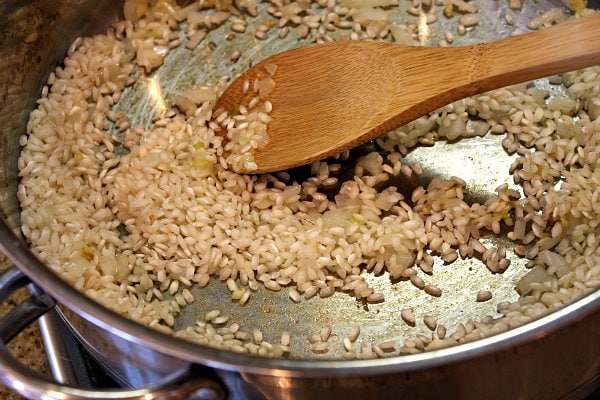 Stir it around a little bit.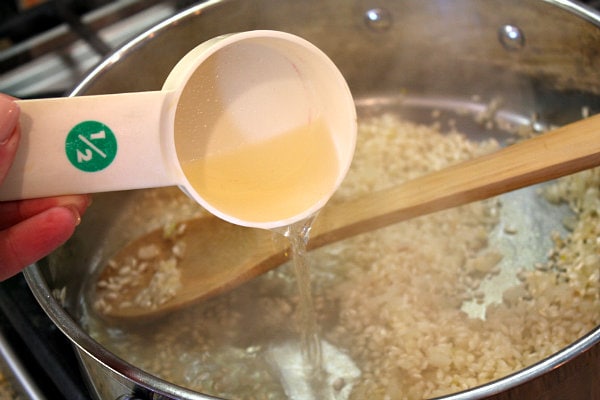 Add white wine and let the rice absorb the wine. If you're not a wine drinker, just use chicken or vegetable broth here instead.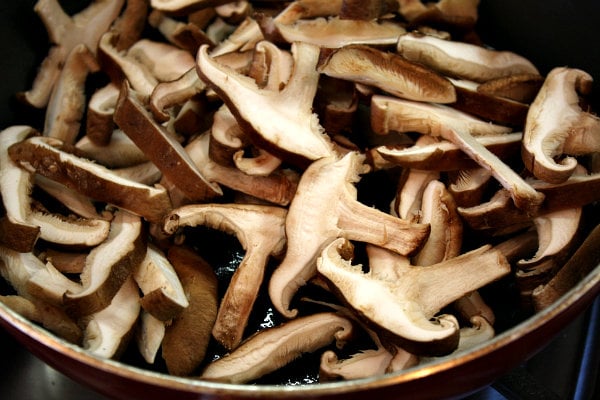 Meanwhile, saute your mushrooms in another pan…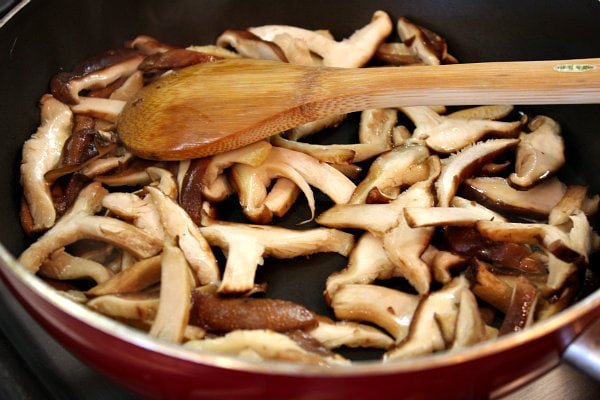 …until they are softened. Then just let them hang out off the heat while you finish the rest of the dish.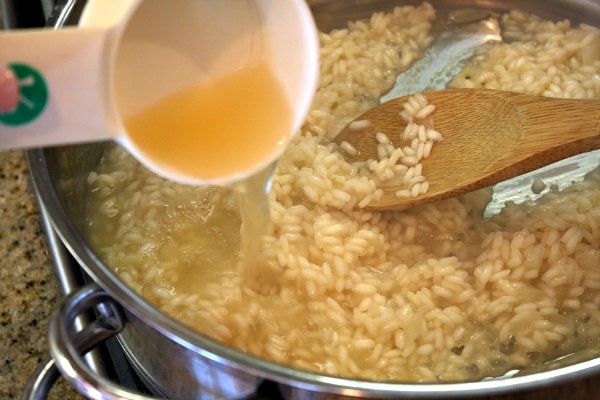 Here's the part where you have to be patient. You're going to add 1/2 cup of warm broth, then stir and stir until the rice absorbs it. Then you'll add another 1/2 cup and stir, stir, stir. Keep going with the 1/2 cup routine until the rice has absorbed all of the broth and is very tender.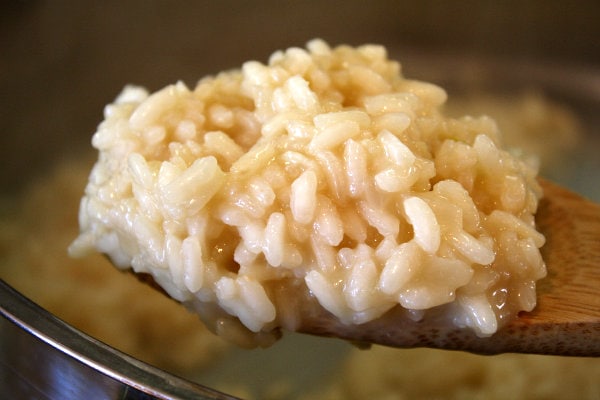 It should look kind of like this.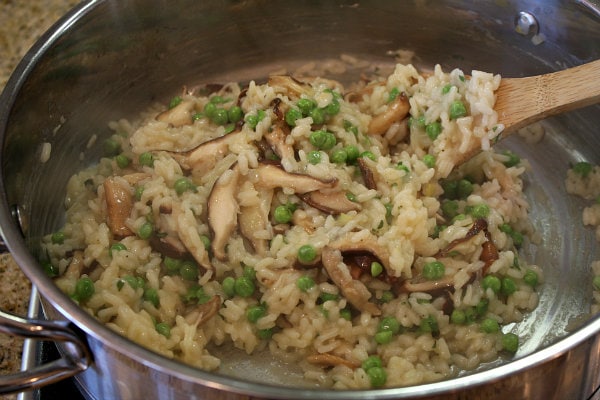 Then stir in the mushrooms, thyme, peas, pepper and a little bit of Parmesan.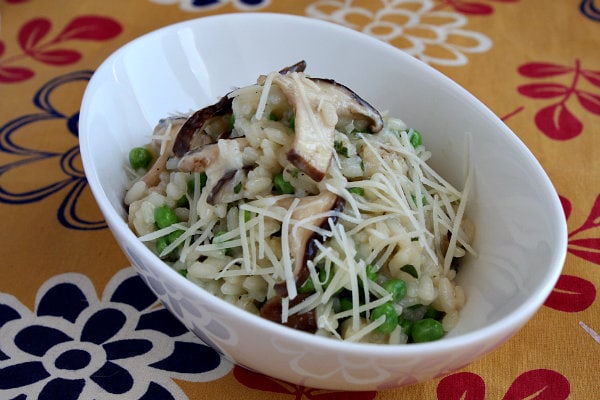 Divide it between four bowls and serve topped with a little more Parm. Risotto isn't something that you want to eat a humongous bowl of… it's actually quite filling and satisfying. I like to serve it with a large green salad. And wine, of course. This recipe happens to be weight watcher's friendly (see nutritional info and points in the recipe below), and it's naturally gluten-free too.
We the parents in my house loved our Shiitake and Sweet Pea Risotto, mushrooms and all. Hopefully someday the kid will realize just how much he's missing out by not chowing down on mushrooms!
P.S. I once tricked my boy into eating a burger that was made entirely of ground-up Portobello Mushrooms. He actually ate it but kept asking me what was weird about it. And he wasn't too happy when he heard there were mushrooms involved. I don't think he's quite forgiven me for that one yet 😉
Shiitake and Sweet Pea Risotto
Risotto is a delicious and filling dish. I like to serve it with a large green salad.
Recipe Details
Ingredients
4

cups

fat-free, low-sodium chicken or vegetable broth

1

tablespoon

salted butter

½

cup

finely chopped sweet onion

1½

teaspoons

minced garlic

(about 1 large clove)

1

cup

uncooked Arborio rice

½

cup

dry white wine

(pinot grigio or sauvignon blanc work well)

1

tablespoon

extra virgin olive oil

4

cups

thinly sliced shiitake mushroom caps

(use different mushrooms if you'd like)

2

teaspoons

chopped fresh thyme

¾

cup

frozen green peas

6

tablespoons

grated fresh Parmesan cheese,

divided

¼

teaspoon

freshly ground black pepper
Instructions
In a medium saucepan, heat the broth over low heat and keep warm at a simmer.

In a large skillet, melt the butter over medium heat. Add the onion and cook 2 minutes. Add the garlic, cooking 30 seconds (keep stirring). Add the rice and cook 1 minute (keep stirring). Add the wine, cook 2 minutes, or until liquid is absorbed (keep stirring). Stir in ½ cup of the broth and cook 2 minutes, or until the liquid is absorbed (keep stirring!) Add remaining broth ½ cup at a time, stirring constantly, until each portion of the broth is absorbed before you add the next ½ cup. This should take about 20 minutes total.

Heat the oil in a large, nonstick skillet over medium-high heat. Add the mushrooms to the pan; cook 5 minutes, or until tender. Set aside.

Add the mushrooms, thyme, peas, ¼ cup of the cheese, and pepper to the risotto. Stir and cook for 3 minutes, just until everything is warmed. Spoon about 1¼ cups risotto into each of 4 bowls. Sprinkle each with the remaining cheese.
Notes
To make this recipe dairy-free, use olive oil in place of butter, and leave out the Parmesan cheese.
To make this recipe gluten free, just be sure to use a brand of broth that is known to be GF.
To make this recipe vegetarian, use vegetable broth in place of chicken broth.
Nutrition
Serving:
1
serving
,
Calories:
439
kcal
,
Carbohydrates:
66
g
,
Protein:
17
g
,
Fat:
11
g
,
Saturated Fat:
4
g
,
Polyunsaturated Fat:
1
g
,
Monounsaturated Fat:
5
g
,
Trans Fat:
0.1
g
,
Cholesterol:
14
mg
,
Sodium:
249
mg
,
Potassium:
1072
mg
,
Fiber:
9
g
,
Sugar:
8
g
,
Vitamin A:
409
IU
,
Vitamin C:
14
mg
,
Calcium:
103
mg
,
Iron:
4
mg
Here are a few more delicious risotto recipes you might enjoy: