This recipe has been featured in a themed dinner party menu: Sicilian Dinner Party.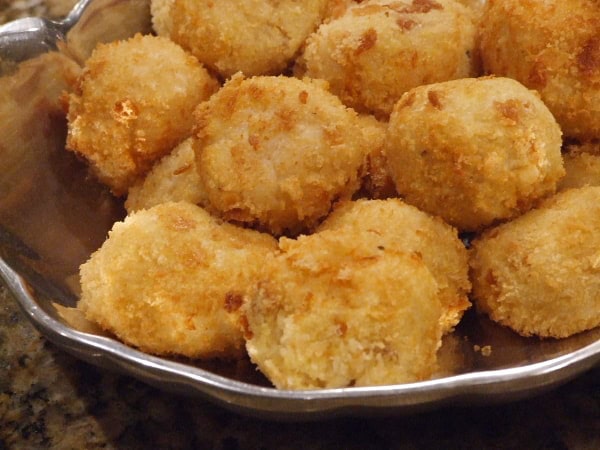 Risotto Croquettes with Mozzarella & Prosciutto
These were a fun side dish for my Chicken Marsala. I served them with a little dollop of marinara. Delicious!
Yield:
About 12 appetizers
Prep Time: 30 minutes
Cook Time: 45 minutes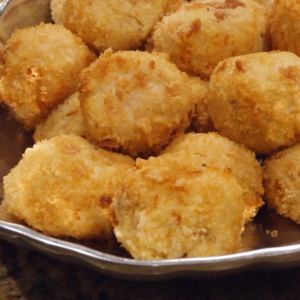 Ingredients:

CROQUETTES:
3 cups canned low-salt chicken broth
1 Tablespoon unsalted butter
1/2 medium onion, chopped
1 1/4 cups (8 to 9 ounces) arborio rice (risotto)
1/3 cup dry white wine
1/2 cup freshly grated Parmesan cheese
1 large eggs

COATING & FILLING:
all-purpose flour
1 large egg
2 cups finely ground fresh breadcrumbs made from crustless Italian or French bread
2/3 cup finely diced whole-milk mozzarella cheese
1/3 cup finely chopped prosciutto

Instructions:

1. Bring broth to boil in heavy small saucepan. Remove from heat and cover. Melt butter in heavy medium saucepan over medium-low heat. Add onion and sauté 4 minutes. Add rice; stir 1 minute. Add wine and stir until absorbed, about 1 minute. Add 1/2 cup of broth and simmer until liquid is absorbed, stirring often. Cook until rice is just tender and risotto is creamy, adding broth 1/2 cup at a time, stirring frequently and allowing each addition to be absorbed before adding next, about 25 minutes. Mix in Parmesan. Season risotto with salt and pepper. Cool completely. Mix in 1 egg. Cover and chill.

2. Place some flour in 1 bowl; place remaining egg in another bowl and beat to blend. Place breadcrumbs in third bowl. Using moistened hands, shape 1/4 cup (packed) cold risotto into ball. Poke hole in center. Fill with 1 rounded teaspoon mozzarella and 1 teaspoon prosciutto. Press risotto over filling. Coat rice balls in flour, then egg, then breadcrumbs. Place on rack to dry. Repeat with remaining risotto, filling and coating. Let rice balls stand at least 30 minutes and up to 1 hour.

3. Pour 1 1/2 inches of oil into a heavy medium pot. Attach a deep-fry thermometer and heat oil to 360°F. Fry balls, 3 at a time, until golden and crusty, turning once, about 2 minutes. Drain on paper towels. Serve hot or at room temperature.