Asparagus Risotto is a fabulous recipe to make as a main dish or as a side dish to a protein.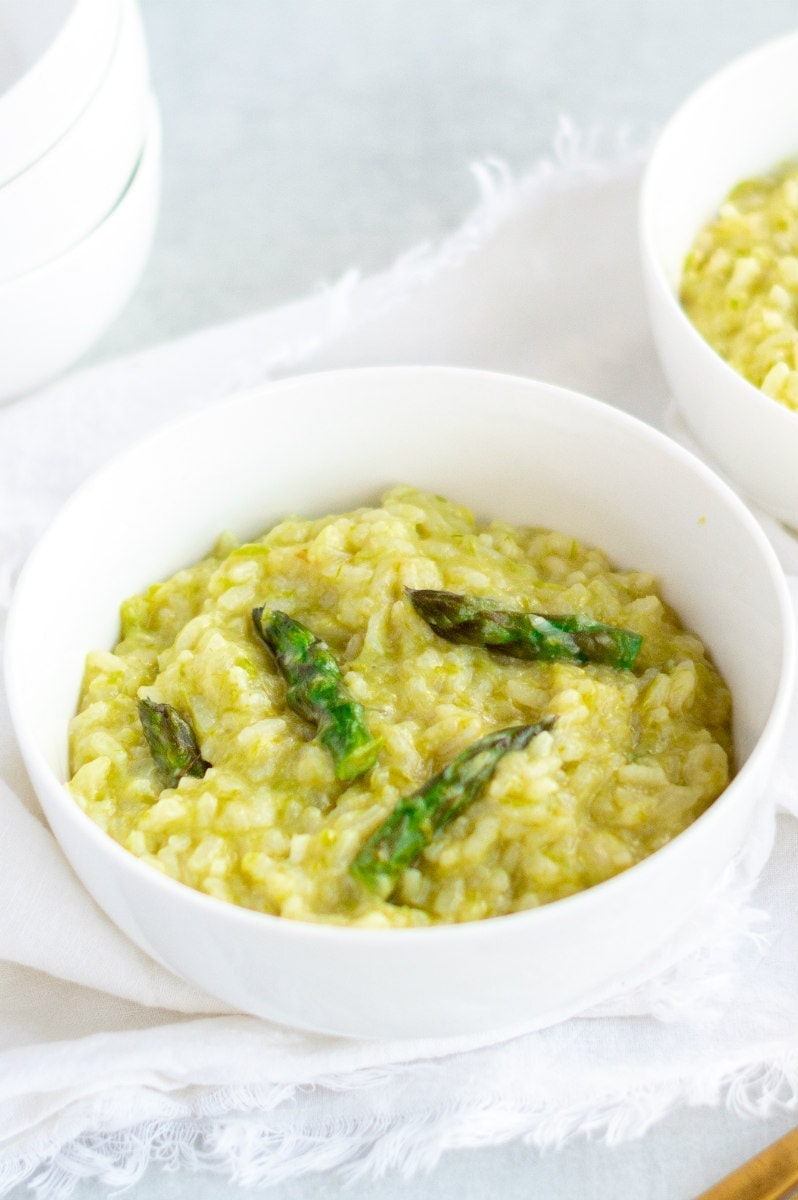 More often than not, we make a protein to enjoy for dinner. Steak, chicken, salmon and roasted pork are often on our menu. But I need to remind myself once in a while that it's okay to make a meal without a protein. Asparagus Risotto is a perfectly awesome dinner, and it's so filling that it's all you need for a meal unless you want to add a salad to go with it.
What is Risotto?
Risotto is a rice dish that originates from Northern Italy. The rice is slowly cooked with broth until it reaches a creamy consistency. Making risotto is one of the most common ways to eat rice in Italy.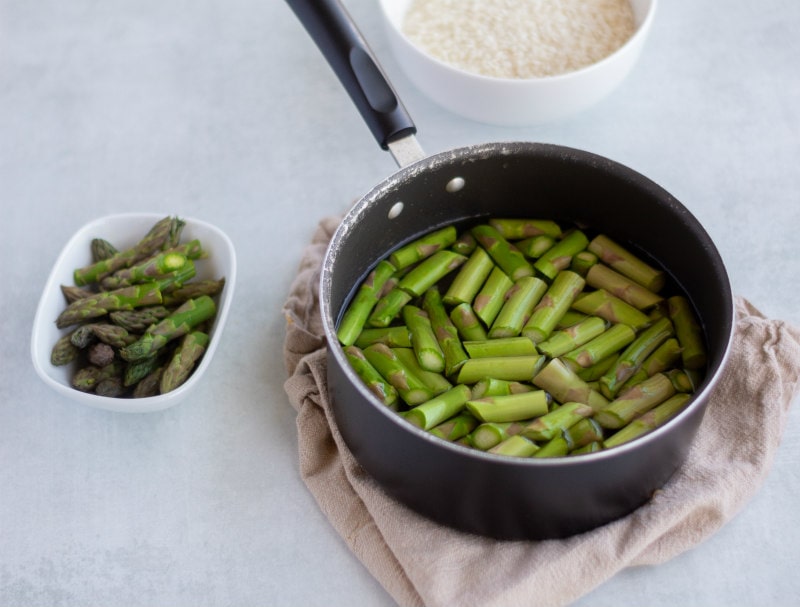 How to make Asparagus Risotto:
Risotto in general takes a bit of time to make because you have to tend to it. It's worth it in the end. The first thing to do is tend to the asparagus. You'll cook half of the pieces in a pot of water until very tender (setting the tips aside). When the asparagus pieces are done cooking, you'll process them in a blender or food processor with a small amount of water until they are puréed. Meanwhile, you will put the broth on the stove to simmer.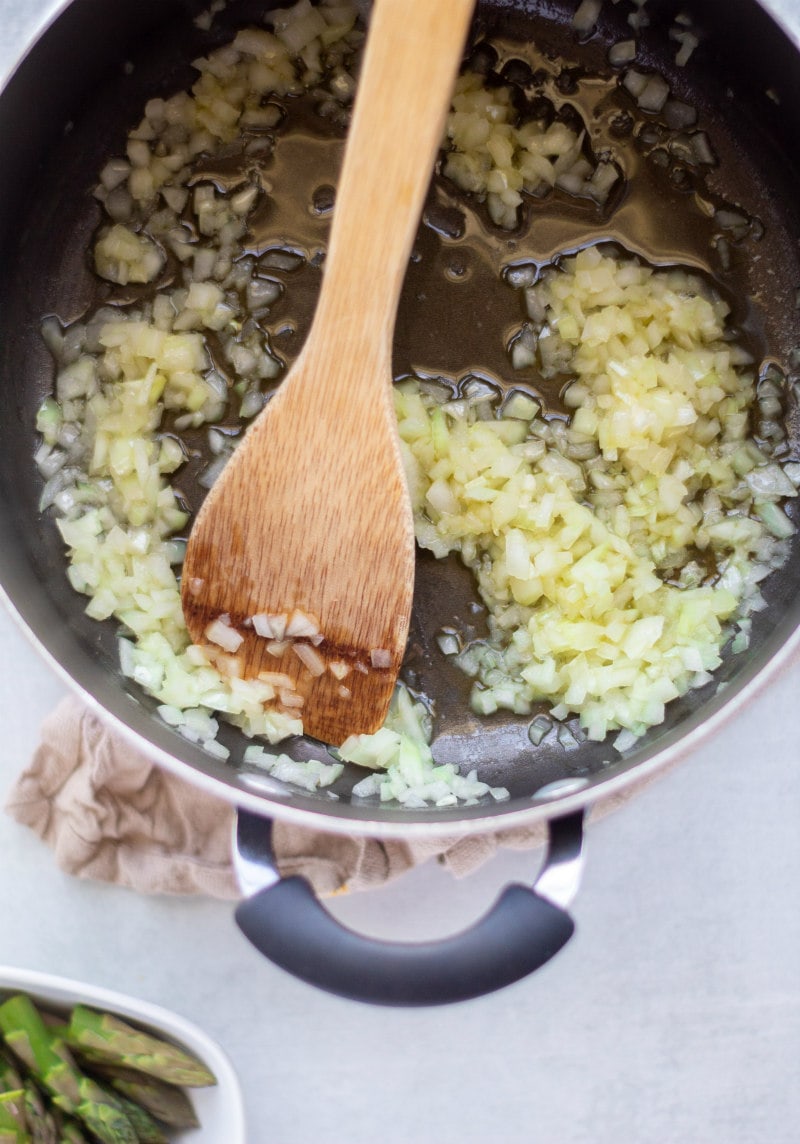 Onion is cooked in butter and oil until tender. You can use either yellow or red onion. Then you'll add the Arborio Rice. It's important to use this specific variety of rice when making risotto. Look for it near the other rice at your market.
The rice is sautéed with the onion for a couple of minutes and then some white wine is added in and stirred with the rice until it evaporates. 1/2 cup of warm broth is added to the risotto and you will let it cook (stirring occasionally) until it evaporates. Then you'll add another 1/2 cup of broth and continue this process until the broth is used up and the risotto is tender, adding the remaining asparagus pieces and tips along the way. After the risotto is done (tender, but still with a little crunch), the asparagus purée, butter and Parmesan cheese are stirred in. Then it's ready to serve.
Tips for making the best risotto:
Use warm broth to add to the risotto. It will keep the temperature in the cooking process hot. If you use cold broth, every time you add the broth to the rice then the temperature will have to re-adjust.
Stir often during the cooking process to create a creamy risotto. But don't stir too much or it will end up with a sticky consistency. Not stirring enough will result in the rice sticking to the pan and risk burning.
The rice should be cooked to al dente instead of mushy.
Choose a pot that fits perfectly over your stove's burner to distribute the heat evenly. A wide pot won't have even heat.
Cook risotto at a medium simmer.
Stir in cheese after the risotto is done cooking.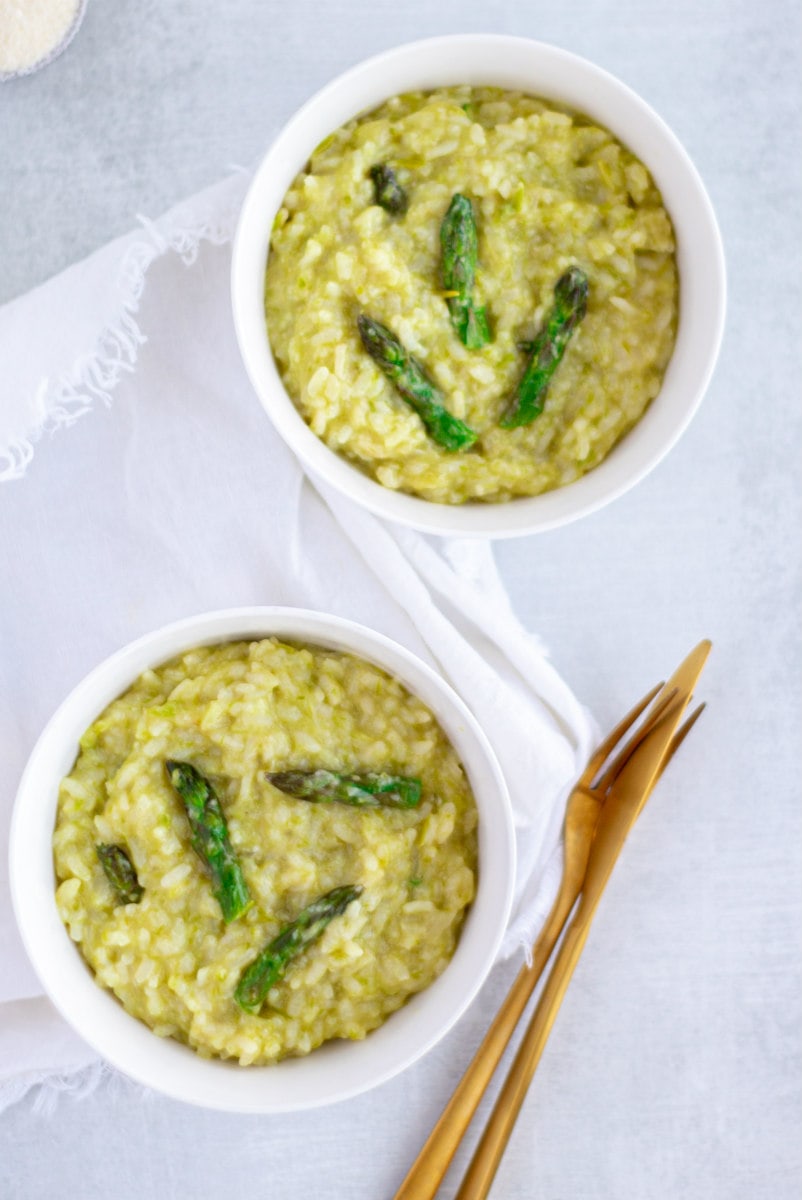 It's time to look for some Arborio Rice at the store and make this creamy and delicious Asparagus Risotto. Enjoy!
Here are a few more recipes using asparagus that you might like to try:
Asparagus Risotto
Delicious risotto recipe!
Recipe Details
Ingredients
1

pound

asparagus (tough ends trimmed),

cut into 1-inch pieces

6 to 7

cups

chicken or vegetable broth

3

tablespoons

butter,

divided

2

tablespoons

extra virgin olive oil

⅔

cup

diced red or yellow onion

1½

cups

Arborio rice

½

cup

white wine

¼

teaspoon

salt

½

cup

freshly grated Parmesan cheese
Instructions
Bring a pot of water to boil. Add half of the asparagus stalks (set the tips aside for later) and cook until quite soft, at least 5 minutes. Drain and place in blender or food processor. Add just enough water to allow machine to puree until smooth; set aside.

Heat the broth in a small pan- turn on low and keep hot.

In a large nonstick skillet over medium heat, melt 1 tablespoon of the butter and add in the oil. When sizzling, add the onion. Sauté until the onion softens, stirring occasionally- 3 to 5 minutes.

Add the rice and cook, stirring occasionally, until it is glossy, 2 to 3 minutes. Add the wine, stir and let the liquid evaporate. Add a large pinch of salt. Add the warmed broth- ½ cup at a time, stirring occasionally. Set the timer for 15 minutes. Each time the broth has just about evaporated, add another ½ cup.

When the timer goes off, add the remaining asparagus tips and pieces, continuing to add ½ cup stock as needed. Begin tasting the rice at this time. You'll want it to be tender but with a bit of a crunch (it should take a total of 20 to 30 minutes to reach the right consistency). When it feels just right, stir in the asparagus puree. Remove from heat, and stir in the remaining butter. Stir in the salt and Parmesan too. Taste and adjust seasoning- add more salt or pepper, if needed.
Notes
*If you are preparing this recipe as GLUTEN FREE, just be sure to use a brand of broth that is designated as GF.
*For wine, I like to use either Sauvignon Blanc or Pinot Grigio.
*Risotto should be slightly soupy when served.
*Risotto is not one of those dishes that you can just leave on the stove and come back later and find it done. You need to tend to it and add the broth gradually until it's just right. It will turn out best if you follow directions!
Nutrition
Serving:
1
serving
,
Calories:
354
kcal
,
Carbohydrates:
45
g
,
Protein:
10
g
,
Fat:
13
g
,
Saturated Fat:
6
g
,
Cholesterol:
22
mg
,
Sodium:
1207
mg
,
Potassium:
309
mg
,
Fiber:
3
g
,
Sugar:
3
g
,
Vitamin A:
819
IU
,
Vitamin C:
6
mg
,
Calcium:
127
mg
,
Iron:
4
mg