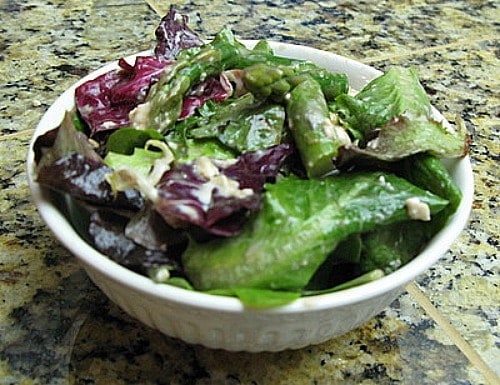 Asparagus & Goat Cheese Salad
This is definitely a restaurant quality salad with a unique tasting dressing. It's an awesome addition to a pasta dinner, but could easily stand alone as a luncheon entree.
Yield:
6 servings
Prep Time: 15 min
Cook Time: 6 min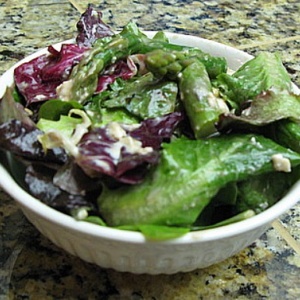 Ingredients:

2 pounds asparagus, trimmed, blanched & cooled

DARK CHERRY BALSAMIC VINAIGRETTE
2 Tablespoons balsamic vinegar
1 Tablespoon granulated sugar
1 small clove garlic, minced
2 Tablespoons seedless raspberry jam
1 Tablespoon red wine vinegar
1/4 cup canola oil
kosher salt & freshly ground black pepper, to taste

SALAD:
1 head romaine lettuce, leaves separated, trimmed & torn into bite-sized pieces
5 ounces mixed baby greens
1/4 cup pine nuts, toasted
4 ounces goat cheese, crumbled
kosher salt & freshly ground black pepper, to taste

Instructions:

1. Prepare vinaigrette: In a small saucepan over medium heat, combine the balsamic vinegar, sugar and garlic and bring to a simmer, stirring frequently to dissolve the sugar. Simmer the mixture, uncovered, until reduced slightly, about 5 minutes. Add the raspberry jam and cook for 1 minute longer. Remove from heat and let cool to room temperature, then whisk in the red wine vinegar followed by the canola oil. Season to taste with salt and pepper. Set aside.

2. Assemble salad: In a large bowl, combine asparagus, romaine, greens, most of the pine nuts, and most of the goat cheese. Drizzle vinaigrette over the salad and toss gently to coat all the ingredients. Season to taste with salt and pepper.

3. Transfer salad to chilled salad bowls or plates. Garnish with remaining pine nuts and goat cheese. Serve immediately.