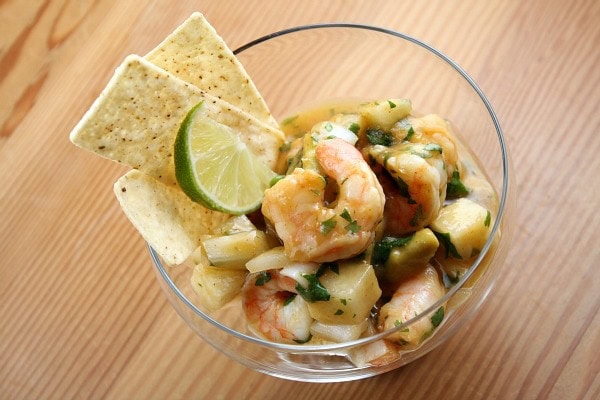 Shrimp Ceviche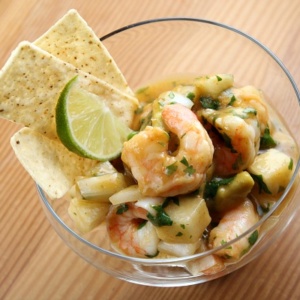 Yield:
3 cups (6 servings)
Prep Time: 20 min + chill time
Cook Time: 20 min
Ingredients:
1/2 cup plus 2 tablespoons freshly squeezed lime juice (divided)
1 generous pound peeled & deveined smallish shrimp (41/50 count per pound)
1/2 medium white onion, finely chopped
1/3 cup chopped fresh cilantro (plus extra sprigs for garnish)
1/2 cup ketchup
1 to 2 tablespoons hot sauce (like Cholula)
2 tablespoons extra-virgin olive oil
1/2 cup diced, peeled jicama
1/2 cup diced, cucumber
1 medium ripe avocado, peeled, pitted and cubed
sea salt, to taste
lime wedges, for garnish
tortilla chips, for serving
Directions:
1. Cook and marinate the shrimp: Bring 1 quart of salted water to a boil and add 2 tablespoons of the lime juice. Add the shrimp, cover and return to a boil. Immediately remove from heat, set the lid askew and pour off all of the liquid. Replace the cover and let the shrimp steam off the heat for 10 minutes. Spread out the shrimp in a large bowl to cool completely. Toss the shrimp with the remaining 1/2 cup lime juice, cover and refrigerate for 1 hour.
2. Prepare the flavors: In a small strainer, rinse the onion under cold water, then shake off the excess liquid. Add the onion to the shrimp along with cilantro, ketchup, hot sauce, olive oil, jicama, cucumber and avocado. Taste and season with salt (about 1/2 teaspoon). Cover and refrigerate if not serving immediately.
3. For serving: Spoon the ceviche into small bowls or martini glasses, garnish with cilantro sprigs and slices of lime. Serve with tortilla chips.
Tips:
*The ceviche is best eaten the day it's made. It can be prepared and combined a few hours ahead of time.