A delicious New Orlean's-style dinner recipe:  Shrimp Jambalaya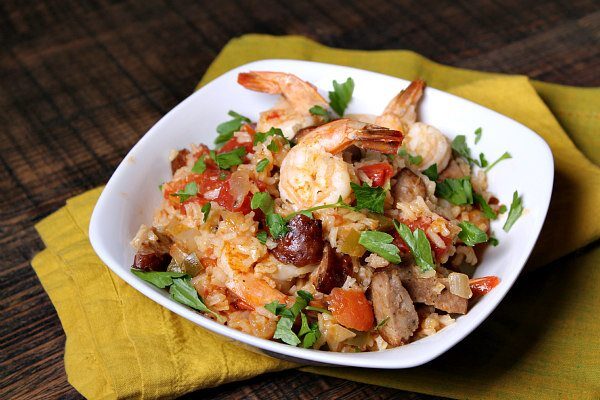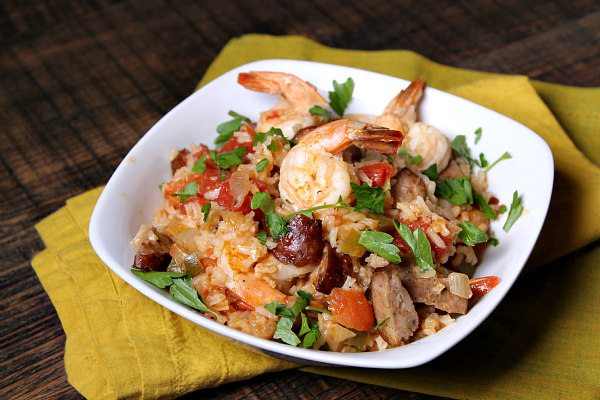 This mildly spicy dinner recipe is a nice diversion from chicken or pasta.  I love how easy it is to make- all in one pot and not dirtying up a ton of dishes to prepare.
It's a good dinner-for-two kind of recipe because the next-day leftovers are awesome!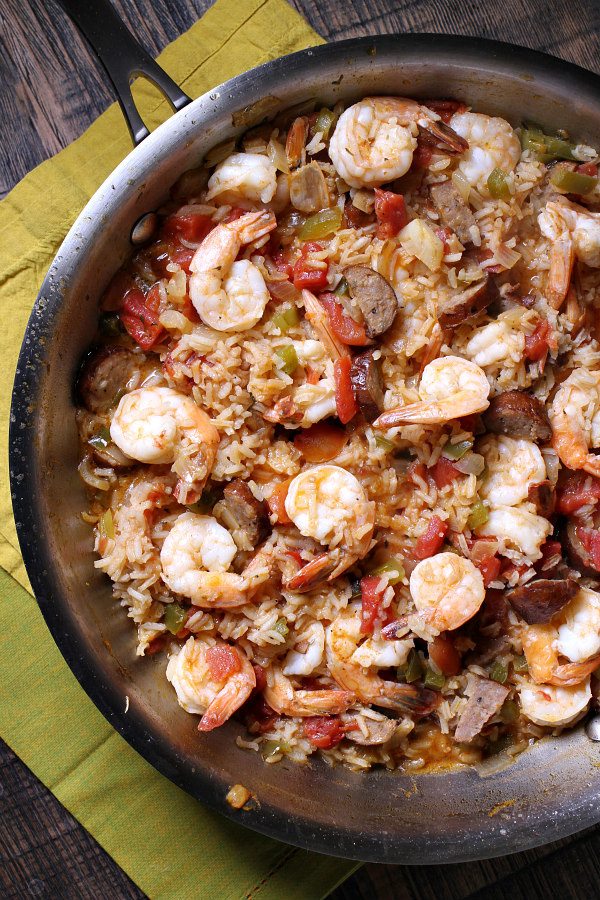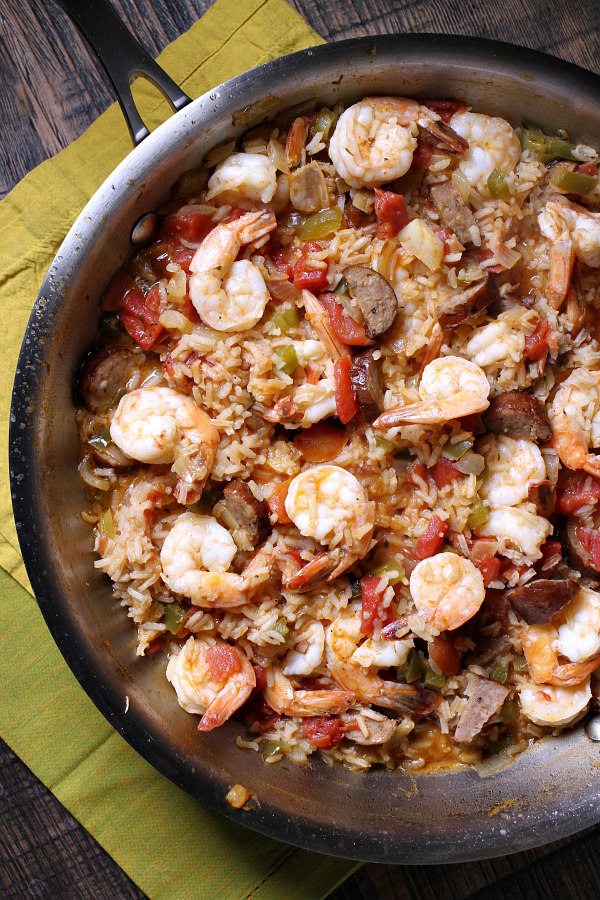 Shrimp and kielbasa sausage are cooked with rice, tomatoes, peppers, onions and spices.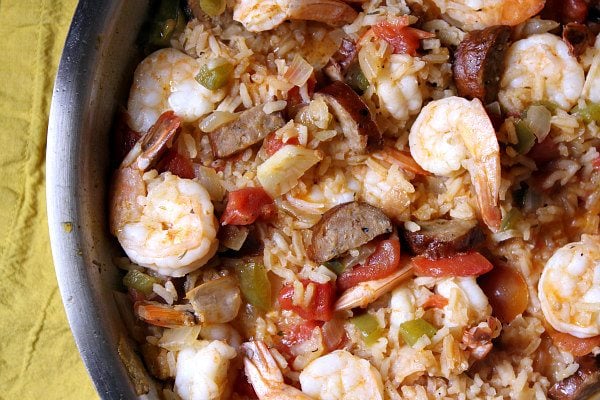 Jambalaya has French and Spanish roots.  It's a dish that originates from the French quarter of New Orleans.  This version is more of a Creole (red) style of jambalaya with the addition of tomato.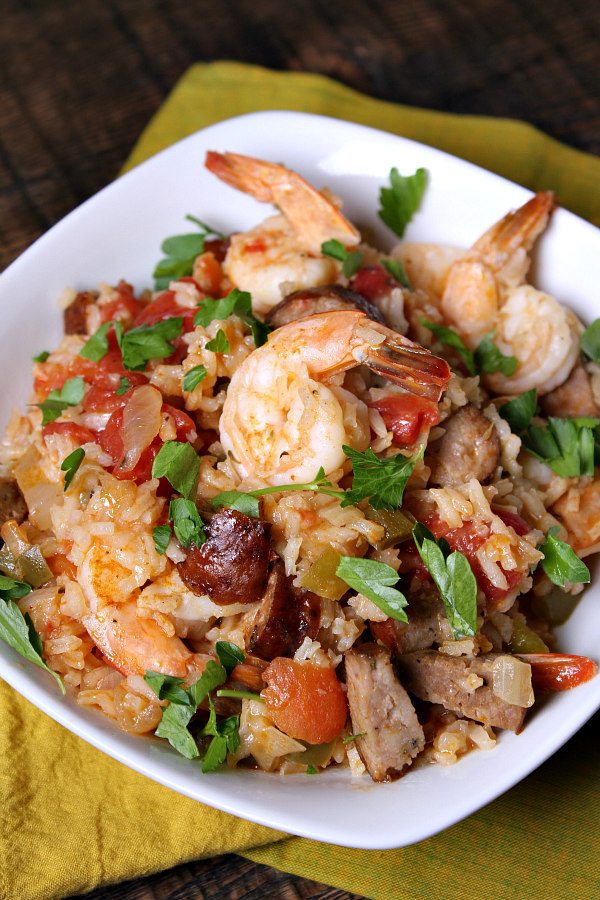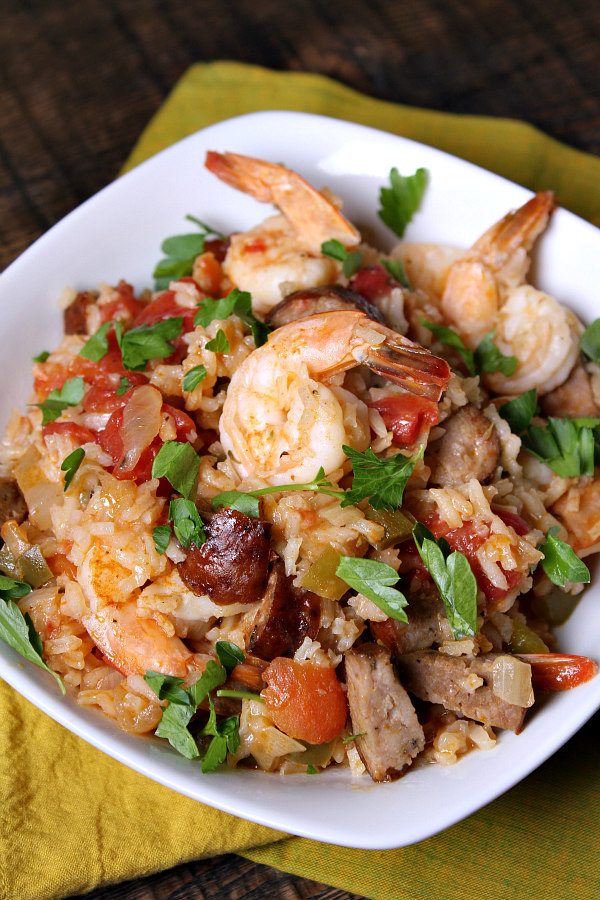 Surprise your family with a new dinner recipe!
Shrimp Jambalaya
Yield:
4 servings (2 cups per serving)
Prep Time: 25 minutes
Cook Time: 30 minutes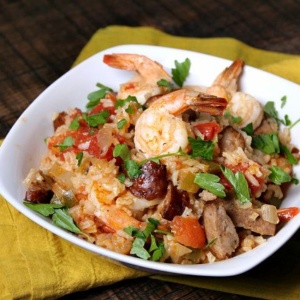 Ingredients:

1 tablespoon olive oil
4 ounces turkey kielbasa, halved lengthwise and sliced (about 1 cup)
1 cup chopped onion
1 cup chopped green bell pepper
1 cup uncooked long-grain white rice
1/4 teaspoon salt
1/4 teaspoon dried thyme
1/8 teaspoon black pepper
1/8 teaspoon ground red pepper
1 cup water
One 15-ounce can low-salt chicken broth
One 14.5-ounce can diced tomatoes, undrained
1 pound medium-sized shrimp, peeled
1/4 teaspoon hot sauce
1 tablespoon chopped fresh parsley

Instructions:

Heat oil in a medium saucepan over medium-heat. Add kielbasa, onion and bell pepper; sauté 5 minutes or until vegetables are tender. Add rice; sauté 2 minutes. Add salt and next 3 ingredients; sauté 1 minute.
Add water, broth, and tomatoes; bring to a boil. Cover, reduce heat, and simmer 15 minutes or until rice is tender.
Stir in shrimp and hot sauce; cover and cook 5 minutes or until shrimp are done. Remove from heat; stir in parsley.

Nutrition:

8 Weight Watchers Freestyle SmartPoints per serving of 2 cups
This recipe can be made gluten-free: just be sure that your ingredients are all GF.
SOURCE: RecipeGirl.com (adapted from Cooking Light)
Here are a few more jambalaya recipes you might enjoy: