As I continue on my lifelong quest to be "skinny," I've come to realize there are some things that I really cannot live without. Cheese and wine are a given. Although I can limit them (or even eliminate them) when I'm watching my intake of calories, I will never choose to give them up completely. Another can't-live-without is bread… of all kinds. French bread, soft rolls, crusty baguettes and banana bread. And finally… I'll never lose that irresistible craving for sweets, so I'll need to continue to include a few sweets where I can- like in this Skinny Chocolate- Caramel Banana Bread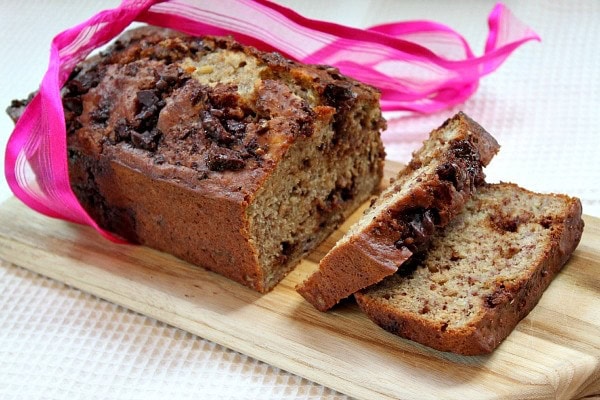 The great thing about turning banana bread into dessert is that you can get a good deal of sweetness from the bananas themselves. Hang on to your bananas until they're almost black. The sweetness of those ugly, black bananas will be a heartsong in your banana bread.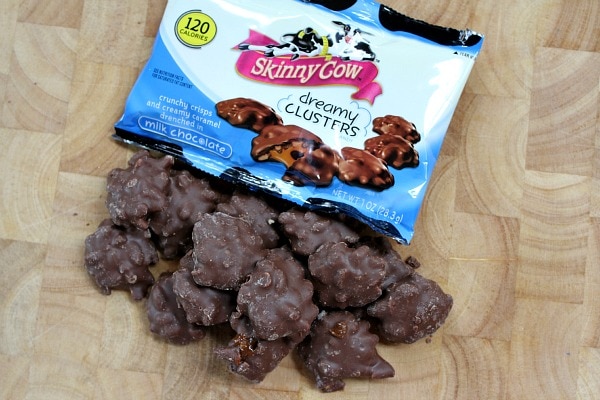 For the sweet chocolate-caramel touch in this bread, I used the Skinny Cow chocolates:  Milk Chocolate Dreamy Clusters.  Have you seen this product in the store?  It's available in the candy aisle, alongside treats that are infinitely more evil.  Grab these instead.  Only 120 calories for this packet of yummies.  It totally hits the spot for a chocolate craving, and because it's sealed into a packet- eating in moderation is something that's taken care of for you!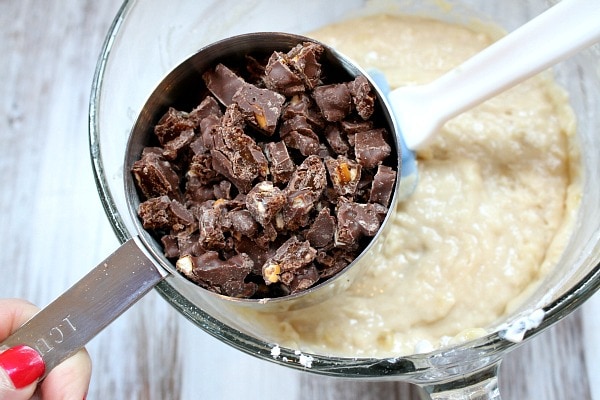 I chopped up the chocolates in 5 packets (there are 6 in the box) to include in this bread.  The bread itself is made light by using less sugar and very ripe bananas, a tiny bit of butter + unsweetened applesauce, egg whites and light sour cream.  The Milk Chocolate Clusters are the luxury piece of the pie here.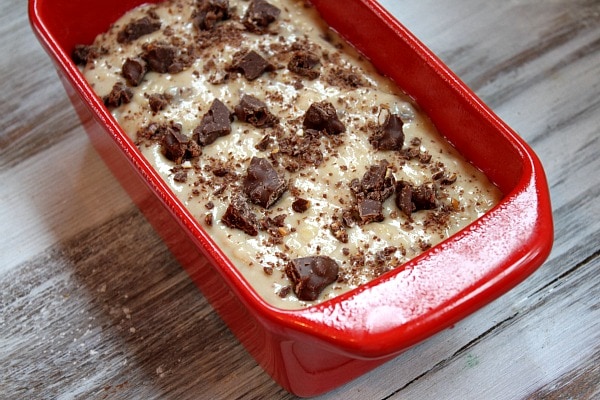 As in true food photographer fashion, a few pieces of chocolate added to the top of the batter is always great for visual appeal too.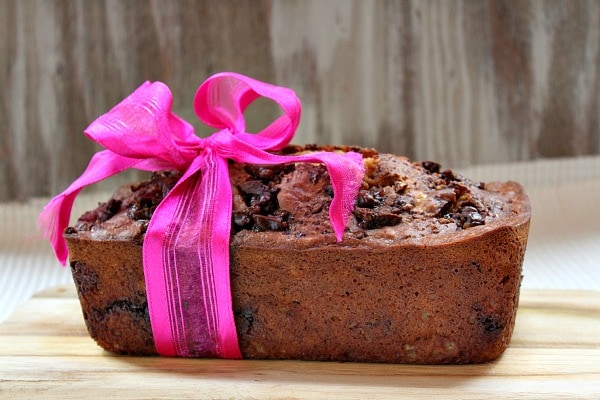 I'm thinking this bread might be a fun gift for the Skinny Valentine in your life.  You know… that Valentine who started a New Year's Resolution and is actually sticking with it?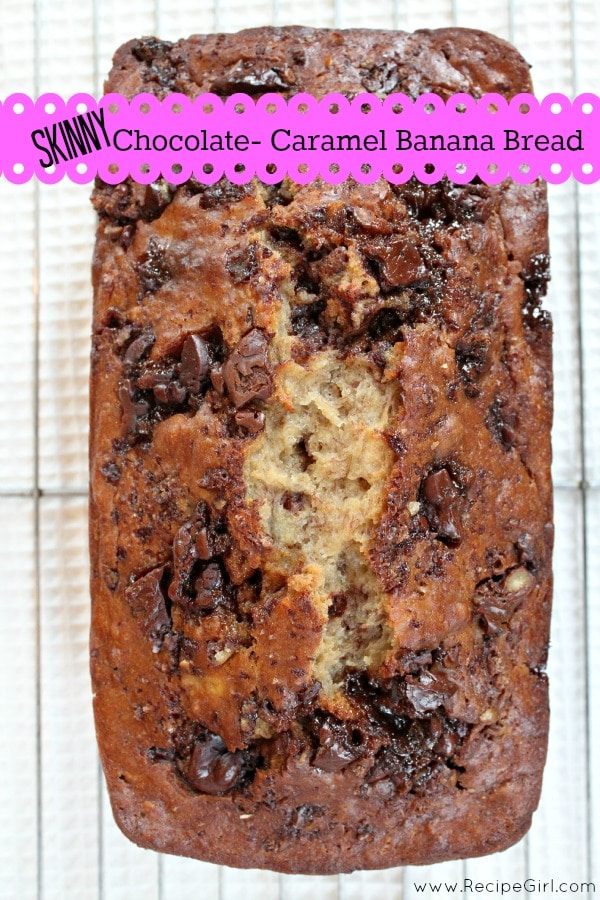 See, I told you about that chocolate on top, didn't I?  When it's scattered about like that, there's a good chance you'll get some in every bite.  And that's a very good thing.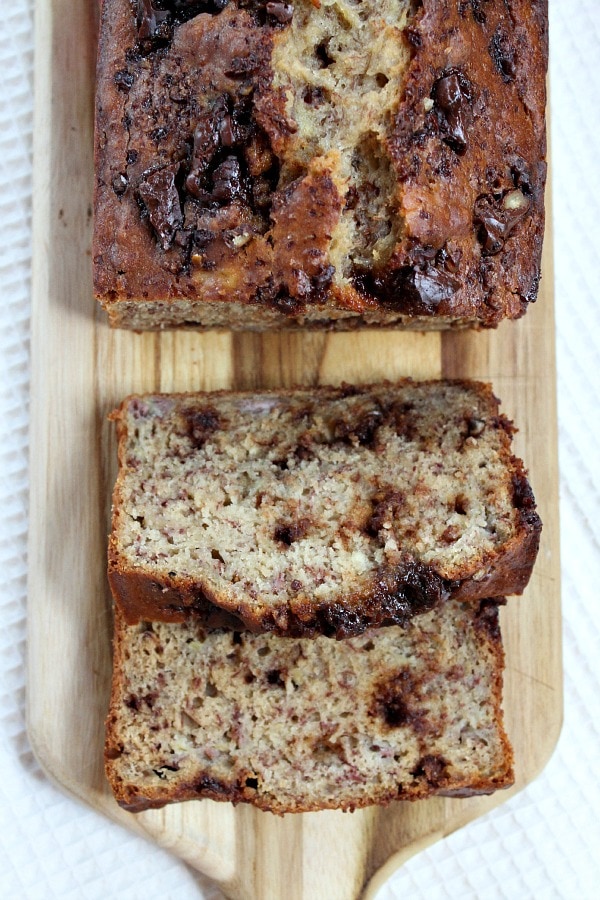 I've included nutritional information in the recipe below for those who are wondering about calories or WW Points. I think it's a pretty good treat for what you get… a nice slice of sweet banana bread with the bonus of added chocolate via the Skinny Cow brand.
And about that quest to be skinny… I'm making some good progress. I've been making good choices (like this bread!), changing up my workouts, and turning my Superwoman willpower on extra-high. I've learned that moderation is KEY, and elimination of favorite foods is impossible and not fun. I've learned that eating cheese and crackers at 5 o'clock every day is probably not a good idea. And I've learned that allowing myself a treat once in a while- like these Milk Chocolate Dreamy Clusters is perfectly okay. To me, they taste just as good as any chocolate-caramel candy bar in the checkout aisle! And although I really don't believe that I'll ever actually be "skinny,"… FEELING skinny is good enough for me.
Skinny Chocolate- Caramel Banana Bread
Yield:
1 loaf (16 servings)
Prep Time: 20 min
Cook Time: 1 hour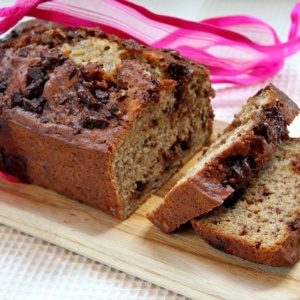 Ingredients:

2 cups all-purpose flour
3/4 teaspoon baking soda
1/2 teaspoon salt
1/3 cup packed brown sugar
1/3 cup granulated white sugar
2 tablespoons softened unsalted butter
2 tablespoons unsweetened applesauce
1 1/2 cups mashed ripe banana (about 3 medium)
1/2 cup egg whites (or 2 large)
1/3 cup light sour cream
1 teaspoon vanilla extract
5 packets Skinny Cow™ Milk Chocolate Dreamy Clusters Candy, chopped

Instructions:

1. Place rack in the center of the oven. Preheat the oven to 350 degrees F. Spray an 8-inch loaf pan with nonstick spray.

2. In a medium bowl, whisk together the flour, soda and salt.

2. In a large bowl, use an electric mixer to combine the sugars, butter and applesauce. Mix in the banana, egg whites, sour cream and vanilla. Blend in the dry ingredients and mix just until combined. Stir in the chopped candy, reserving a few pieces to sprinkle on top.

3. Scrape the batter into the prepared pan. Sprinkle the reserved chocolate pieces on top.

4. Bake for 1 hour (checking at 45 minutes on how much the top has browned... place a piece of foil loosely on top of the loaf if it has already browned nicely on top). At one hour, draw a toothpick or a sharp knife into the center of the loaf to check for doneness. It should come out fairly clean- if not, bake for an additional 5 to 10 minutes until done.

5. Cool in the pan for 10 to 15 minutes, then turn out on a wire rack to cool completely before cutting and serving.

Nutrition:

Nutritional Information per serving: (Using the Spark People Recipe Calculator)
Serving size: 1/16th of the loaf
Calories per serving: 113
Fat per serving: 3.8g
Saturated Fat per serving: 2.4g
Sugar per serving: 16.5g
Sodium per serving: 180.9g
Fiber per serving: 1.5g
Protein per serving: 1.4g
Cholesterol per serving: 7.1mg
Carbohydrates per serving: 22g

WW POINTS per serving:
Points Plus Program: 3 Old Points Program: 2
Disclosure: This post has been sponsored by Skinny Cow, whose products live in my house on a day-to-day basis. I've developed this recipe for Skinny Cow and received compensation to do so. All opinions shared about this product are my own.