Here's an easy recipe for Slow Cooker Korean Beef: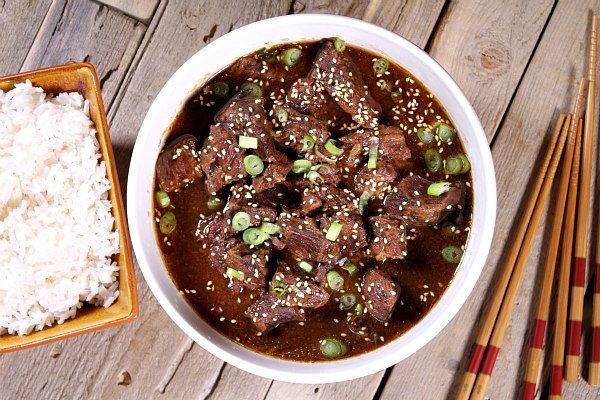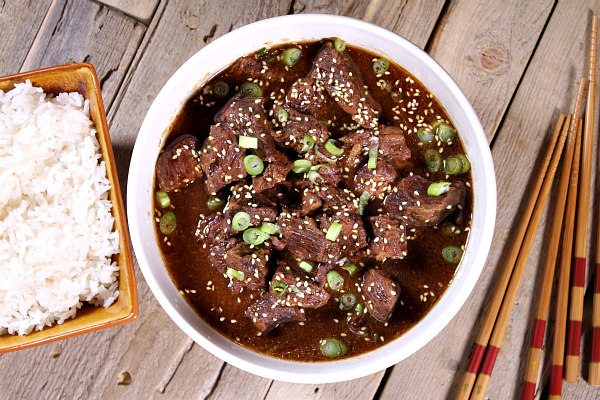 It seems I've been on a major slow cooker crock pot kick lately!  The last few main dish recipes I've shared on RecipeGirl have been made in a slow cooker.
That's what happens to me every single fall season.  My son starts school again, and then I'm crazy with no time to make dinner.  The slow cooker is a rescuer for those busy weeknights!  Scroll to the very end to see the complete, printable recipe.
This recipe comes from a new cookbook by DamnDelicious.net blogger Chungah Ree:  Damn Delicious: 100 Super Easy, Super Fast Recipes.  I just got this book in the mail the other day, and it's a good one- especially if you are always looking for new ideas for really good, quick and easy dinner recipes.  There are big, beautiful photos to accompany almost every recipe.    You'll find breakfast, appetizers/drinks, dinners/sides and desserts in the book.  Add this one to your cookbook shelf for sure.
Here are a few recipes from the book that have caught my eye… that I'll definitely be making:  Spicy Marinara Baked Eggs, Mushroom and Thyme Risotto for One, Honey BBQ Ranch Pork Chops, Avocado Pasta, Zucchini Lo Mein, Slow Cooker Enchilada Orzo, Smoked Salmon Cobb Salad, BBQ Chicken French Bread Pizza, Zucchini Fritters and Strawberry-Pineapple Margarita Slushies.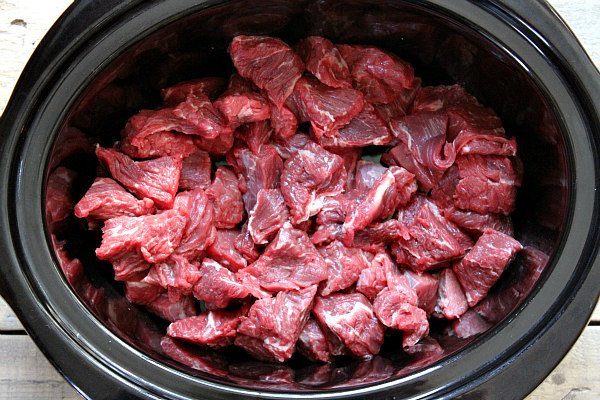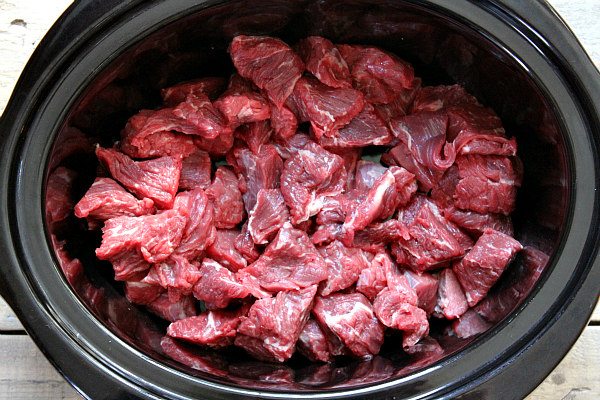 Here's how the recipe begins…
Chop a beef chuck roast into chunks and dump it in the slow cooker.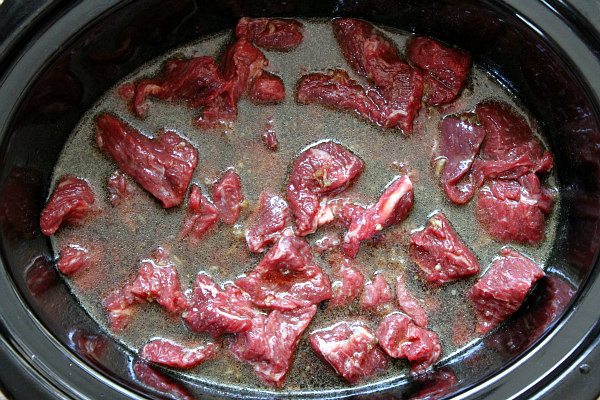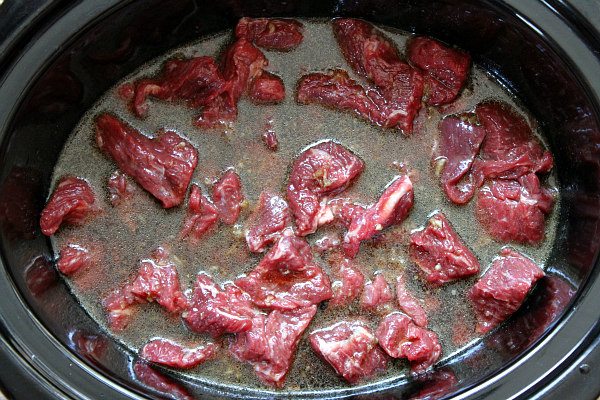 Beef broth is mixed with a few other tasty ingredients and added to the beef in the slow cooker.
That's it.  Yes, it's that easy!  I like to use the low setting and cook for longer rather than use the high setting and try to cook it faster.  I feel like the meat is always a bit more tender when cooked on the low setting.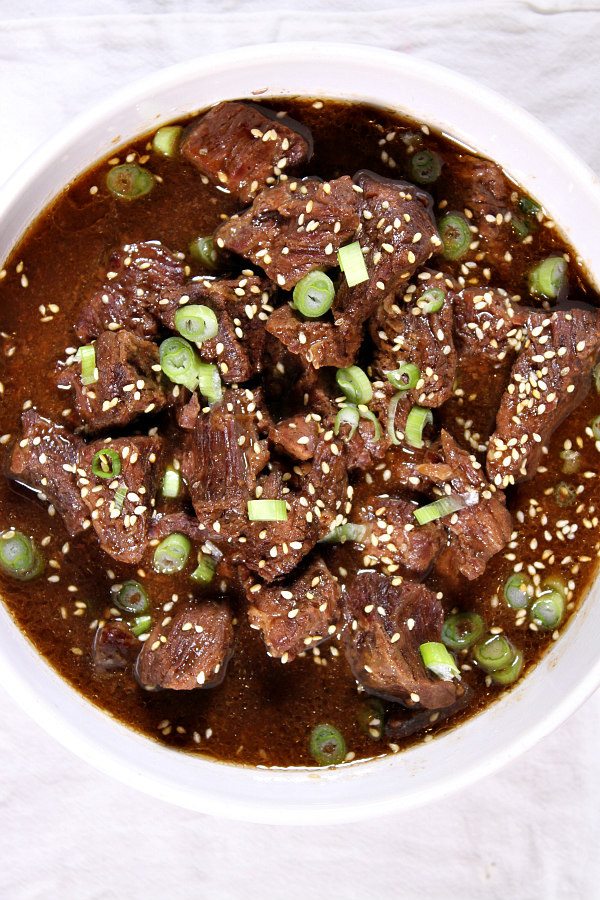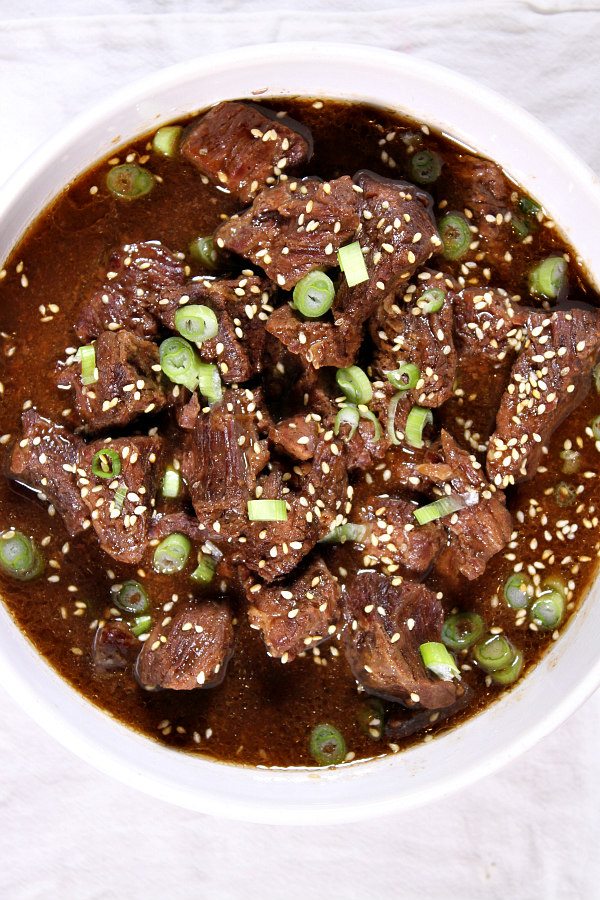 Once the meat is done, a bit of cornstarch slurry is mixed in, then the slow cooker is set for another 1/2 hour.  That will ensure that the sauce gets a bit thicker.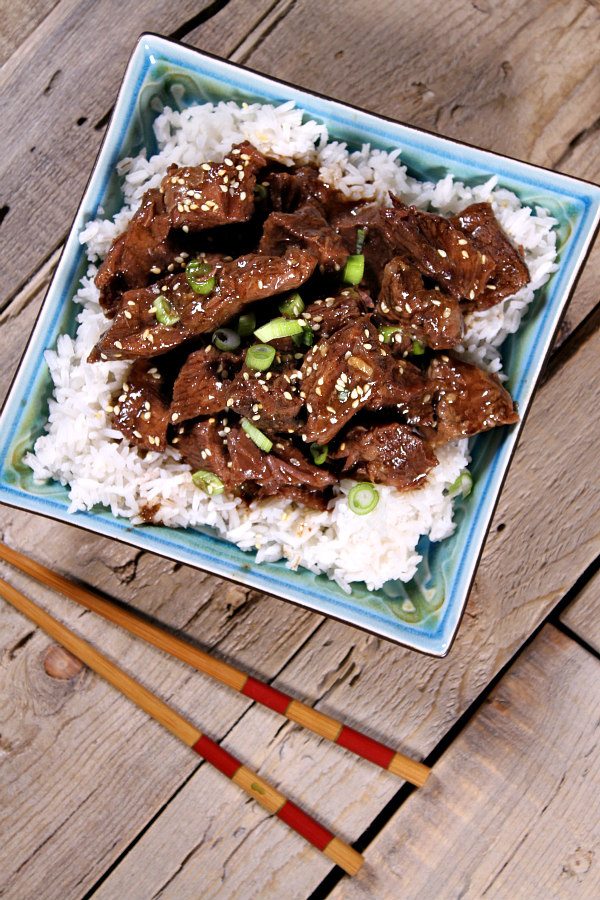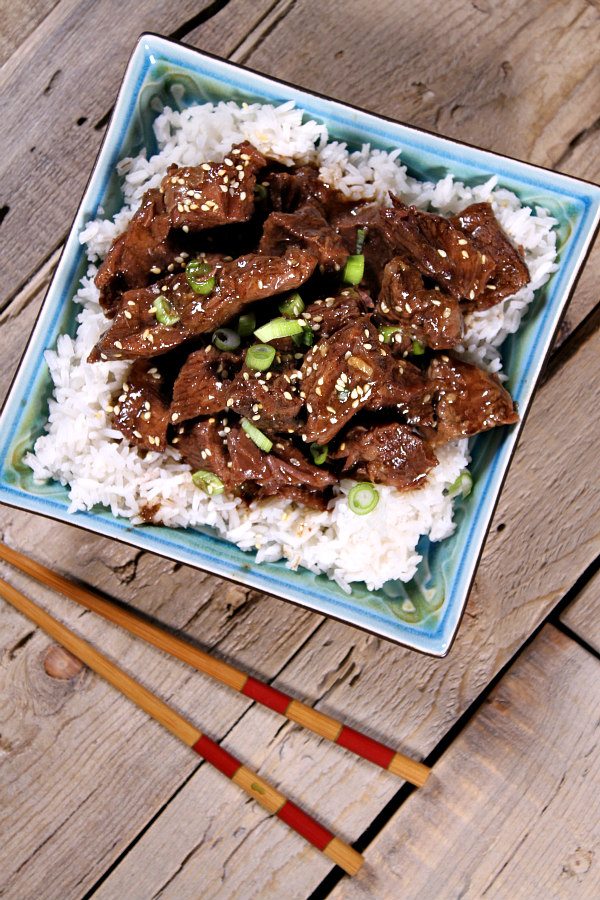 This fabulous slow cooker dish can be served up in a variety of ways.  We loved ours served over hot steamed rice.  You can also consider serving this in lettuce wraps or in tortillas as tacos.  So many ways to enjoy – it's a great, family-friendly, easy dinner recipe!
Slow Cooker Korean Beef
This is wonderful served over hot cooked rice.
Yield:
8 servings
Prep Time: 10 minutes
Cook Time: 8 hours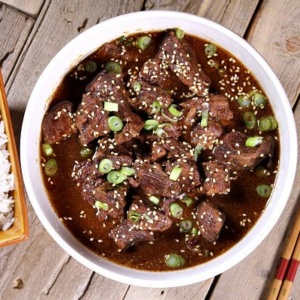 Ingredients:

1 cup beef broth
1/2 cup reduced-sodium soy sauce
1/2 cup packed brown sugar
4 cloves garlic, minced
1 tablespoon sesame oil
1 tablespoon rice wine vinegar
1 tablespoon freshly grated ginger
1 teaspoon Sriracha sauce, plus more to taste
1/2 teaspoon onion powder
1/2 teaspoon ground white pepper
One 3-pound boneless beef chuck roast, cut into 1-inch cubes
2 tablespoons cornstarch
1/4 cup water
2 green onions, thinly sliced, for garnish- optional
1 teaspoon sesame seeds, for garnish- optional

Instructions:

In a large bowl, whisk together the beef broth, soy sauce, brown sugar, garlic, oil, vinegar, ginger, Sriracha, onion powder and white pepper.
Put the roast in a 5 or 6 quart slow cooker.  Pour the broth mixture over the beef.
Cover and cook on low for 7 to 8 hours or on high heat for 3 to 4 hours, or until the cubes of meat are very tender but still retain their shape.
In a small bowl, whisk together the cornstarch and water.  Stir the mixture into the broth in the slow cooker.  Cover and cook on high for an additional 30 minutes, or until the sauce has slightly thickened.
Serve immediately, garnished with green onions and sesame seeds- if desired.

Nutrition:

If you are preparing this recipe as gluten-free, be sure to use GF versions of beef broth and soy sauce.
Nutritional information per serving:  calories 482, fat 26.3g, protein 40g, carbohydrates 19g, fiber 0g, cholesterol 153mg, iron 3mg, sodium 700mg, calcium 40mg
Here are a few more slow cooker recipes you might enjoy:
Disclosure:  This post contains an affiliate link for the purchase of the cookbook mentioned.