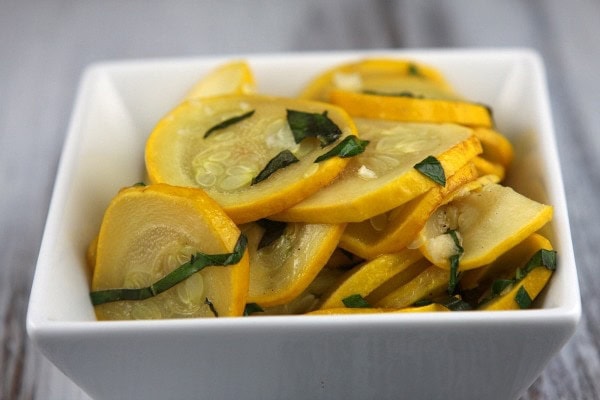 Smothered Yellow Squash w/ Basil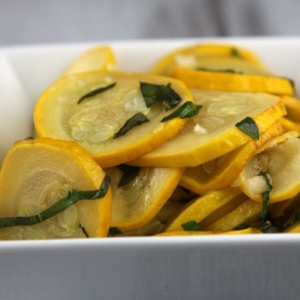 Yield:
4 servings
Prep Time: 10 min
Cook Time: 15 min
Ingredients:
1 Tablespoon olive oil, divided
1 1/2 pounds medium yellow squash, halved lengthwise and cut crosswise into 1/8-inch-thick slices
2 cloves garlic, finely chopped
1/2 cup water
1/4 teaspoon salt
1/8 teaspoon black pepper
1/4 cup finely chopped fresh basil
Directions:
1. Heat 1/2 Tablespoon olive oil in a 12-inch heavy skillet over moderately high heat until hot but not smoking, then add half of squash and sauté, stirring occasionally, until browned, about 5 minutes.
2. Transfer browned squash to a bowl, then heat remaining Tablespoon oil and sauté remaining squash in same manner.
3. Return squash in bowl to skillet. Add garlic and sauté, stirring occasionally, 1 minute. Add water, salt and pepper and simmer briskly, covered, until squash is tender and most of liquid is evaporated, 6 to 7 minutes. Stir in basil; serve.
Nutrition:
Nutritional Information per serving:
Serving size: 1/4th of the recipe
Calories per serving: 60
Fat per serving: 3.71g
Saturated Fat per serving: .52g
Sugar per serving: 2.97g
Fiber per serving: 2.02g
Protein per serving: 2.23g
Carbohydrates per serving: 6.35g
WW POINTS per serving:
Points Plus Program: 2 Old Points Program: 2