A terrific brunch or lunch option:  Squash and Tomato Oven Frittata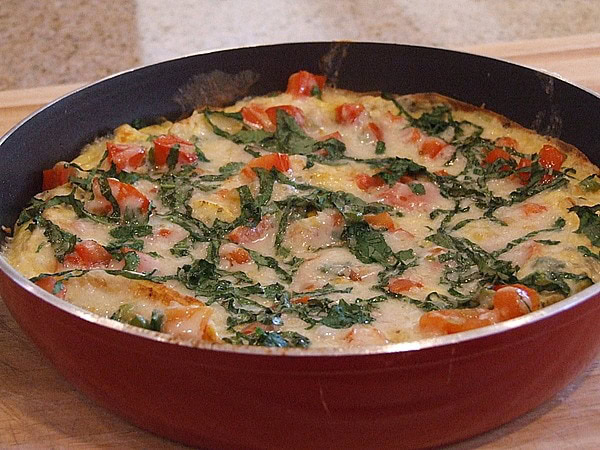 Squash and Tomato Oven Frittata
My husband and I both agree that we would be very happy to get this as an ordered entree in a restaurant. Delicious!
Yield:
6 servings
Prep Time: 30 min
Cook Time: 13 min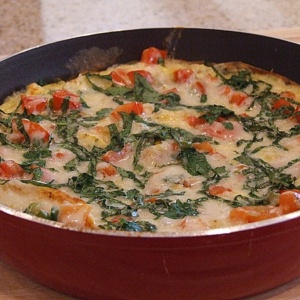 Ingredients:

5 medium zucchini or yellow squash, in any combination (about 1 1/2 pounds total)
1 teaspoon salt
3 Tablespoons olive oil, divided
2 medium shallots or green onions, including green tops, chopped
1 clove garlic, minced
2 medium Roma tomatoes, seeded & diced
6 large eggs
2 Tablespoons freshly grated Parmesan cheese
freshly ground black pepper to taste
1 Tablespoon minced fresh oregano
1/2 cup shredded Gruyère cheese
3 Tablespoons minced fresh basil
2 Tablespoons minced fresh flat-leaf Italian parsley

Instructions:

1. Trim squash and slice very thinly, about 1/4-inch thick. Transfer to a colander, sprinkle with the salt, and set aside to drain for 15 to 20 minutes; rinse and pat dry.

2. In a large skillet, heat 1 Tablespoon of the oil over medium heat. Add squash and sauté until crisp-tender, 4 to 5 minutes. Transfer to a plate lined with paper towels to drain. Add 1 teaspoon of the oil to the skillet and sauté the shallots and garlic for 1 minute. Add the tomatoes and cook until heated through; transfer to a plate and set aside.

3. In a large bowl, whisk the eggs with the Parmesan and pepper. Heat the remaining 5 teaspoons oil in the skillet over medium heat, spread the squash over the pan bottom, and sprinkle with the oregano. Pour in the egg mixture and cook until set, about 5 minutes. Meanwhile, preheat the broiler. Top the frittata with the tomato mixture, Jarlsberg, basil and parsley. Slip under the broiler just to melt the cheese, about 1 minute.

4. Cut into wedges and serve warm or at room temperature.

Tips:

*To seed a tomato, cut it in half crosswise, then lightly squeeze and shake it to dislodge the seeds. Use a finger, if needed, to help dislodge the seed sacs.