A delicious way to eat this squash: Spaghetti Squash with Meat Sauce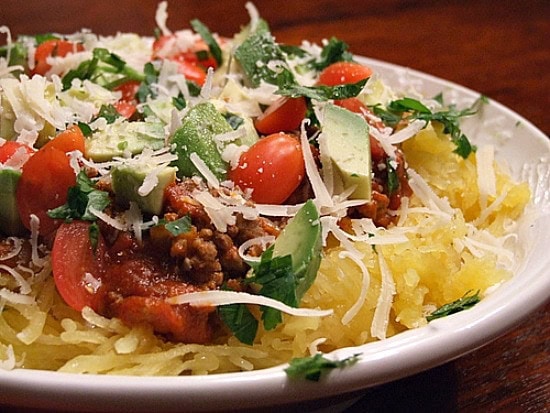 Spaghetti Squash with Meat Sauce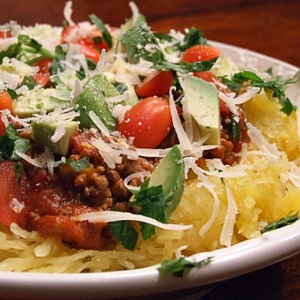 We loved this really *different* main dish recipe. There's a slight cinnamon flavor but not overwhelming, and the avocados are a strange but delicious twist!
Yield:
6 servings
Prep Time:45 min
Cook Time:1 hr, 25 min
Ingredients:
GREEK MEAT SAUCE:
2 tablespoons olive oil, divided
1 large onion, chopped
1 1/2 pounds ground beef or turkey
1 cup water
1 1/2 cans (9 ounces) tomato paste
2 tablespoons red wine vinegar
2 cloves garlic, minced
1 teaspoon salt
freshly ground black pepper, to taste
1 teaspoon whole mixed pickling spices
1/2 stick cinnamon
REMAINING INGREDIENTS:
1 large spaghetti squash (about 3 pounds)
1/4 teaspoon salt
1/4 teaspoon freshly ground black pepper
4 tablespoons (1/2 stick) unsalted butter
1 large avocado, pitted, peeled and diced
12 cherry tomatoes, red or yellow (or a combo. of both), halved
1/2 cup fresh Parmesan or Pecorino Romano cheese shavings
2 tablespoons chopped fresh flat-leaf Italian parsley
Directions:
1. Prepare Meat Sauce: In a large saucepan, heat 1 tablespoon of the oil over medium heat. Add the onion and sauté until translucent, about 5 minutes. Transfer the onion to a plate, leaving the oil in the pan. Brown the meat in the reserved oil over medium-high heat, stirring to break it up into even crumbles. Return the onion to the pan. Add the water, tomato paste, vinegar, garlic, salt and pepper. Tie the pickling spice and cinnamon in a small piece of cheesecloth and add to the stew. Reduce the heat to low, cover, and simmer for 1 hour, stirring occasionally and adding additional water if it threatens to scorch. Discard the cheesecloth.
2. Preheat oven to 350°F. Line a baking sheet with parchment paper. Cut the squash in half lengthwise and scoop out the seeds. Place the squash, cut-side-down, on the prepared pan. Bake until the flesh can be easily scraped into strands with a fork, 50 to 70 minutes. Remove from the oven and let cool slightly. Using a fork, scoop out all the flesh into a bowl and fluff the spaghetti-like strands. Toss in the salt and pepper. Place on a large, warmed platter or the cleaned squash shell.
3. Melt the butter in a small saucepan over medium heat and cook until it turns light brown. Pour over the squash strands. Toss with the fork to blend. Top the squash with the hot meat sauce. Scatter the avocado and tomatoes and tomatoes over and sprinkle with the cheese and parsley. Serve immediately.