Got a cookie craving? You'll love these Soft Almond Butter Cookies with Chocolate and Sea Salt!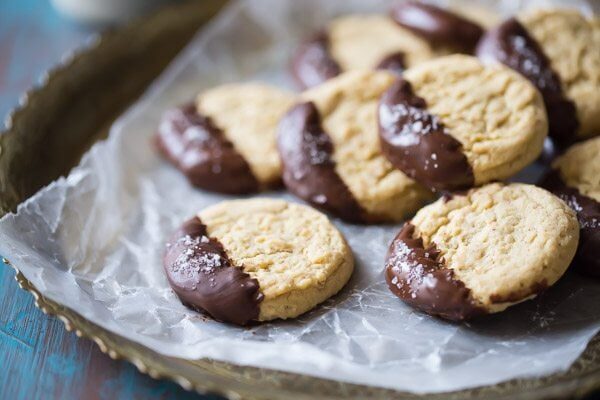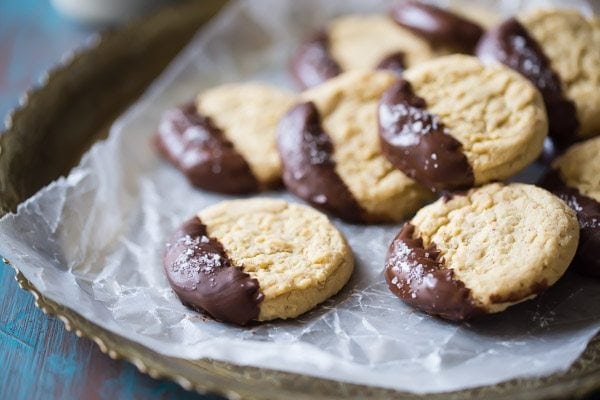 In my opinion, there's just nothing in this world that beats a cookie.  Any time I'm sad, or tired, or stressed, or just need a little pick-me-up, cookies are there for me.  And the same goes for my husband and kids.  Cookies seem to solve all of life's problems.  And these soft almond butter cookies dipped in dark chocolate and sprinkled with sea salt are no exception.
I made this batch a few weeks back, when it was gray and gloomy and all we wanted to do was snuggle under a warm blanket.  With a tall glass of milk, they were just what the doctor ordered, and I think they'd be every bit as good at any time of year.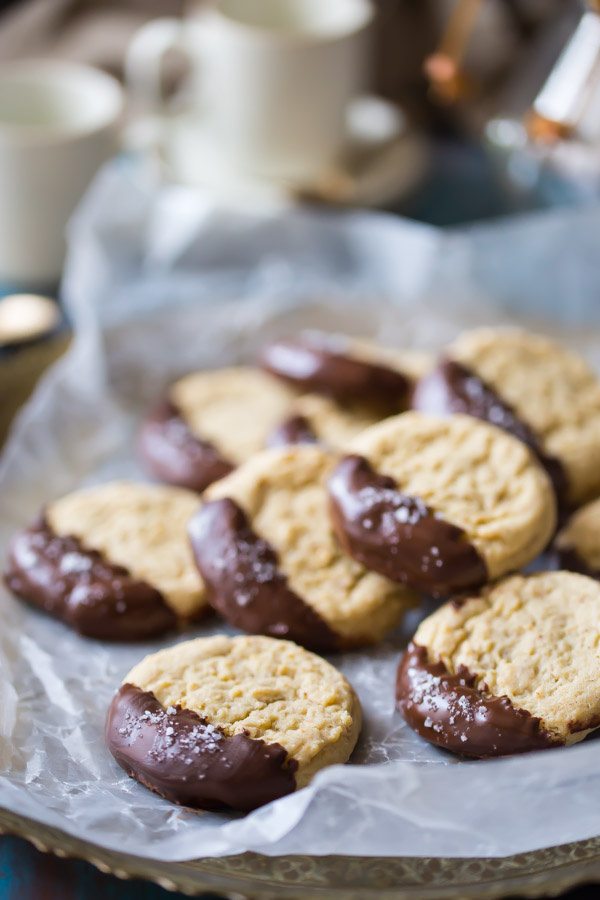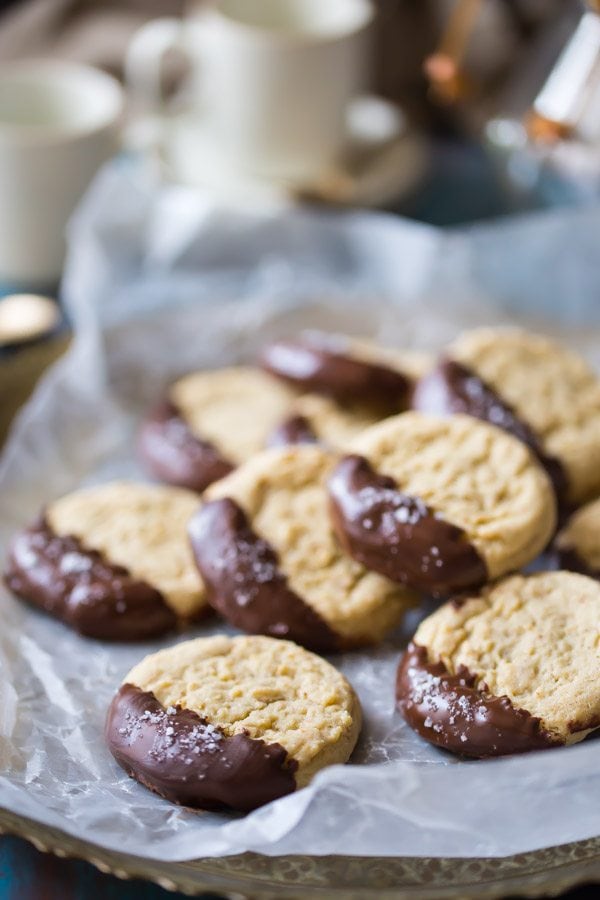 The soft texture is so comforting, and that hint of sweet almond is perfectly balanced by dark chocolate and sea salt.
If you don't keep sea salt in your cupboard, you could easily substitute kosher salt, or any other kind of salt that has larger crystals.  That added crunch that you get is so nice against the creamy chocolate and sweet, soft cookie.
You'll come back to this soft almond butter cookie recipe time and time again!  It's so simple to make and such a treat.  Sure to become a family favorite!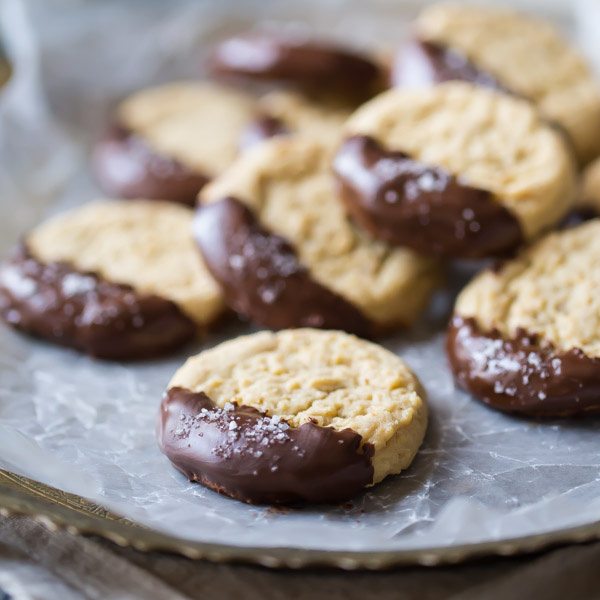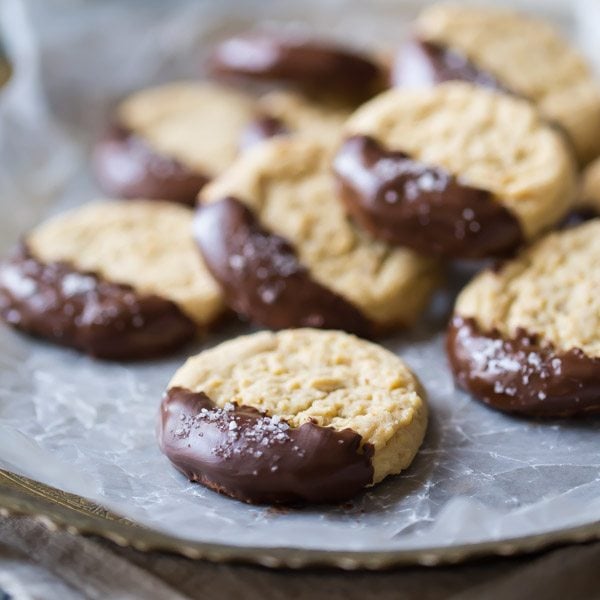 Soft Almond Butter Cookies with Chocolate and Sea Salt
Yield:
about 3 dozen cookies
Prep Time: 40 minutes
Cook Time: 7 minutes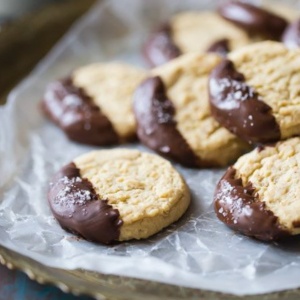 Ingredients:

14 tablespoons (1 stick plus 6 tablespoons) unsalted butter, softened
3/4 cup lightly packed light brown sugar
1/4 cup granulated white sugar
1/2 cup almond butter
1 large Eggland's Best egg
1 large Eggland's Best egg yolk
1 teaspoon vanilla extract
1/2 teaspoon almond extract
2 1/4 cups all-purpose flour
1/4 cup cornstarch
1 teaspoon baking soda
1 teaspoon kosher salt
4 ounces bittersweet chocolate, melted
about 1 1/2 tablespoons sea salt

Instructions:

Preheat the oven to 375 degrees F and line baking sheets with parchment paper.
Place the butter, brown sugar and granulated sugar in a large mixing bowl and use a electric mixer to beat on medium-high speed until very pale and fluffy (3 to 5 minutes).
Stir in the almond butter until incorporated.
Add the egg, egg yolk, and vanilla, beating until completely incorporated.
Scrape the bottom and sides of the bowl with a rubber spatula, then add the flour, cornstarch, baking soda, and salt, stirring on medium-low speed until combined.
 Use a 1 1/2-tablespoon cookie scoop to drop balls of cookie dough onto the prepared sheets, allowing about two inches in between (for spreading).
Use the palm of your hand to press the balls slightly flat.
Bake (one sheet at a time) on the center rack of the oven for 7 to 10 minutes, or until set around the edges and just barely beginning to turn golden.
Cool completely on the baking sheet.
Dip one side of each cookie in melted chocolate, and sprinkle with a pinch of sea salt.
SOURCE: RecipeGirl.com
Here are a few more cookie recipes you might enjoy: