Here's a very filling, delicious and healthy soup recipe:  Southwestern Black Bean Soup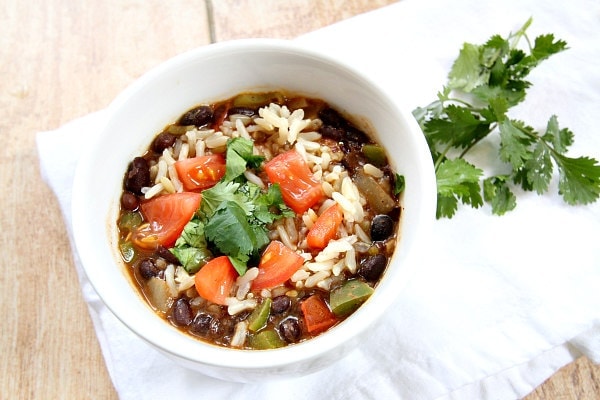 Lately, my thing has been to make a big pot of soup on Sunday and use the leftovers for lunches during the week following.  It's such a great idea!  It's so incredibly easy to heat up soup, it's easy to transport if you're headed to an office outside the home, and it's filling!  Bonus with this recipe- this one is healthy too!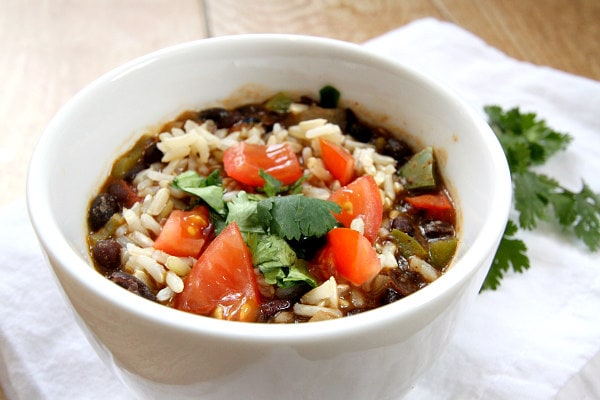 This is a simple black bean soup with brown rice added in.  That brown rice is important because it helps fill you up!  I like to add chopped fresh tomatoes on top.  Tomatoes aren't awesome this time of year, but I buy the little packages of Campari tomatoes, and those are delicious!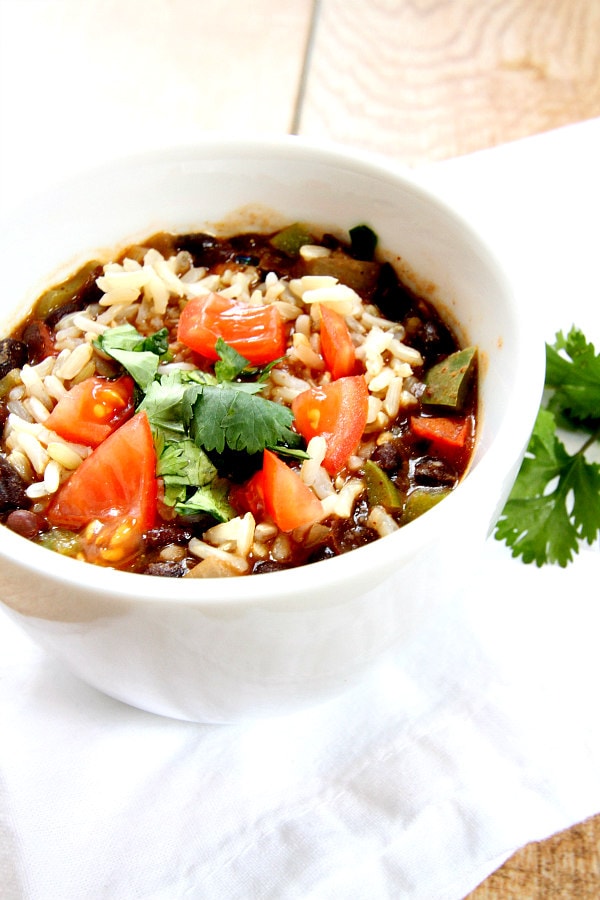 Soup for dinner and leftovers for lunch!  This recipe will make you happy for days 🙂
I've included nutritional information and Weight Watchers Points in the recipe below.  Enjoy!
Southwestern Black Bean Soup
Yield:
4 servings (about 1 1/4 cups)
Prep Time: 20 minutes
Cook Time: 12 minutes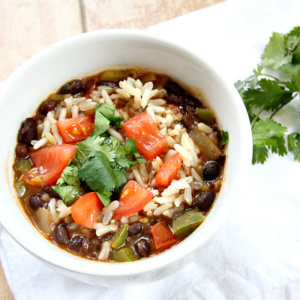 Ingredients:

2 teaspoons canola oil
1/2 large onion, chopped finely
1 large celery rib, chopped finely
1 medium green bell pepper, ribs and seeds removed and chopped
2 garlic cloves, finely chopped
2 teaspoons chili powder
1 1/2 teaspoons ground cumin
Two 15.5-ounce cans black beans, rinsed and drained
One 14.5-ounce can reduced sodium, fat-free chicken or vegetable broth
1 large tomato, chopped
1 cup cooked brown rice
1/4 cup chopped fresh cilantro

Instructions:

In a large saucepan, heat the oil over medium-high heat.  Add the onion, celery, bell pepper and garlic.  Saute for 5 to 6 minutes, or until the veggies have softened.
Add the chili powder and cumin; stir and cook for an additional minute.
Add the beans to the saucepan and mash with a potato masher or large fork (mash some and leave the rest whole).  Stir in the broth and tomato.  Increase heat to high and bring the soup to a boil.  Remove from heat and serve- top each serving with 1/4 cup rice and 1 tablespoon cilantro.

Tips:

If you are preparing this recipe as GLUTEN-FREE, just be sure to use brands of black beans and broth that are known to be GF.

Nutrition:

Nutritional information per serving (serving size about 1 1/4 cups):  Calories: 273, Fat 4.1g, Sat Fat .4g, Cholesterol 2.5mg, Sodium 1234mg, Potassium 1003mg, Carbohydrates 54g, Fiber 12g, Sugar 2.5g, Protein 13.5g
Weight Watchers Points:  Freestyle SmartPoints: 3, SmartPoints: 7, PointsPlus:  7, Old Program:  5
Here are a few more black bean soup recipes you might enjoy: