An Irish recipe for sure, I've turned Spotted Dog Irish Soda Bread into Spotted Dog Scones.  Try this scone recipe for St. Patrick's Day breakfast!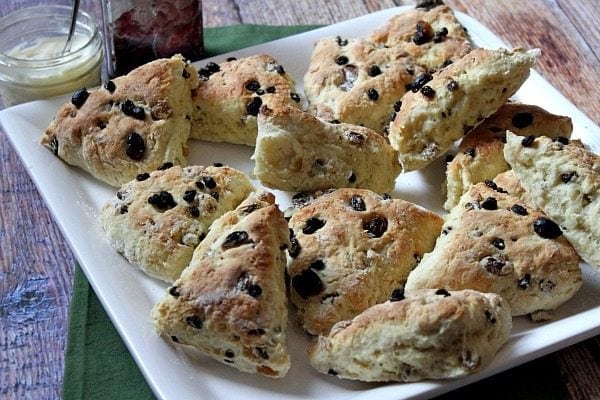 Spotted Dog Irish Soda Bread
This recipe was inspired by the Spotted Dog bread recipe in Rachel Allen's book, Irish Family Food.  They are small, barely sweetened scones spotted full of raisins and currants.  The texture is a lot like Irish Soda Bread.  Fresh out of the oven, they are warm and perfect for pulling apart and eating with butter and honey or jam.  We enjoy them for days after making them though since they warm up easily in the microwave too.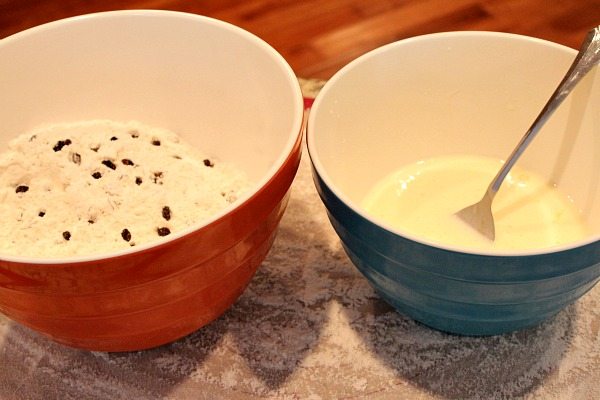 How to Make Scones
Dry ingredients and wet ingredients are mixed separately…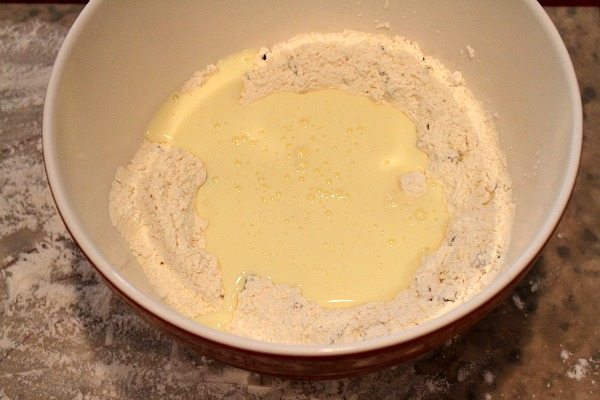 …then they're combined and mixed WITH YOUR HAND.  Rachel suggests moving your hand through the mixture, fingers spread like a rake.  Follow suit, and it will work perfectly.  The reasoning behind this is if the dough is overworked then it will turn out a tougher result.  Gentle hand mixing is best.  It's quite messy, but it works well.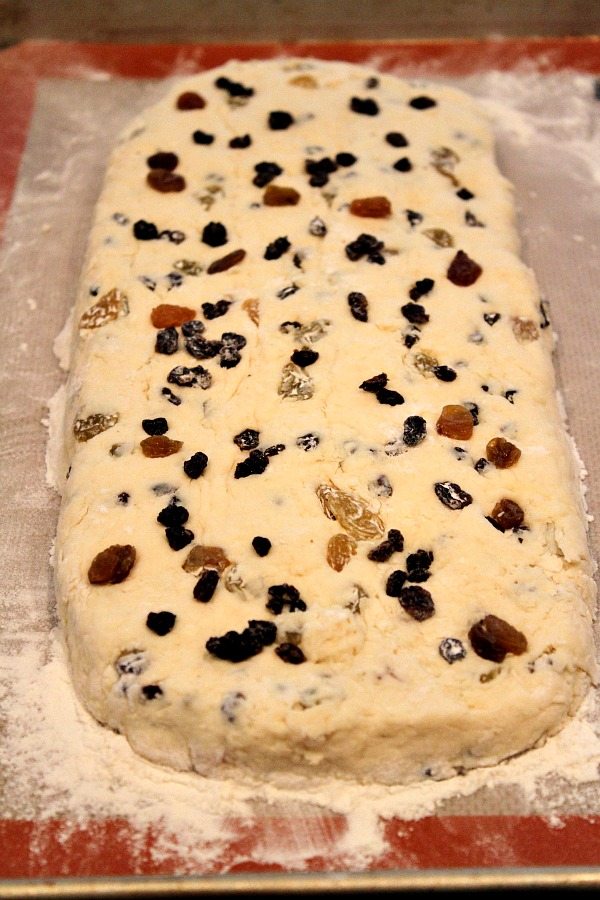 To make mini scones, work the dough carefully into a long rectangle.  Measurement isn't really necessary, but maybe an inch high.  And yes… I cheat and dot some additional raisins and currants on top. After all, I want them to look authentically SPOTTED!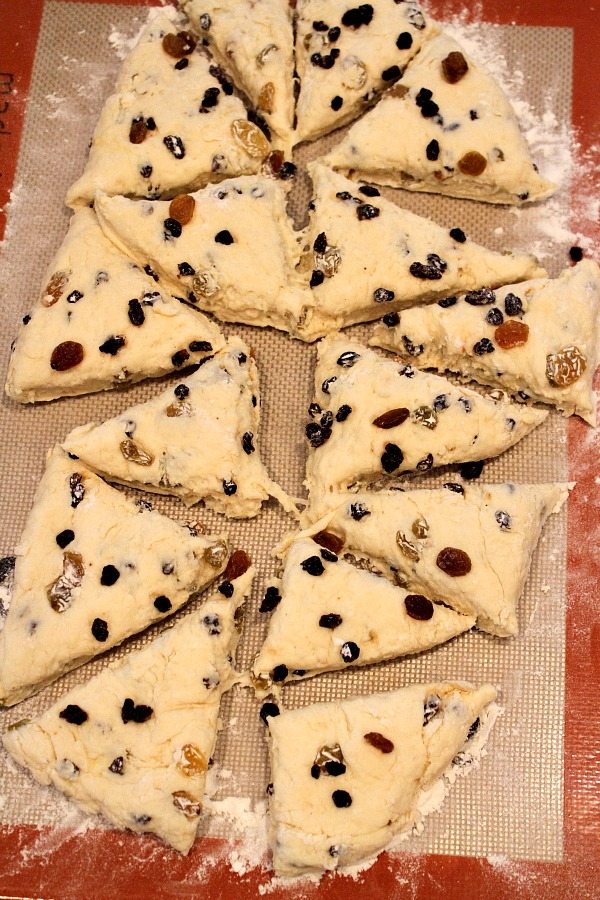 Use a pizza cutter or a knife to cut some haphazard triangles.  Then pull them away from each other a bit.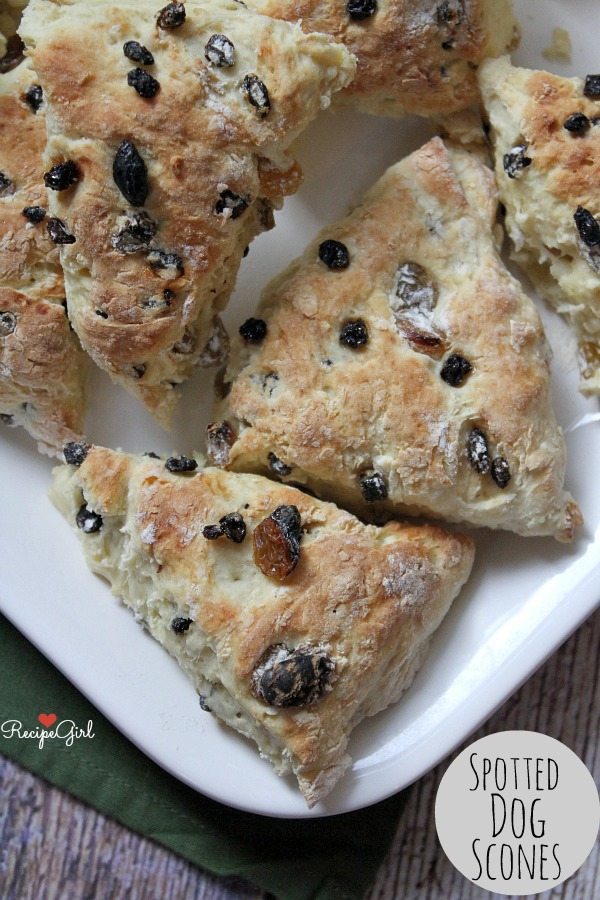 Bake for about 15 minutes and they're all set for dousing with goodies.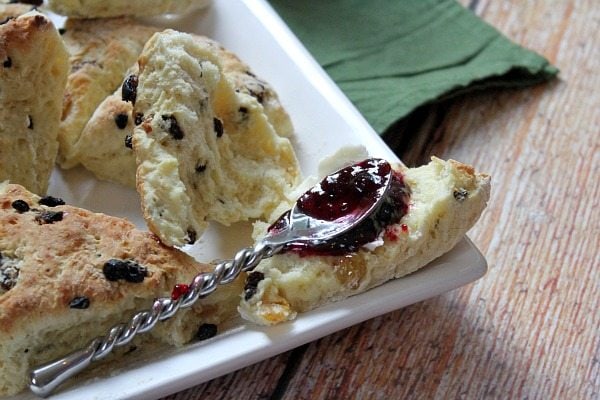 We enjoy ours with (real) butter and a multi-berry jam.  They're mighty good, but you have to know that you're eating an Irish soda bread sort of scone (and not a typical scone that you might buy at a coffee shop).  I think these would be equally good with dried apricots in there too.
Here are a few more recipes for scones you might enjoy:
Spotted Dog Scones
Sharing how to make scones with this recipe for Spotted Dog Irish Soda Bread Scones.
Yield:
14 to 15 mini scones
Prep Time: 15 minutes
Cook Time: 15 minutes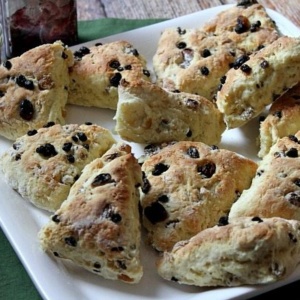 Ingredients:

3 2/3 cups all-purpose flour
1 teaspoon baking soda
1 teaspoon salt
1 tablespoon granulated white sugar
2/3 cup golden raisins
1/2 cup currants
1 large egg
1 2/3 cups buttermilk

Instructions:

Preheat the oven to 450 degrees F. Lightly dust a baking sheet with flour.
Sift the flour, baking soda, and salt into a large bowl. Stir in the sugar and the dried fruit.
In a separate bowl, beat together the egg and buttermilk. Make a well in the center of the dry ingredients and pour in the liquid mixture. Use one hand stretched like a claw to mix the dough and combine until all is moistened (don't try to knead it or it will be too heavy). The dough will be soft but not too wet and sticky.
Scrape the dough out onto a floured surface and bring together a little more, as needed. Transfer the dough to the floured baking sheet and form a long, flat rectangle- about 1-inch high. Cut into mini scones (triangles) using a pizza cutter or a knife. Pull each scone a little bit away from the others. Bake 12 to 15 minutes (or until golden and baked through). Let cool a bit, then serve warm with butter and jam. (re-heat as needed in the microwave)
Disclosure:  There are Amazon affiliate links included within this post.