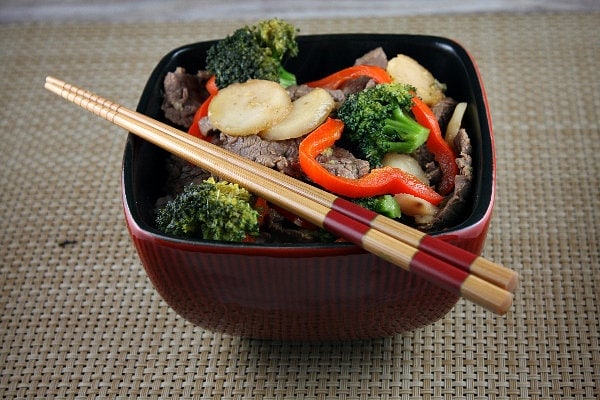 Stir Fried Beef and Broccoli with Orange- Sesame Sauce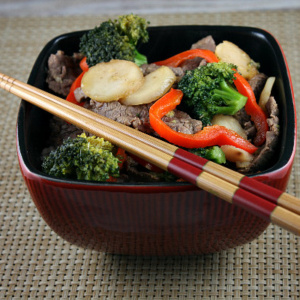 Yield:
4 servings
Prep Time: 30 min
Cook Time: 15 min
Ingredients:
SAUCE:
1/2 cup orange juice (freshly squeezed is best)
1/4 cup low-sodium chicken broth
1/4 cup low-sodium soy sauce
2 teaspoons toasted sesame oil
2 teaspoons cornstarch
STIR FRY:
1 pound flank steak, cut into thin strips
2 teaspoons low-sodium soy sauce
2 tablespoons vegetable or canola oil, divided
3 cups bite-sized broccoli florets
1/2 cup water
1 medium bell pepper, cored, seeded and sliced
One 8-ounce can water chestnuts, drained
3 cloves garlic, minced
1 tablespoon grated fresh ginger
FOR SERVING:
hot, cooked rice
Directions:
1. Whisk together the sauce ingredients in a small bowl. Set aside.
2. Toss the steak with the soy sauce. Heat 2 teaspoons oil in 12-inch nonstick skillet over high heat until just smoking. Add the beef and cook, stirring occasionally and breaking up clumps, until lightly browned, about 3 minutes. Transfer the beef to a clean bowl.
2. Add 1 more Tablespoon of oil to the pan and return to high heat until shimmering. Add the broccoli and water to the pan, cover, and cook until bright green and slightly tender, about 2 minutes. Remove the lid, and add bell pepper and water chestnuts, and continue to cook until the vegetables are tender, about 3 minutes.
3. Clear the center of the pan and add the remaining 1 teaspoon oil, garlic, and ginger. Cook, mashing the garlic mixture into the pan with back of a spatula, until fragrant, about 30 seconds. Stir in the cooked beef. Whisk the sauce to recombine, and add it to the pan- bring it to a simmer. Cook the sauce until thickened, 1 to 2 minutes. Serve immediately over hot cooked rice.
Tips:
*If you are preparing this recipe as gluten-free, just be sure to use brands of chicken broth and soy sauce that are known to be GF.
*Be sure to slice the beef thin against the grain to prevent it from becoming tough.
*An easy way to grate fresh ginger:  Toss it in the freezer for about 1/2 hour before you need to use it.  Once firm, it will be easier to peel and grate.