Strawberries are gloriously sweet, plentiful (and cheap!) right now here in Southern California. I hope you can find them where you are too. My Mother-in-Law took my son strawberry-picking last weekend, and they came home with some delicious bites of this red-ripe fruit. The smaller the strawberry, the sweeter it is… in my experience. What a perfect excuse for me to make Strawberry Shortcake! I decided to give the cake itself a brown-butter spin (because who doesn't love brown butter, right?)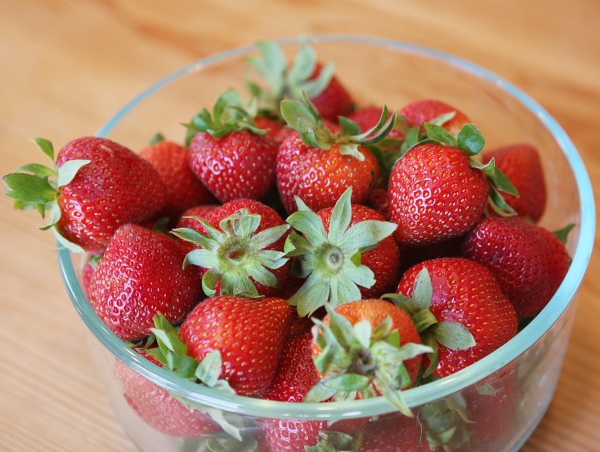 Here's the how-to: I'm going to show you how to make a strawberry sauce. You can skip this step and just use freshly sliced strawberries, or you can make this simple, delicious sauce with chunky strawberries.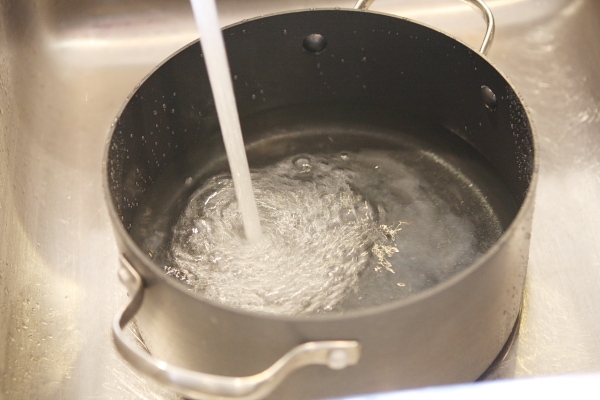 Fill a pot with 1 inch of water and set it on the stove to simmer.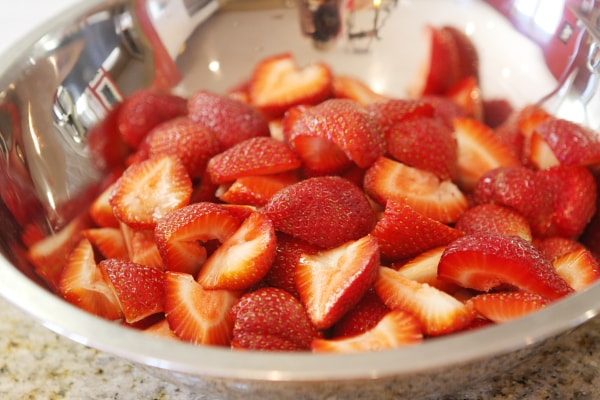 Chop up a whole bunch of your fresh strawberries and place them in a stainless-steel bowl.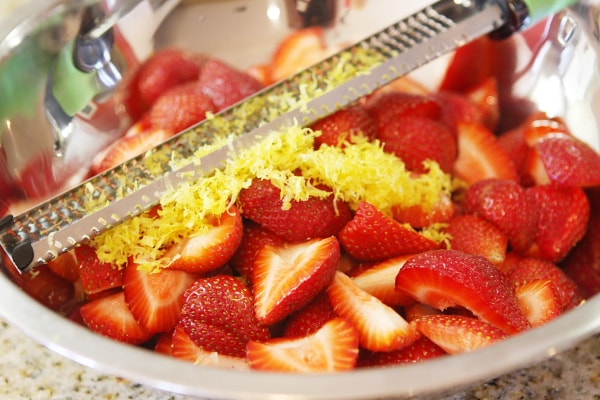 Add the zest of a lemon.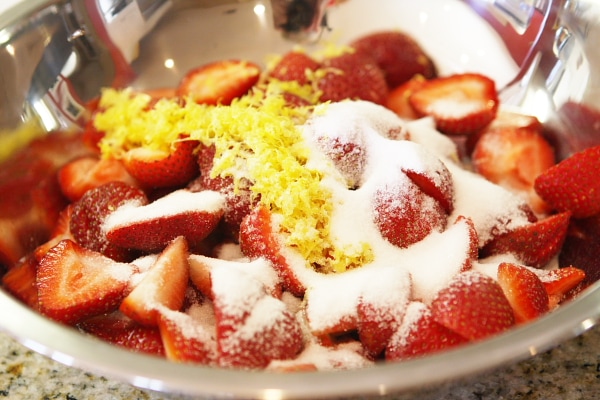 Add some sugar too. Just a little bit will make it syrupy and sweet.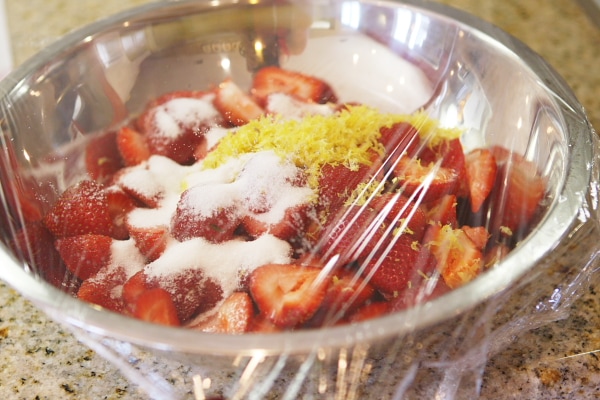 Cover the bowl with plastic wrap.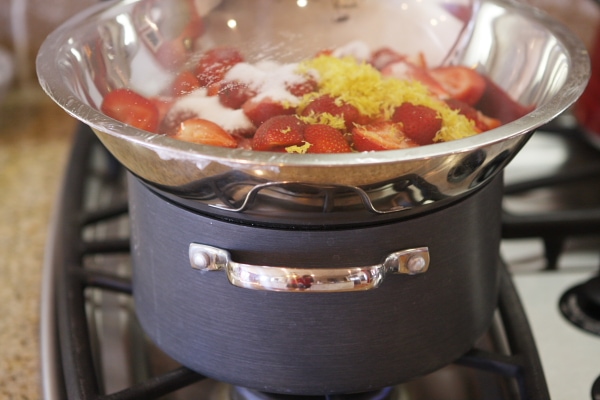 Place it on top of the pot of simmering water and let it "cook" for about 20 minutes.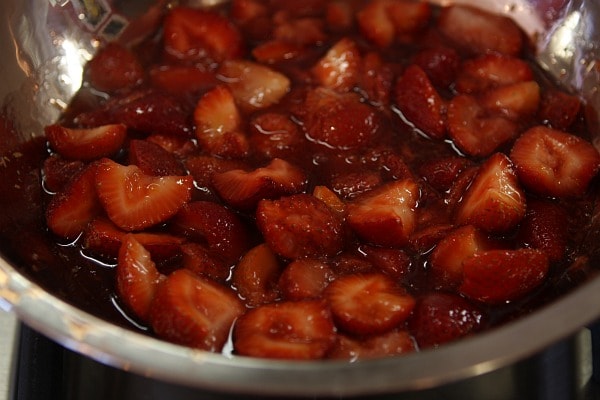 The strawberries are magically transformed into a wonderful strawberry sauce.
While the strawberries are simmering, you can brown the butter…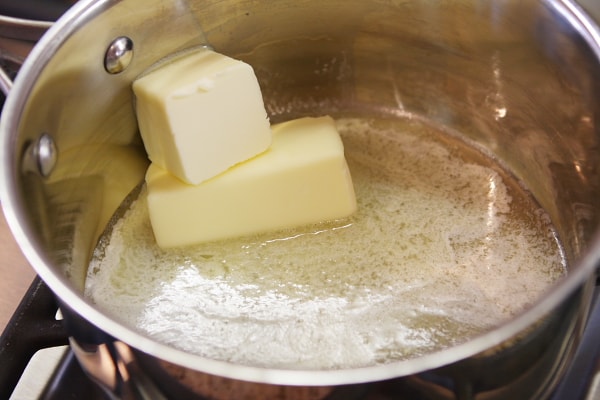 Melt butter in a medium saucepan.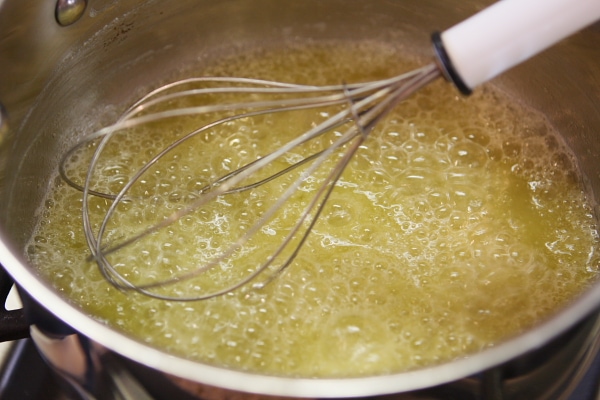 Bring it to bubbly and whisk it constantly…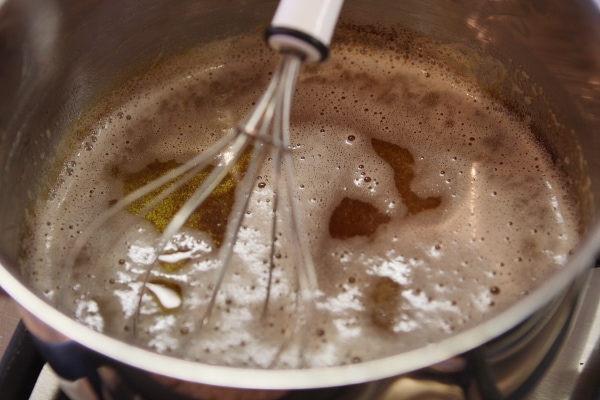 …until it turns golden brown and smells deliciously nutty. Yank it off the heat at this point and let it cool.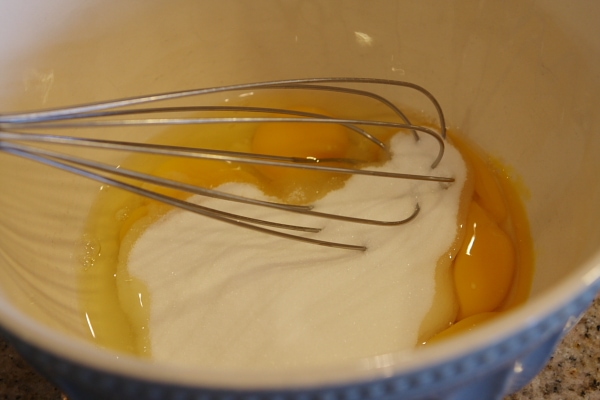 Whisk eggs and sugar together in a large bowl.
Then switch to an electric mixer and beat on high until mixture is thick and turns pale.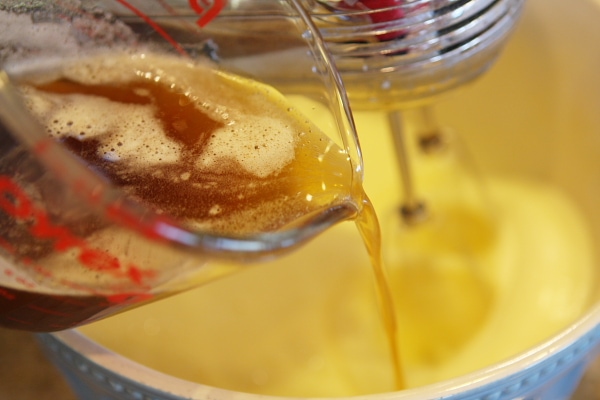 Slowwwwwwly pour in the brown butter while the mixer is on low speed.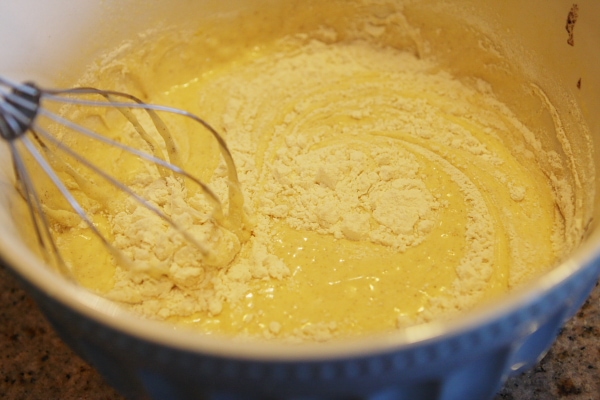 Then add in a little bit of the dry ingredients…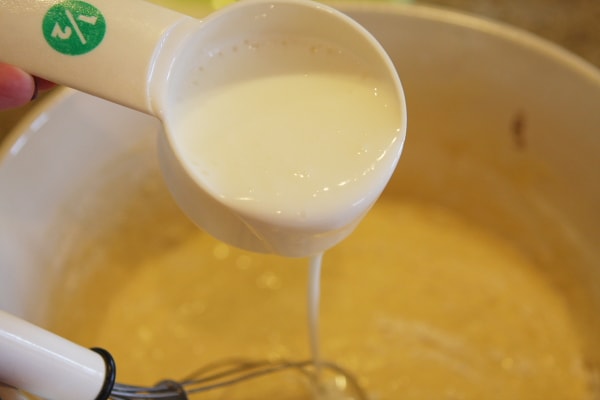 …followed by half the buttermilk. And then repeat flour, buttermilk, flour, until all is mixed up nicely.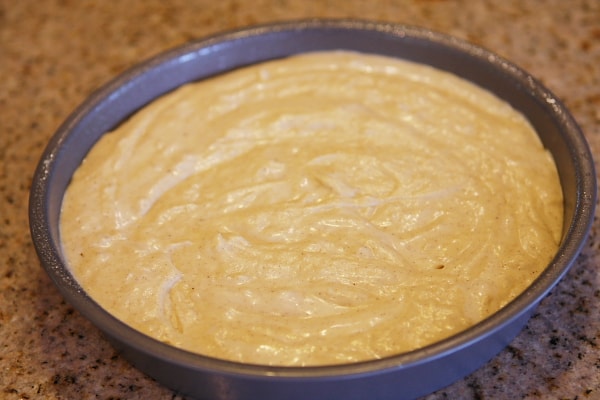 Pour the batter into a round cake pan. Bake.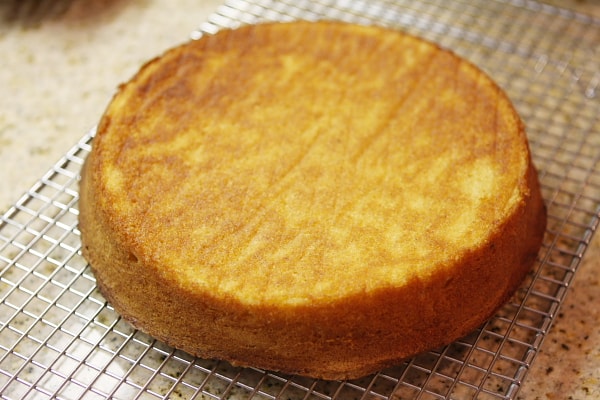 Dump it onto a rack and let it cool.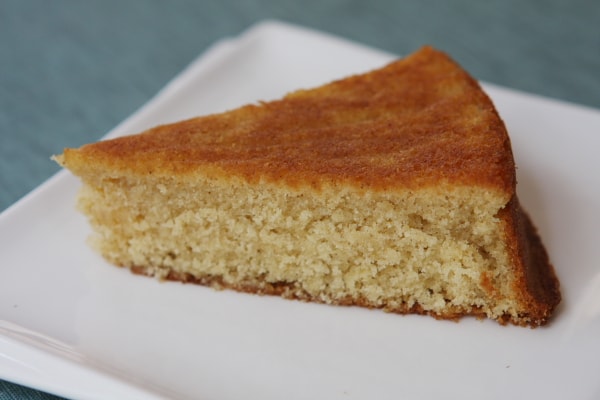 Serve it up. Start with a wedge of cake.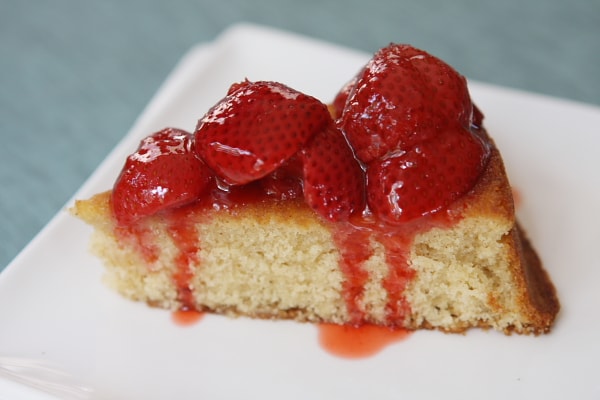 Spoon strawberries on top, letting the syrupy juices drizzle down the sides.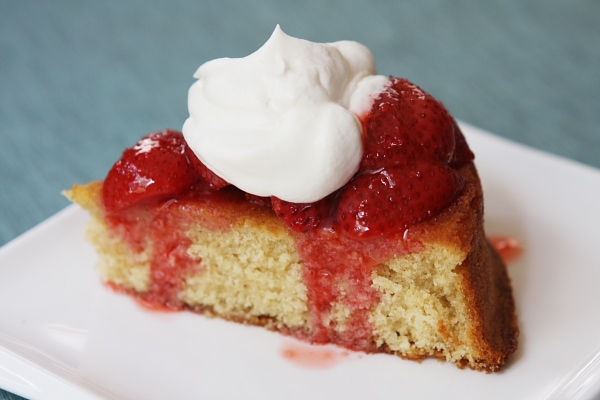 Top with whipped cream.
Add a sprig of mint to make it all pretty.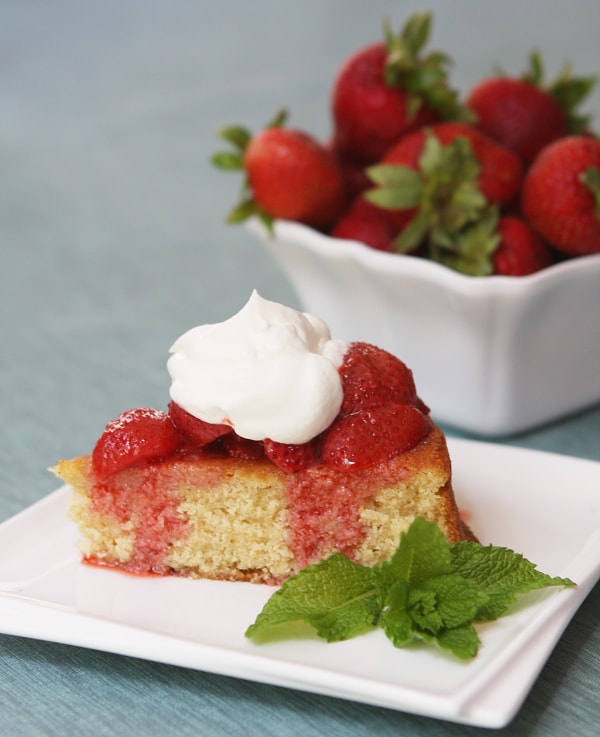 And you've got yourself some Strawberry Shortcake all ready to eat 🙂 I could have eaten this brown butter cake all on its own. Sometimes you can't detect brown butter all that much in certain recipes, but in this cake… oh la la- I loved it. I could certainly taste the brown butter (one of my favorite flavors ever) and it was the perfect platform for the strawberry sauce and whipped cream. My son was entirely thrilled that I created a recipe with his bucket of hand-picked strawberries too 🙂
Strawberry and Brown Butter Shortcake
The brown butter lends fabulous flavor to an otherwise bland shortcake. Make the strawberry sauce, as directed, or simply use freshly sliced strawberries to top this cake.
Recipe Details
Ingredients
STRAWBERRY SAUCE
2

pounds (6 cups)

strawberries,

hulled and quartered (if large)

1

medium

lemon,

zested

¼

cup

granulated white sugar
SHORTCAKE
¾

cup (1½ sticks)

unsalted butter

1

cup

all purpose flour

4

large

eggs

1

cup

granulated white sugar

1

teaspoon

baking powder

¼

teaspoon

salt

½

cup

buttermilk

1

cup

whipped cream,

for serving
Instructions
STRAWBERRY SAUCE
Fill a large pot with one inch of water and bring to a simmer.

In a medium stainless steel bowl, combine strawberries, lemon zest and ¼ cup sugar. Cover with plastic wrap and place the bowl on the pot of simmering water (the water should not be touching the bottom of the bowl). Let strawberries cook for 20 minutes.

Remove the bowl from the pot; refrigerate until chilled (may be made one day ahead).
SHORTCAKE
Brown the butter: In a small sauce pan, melt the butter over medium high heat. Simmer, whisking constantly, until butter is a golden-amber color and smells nutty, about 4 to 6 minutes (you'll begin to see browned bits floating in the bottom of the pan). Reduce heat if it's boiling too rapidly. Watch the butter closely as it turns from browned to burnt rather quickly. Remove from heat and let cool.

Prepare the pan: Preheat the oven to 350 degrees F. Place 9 or 10-inch cake pan on parchment paper, trace a circle and cut out. Spray the pan with nonstick spray, then place the round piece of parchment into the bottom of the pan and spray one more time. Sprinkle a couple of spoonfuls of flour into the pan, tap and coat bottom and sides of the pan and discard any excess flour.

Prepare the cake: In a large bowl, whisk eggs and 1 cup sugar vigorously for about 2 minutes. The mixture will be bright yellow. Set whisk aside and use electric mixer to whip the eggs & sugar on high speed until the mixture is thick and paled in color (2 to 3 minutes more). Reduce speed to low and slowly add in the cooled brown butter. Make sure you scrape in all of the brown bits too.

Sift flour, baking powder and salt together. Using a whisk, gently stir in one-third of dry ingredients into the batter, then half the buttermilk. Repeat, ending with the last third of the dry mixture. Scrape the batter into your prepared pan. Bake until the cake sides pull away from the pan and a toothpick inserted into the center comes out clean, about 25 minutes for a 10-inch pan and about 40 minutes for a 9-inch pan. If the cake appears to be browning too quickly, cover lightly with foil in the last 10 minutes of baking. Let cake cool on a wire rack for about 20 minutes before removing from pan. Run a knife around the edge of the pan and invert it onto a wire rack to cool completely.

Cut wedges and serve topped with strawberry sauce (or simply sliced fresh strawberries) and whipped cream.
Notes
Note:

If you use a 9-inch pan... make sure it's one that has tall sides. I used a regular 9-inch pan and it worked just fine, but the cake definitely rose to the top of the pan (it did not spill over the sides, thankfully!)
Nutrition
Serving:
1
serving
,
Calories:
350
kcal
,
Carbohydrates:
43
g
,
Protein:
5
g
,
Fat:
19
g
,
Saturated Fat:
11
g
,
Polyunsaturated Fat:
1
g
,
Monounsaturated Fat:
5
g
,
Trans Fat:
1
g
,
Cholesterol:
118
mg
,
Sodium:
145
mg
,
Potassium:
212
mg
,
Fiber:
2
g
,
Sugar:
31
g
,
Vitamin A:
624
IU
,
Vitamin C:
55
mg
,
Calcium:
77
mg
,
Iron:
1
mg