Is it hot where you live? Really hot? Like so hot that you want to stand in a bucket of ice water 24/7? If so, you need ice cream, and you need it now. Lucky for you, I made you some: Strawberry Cookies and Cream Ice Cream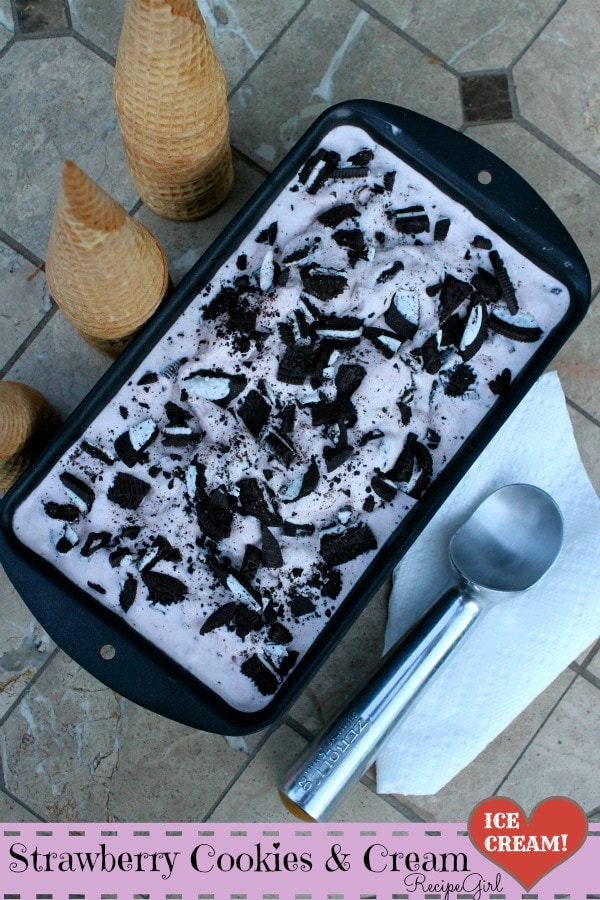 I've never been such a super big fan of strawberry ice cream. I'd never buy it at the store, I'd never order it at an ice cream shop, and I'd be resistant to eating it in a restaurant too. Fruit-flavored ice cream has just never been all that appealing to me, in general. But this ice cream… is different. Totally. It has transformed me into a strawberry-ice-cream-lover indeed. Maybe it's because I added cookies to it? In any case, it's darn good.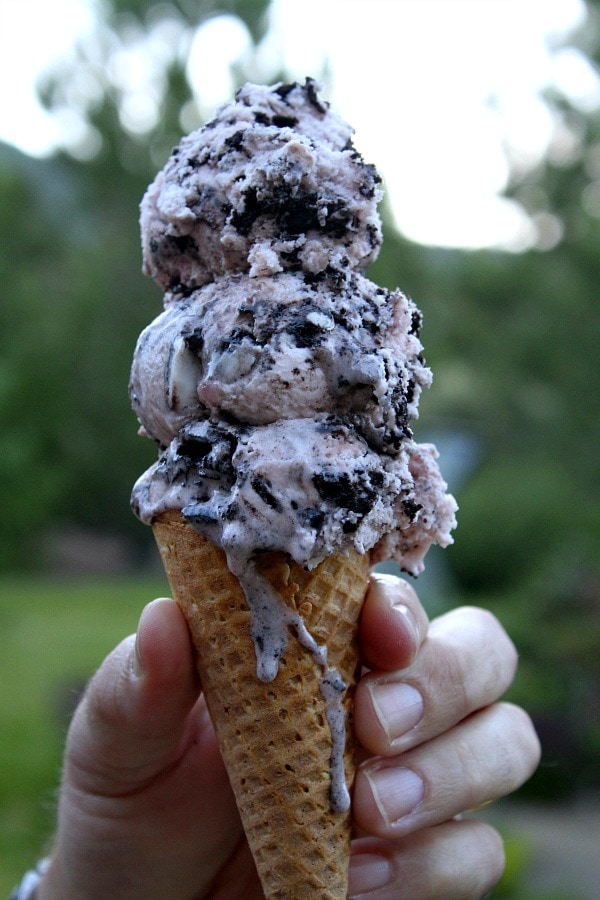 I explained to my husband that this ice cream was so good that he was going to want three scoops. And then I made him hold the cone up in the air like this while it melted through his fingers so I could snap a few photos.
So… kind of a crazy story: Our next door neighbors in San Diego moved up to the area of Reno/Tahoe that we did. On the same day. We both fell in love with the area and uprooted our San Diego lives to create new adventures in the mountains of Nevada. Isn't that kind of crazy?? We love being up here together, and so do our kids. My RecipeBoy Brooks is the big guy and our neighbors have these other cuties. They all liked my ice cream a lot 🙂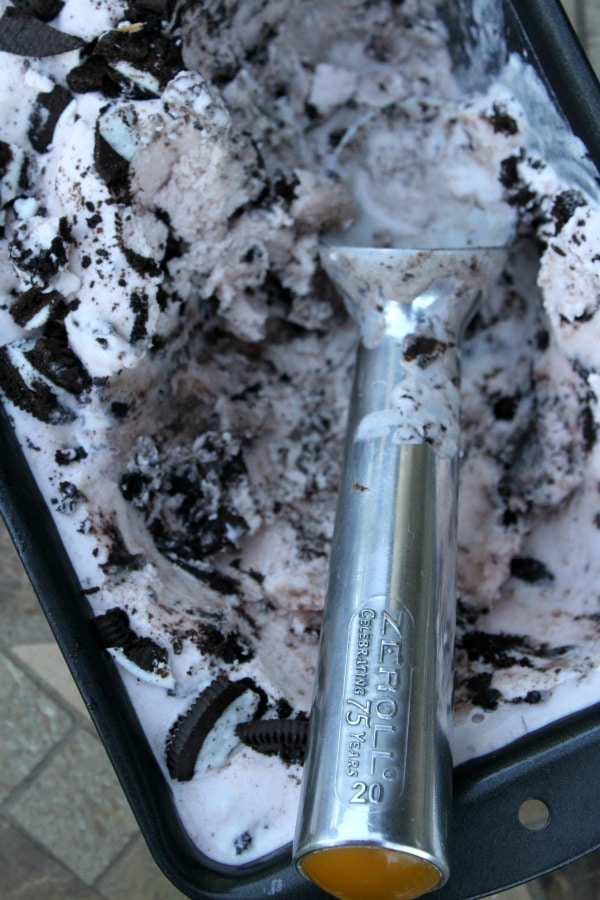 I guess if you add Oreos to things… pretty much anything, it's going to make it that much more delicious. Oh yeah, and I forgot to mention that while we were in the backyard eating ice cream cones, a BEAR was in our friend's garage trying to get into the trash. So we learned three things that night: 1. Don't leave the garage open at dusk. 2. When you hear the dog barking hysterically, you should probably be clued in that there is a wild animal of some sort lurking around. 3. Homemade ice cream makes everyone happy.
The ice cream maker I recommend (everyone should have one!): Cuisinart 2 Quart Ice Cream Maker
And this ice cream scoop is the best scoop EVER… it's life-changing for ice cream lovers: Zerolli Ice Cream Scoop
The scoop is expensive, and I thought I must be crazy for buying it (someone told me I had to get it), but I seriously LOVE it.
Strawberry Cookies and Cream Ice Cream
The perfect combination of two favorites: strawberry ice cream and Oreos.
Recipe Details
Servings:
16
servings (½ cup each)
Ingredients
2

cups

heavy whipping cream

1

cup

half and half cream

1

cup

milk

(whole, 2%, nonfat... whatever you have)

1

cup

granulated white sugar

1

pinch

salt

1

teaspoon

vanilla extract

2

cups

sliced fresh strawberries

24

whole

Oreos (or another chocolate sandwich cookie),

crushed or chopped
Instructions
Make sure you freeze your ice cream maker container for a full 24-hours before attempting to make ice cream.

In a large saucepan, heat heavy cream, half and half, milk and sugar. Stir until dissolved, and then remove from heat and let cool. Once cooled, stir in salt and vanilla.

Place strawberries in a blender or food processor (you want to pulverize them, not leave chunks). Add about 2 cups of the liquid mixture and process until smooth. Combine this mixture with the rest of the liquid mixture and refrigerate until completely chilled (several hours, or overnight). Don't even think about tasting it at this point, or you'll be tempted to pour it into a glass and suck it out with a straw. 🙂

Process the ice cream base in your ice cream maker, according to instructions. You may have a tad too much base on your hands, depending on the size of your ice cream maker, so be careful pouring it in. Process for 25 to 35 minutes, until creamy and thick. Stir in the Oreos when finished. Transfer to a freezer-safe container and freeze until it becomes a more solid ice cream consistency. Scoop and serve, when ready!
Nutrition
Serving:
1
serving
,
Calories:
265
kcal
,
Carbohydrates:
28
g
,
Protein:
3
g
,
Fat:
16
g
,
Saturated Fat:
9
g
,
Polyunsaturated Fat:
1
g
,
Monounsaturated Fat:
5
g
,
Trans Fat:
0.01
g
,
Cholesterol:
41
mg
,
Sodium:
92
mg
,
Potassium:
146
mg
,
Fiber:
1
g
,
Sugar:
23
g
,
Vitamin A:
519
IU
,
Vitamin C:
14
mg
,
Calcium:
62
mg
,
Iron:
2
mg