Strawberry Sandwich Cookies are a classic, holiday cookie recipe.  Add them to your holiday baking list!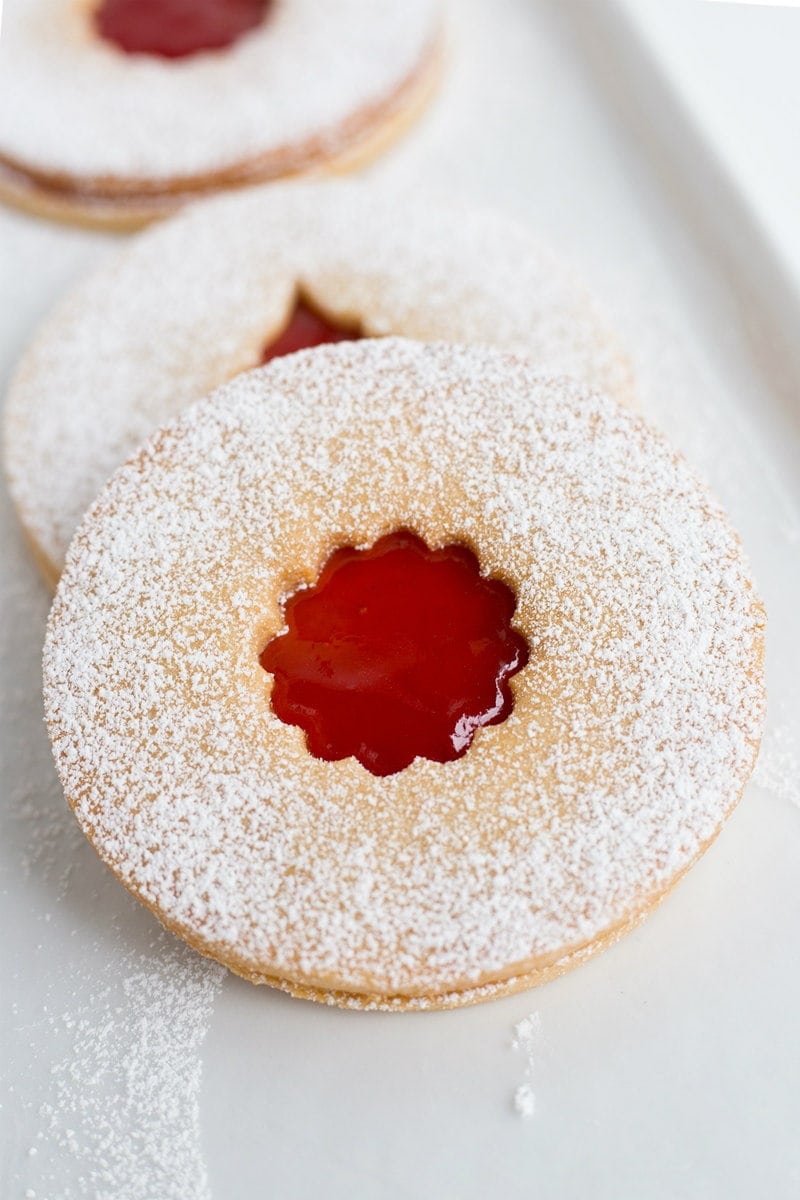 I have so many delicious cookie recipes on my site.  A lot of them are classic cookies that you might want to bake on any given weekend.  And others are specialty type cookies– cookies that might be good for Valentine's Day or Christmas or other holidays.
These Strawberry Sandwich Cookies are perfectly pretty for Christmas.  They'd be such a gorgeous addition to your holiday cookie platters.  And they'd be especially welcome at a holiday cookie exchange party!  Use little tree cookie cutters or mitten cookie cutters to create the inside shape.  If you're making these for Valentine's Day, they're so cute with a cut-out heart in the middle too.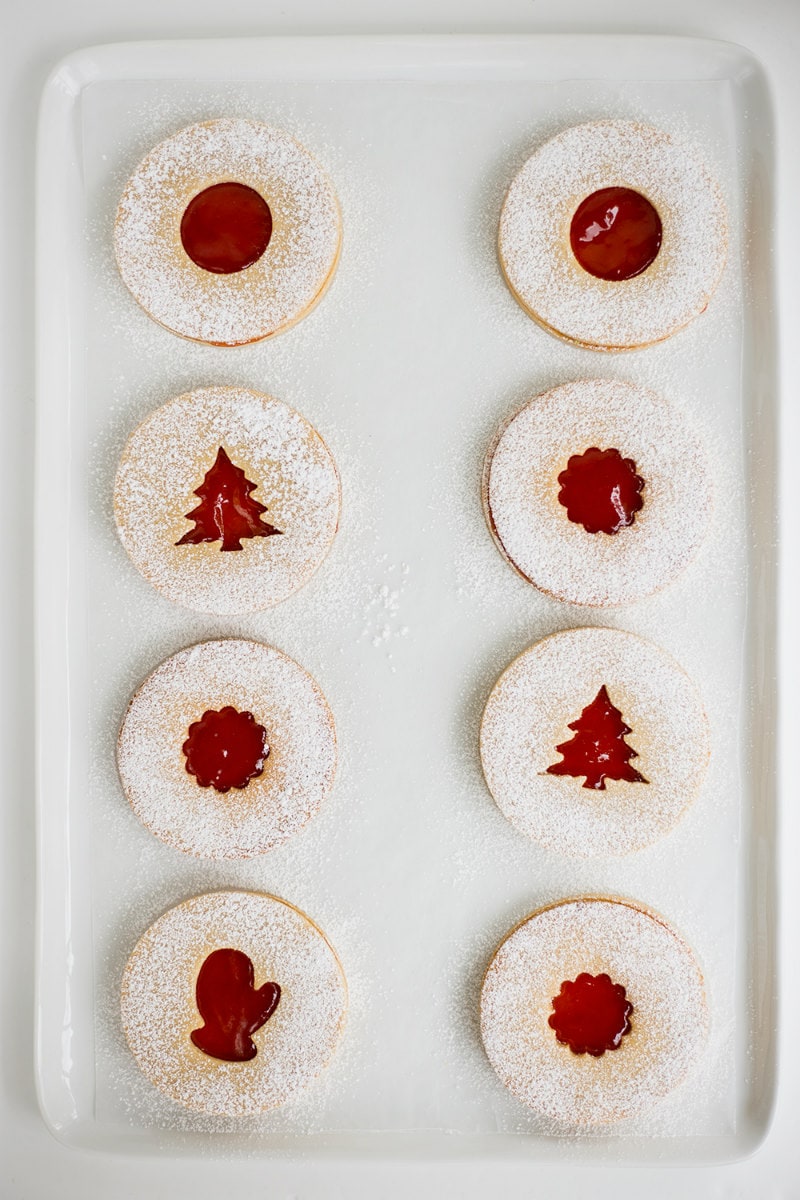 How do you make Strawberry Sandwich Cookies?
First, you need to make sure you have a 3 1/2-inch round cookie or biscuit cutter.  Then you'll need whatever 1-inch cutters you'd like to use for the top cookies.  Buy some seedless strawberry jam.  Don't buy chunky strawberry preserves because you need a nice, thin seedless jam for this recipe.  Otherwise the cookies won't be nicely sandwiched.
Butter, brown sugar, egg, vanilla, flour and salt make up the dough for these Strawberry Sandwich Cookies. It's best if you can give the dough an hour or so to chill in the refrigerator.  This will make it so much easier to roll out and cut the cookies.  After chilling, you'll roll out the dough and cut 24 rounds from one half of the dough and 24 rounds from the other half.  Re-roll, as needed, until you are able to use up all the dough.
Before baking you'll use your 1-inch cutters to punch a shape out of the center of 24 of the cookies.  Then bake them all until lightly browned.  The solid rounds are spread with strawberry jam, and the rounds with the cut-outs are dusted lightly with powdered sugar.  Then you'll sandwich them together.  Pretty!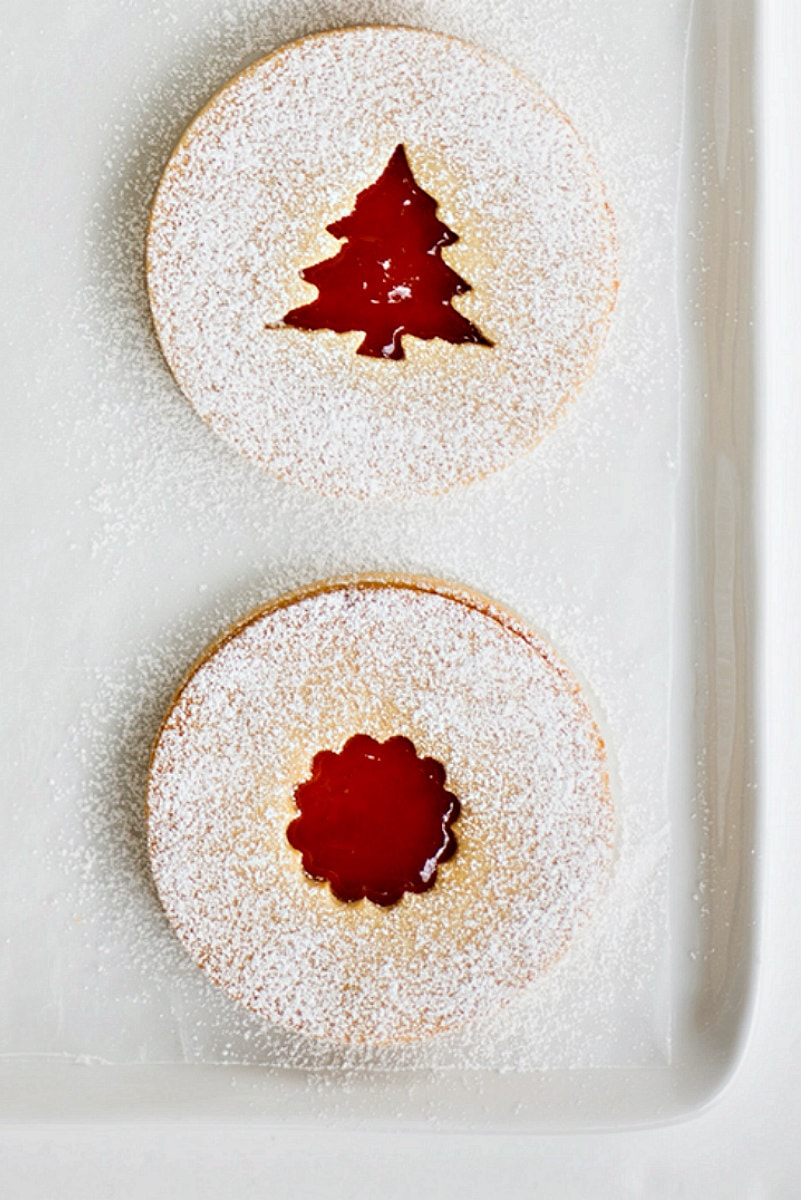 Can you freeze Strawberry Sandwich Cookies?
You can definitely make these cookies ahead and store them in the freezer.  I like to put wax paper on the bottom of my container, put a layer of the Strawberry Sandwich Cookies, then a layer of wax  paper on top of the cookies, and then another layer on top of those, etc.  They should freeze nicely for at least one month.  To serve, just take them out of the freezer and add them to a serving tray, and let them defrost at room temperature.
Variations of this recipe:
If you have more seedless jam in the house, you can modify this recipe and use one of those. Try seedless raspberry jam, seedless blackberry jam, seedless boysenberry jam, seedless blueberry jam… the possibilities are endless.
If you're looking for a few more festive looking, pretty holiday cookies, you might like to try my Holly Cookies or these Butter Dream Cookies.  Peppermint Candy Cane Christmas Cookies and Chocolate Pistachio Cut-Outs are pretty holiday cookies too.
Strawberry Sandwich Cookies
These Strawberry Sandwich Cookies are a pretty addition to your holiday cookie trays.
Recipe Details
Ingredients
6

tablespoons

butter

3/4

cup

packed brown sugar

1

large

egg

3/4

teaspoon

vanilla extract

2

cups

all purpose flour

1/8

teaspoon

salt

1/2

cup

seedless strawberry jam

powdered sugar
Instructions
In a large bowl, use an electric mixer to beat the butter at medium speed until creamy; gradually add the brown sugar, beating until light and fluffy. Add the egg and vanilla, beating until blended.

Add the flour and salt to the butter mixture, beating well. Divide the dough in half, and wrap in wax paper or plastic wrap. Chill 1 hour.

On a lightly floured surface, roll half of the dough to 1/8-inch thickness. Keep the remaining dough chilled until ready to use. Cut with a 3 1/2-inch round cookie cutter. Transfer the cookies to lightly greased baking sheets or baking sheets lined with parchment or silpat mats.

Roll the remaining half of the dough to 1/8-inch thickness on a lightly floured surface. Cut with a 3 1/2-inch round cookie cutter. Transfer the cookies to prepared baking sheets. Cut out the center of each cookie with a 1- or 1 1/2-inch star-shaped cookie cutter (or any other shape).

Bake at 350°F. for 5 to 6 minutes or until the cookies are lightly browned. Cool slightly on the baking sheets; remove to wire racks to cool completely.

Spread the solid cookies evenly with strawberry jam. Dust the cookies with the cutout centers lightly with powdered sugar. Top the solid cookies with the sugar-dusted cookies, pressing lightly together to fill cutouts with jam.
Nutrition
Serving:
1
cookie
,
Calories:
112
kcal
,
Carbohydrates:
19
g
,
Protein:
1
g
,
Fat:
3
g
,
Saturated Fat:
1
g
,
Cholesterol:
15
mg
,
Sodium:
44
mg
,
Potassium:
28
mg
,
Sugar:
10
g
,
Vitamin A:
100
IU
,
Vitamin C:
0.7
mg
,
Calcium:
11
mg
,
Iron:
0.6
mg