A pretty holiday cookie recipe for Christmas:  Swirled Mint Cookies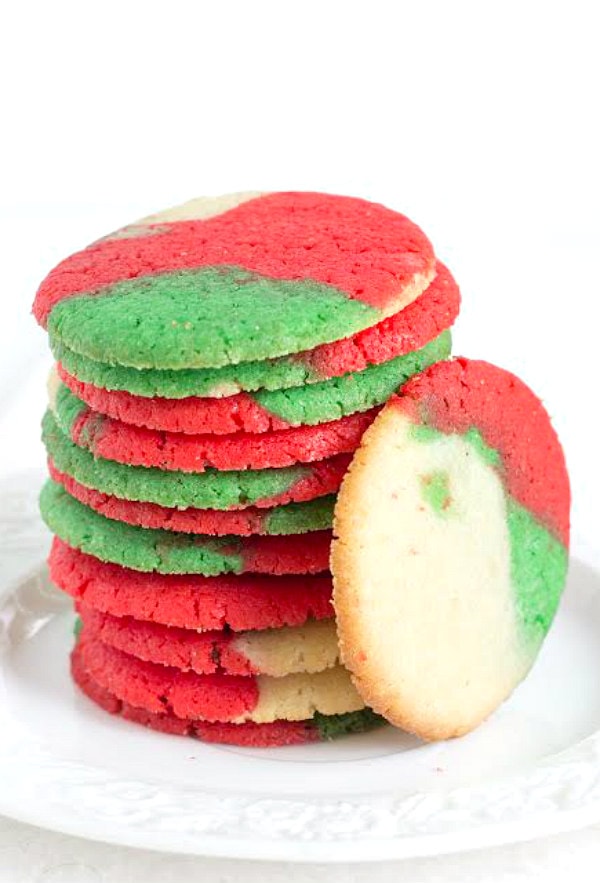 Swirled Mint Cookies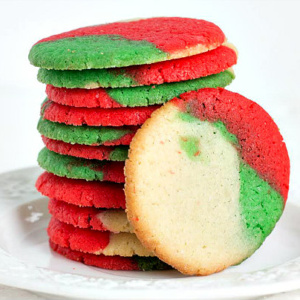 Yield:
72 (2 1/2") or 144 (1 1/4") cookies
Prep Time: 40 minutes + chill time
Cook Time: 8 minutes
Ingredients:
2 cups all-purpose flour
1/2 teaspoon baking powder
1 cup (2 sticks) salted butter, softened
1 cup granulated white sugar
1 large egg
1 teaspoon vanilla extract
1/2 teaspoon peppermint extract
10 drops red food coloring
10 drops green food coloring
parchment paper
Directions:
In a bowl, stir together the flour and baking powder; set aside.
In a separate larger bowl, beat the butter with an electric mixer on medium speed for 30 seconds. Add the sugar; beat until combined. Beat in the egg, vanilla, and extract. Beat in the flour mixture until combined. Divide the dough into three equal portions. Stir the red food coloring into one portion; stir the green food coloring into another; leave remaining dough portion plain. Cover and chill about 1 hour or until dough is easy to handle.
Preheat the oven to 375°F. Divide each color of the dough into four equal portions. Roll each portion between two sheets of parchment paper into a 1/2-inch diameter rope. Place one red, one green and one plain rope side by side. Twist together. Repeat with remaining ropes. Chill dough for 30 minutes. Cut ropes into 1/2-inch thick slices for large cookies or 1/4-inch thick slices for smaller ones. Roll slices into balls, blending colors as little as possible. Place balls 2 inches apart on an ungreased cookie sheet. Using bottom of a glass dipped in sugar, flatten each ball to a 1/4-inch thickness.
Bake until edges are set (8 to 10 minutes for large cookies; 6 to 8 minutes for smaller ones). Transfer cookies to wire racks; cool.
Tips:
To store, place in layers separated by waxed paper in an airtight container; cover. Store at room temperature up to 3 days or freeze for up to 3 months.
Nutrition:
add an additional 1/2 teaspoon of peppermint extract for a touch more flavor
if using gel paste color in place of liquid food coloring, use 5 drops of super red gel paste color and 5 drops of leaf green gel paste color