These Mint Stuffed Holiday Cookies are a delicious cookie recipe that "swaps out" half of the sugar. They're perfect for your Holiday Cookie Exchange!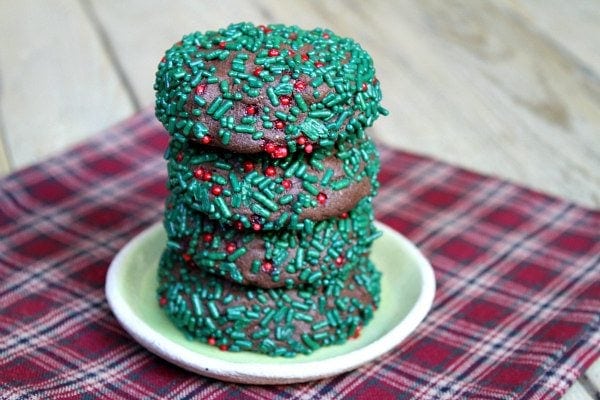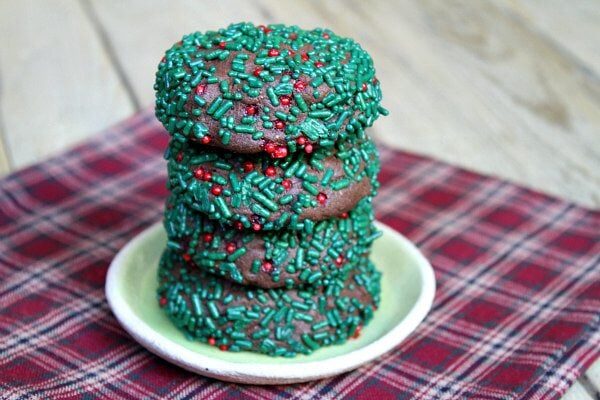 Now that Thanksgiving is behind us, it's time to start thinking hard-core about holiday cookies.  Which ones will you bake this year?  Do you have a nice variety of cookies planned for baking?  Are there some lower sugar cookie options on your list?  
I'm sharing a lower sugar cookie recipe today.  Half of the sugar in these holiday cookies has been replaced with zero-calorie Stevia In The Raw® Bakers Bag.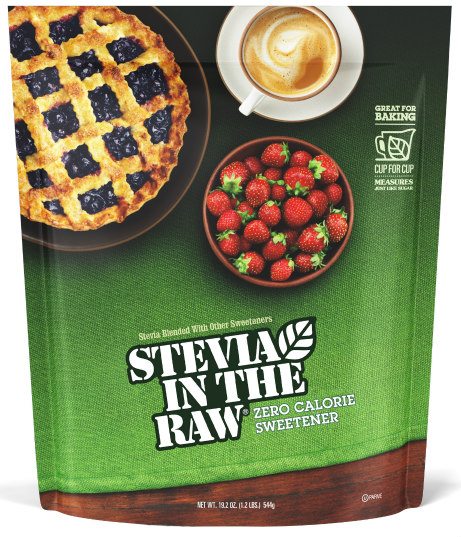 I'm partnering with Stevia In The Raw® this fall to share a few recipes that show you how to use this zero-calorie sweetener in your baking.
When you are baking with the Stevia In The Raw® Bakers Bag, it's recommended that you only substitute about half of the sugar in order to achieve the proper browning, rising and caramelizing that only sugar can provide.
1 cup of Stevia In The Raw® Bakers Bag has the same sweetness as 1 cup of sugar, so it can be substituted cup for cup in any baking recipes (and you'll save up to 700 calories for every cup of sugar that is swapped out!)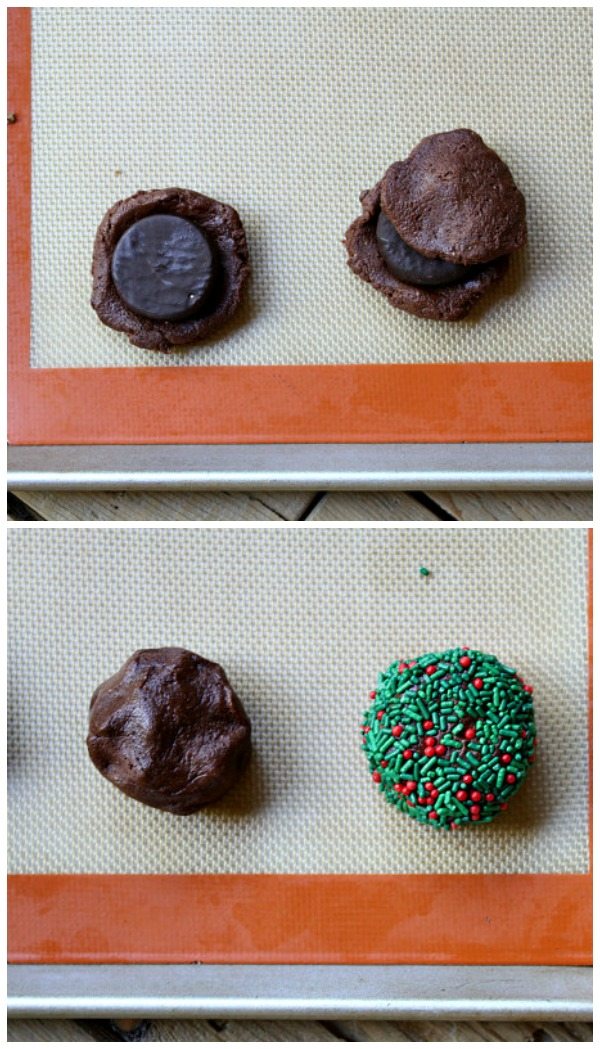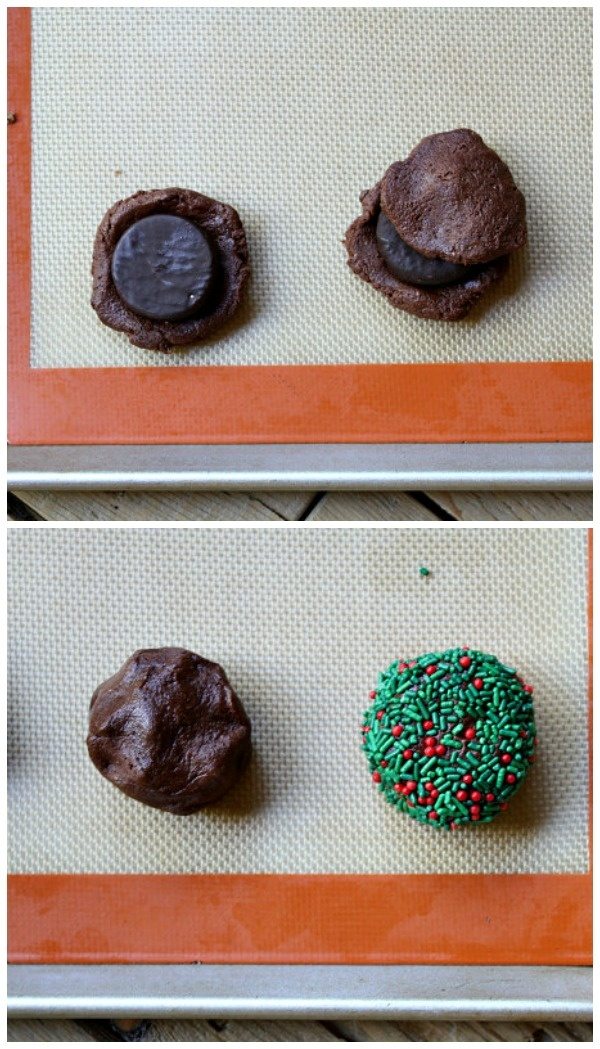 This recipe begins with a chocolatey cookie dough.  That dough surrounds a soft chocolate mint to create a "stuffed cookie."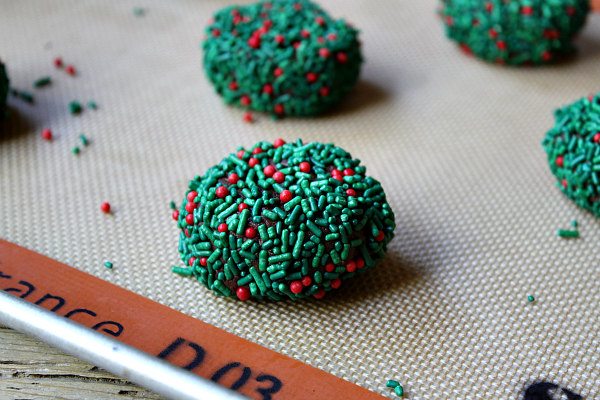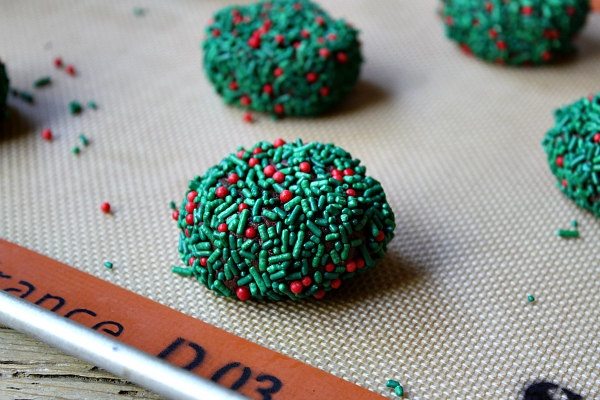 The stuffed cookie dough is rolled around in some festive holiday sprinkles and then placed on a baking sheet.  The cookies don't spread a whole lot while baking, so you can get quite a few of them on one baking sheet.  The recipe makes two dozen festive holiday cookies!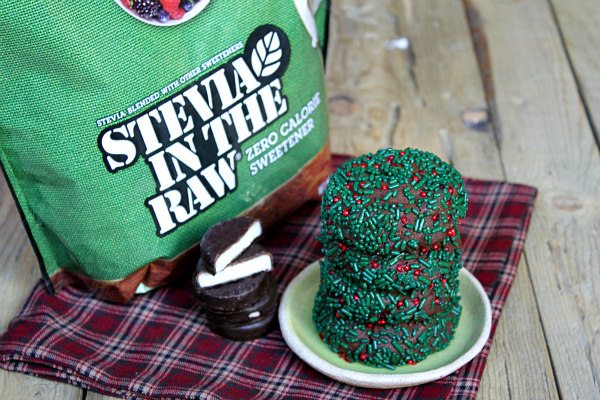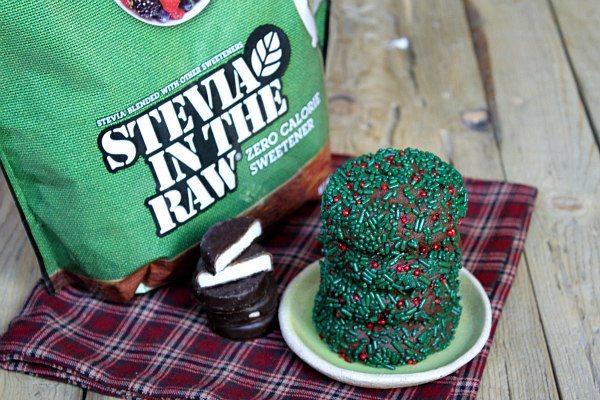 These cookies have the fantastic surprise of mint in the middle as you bite into them.  They are perfectly pretty and fun for a holiday cookie platter or cookie exchange party.
And you have the benefit of knowing that this is a lower sugar cookie (but with the same sweetness as if you had used all sugar)… thanks to Stevia In The Raw® Bakers Bag.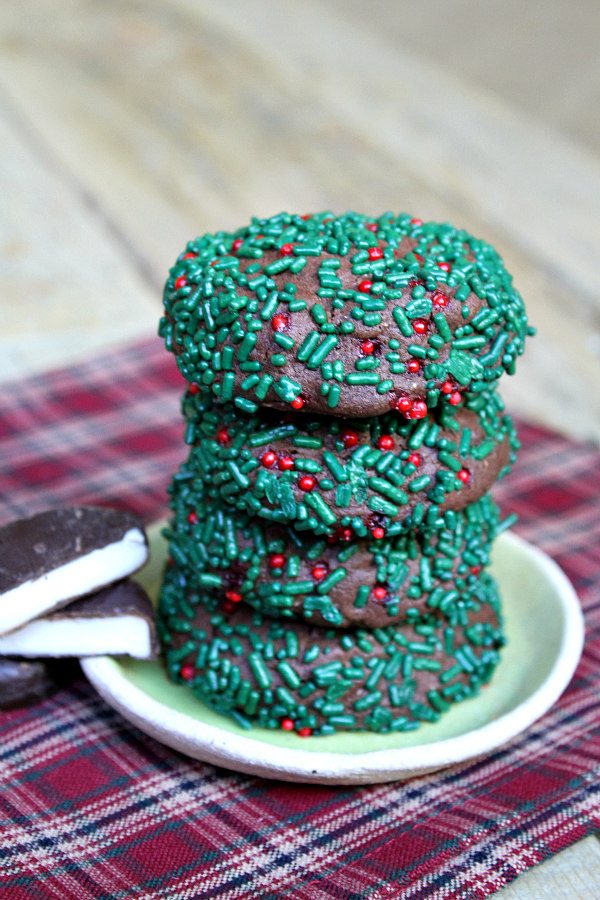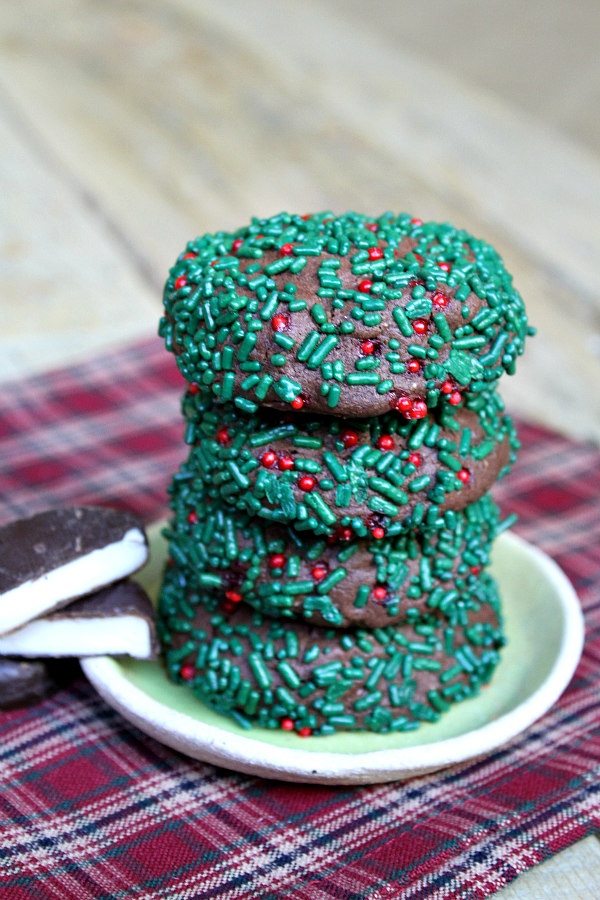 A substantial cookie, they do freeze well.  Just pop them in a freezer zip baggie and store them until you're ready to thaw them and share them.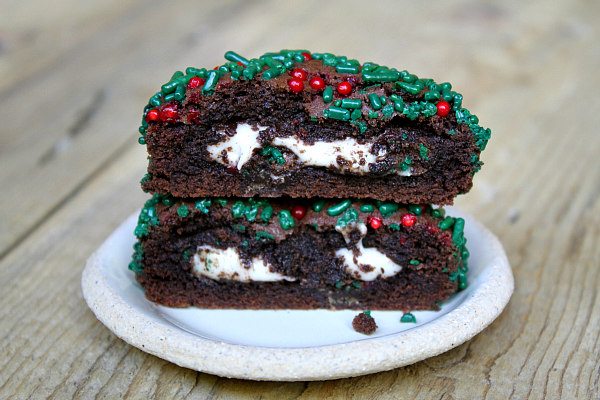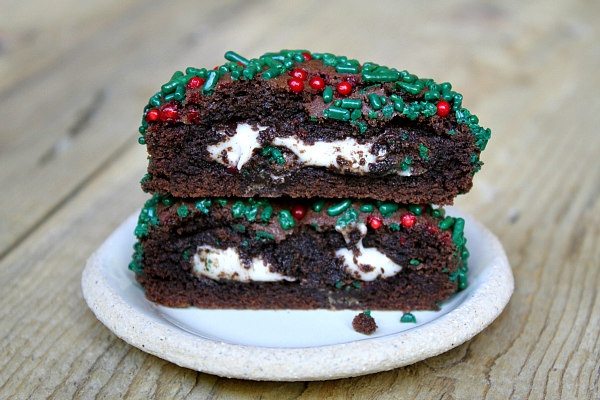 Here's a little peek at what the inside of the cookie looks like- just in case you were wondering how that "stuffed cookie" thing works!
For more sweet treat inspiration that allows you to "Half Your Cake and Eat It Too," check out this new, FREE ecookbook from Stevia In The Raw®
Mint Stuffed Holiday Cookies
Yield:
2 dozen cookies
Prep Time: 25 minutes
Cook Time: 10 to 12 minutes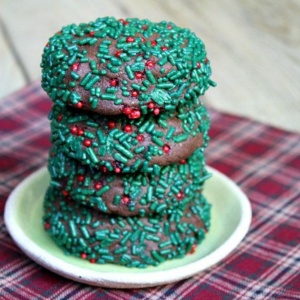 Ingredients:

1 cup (2 sticks) unsalted butter, at room temperature
1 cup packed brown sugar
1 cup Stevia In The Raw® Bakers Bag
2 large eggs
2 teaspoons vanilla extract
2 cups all-purpose flour
1 cup unsweetened cocoa powder
2 teaspoons cornstarch
1 teaspoon baking soda
24 soft miniature chocolate peppermints, unwrapped
decorative sprinkles in a small bowl

Instructions:

Preheat the oven to 350 degrees F.  Line two baking sheets with silpat mats or parchment paper.
In a large bowl, use an electric mixer to combine the butter, brown sugar and Stevia.  Mix until well-combined.  Beat in the eggs and vanilla.
In a separate bowl, whisk together the flour, cocoa powder, cornstarch and baking soda.  Add it to the wet ingredients and beat until the dough is smooth.
Scoop out a tablespoon of dough, divide it into two pieces and flatten each piece with your hands.  Place a chocolate peppermint between the two pieces of dough and use your hands to wrap the dough completely around the mint.  Roll the sides of the stuffed cookie and the top of the cookie in sprinkles.  Place the cookie on the prepared baking sheet, sprinkle-side-up.  These cookies do not spread out much, so you can place them about 1 1/2-inches apart.  Repeat until you've used up all of the dough and mints.
Bake for 10 to 12 minutes, just until cookies are set and beginning to crack on the tops.  Let cool for several minutes on the baking sheet before transferring to a wire rack to cool completely.

Nutrition:

These cookies may be stored at room temperature in a covered container for at least a few days.  They freeze wonderfully, so I suggest keeping them in the freezer until ready for munching or sharing.
SOURCE:  RecipeGirl.com
Here are a few more holiday cookie recipes you might enjoy:
Disclosure:  This recipe was made in partnership with Stevia In The Raw®.  This is a product that I know and use in my kitchen.  All opinions shared are my own.