I've so enjoyed sharing my Italy adventure with you.  Today, I'm sharing a bit about my Tuscan cooking school experience and a quick stop in Verona.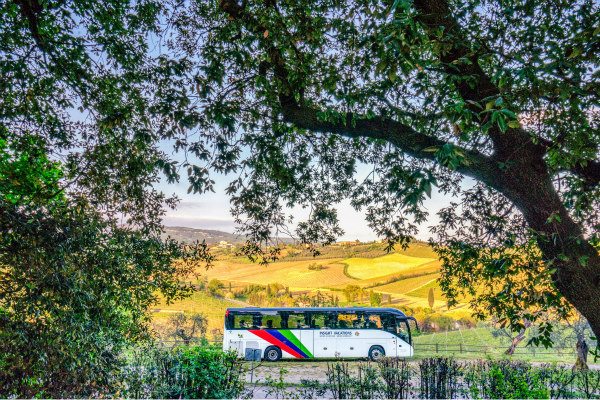 For the last night in Tuscany, our Insight Vacation's Luxury Gold Tour took us to a hands-on culinary master class and dinner in the Tuscan countryside.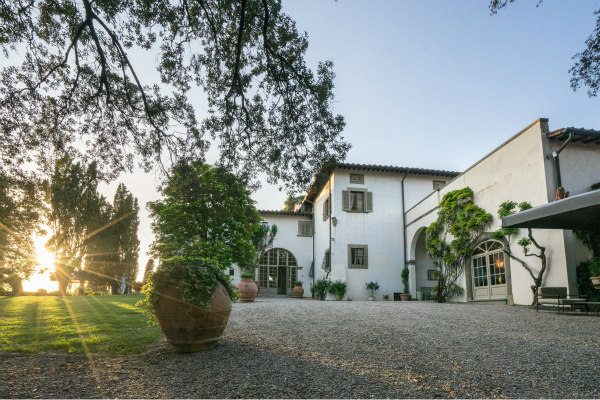 The spot:  Fattoria Dianella- a bed and breakfast + winery located in the hills of Vinci (native town of Leonardo da Vinci).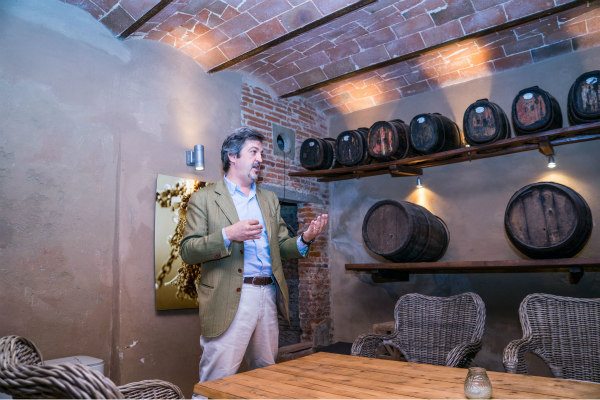 Estate owner Francesco Passerin d'Entrèves entertained us with a tour of the underground cellars.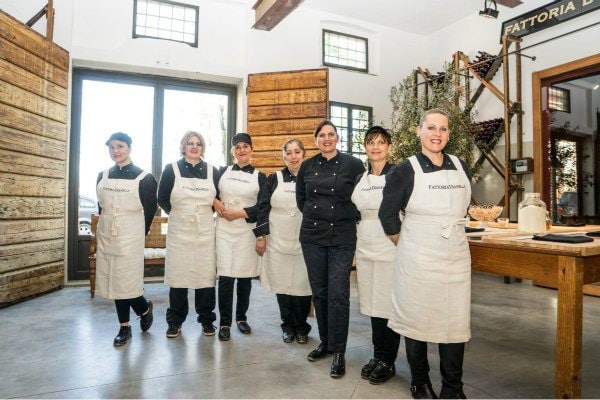 And then we were introduced to the kitchen staff- who would be guiding us through our Tuscan cooking class!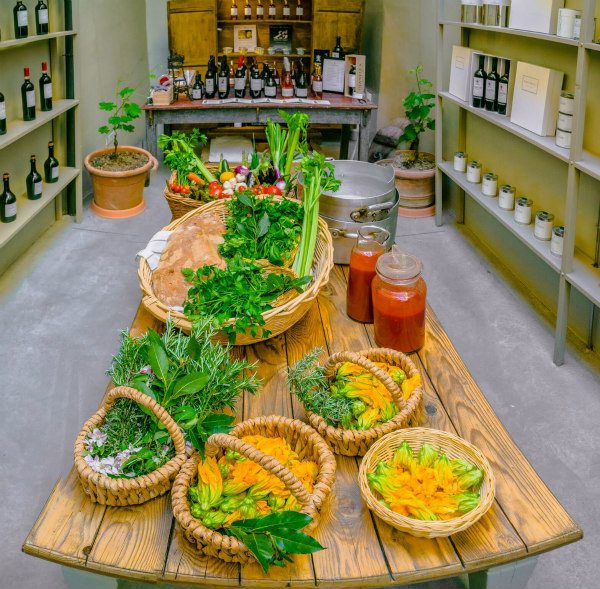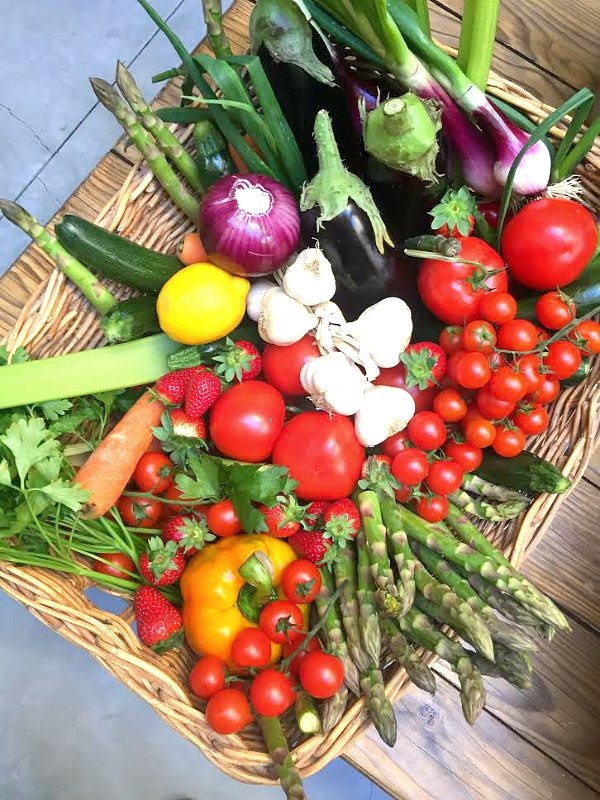 The bounty of fresh and beautiful vegetables was tremendous.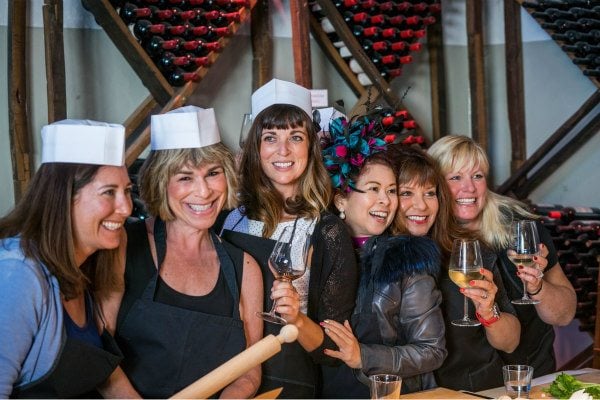 We started in on the wine and the fun.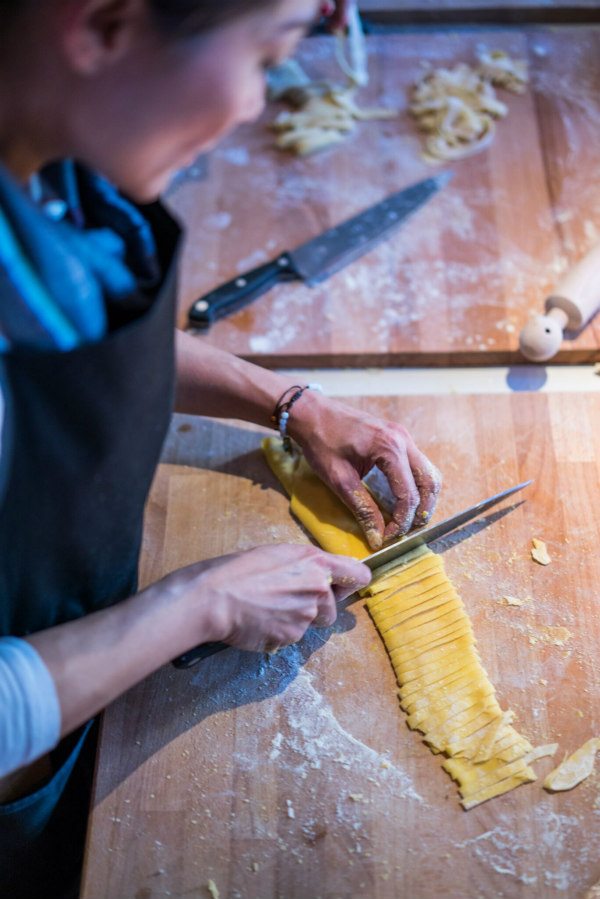 The tasks at hand were to chop vegetables for the bolognese sauce, prepare a chocolate dessert and make HOMEMADE PASTA!  They taught us how to make pasta using semolina flour, egg and a little water.  We mixed it and kneaded it with our hands, and then rolled the pasta dough out thin, folded it over and cut it into strips.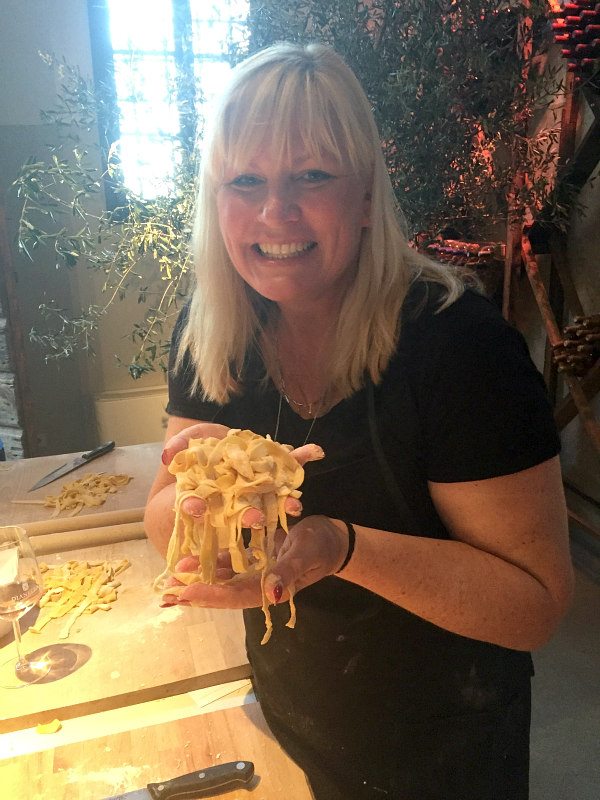 I was so impressed.  I can't wait to try this at home!!  After we completed our chores of chopping and making pasta, we left the rest of it to the kitchen staff to finish preparing our dinner.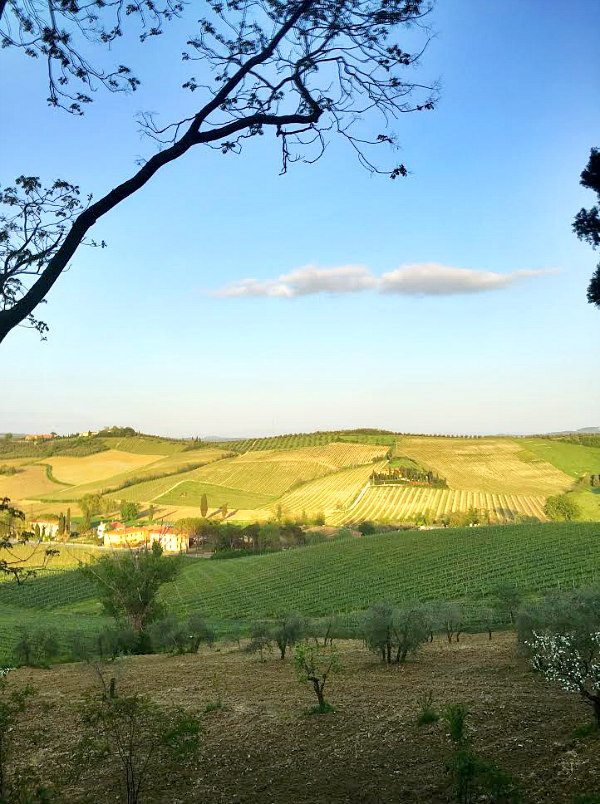 We wandered outside to take in the beauty of the Tuscan countryside.
Dinner at the winery began with a variety of things- but the fried squash blossoms were the absolute best.  It was my first time trying them!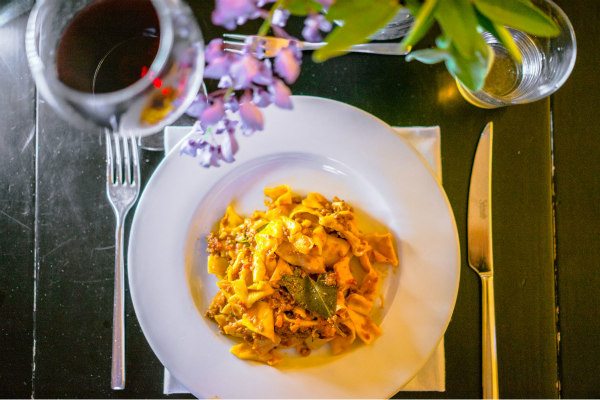 The most fabulous part of dinner was eating the fruits of our labor- the pasta with bolognese sauce.  So amazing.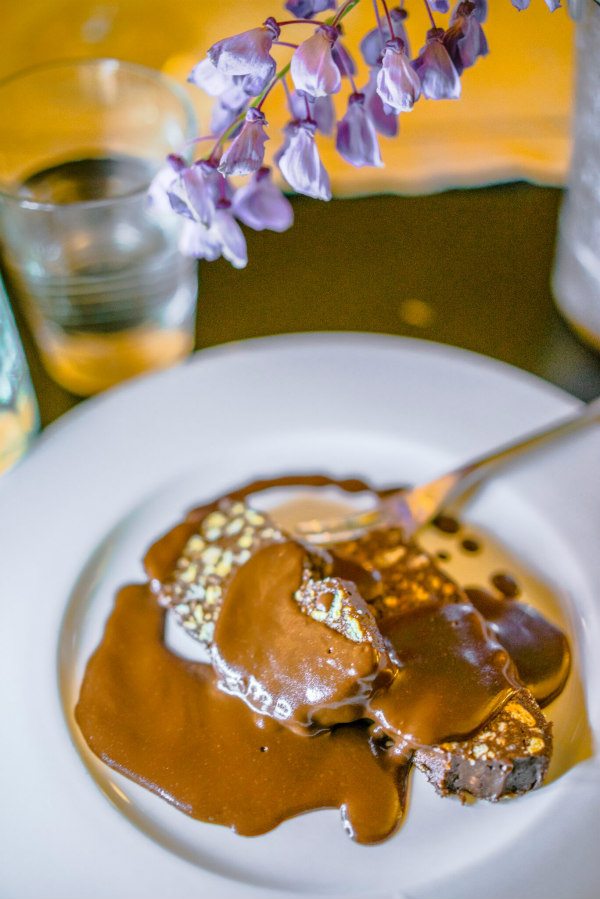 I wanted to remember every single detail of the chocolate dessert.  I believe it's similar to this Chocolate Salami recipe from Giada– though we used biscuits instead of biscotti in the recipe.  It was very good.
The Tuscan cooking school experience was one of my favorite things on the Italy itinerary with Insight Vacations.  We all had such a great time in a beautiful setting- lots of laughter, great wine and fabulous food.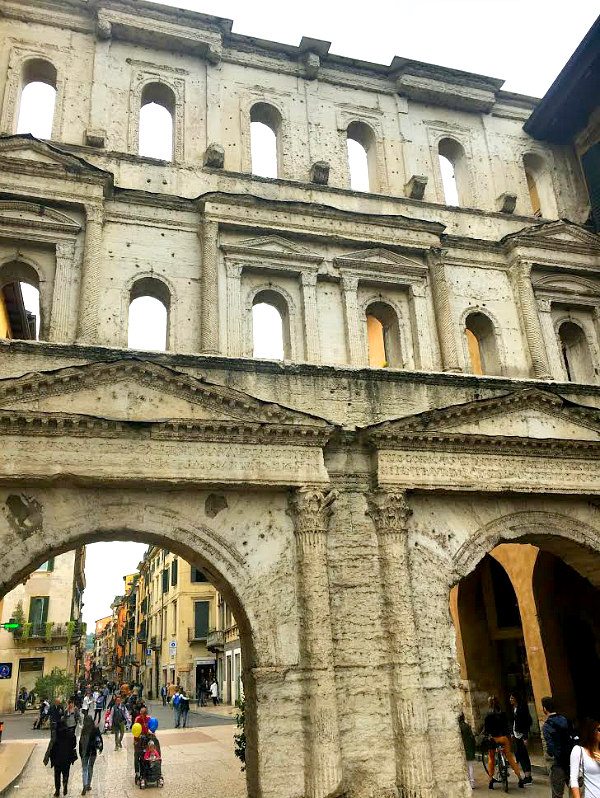 The next morning, we left beautiful Tuscany and road-tripped it in our luxury motor coach to Verona.  Here we met a local guide who walked us through town.  This is one of the "entrances" into Verona.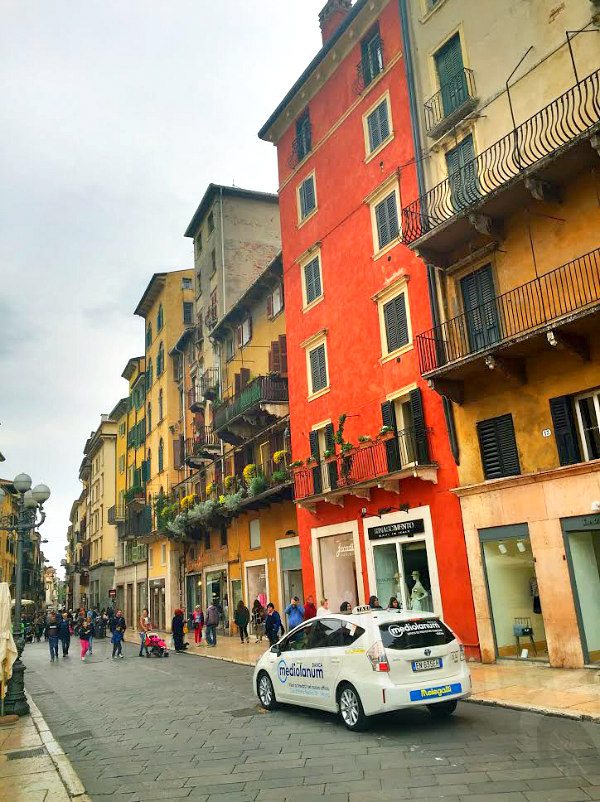 Verona is yet another quaint Italian town with colorful buildings, flower boxes and stone streets.  The shopping is really great in this town too!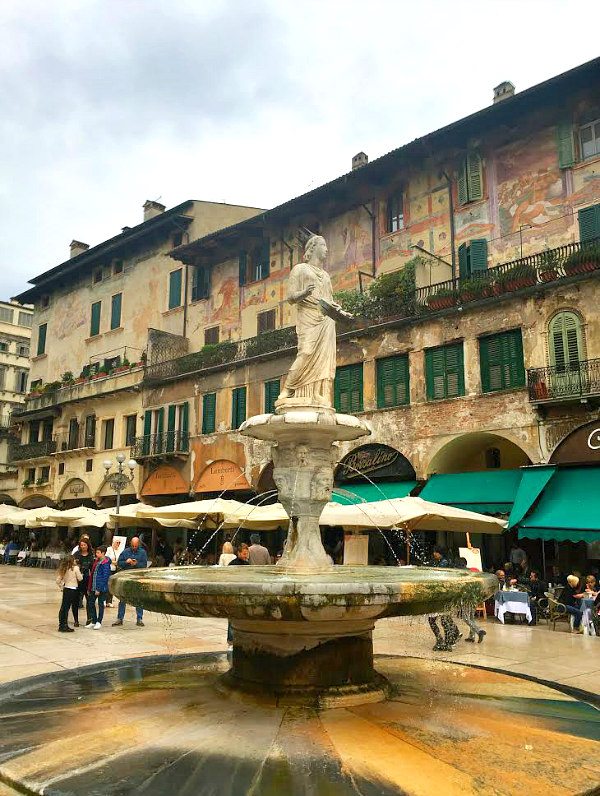 There is an awesome square in the middle of town that is lined with restaurants, cafes and bars- with a fountain displayed in the middle, of course.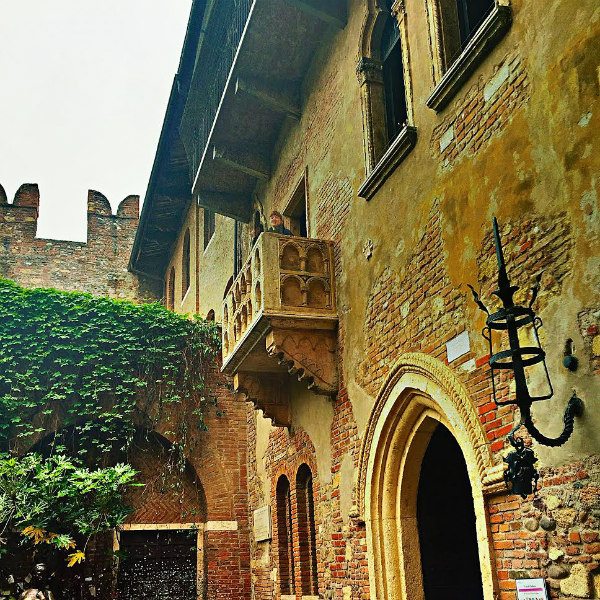 Verona is famous for having Juliet's balcony- also known as Casa Giulietta.  While the Capulet family did indeed live in Verona, it is doubtful that they ever lived in Casa Giulietta (Juliet's House), and the balcony was only erected in the 1920s to satisfy visitors.  Yes, you can go up on the balcony and have someone take photos!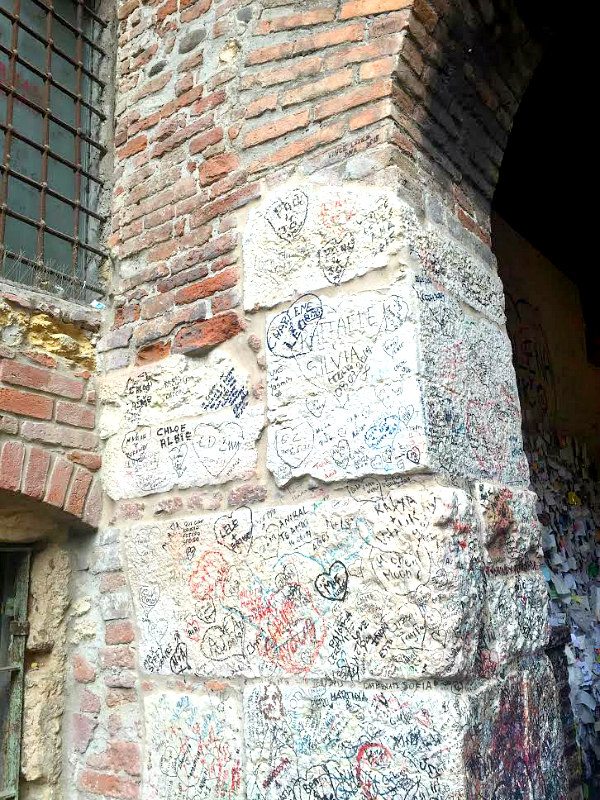 The arches leading into Casa Giulietta have love messages written all over them…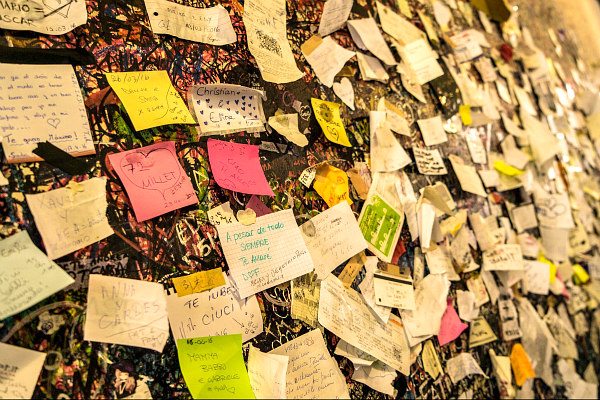 … and there are lots and lots of love notes left on the walls nearby.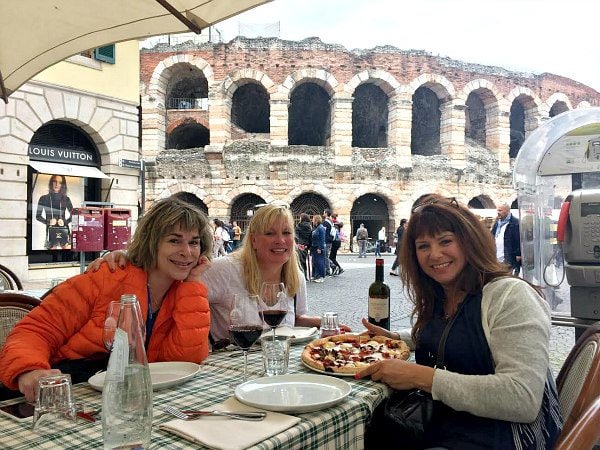 Given a bit of time on our own without the tour group, Sandy, Judi and I chose a bit of a touristy place for lunch- but it was perfect for sitting outdoors, eating pizza and drinking wine, and having the most fantastic view of the Arena.  The Arena in Verona is the largest Roman amphitheatre in northern Italy, with a capacity of 25,000 people. It was constructed early in the 1st century AD, and has been the site of gladiatorial combat, public executions and, more recently, concerts and opera performances. It also hosts the city's famous opera festival every summer.
There is a fantastic food market in the square next to the arena with a million different choices of to-go food if you do not wish to eat at a restaurant.  There was a fun, festive vibe in the food market area with a rock band playing on a stage and all!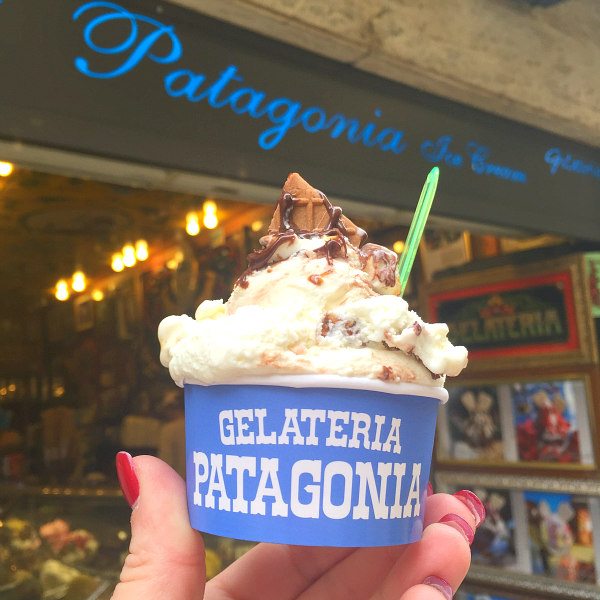 And finally… we ended our time in Verona with our daily gelato!  This one was called, "Fin Del Mundo" (end of the world): vanilla with chocolate swirl, chocolate-covered hazelnuts and pizzelle.
My final post on our tour of Italy will be all about Venice (you know… the place with the gondolas).  I have much to share!
Disclosure:  Insight Vacations invited me on their Ultimate Italy tour to experience the tour and share my travels with RecipeGirl readers.  Photos shared are a mix of my own photos… and some from professional photographer Simon Boucher-Harris from Insight Vacations.