Have you ever traveled to Mexico?  Did you enjoy your time there, and did you feel safe?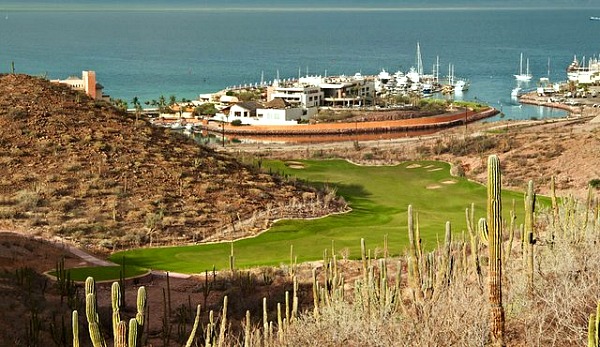 This is the CostaBaja Resort & Spa in La Paz, Mexico.  I traveled there recently with a small group of other food and travel bloggers- courtesy of The Mexico Board of Tourism.  They wanted to share La Paz with us… and show us that it was a beautiful and safe vacation destination.  La Paz is secluded on the east coast of Baja California Sur, facing the Sea of Cortez.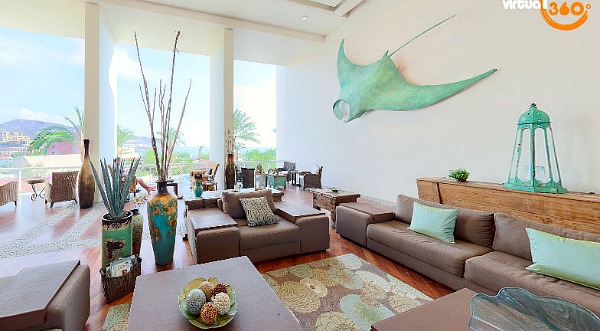 The lobby of the hotel is open and airy.  There is bottled water and fruit displayed at all times, and the staff is very attentive.  The whole place has free WiFi too.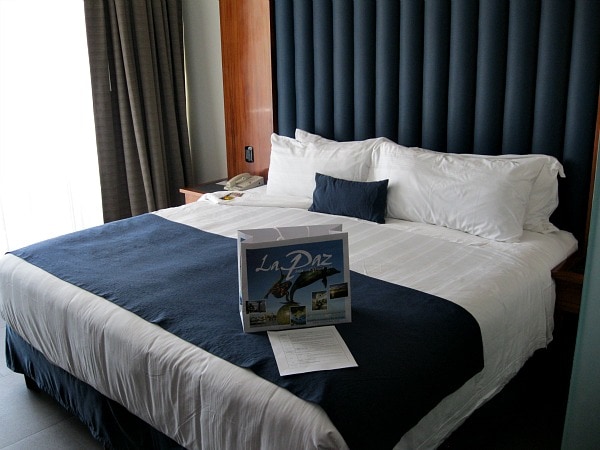 The rooms are clean and comfortable and quiet.  That bed right there was one of the most comfortable ones I've ever slept in.  There's nothing worse than visiting Mexico and getting sick because you've accidentally consumed some of their water.  The hotel has purified water throughout.  No need to worry.  No one in our group got sick.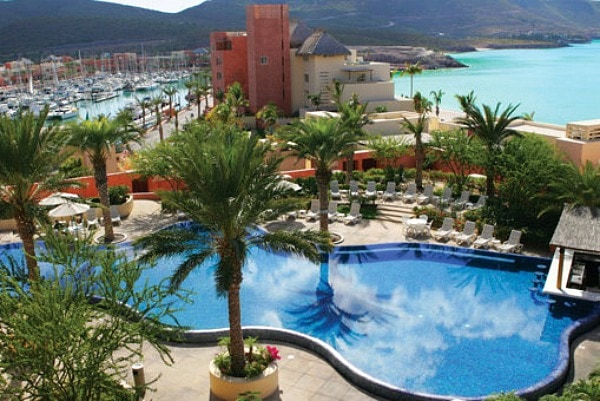 And here was the view from my hotel room.  This beautiful pool has a swim-up bar, and the beach is just beyond.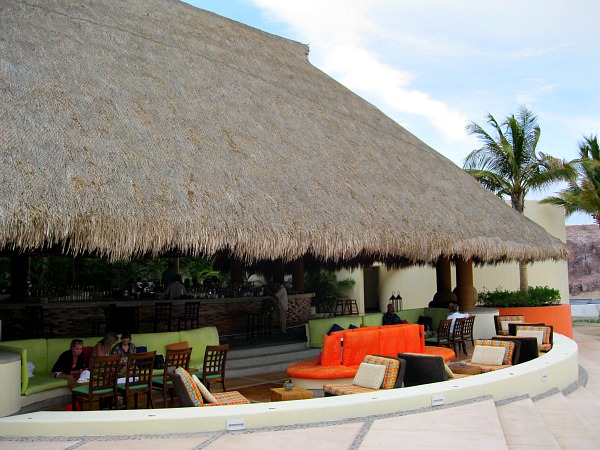 A short walk down the beach and you reach another pool and restaurant (beach-side).  The Beach Club Bar and Grill turned out to be an awesome, AWESOME place to hang out.

They have fabulous food and desserts and breakfasts.  This is some sort of berry parfait, chocolate lava souffle cake, and key lime pie.  Just a little afternoon treat shared with my friends!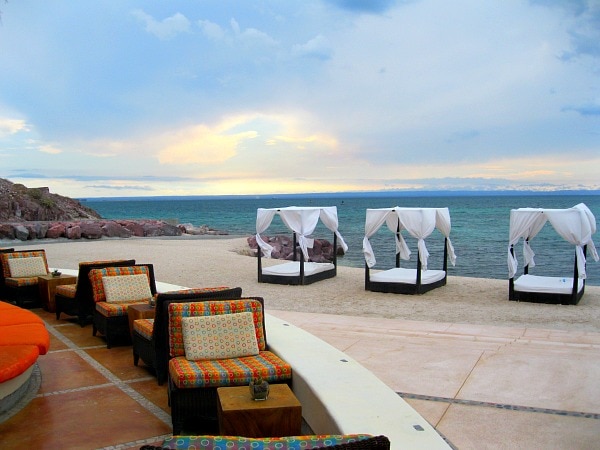 … and the view is undeniably amazing.  Can you imagine relaxing on one of those beach-view lounge beds all day long??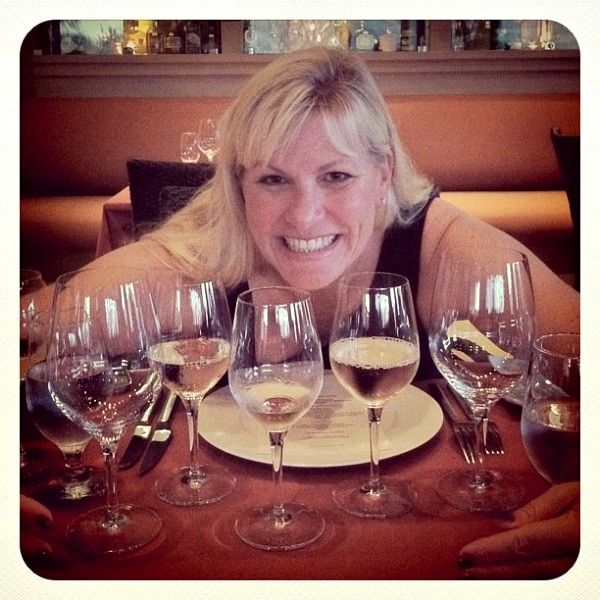 Dinner one night was at Steinbeck's on site at the resort.  They served us several sampler courses.  None of it was anything like what you think you'd be eating in Mexico.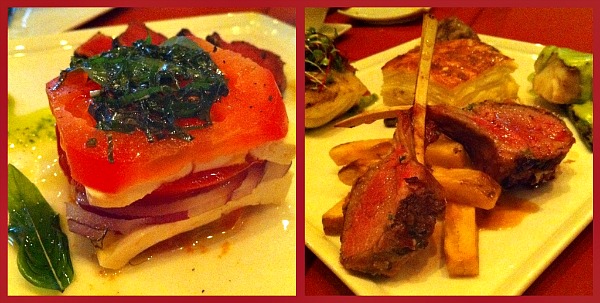 We had lamb chops and caprese salad and creme brulee, among other things!  The food was excellent.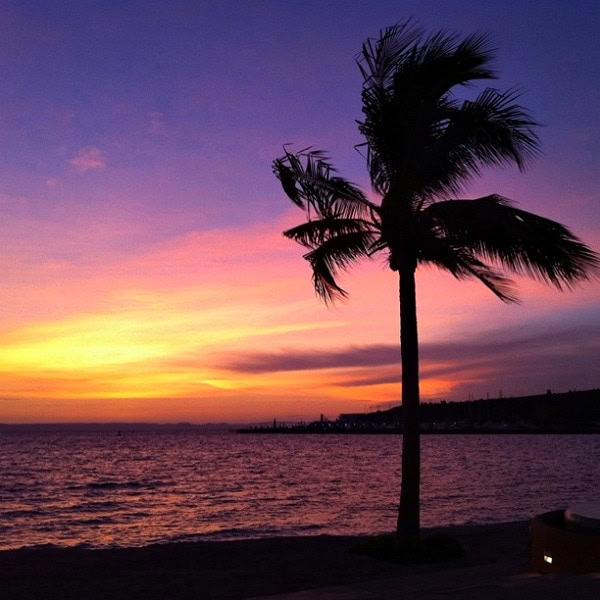 The sunsets in La Paz really look like this. The colors in the sky change so quickly that you just need to sit and watch and take it all in or you may miss it entirely.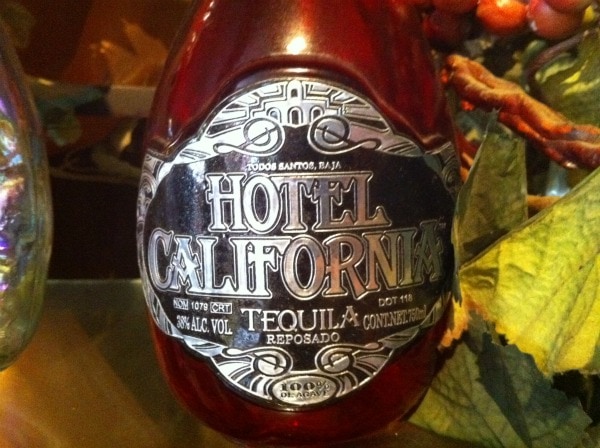 One of our day trips was a bus ride to the little village of  Todos Santos.  It's claim to fame is the Hotel California.  Remember the Eagles song?  The Eagles have never actually confirmed that this hotel is indeed the one that they wrote about in their song, but they're sure capitalizing on it!  The song plays over and over and over again in the hotel lobby.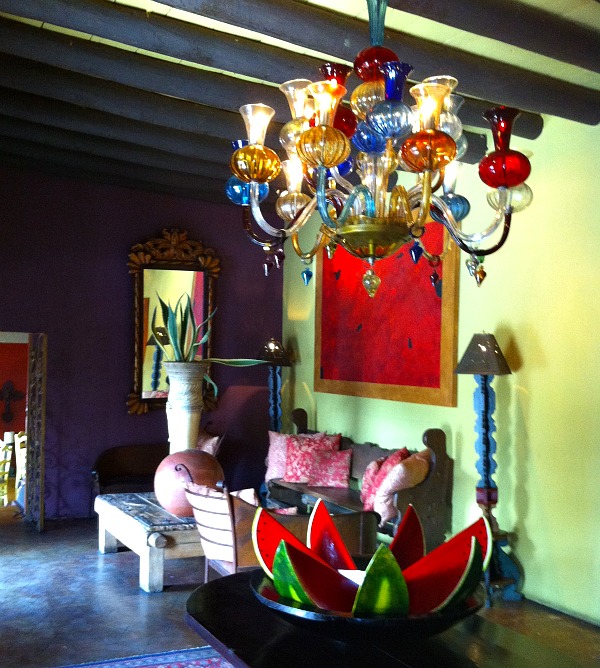 People travel from all over to visit the hotel.  It's worth seeing.  It's decorated very cute with brightly painted walls, rustic Spanish furniture and tile, and comfortable guest rooms.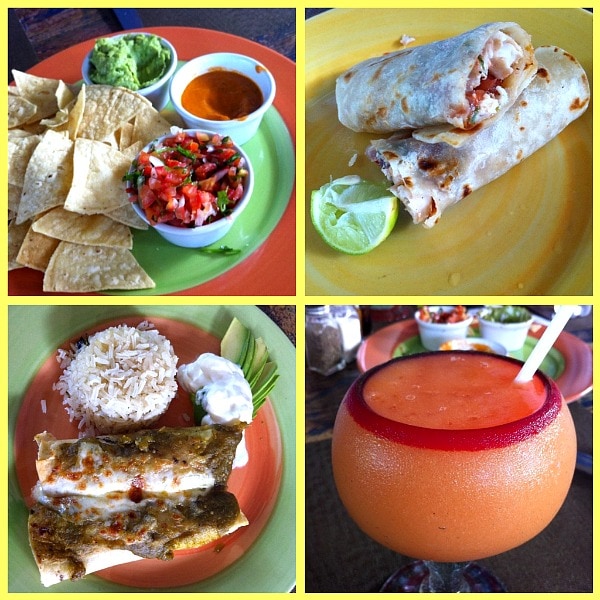 The Hotel California's restaurant surprised us with a bunch of food.  We were all dying for some good, authentic Mexican food, and we finally got it here.  Chips & guacamole, little fish burritos, chicken enchiladas and papaya margaritas.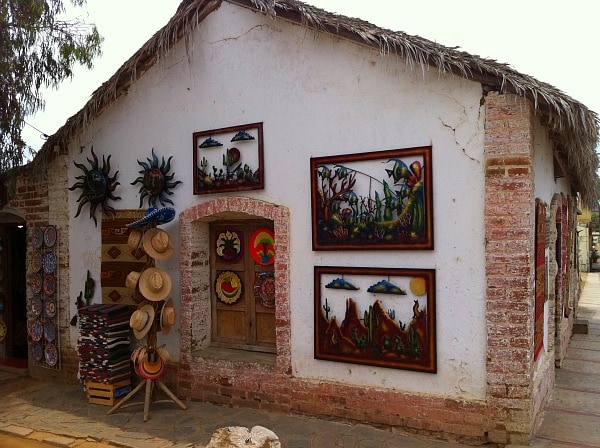 The town of Todos Santos has a strip of shops for tourists.  It was pretty touristy, but it was still fun to poke around and pick up a few goodies.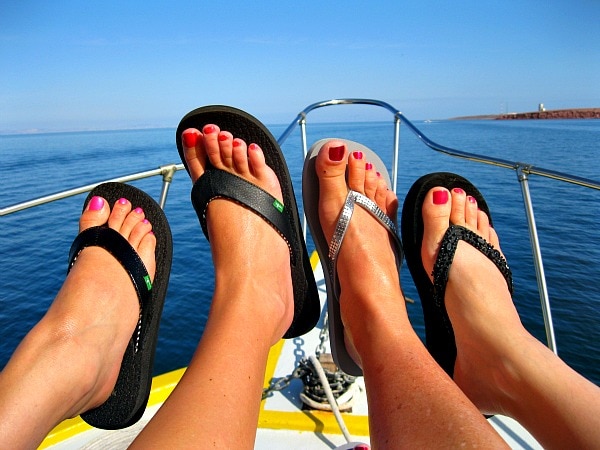 The best day trip of all on our trip to La Paz was a day on a Fun Baja tours boat.  It was so relaxing and warm.  We were all surprised at the landscape on the shore.  You'd think it would be tropical but it was more of a desert landscape.  Very pretty colors and land formations.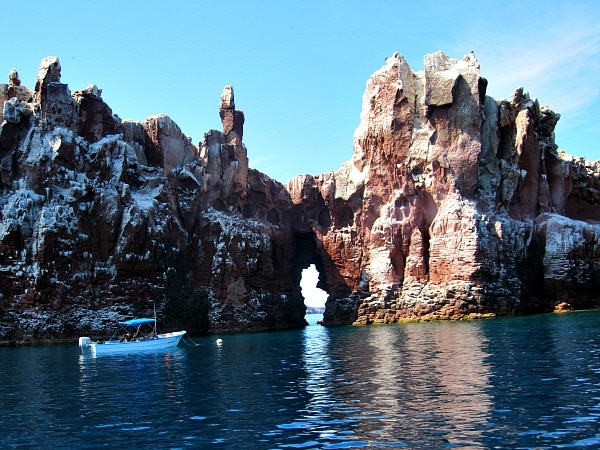 Here's where we first anchored our boat- Espiritu Santo Islands.  Sea lions are in abundance here… barking at us like crazy and lying around on rocks, basking in the sun.  See that little hole in the rocks right there?  We snorkeled over to that beautiful spot, where there was a coral reef underneath us.  You could feel the tide pulling you here and there, and there were pretty fish swimming around us and starfish stuck to the reef.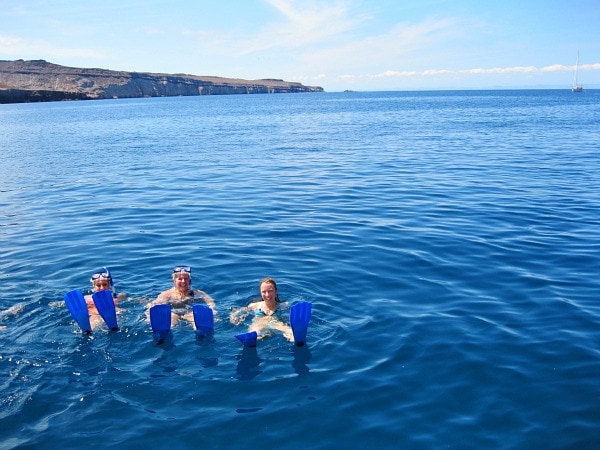 Pictured here:  Jenny, me and Rachelle.
I was a little freaked out to snorkel too close to the sea lions but some people did!  I was too busy wondering if a shark was going to come swimming my way.  That didn't happen, thank God!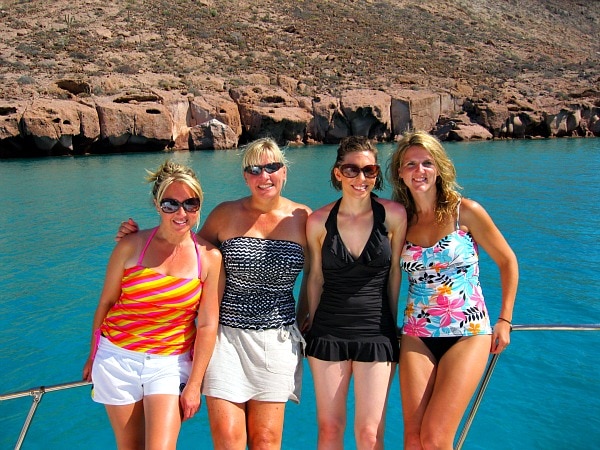 The girls!  Jenny, me, Katie and Amanda.  We had so much fun together!  And the water was really that blue… and turquoise.  It was clear as day too.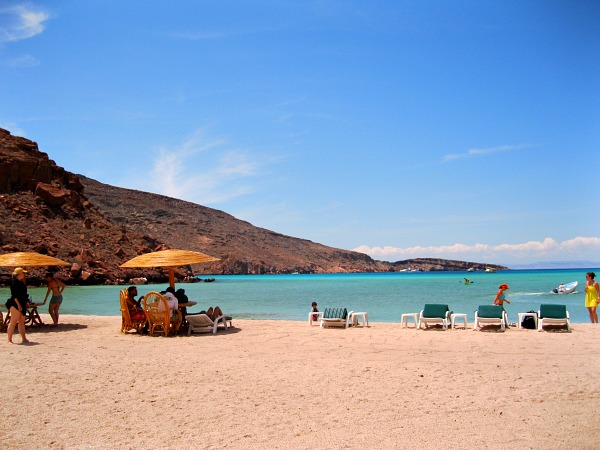 This gorgeous beach was part of our Fun Baja tour.  We kayaked and swam in the crystal blue waters, with sea turtles swimming nearby.  When I bring my family back here someday, I'm going to take advantage of the overnight camping opportunity with Fun Baja.  You get to camp right on this beach in little tents that are set up for you.  There's a nice bathroom/shower/sink set up beachside, and a chef prepares all of your meals for you.  It totally felt like a Survivor reward!  It's a pretty cool camping trip, I think.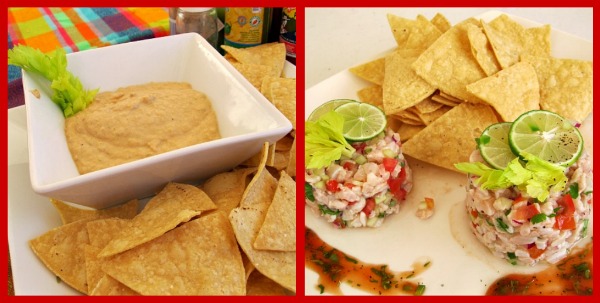 The chef on the island prepared a special lunch for us- soup and freshly grilled fish and rice.  We also sampled this fresh tuna dip and participated in a cooking class where we learned how to make ceviche.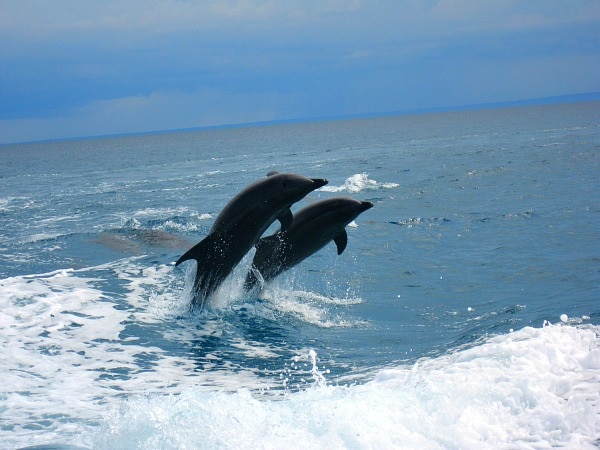 On our boat trip back to the resort, a band of dolphins found the wake of our boat.  This was my first experience of seeing dolphins in the wild, so close up and playful.  Over and over again, they jumped the wake behind our boat.  There were also a bunch of dolphins that swam along the front of the boat too.  We just looked right down into the water and there they were!  I caught some video of the dolphins jumping… I was a little excited at first and jumped the camera around a bit, but then I was able to hold steady.  Click the box below to view the dolphin video.
In the past I've traveled in Mexico to Puerto Vallarta, Mazatlan, Cabo San Lucas, San Felipe, Tijuana, Rosarito and Ixtapa. I was quite impressed with La Paz. It's beautiful and very clean.   It's statistically one of the safest cities in North America.  The town has a wonderful boardwalk that goes on for miles- perfect for runners. And the boat trip on Fun Baja is a definite must!  I would recommend the CostaBaja Resort too- rates range from $165 to $205 per night, depending on the season.  The resort is right on the beach, and The Beach Club is a fun place to hang out too.  There is a spa (I got an hour-long deep tissue massage!), and there are several restaurants within walking distance along the harbor (Italian, sushi, etc.)  We ate at a fabulous restaurant in town called Buffalo BBQ.  I was expecting barbecue, but it was more like a wonderful steakhouse with grilled fish, meats and vegetables.  It was my favorite food of the trip!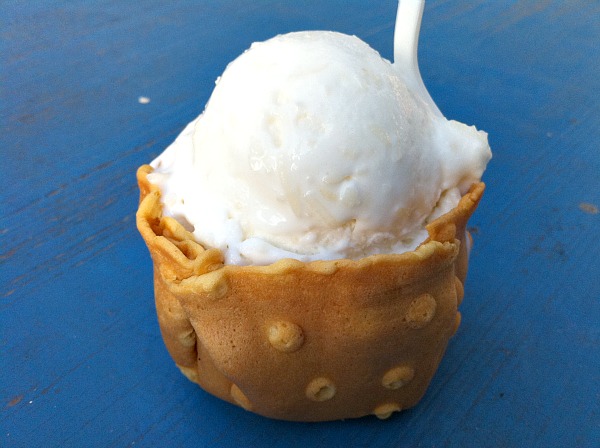 There are several ice cream shops along the town's boardwalk with unique flavors of avocado, sweet corn and exotic fruits.  I chose fresh coconut cream ice cream- and look how cute their little waffle cups are?
Now I'm feeling the need for another one of those sunsets and some fish tacos, and I'm bummed that I didn't try some of those way-out flavors of ice cream.  The dolphins were mesmerizing to watch, and swimming in that water was like swimming in a lukewarm bath.  Time to go back!
Thanks to the Mexico Tourism Board for sharing the beauty of La Paz with us.