Have you ever been Christmas Caroling?  I hadn't done it in years… since I was a 2nd grade teacher and we walked the students to the local strip mall to sing to shoppers.  But I caroled last night in my neighborhood with a group of neighbors and friends and lots of children.  Our large group approached a house, rang the doorbell, sang with gusto and smiles, wished "Merry Christmas!" and moved on to the next house.  It was the most fun I've had in a long time, and it was a gift to ourselves to be able to see the joy we put on people's surprised and delighted faces as we sang to them.  After caroling we all filtered back to my next door neighbor's house to eat treats like this one:  White Chocolate- Macadamia Nut Gingerbread Bars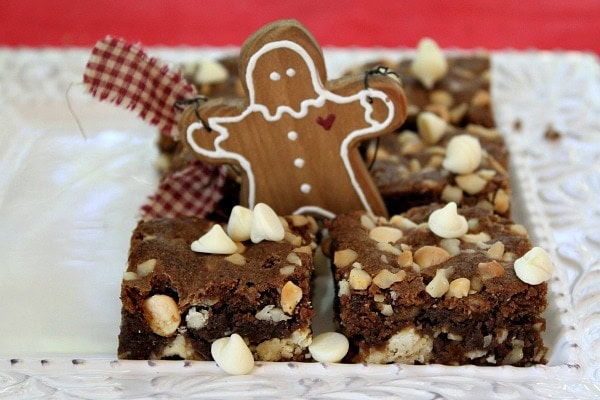 They're a simple gingerbread- oat bar with white chocolate and macadamia nuts mixed in.  For ease and a lower price-point, look for the bag of chopped macadamia nuts at Trader Joe's, if you're lucky enough to have one in your area.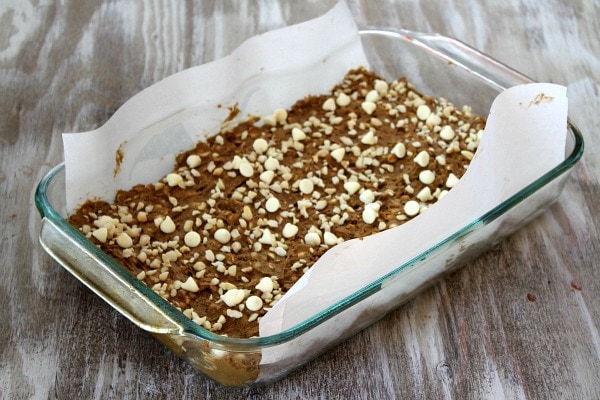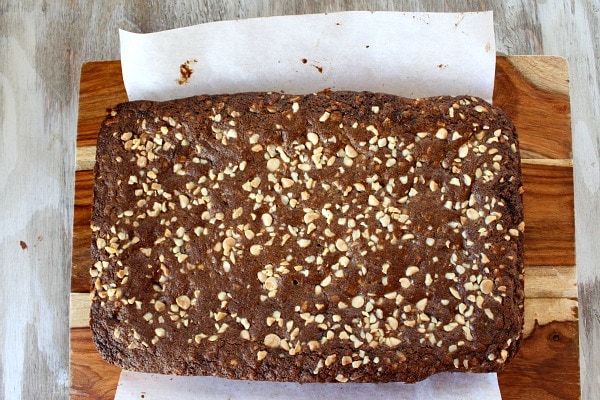 Lining the pan with parchment allows you to easily lift the whole slab of bars out of the pan and onto a cutting board (when cooled).  You'll get cleaner cuts this way, rather than trying to cut it into squares while still in the pan.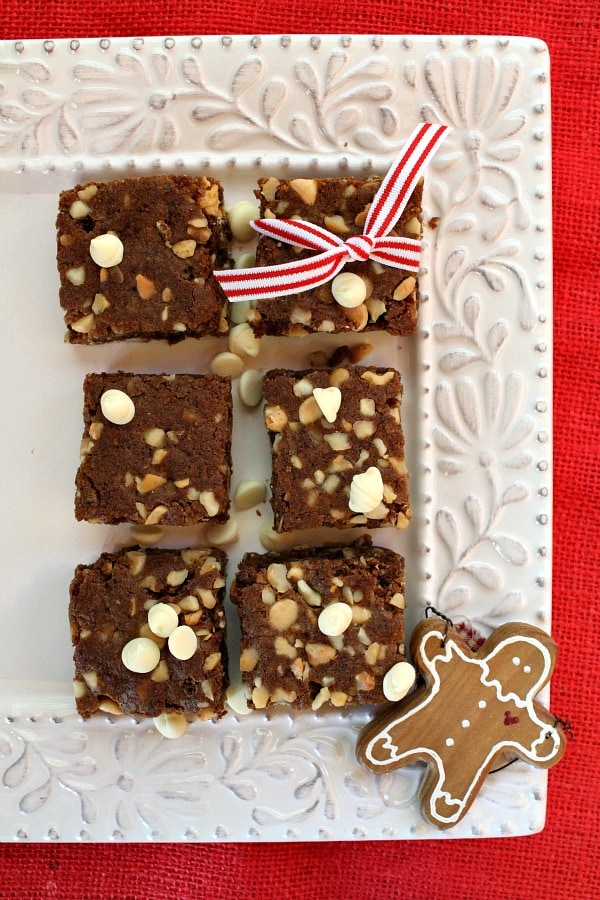 I used white chocolate and macadamia nuts since I happen to be fond of the white chocolate- macadamia nut cookie, but I'm thinking you might like to experiment with a chocolate chip/walnut or pecan… or even a cinnamon chip/ walnut pecan too.  These were a hit as-is at our Caroling Party.
Our last stop of the night for Caroling was our local fire station.  I'm pretty sure they don't get carolers knocking on their door all that often.  We serenaded them and thanked them for what they do.  Delivering happiness to people around the neighborhood is just the sort of thing people need right about now.  It felt good to be part of it.
White Chocolate- Macadamia Nut Gingerbread Bars
Yield:
24 bars
Prep Time: 20 min
Cook Time: 30 min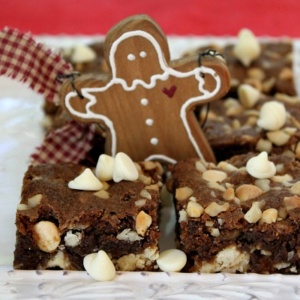 Ingredients:

1 cup (2 sticks) unsalted butter, at room temperature
1 cup packed light brown sugar
1/2 cup granulated white sugar
1/3 cup molasses
2 large eggs
1 large egg yolk
1 tablespoon vanilla extract
2 cups All Purpose Gold Medal® Flour
1 cup oats
1 1/4 teaspoons ground cinnamon
1 teaspoon ground ginger
1 teaspoon baking powder
1 teaspoon baking soda
1 teaspoon kosher salt
1/4 teaspoon ground cloves
1 cup white chocolate chips (or chopped white chocolate)
3/4 cup chopped macadamia nuts

Instructions:

1. Preheat the oven to 350 degrees F. Spray a 9x13-inch pan with nonstick spray, then line it with parchment paper- allowing enough to overhang on the long sides to lift the bars from the pan. Spray the parchment with nonstick spray too.

2. Place the butter and sugars in a large bowl. Beat with an electric mixer until smooth and creamy. Add the molasses, eggs, egg yolk and vanilla. Beat well.

3. In a separate bowl, whisk together the flour, oats, cinnamon, baking powder, baking soda, salt and cloves. Add it to the wet ingredients and beat until everything is well incorporated, scraping down the sides of the bowl as needed. Stir in most of the chips and nuts, reserving a few for sprinkling on top.

4. Drop spoonfuls of the dough all over the prepared pan. Use wet hands (or hands sprayed with nonstick spray) to pat the dough into the pan. It will be sticky and wet. Spread it out as evenly as you can. Sprinkle any reserved chips or nuts on top.

5. Bake 30 to 40 minutes, or until the bars are baked through and no longer gooey inside (do the toothpick check). The center should be springy and not soft, and the bars will turn golden brown. Let the bars cool completely before slicing with a sharp knife. They're even easier to slice if you refrigerate them first.

Tips:

*These bars will keep in a covered container for several days. They may also be frozen in a sealed container to be eaten within a month or so.
Disclosure: I'm working with Gold Medal Flour to create seasonal recipes for the next couple of months. This is one of those goodies. All opinions shared are my own.
Other Gingerbread treats on the blogs:
Gingerbread- Oreo Blondies by Two Peas and Their Pod
Gingerbread Cheesecake Bites by Created by Diane 
Tiny Gingerbread House that sits on the edge of a mug by Not Martha 
Gingerbread Cookie Dough Truffles by Love and Olive Oil 
Gingerbread Cheesecake Bars by The Cooking Photographer