This recipe has been featured in a post on The Recipe Girl blog: Whole Wheat Fresh Strawberry Scones with Maple Sugar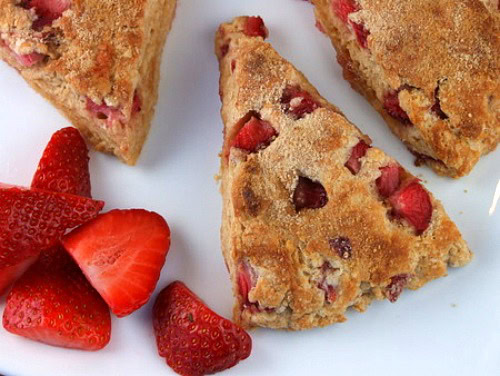 Whole Grain Strawberry Scones
Yield:
8 servings
Prep Time: 25 min
Cook Time: 20 min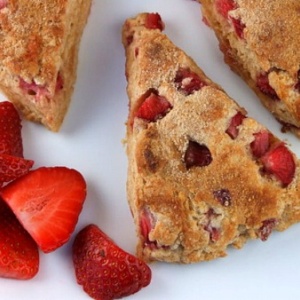 Ingredients:

1 cup fresh strawberries, chopped into small pieces
3 Tablespoons granulated white sugar, divided (I used maple sugar- fabulous!)
1 cup all-purpose flour
1 cup whole wheat flour
2 teaspoons baking powder
1/4 teaspoon salt
6 Tablespoons butter, in cubes, slightly softened
2/3 cup half and half or whipping cream
coarse sugar for topping

Instructions:

1. Preheat oven to 400°F. Line baking sheet with parchment paper (or grease a cookie sheet).

2. In a small bowl, sprinkle strawberries with 1/2 Tablespoon sugar; set aside.

3. Combine remaining sugar with flour, baking powder and salt. Cut in butter with pastry cutter or 2 knives (can use your fingers too). When a good crumb mixture has formed, stir in strawberries and cream. Gently stir the dough until it comes together.

4. Turn out onto a lightly floured surface and knead just a few times until dry ingredients are incorporated. If dough is too sticky, add a bit more flour.

5. Transfer to parchment lined baking sheet and pat into a circle that is about 3/4-inch thick. Cut the circle into 8 wedges. Pull wedges out from center of circle to create 1/2-inch space between each scone.

6. Bake for 15 minutes. Sprinkle with coarse sugar and bake 5 to 10 more minutes, or until scones are golden brown and spring back when touched. Don't over-bake, or your scones will be dry.

Tips:

*You can certainly use all white flour for this recipe if you prefer.