Zucchini Lasagna is made using zucchini strips in place of pasta. It's a delicious way to make lasagna!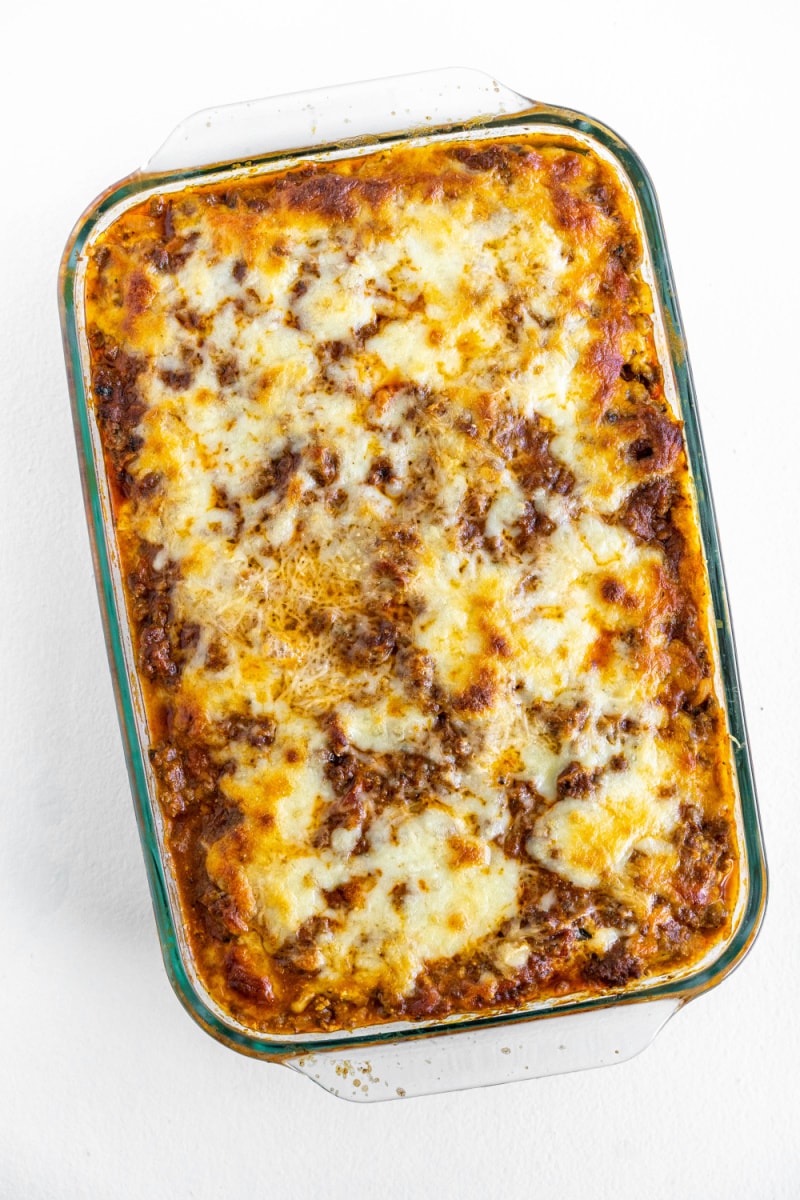 Zucchini is great for use in replacing carbs- whether you are trying to avoid them or if you have to eat gluten free. You can use it to make zucchini pizza crust, Pesto Spaghetti Zoodles or Sausage Stuffed Zucchini. And zucchini is especially awesome to use in place of long lasagna pasta noodles. This zucchini lasagna recipe also has meat sauce, so it's a pretty hearty and filling dinner. You could always use regular marinara sauce if you want it to be a vegetarian meal.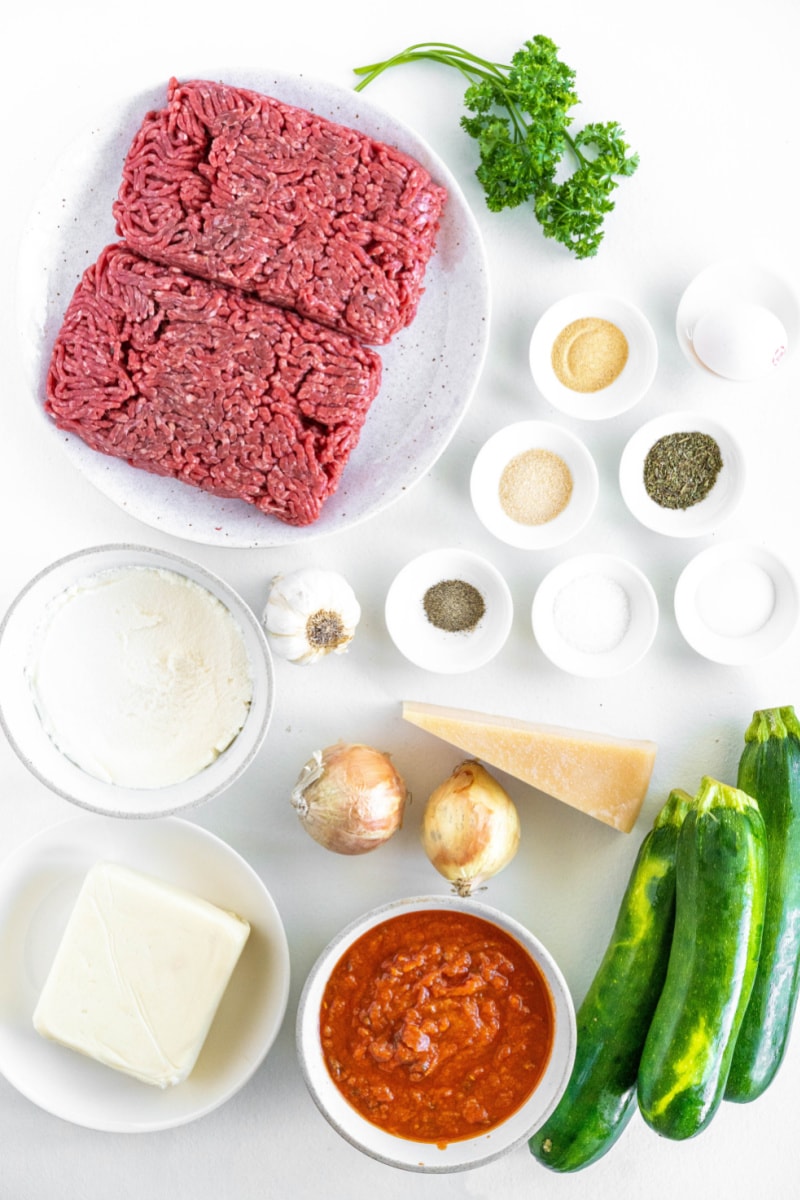 Ingredients needed:
zucchini
kosher salt and freshly ground black pepper
ground beef
onion
garlic
marinara sauce
ricotta cheese
mozzarella cheese
Parmesan cheese
egg
parsley, Italian seasoning, garlic powder, onion powder
fresh basil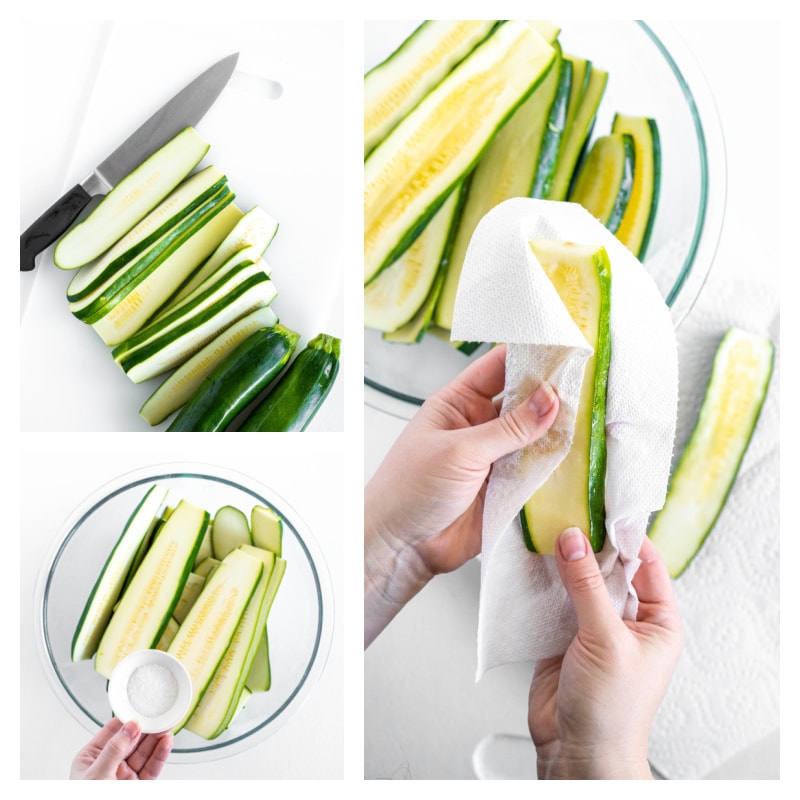 How to prepare zucchini to use for lasagna:
When cooked, zucchini tends to draw out a lot of moisture. So it's important that you draw the moisture out of this vegetable before using it for your recipe. Trim the ends of the zucchini and discard. Cut the zucchini in long strips and place it in a bowl. Sprinkle it with kosher salt, and toss to combine. Let the salted zucchini sit for 30 to 60 minutes to draw out the moisture. Gently squeeze each slice with a paper towel to draw out the moisture. There is no need to rinse the zucchini.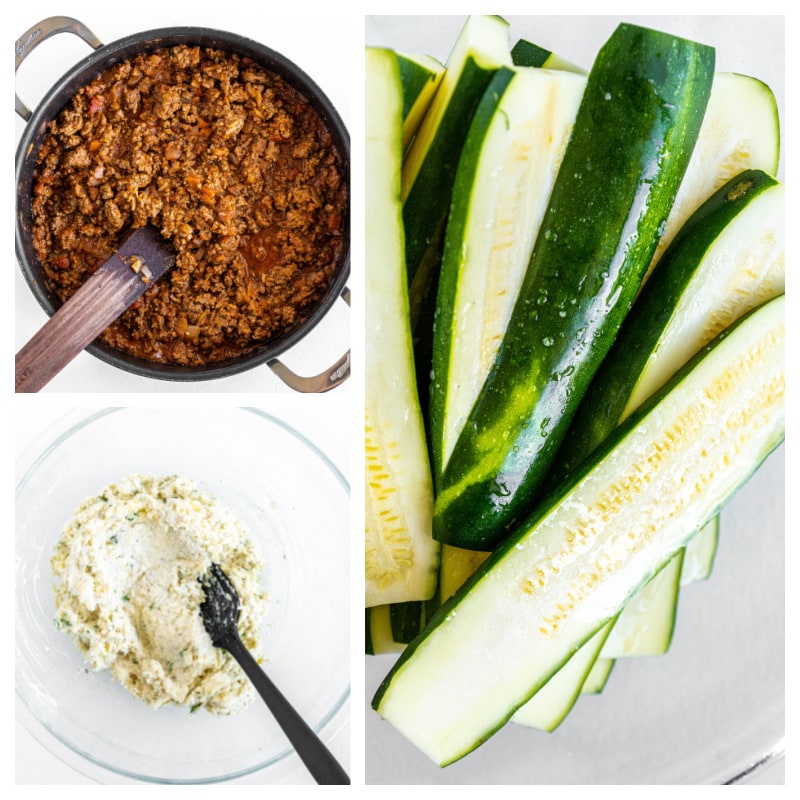 The main components of this zucchini lasagna are the meat sauce, cheese mixture and strips of zucchini. The meat sauce made simply with ground beef, onion, garlic and marinara sauce. The cheese mixture is a mix of ricotta, mozzarella and Parmesan cheeses with egg and spices. And the strips of zucchini will replace the strips of lasagna pasta.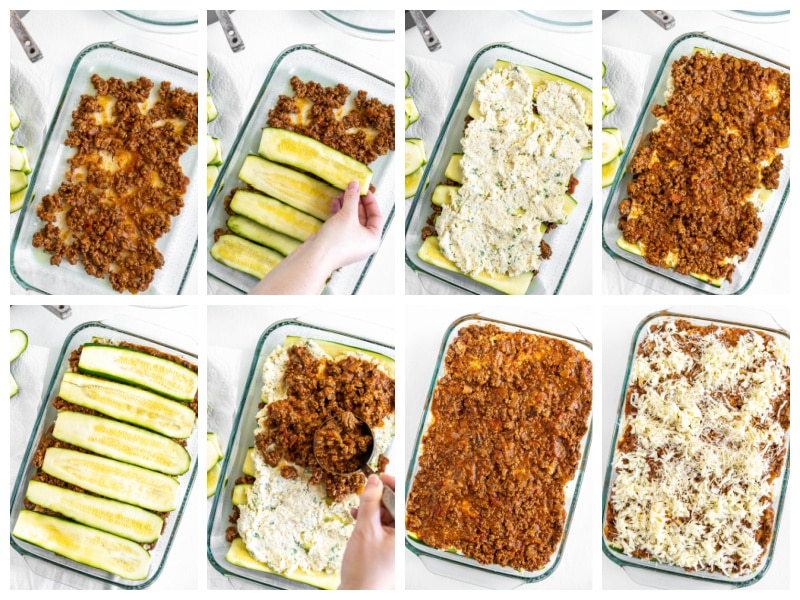 How to make Zucchini Lasagna:
Spread a little of the meat sauce on the bottom of your casserole dish.
Place a layer of zucchini on top of the sauce.
Spoon some of the cheese mixture on top of the zucchini.
A layer of meat sauce is added next.
Add another layer of zucchini on top of the meat sauce.
Spoon more cheese and more meat sauce on next.
Sprinkle with mozzarella and Parmesan cheeses.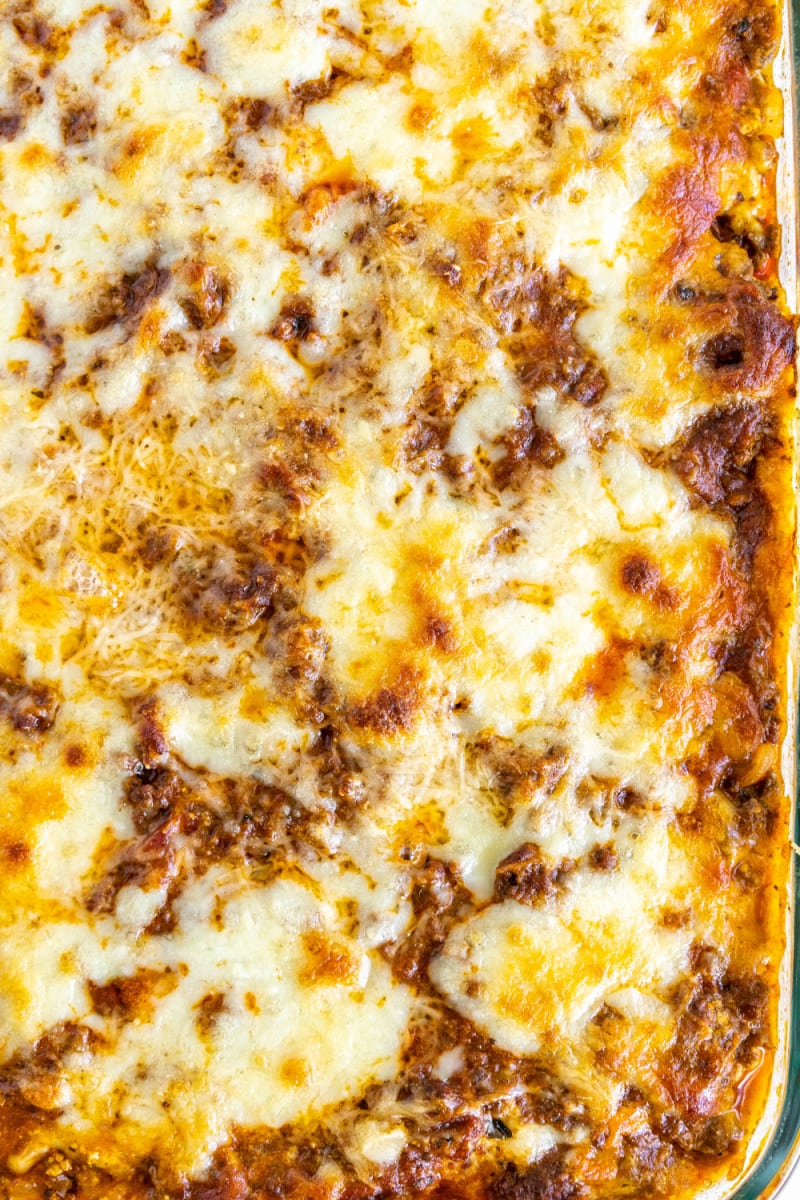 Bake for about 40 minutes until warm and melted and golden brown on top.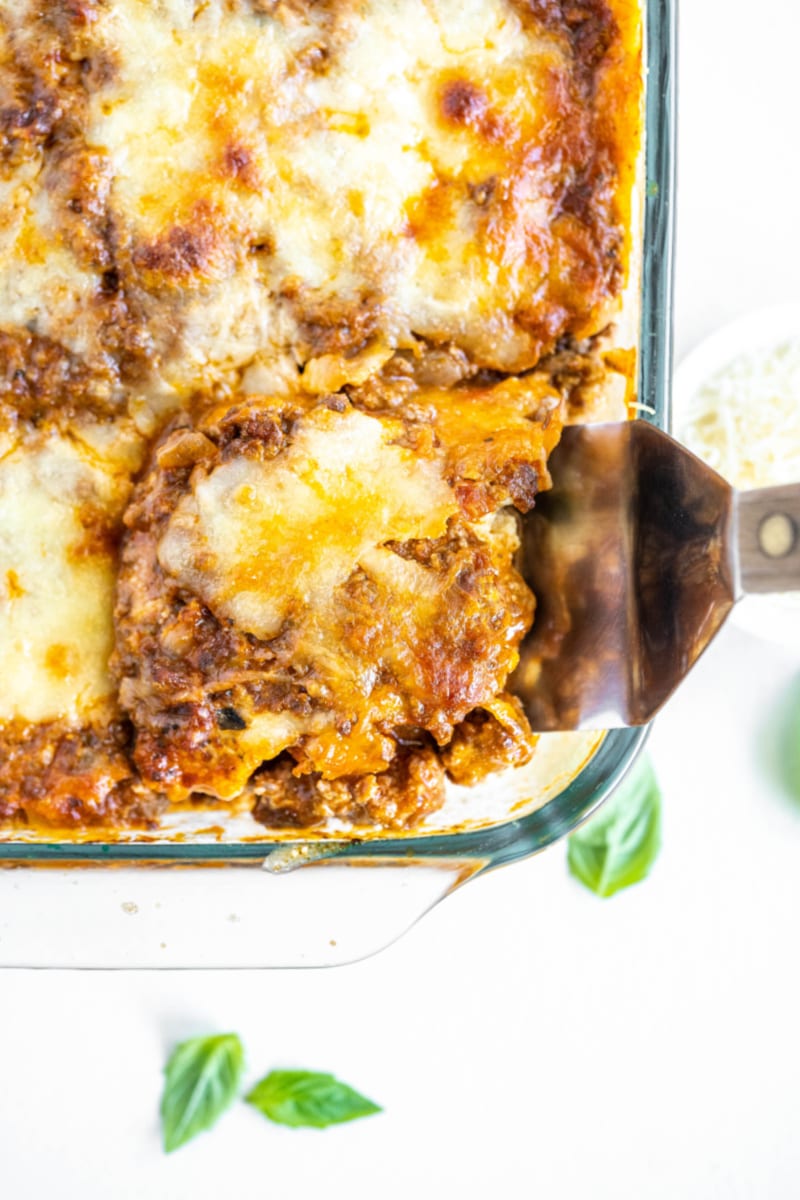 Let the zucchini lasagna sit at room temperature for at least 15 minutes before cutting and serving. This will give everything a chance to settle and not be so gooey and hot and messy.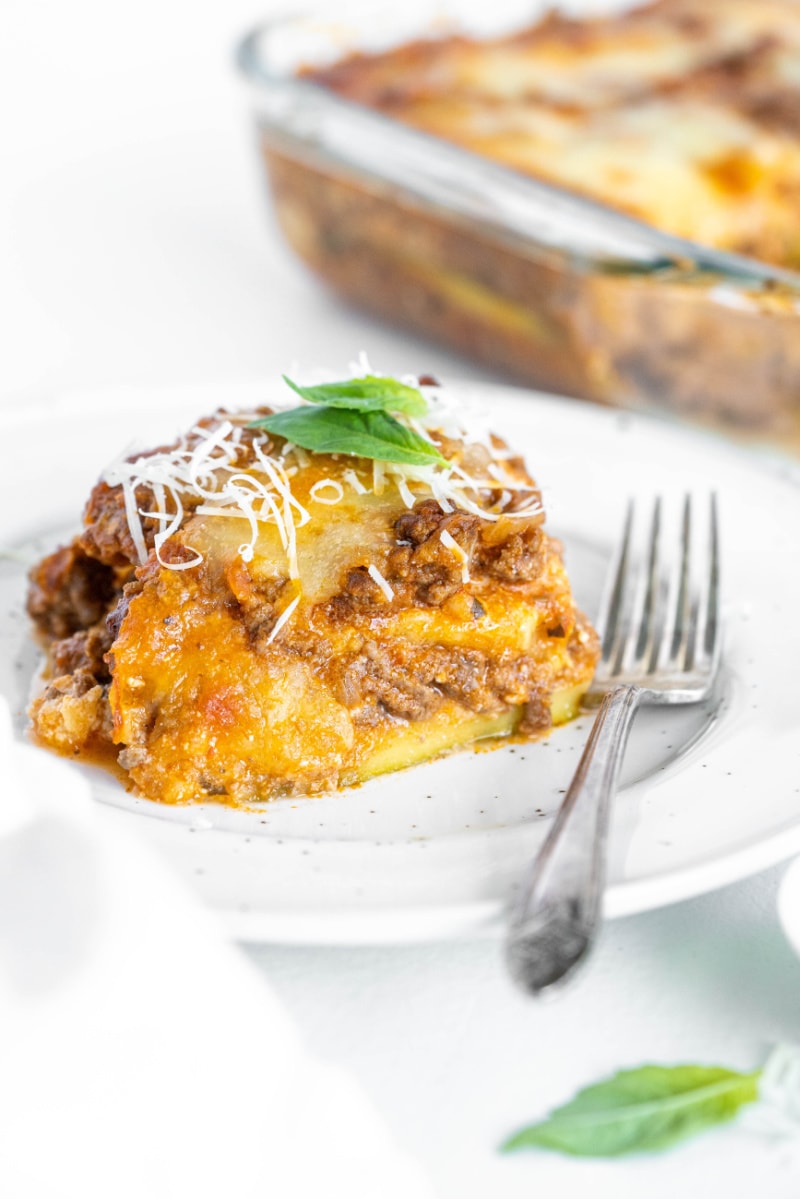 Slice, and serve. Zucchini Lasagna is excellent served with Caesar Salad, cheesy garlic bread and your favorite bottle of wine. Enjoy!
Zucchini Lasagna
Zucchini is used in place of pasta in this delicious lasagna recipe!
Recipe Details
Ingredients
ZUCCHINI:
3

large

zucchini

¾

teaspoon

kosher salt
MEAT SAUCE:
2

pounds

lean ground beef

2

small

yellow onions,

chopped

6

large

garlic cloves,

crushed

1

teaspoon

salt

One

24-ounce jar

marinara sauce
RICOTTA MIXTURE:
15

ounces

ricotta cheese

2

cups

shredded mozzarella

½

cup

grated Parmesan cheese

1

large

egg

2

tablespoons

minced fresh parsley

1

teaspoon

Italian seasoning

1

teaspoon

onion powder

1

teaspoon

garlic powder

½

teaspoon

salt

¼

teaspoon

pepper
TOPPINGS AND GARNISH:
1

cup

shredded mozzarella cheese

½

cup

grated Parmesan cheese

chopped fresh basil,

for garnish
Instructions
PREPARE THE ZUCCHINI:
Trim both ends off each zucchini. Slice each zucchini lengthwise into ¼-inch thick slices. Add the zucchini to a large bowl and sprinkle on the coarse kosher salt. Use your hands to toss gently so that each slice of zucchini is salted.

Let the zucchini sit at room temperature for at least 30 (but up to 60) minutes so it can release the excess liquid.

After the zucchini is done sitting, very gently squeeze each slice to help wring out the liquid and pat them dry with paper towels.

Place the zucchini slices on a paper towel-lined plate for now.
MAKE THE MEAT SAUCE:
Add the ground beef, onion, garlic, and salt to a large skillet over medium-high heat. Cook (uncovered) until the meat is browned and the onion is softened, about 10 minutes, stirring occasionally with a wooden spoon to break up the meat.

Reduce the heat to medium, add the marinara sauce, and cook (uncovered) until excess liquid has evaporated off and the sauce is thickened, about 5 minutes, stirring occasionally.
COMBINE RICOTTA MIXTURE:
Add all ingredients to a large bowl and stir to combine.
ASSEMBLE AND BAKE:
Preheat the oven to 375F. Spray the inside of a 9 by 13-inch casserole dish with olive oil cooking spray.

Spread ⅓ of the Meat Sauce in the bottom of the prepared casserole dish.

Lay zucchini slices on top of the Meat Sauce the same way you would lasagna noodles. I find that a large zucchini fits perfectly horizontally across this size dish.

Spread ½ of the Ricotta Mixture on top of the zucchini slices, and spread ⅓ of the Meat Sauce on top.

Lay zucchini slices on top of the Meat Sauce, followed by the remaining ½ of the Ricotta Mixture, followed by the remaining ⅓ of the Meat Sauce.

Spread 1 cup shredded mozzarella and ½ cup grated parmesan on top.

Bake (uncovered) until the lasagna is warm throughout and golden on top, about 40 minutes.

Once it's done cooking, let the lasagna rest for 10 to 15 minutes before slicing and serving. Serve topped with fresh basil and more grated parmesan.
Notes
To help prevent Zucchini Lasagna from being excessively watery, don't skip the step of salting the zucchini.

Additionally, make sure to cook the Meat Sauce until it's thickened before making the lasagna.
Nutrition
Serving:
1
serving
,
Calories:
373
kcal
,
Carbohydrates:
13
g
,
Protein:
39
g
,
Fat:
19
g
,
Saturated Fat:
10
g
,
Polyunsaturated Fat:
1
g
,
Monounsaturated Fat:
6
g
,
Trans Fat:
1
g
,
Cholesterol:
122
mg
,
Sodium:
1373
mg
,
Potassium:
932
mg
,
Fiber:
2
g
,
Sugar:
7
g
,
Vitamin A:
1042
IU
,
Vitamin C:
25
mg
,
Calcium:
476
mg
,
Iron:
4
mg