Reeses-Stuffed Peanut Butter Chocolate Chip Cookies
This recipe has been featured in a post on The Recipe Girl blog: Peanut Butter- Chocolate Chip Cookies Stuffed w/ Reeses PB Cups.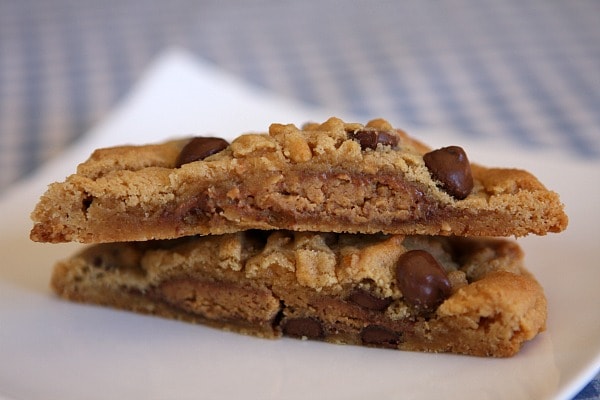 Yield: 12 large (4 to 5-inch) cookies
Prep Time: 30 min
Cook Time: 12 min
Reeses- Stuffed Peanut Butter Chocolate Chip Cookies
These tender peanut butter- chocolate chip cookies are stuffed with a full-sized Reeses Peanut Butter Cup. They turn out to be one giant, delicious treat!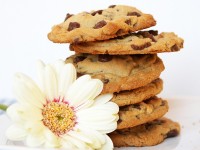 Ingredients:
1/2 cup butter (1 stick), at room temperature
1/2 cup chunky peanut butter
1/2 cup granulated white sugar
1/2 cup brown sugar, packed
1 large egg
1 1/4 cups all-purpose flour
1/2 teaspoon baking powder
1/2 teaspoon baking soda
1/4 teaspoon salt
1 cup milk chocolate chips, plus a few extra for topping (optional)
12 full-sized Reeses Peanut Butter Cups
Directions:
1. Preheat oven to 350 degrees F. Line baking sheets with parchment paper or silpat baking mats (or spray with nonstick spray).
2. In a large bowl, use electric mixer to cream together butter, peanut butter and sugars. Add egg and continue to mix until light and fluffy.
3. In a medium bowl, whisk together flour, baking powder, baking soda and salt. Add dry mixture to wet mixture. Stir together just until the dry ingredients are incorporated. Stir in 1 cup of chocolate chips.
4. Plan for baking 6 to 8 cookies on a large baking sheet. Scoop out a heaping Tablespoonful of dough and place it on your cookie sheet. Use a sugared fork to make a criss-cross on the dough (to smash it down a bit). Top with a Reeses Peanut Butter Cup. The top with another heaping Tablespoonful of dough (so that the PB Cup is sandwiched between two scoopfuls of dough). Use a sugared fork to criss-cross the top and make sure the dough is covering most of the PB Cup. Stud a few extra chocolate chips on top. Repeat with remaining cookie dough and PB Cups.
5. Bake for about 12 minutes, until cookies are lightly browned and almost set.
Tips:
*A little tip for measuring peanut butter... spray your measuring cup with nonstick spray first, then scoop the peanut butter in to measure. It'll slide right out of the cup, without sticking!
*These cookies freeze well. Throw individual cookies in sandwich-sized zip baggies and toss them in the freezer for times when the mood for cookies strikes.
23 Responses to "Reeses-Stuffed Peanut Butter Chocolate Chip Cookies"
Leave a Comment