A big-time favorite in my house:  Peanut Butter Cup Cookie Cupcakes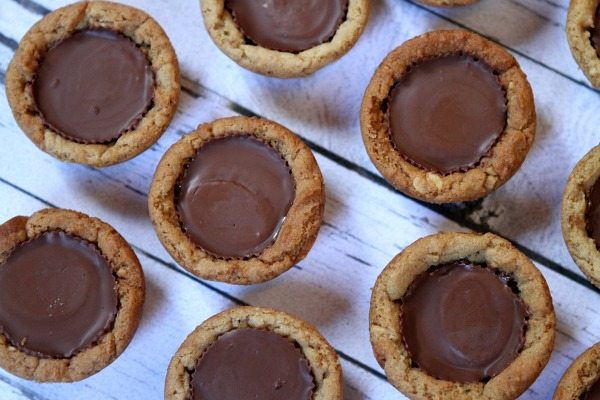 These are such a good sweet munchie for a party because everyone loves cupcakes, and everyone loves cookies, and everyone loves peanut butter cups.  Put them all together and you've got these Peanut Butter Cup Cookie Cupcakes!  They're always a big hit.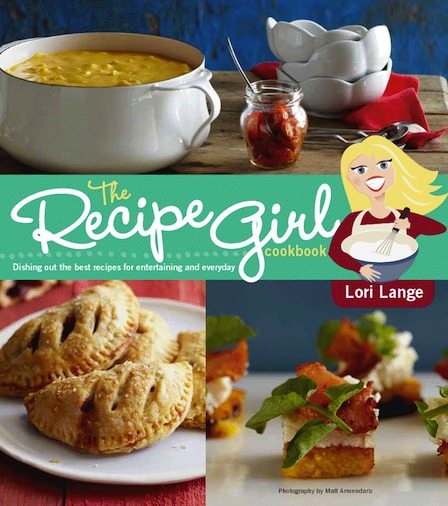 This recipe comes from my cookbook: The Recipe Girl Cookbook.  80% of the recipes in my book are brand new, created just for the cookbook (never published on RecipeGirl.com). So that means that 156 of the 195 recipes… you've never seen before! The remaining 39 recipes are total website favorites.  I have a very dog-eared copy of my book that lives on my kitchen counter.  I cook from it often!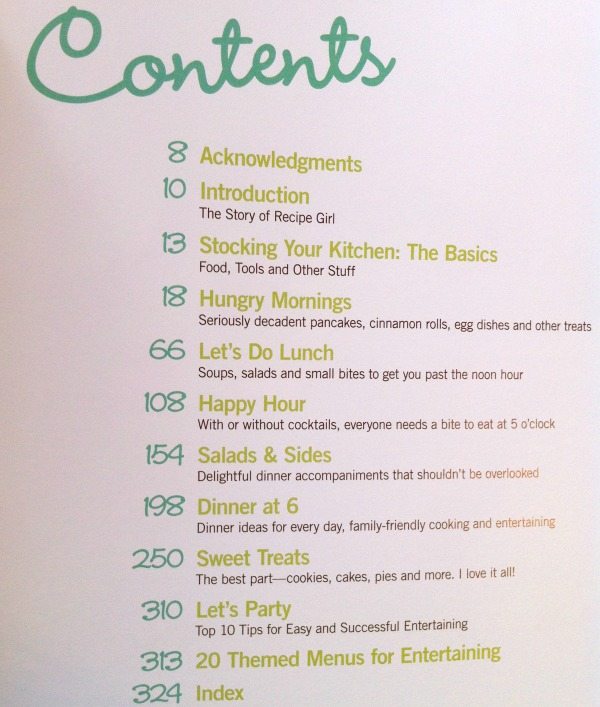 Here's a sneak peek at the chapters in the book- all meals of the day!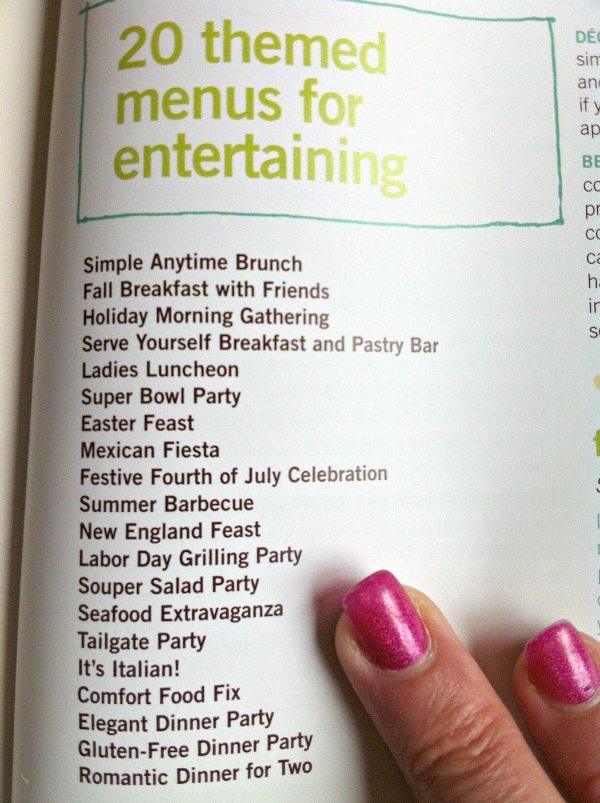 My favorite part of the book is the entertaining (theme menus) chapter.  I love to entertain, so sharing menus with others is a big passion.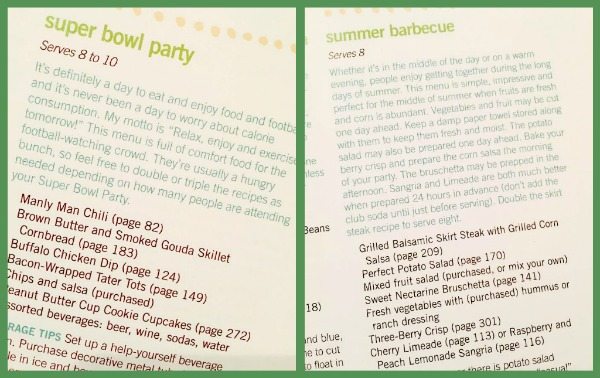 A close-up look at what the theme menus look like- including a Super Bowl party, of course!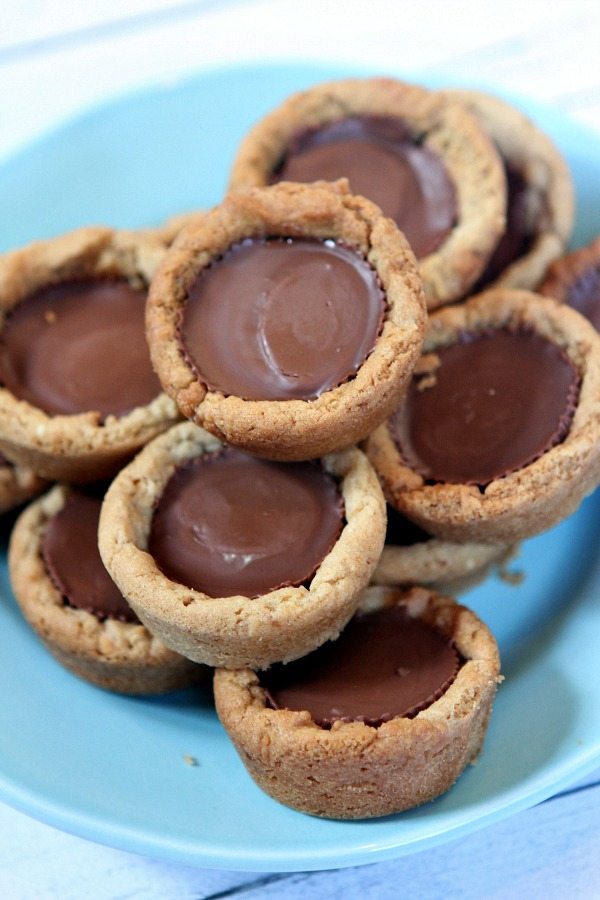 These cookie cupcakes happen to be on my Super Bowl party menu in the book.  They're GOOD!
Let's have a giveaway:  I want everyone to have a copy of The Recipe Girl Cookbook, so I'm happy to give away 5 copies of my book to five lucky RecipeGirl readers!  If you already have my book, please enter anyways and plan to give a copy to a friend.  Enter using the widget below- this giveaway is open to everyone- worldwide.  Giveaway ends on Wed., Feb 4th.  Winners will be contacted via email and will have 48 hours to respond before another winner is chosen.  GOOD LUCK!
Peanut Butter Cup Cookie Cupcakes
Yield:
16 cupcakes
Prep Time: 35 min
Cook Time: 14 min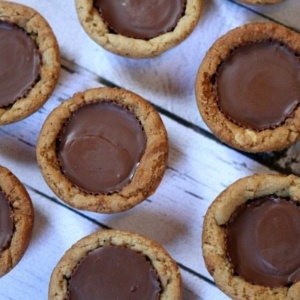 Ingredients:

1 1/4 cups all-purpose flour
3/4 teaspoon baking soda
1/2 teaspoon baking powder
1/4 teaspoon salt
1/2 cup crunchy peanut butter
8 tablespoons (1 stick) salted butter, at room temperature
1/2 cup granulated white sugar
1/2 cup packed brown sugar
1 large egg
16 whole, full-size peanut butter cups, unwrapped

Instructions:

1. Preheat the oven to 350 degrees F. Spray two 12-cup muffin tins with nonstick spray.

2. In a medium bowl, whisk together the flour, baking soda, baking powder and salt.

3. In a large bowl, use an electric mixer to combine the peanut butter and butter. Add the sugars and mix until combined. Beat in the egg. Add in the dry ingredients a little at a time and mix just until they are incorporated.

4. Fill 16 muffin cups about half-full with cookie dough. Bake for 14 to 16 minutes, or until the cookie cupcakes are golden on the edges. Expect them to sink slightly in the centers. When they come out of the oven, place a peanut butter cup in the center of each warm cookie cupcake and press down lightly. Place the cupcake pans in to the refrigerator or freezer to expedite the cooling process, if desired. Once the peanut butter cups have hardened, remove the cookie cupcakes from the pan.
More recipes using peanut butter cups you might enjoy:
Chocolate- Peanut Butter Cup Bark by Love and Olive Oil
Chocolate- Peanut Butter Cup Cheesecake Cake by RecipeGirl
Peanut Butter Cup Cookie Bars by My Baking Addiction
Peanut Butter Cup Brownies by RecipeGirl
Peanut Butter Cup Cheesecake by Handle the Heat
Disclosure:  This giveaway is sponsored by me.