This recipe has been featured in a video on The Recipe Girl blog:  Real Women of Philadelphia- Chocolate Icebox Cake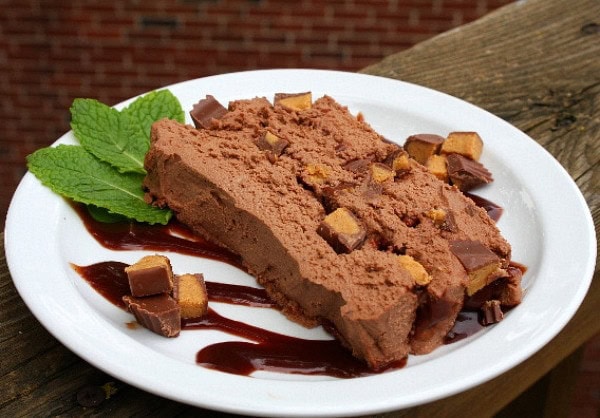 Fudgy Chocolate Peanut Butter Cup Icebox Cake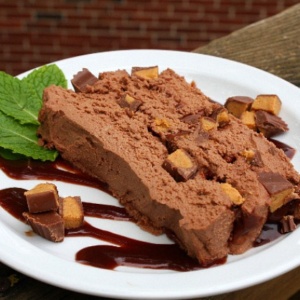 What began as a quest to incorporate cream cheese into a new recipe, turned into this wonderfully delicious no-bake "cake." Add as many peanut butter cups as you'd like, and be generous with the fudge!
Yield:
12 slices
Prep Time: 20 min + chill time
Ingredients:
2 (15-ounce) containers of whole or lowfat ricotta cheese
1 (8-ounce) package of cream cheese (regular or lowfat), softened
1 (12-ounce) package of chocolate chips- semi sweet or milk chocolate, melted
10 regular-sized peanut butter cups, chopped into chunks
About 2 cups of fudge sauce
Directions:
1. Line a 5x9-inch loaf pan with parchment paper- leaving a little bit overhanging on two sides, then spray with nonstick spray.
2. In a large bowl, mix together ricotta and cream cheese with an electric mixer until smooth and creamy. Add in melted chocolate; mix until combined.
3. Scoop one-third of the chocolate mixture into the loaf pan and use a rubber spatula to smooth into an even layer. Sprinkle one-half of the peanut butter cup chunks on top. Drizzle with about 1/2 cup of fudge sauce. Scoop another third of the chocolate mixture on top of the peanut butter cup/fudge layer; smooth out so it's even. Sprinkle with remaining peanut butter cups and another drizzle of 1/2 cup of fudge sauce. Scoop remaining chocolate mixture on top; smooth out.
4. Refrigerate at least 12 hours (or overnight). When ready to serve, lift the loaf out of the pan and place onto a cutting board. Slice and serve on a plate that has been drizzled with more fudge sauce. Sprinkle with additional peanut butter cups, if desired.
Tips:
*It's probably best not to use fresh ricotta for this recipe as it will be too wet. You're welcome to try it... but it's my hunch that it won't mold as well.
*Melt your chocolate chips the easy way... in the microwave. Heat in small bursts until they are all melted and smooth. If no microwave, heat them slowly in a heat-safe bowl set over simmering water.
*For the fudge sauce- an easy drizzling tip: Scoop the fudge sauce into a zip baggie. If it's thick, microwave to soften for a few seconds. Then snip the corner and squeeze to drizzle.
*You might wish to buy extra peanut butter cups to sprinkle on top- it's good that way 🙂
*I like to place this in the freezer for about an hour before serving so it's a little firmer and easier to cut for serving.
*This dessert will keep well in the refrigerator for several days.