Peanut Butter Cookie Cupcakes
This recipe has been featured in a post on The Recipe Girl blog: Peanut Butter Cookie Cupcakes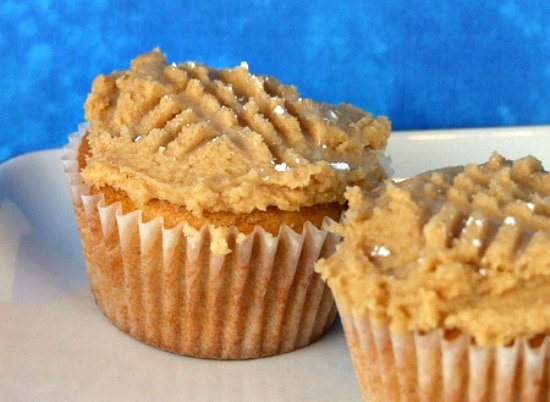 Yield: 2 1/2 dozen cupcakes
Prep Time: 35 min
Cook Time: 13 min
Peanut Butter Cookie Cupcakes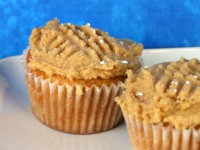 Ingredients:
CUPCAKES:
1 3/4 cups all-purpose flour
3/4 teaspoon baking powder
1/2 teaspoon salt
1/4 teaspoon baking soda
3/4 cup (1 1/2 sticks) unsalted butter, softened
1 1/3 cups granulated white sugar
2/3 cup natural, creamy peanut butter
3 large eggs
1/2 teaspoon pure vanilla extract
1/2 cup sour cream
FROSTING:
12 ounces (1 1/2 boxes) cream cheese, at room temperature
1 1/2 cups powdered sugar, plus more for decorating
3 tablespoons unsalted butter, softened
1 1/2 cups creamy peanut butter
Directions:
1. Preheat oven to 375°F. Line 3 standard 12-cup muffin tins with paper liners.
2. Prepare cupcakes: Whisk flour, baking powder, salt, and baking soda in a medium bowl. Put butter and sugar into bowl of an electric mixer fitted with the paddle attachment (or use a regular mixer). Mix on medium speed until pale and fluffy. Reduce speed to low. Mix in peanut butter. Mix in eggs, 1 at a time, and vanilla. Add flour mixture; mix until combined. Mix in sour cream.
3. Spoon scant 3 Tablespoons of batter into each muffin cup. Bake until pale golden and a toothpick inserted into centers comes out clean, about 13 minutes. Transfer to wire racks; let cool completely.
4. Prepare frosting: Put cream cheese, powdered sugar, and butter into the clean bowl of a mixer fitted with the clean paddle attachment; mix on medium-high speed until pale and fluffy. Stir in peanut butter with a rubber spatula.
5. Spread 1 1/2 Tablespoons frosting onto each cupcake. Refrigerate until frosting is firm, about 10 minutes. Using tines of a fork dipped in powdered sugar, score each top in a crosshatch pattern.
6. Cupcakes can be refrigerated in single layers in airtight containers up to 2 days.
Other delicious-looking peanut butter cookie creations on the blogs:
Passion 4 Eating:  Healthy Peanut Butter Cookies
Bunny's Warm Oven:  Flourless Peanut Butter Sandwich Cookies
Cookie Madness:  Flourless Peanut Butter Cookies
David Lebovitz:  Peanut Butter Cookies w/ Salted Peanut Caramel
One Response to "Peanut Butter Cookie Cupcakes"
Leave a Comment