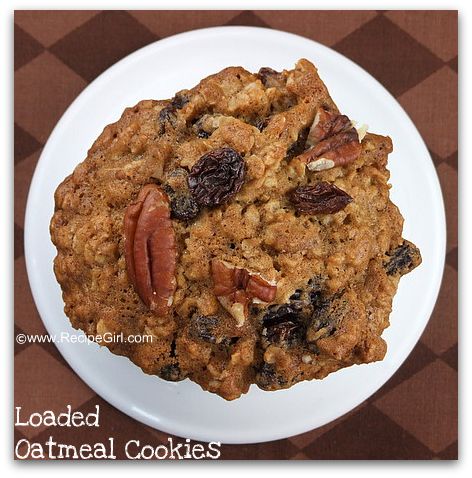 LOADED OATMEAL COOKIES
www.RecipeGirl.com
½ cup (1 stick) butter, softened
½ cup vegetable shortening
1½ cups light brown sugar, packed
2 large eggs
½ cup low fat buttermilk
1¾ cups all-purpose flour
1 tsp baking soda
½ tsp salt
1 tsp baking powder
1 tsp ground ginger
1 tsp ground nutmeg
1 tsp ground cinnamon
¼ tsp ground cloves
½ tsp ground allspice
2½ cups quick-cooking oats
1 tsp vanilla extract
ADD INS:
cinnamon & toffee chips/ raisins & toasted pecans/ chocolate chips
1. Preheat oven to 350°F. Line baking sheets with parchment paper.
2. In a large bowl and using electric mixer, cream together butter, shortening and brown sugar. Add eggs and beat until mixture is light in color. Add in buttermilk.
3. In a separate bowl, sift together flour, baking soda, baking powder and spices.
4. Stir dry ingredients into wet. Fold in oatmeal and vanilla. Add in whatever add-in you'd like, or separate the batter into three bowls and create three different loaded cookie doughs.
5. Drop by heaping teaspoonfuls, 2 inches apart, onto cookie sheets. Bake until lightly browned, 12 to 15 minutes.
Yield: About 48
Recipe Source: Adapted from Paula Deen
PRINT THIS RECIPE using your browser's 'print' function. It's automatically formatted to print recipe & picture only.
RATE THIS RECIPE[ratings]